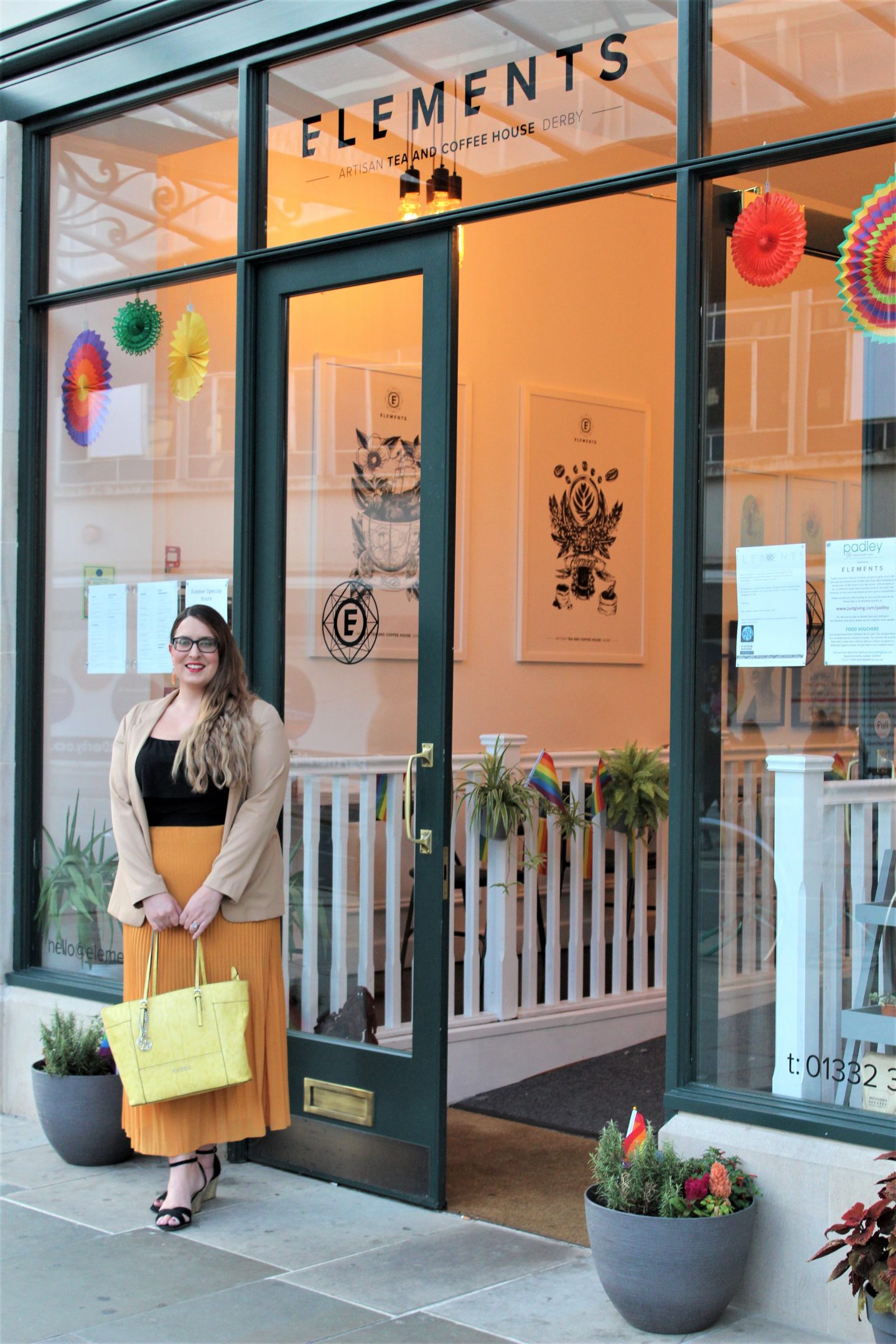 In Derby city centre is an independent, family-owned and run artisan tea and coffee shop, where in the day you can get homemade cakes and incredible coffee with many of the products sourced locally and independently.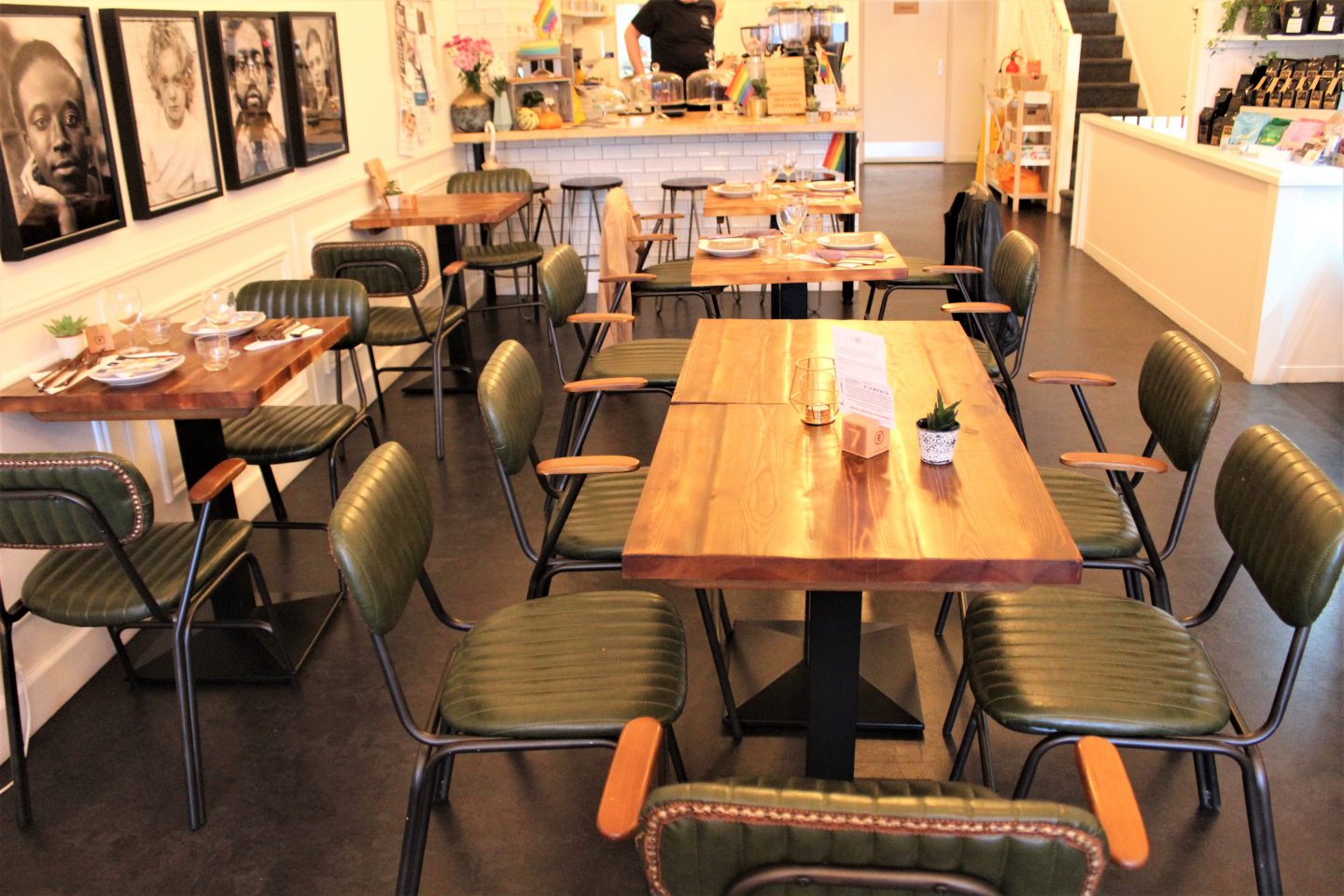 And now, every Friday and Saturday night, they have teamed up with 'Incognito dining' to offer guests a tasting menu with a twist, the fun twist being the menu is a surprise until on the night, and even then the surprises and fun continues!
After being warmly welcomed and shown to our table, I couldn't help but smile at the menu, which gave hints at the dishes to come in a way I have not seen before.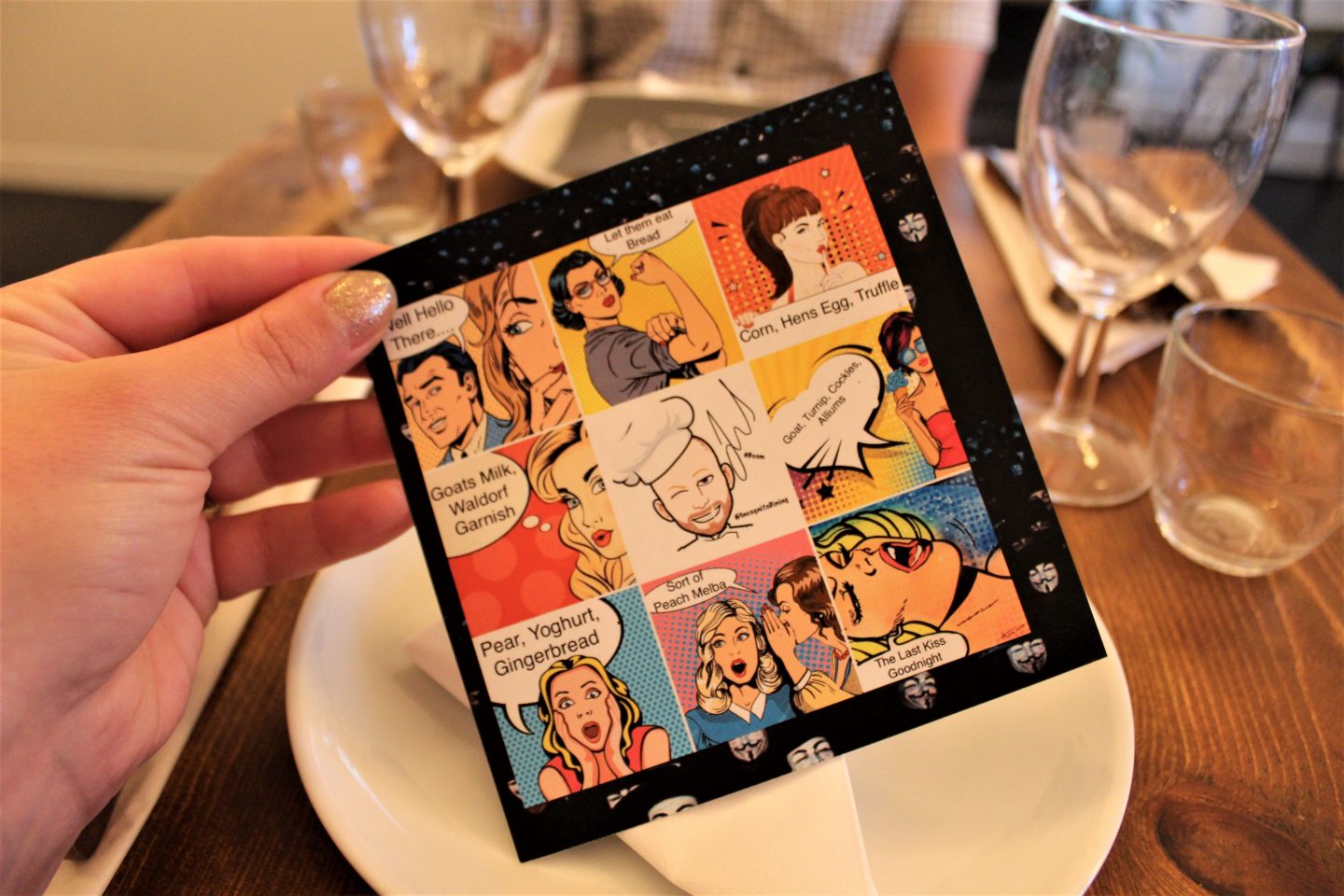 It was at this point I really started to get excited about what was to come. I love it when a restaurant has fun with it's diners and food!
I opted for the wine flight to accompany my meal which consisted of four hand-selected wine pairings. On the night I visited there was a glass of bubbly cold prosecco to start, a light crisp Sauvignon, a Romanian Pinot Noir and a perfectly sweet Muscat to finish. The wine flight is available for £20! No I have not made a typo – four paired wines for £20 – in my opinion this is excellent value and a great way to try some different wines.
Our canapes, hinted on the menu as 'Well Hello There', were literally served on a 'hello'. The first canape was Venezuelan dark chocolate filled with chicken liver parfait. Before biting into this I was 50/50 as to whether it was going to work or not for my pallet, but alas it did. The chocolate must have been a high quality, high cocoa content chocolate as it was quite bitter and because of this it cut through the richness of the parfait and the two surprising ingredients paired well together! Plus, this canape had me straight away, just from the presentation!
Our second canape was Goats cheese wrapped in pineapple. Tangy goats cheese and sweet pineapple, a combination which never fails.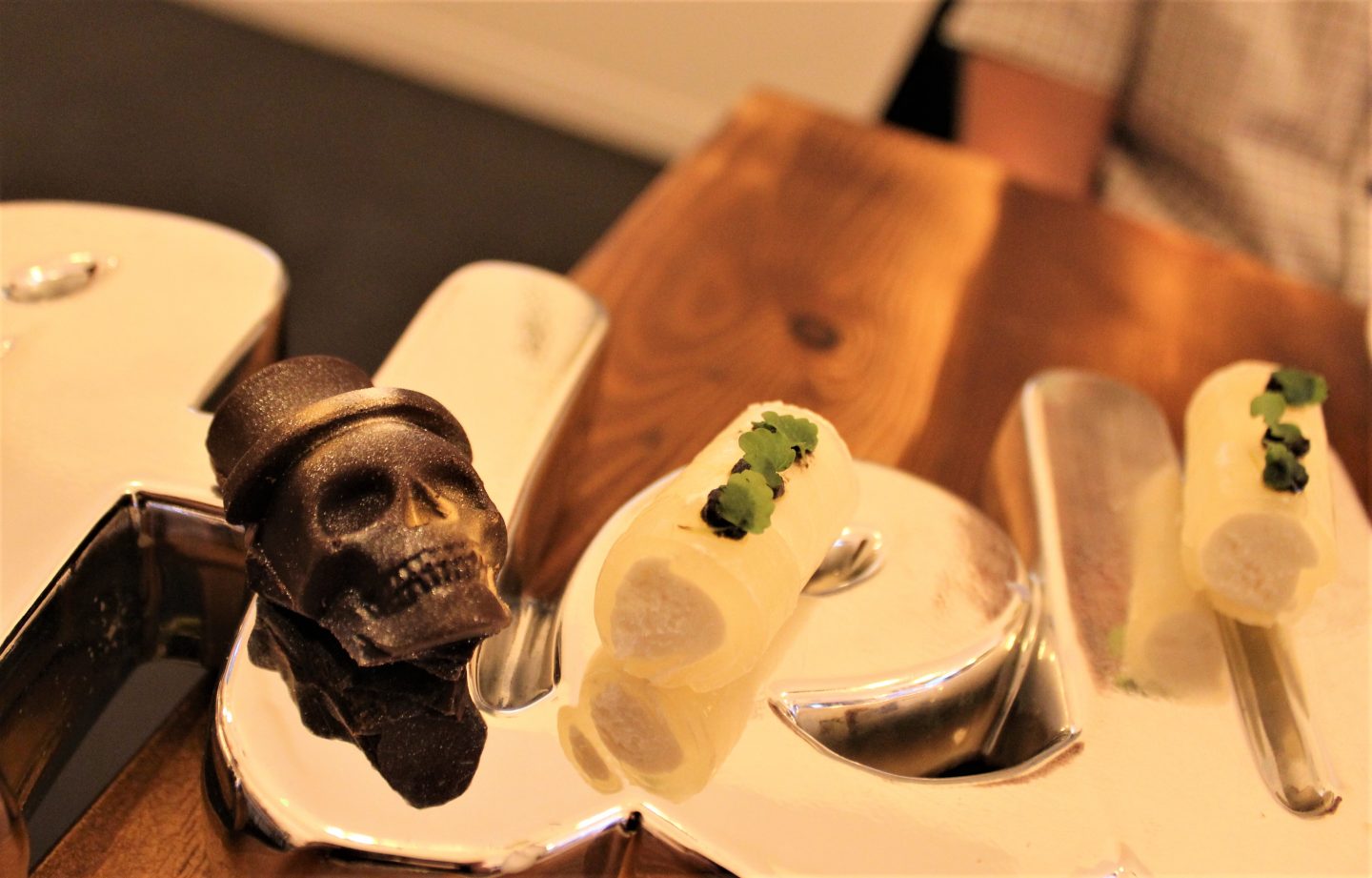 Mr B was driving and couldn't decide what to drink, so Pete suggested Kombucha which turned out to be a fantastic recommendation. It had subtle notes of Darjeeling tea with hints of rhubarb. Served in a prosecco glass it was a great non-alcoholic alternative and definitely one to remember next time it's my turn to drive!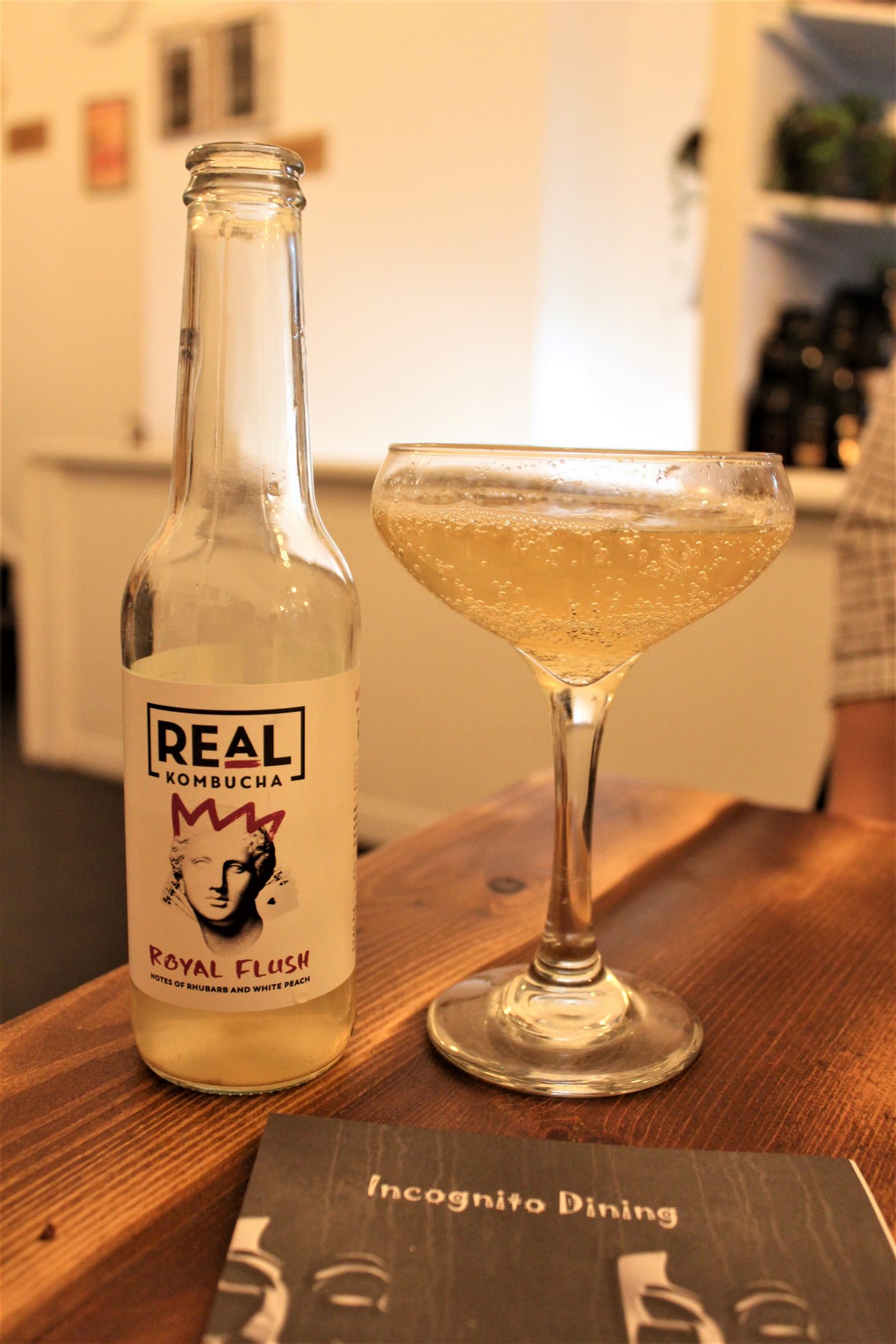 Our second course, aptly named 'Let them eat bread', was a mini homemade sourdough loaf with goats butter, smoked bacon fat and homemade bacon jam. If I could only eat one thing for the rest of my life, it would probably be this! The sourdough was still warm and I smothered it with a layer of butter, bacon fat and topped it with a generous layer of the bacon jam. It is hard to do it this justice, so just trust me when I tell you . . . It tasted bloody amazing! I think I am having withdrawal from the homemade bacon jam which should definitely be sold by the bucket-load!
Next up we were presented with an egg box! Inside the box was a cute-looking egg shell housing spoonfuls of deliciousness in the form of a sweetcorn velouté, herb oil, hens egg yolk and truffle. The sweet velouté, rich yolk and earthiness from the truffle was a lovely combination and luckily for me (being a massive truffle lover), they were not tight with the truffle. It was like finding hidden treasure at the bottom of a treasure chest!
A twist on the classic Waldorf salad was our next dish with absolutely stunning presentation! This light delicate dish was goats cheese, sweet raisins, grapes, walnuts and celery. It was a perfect balance of delicate flavours and textures.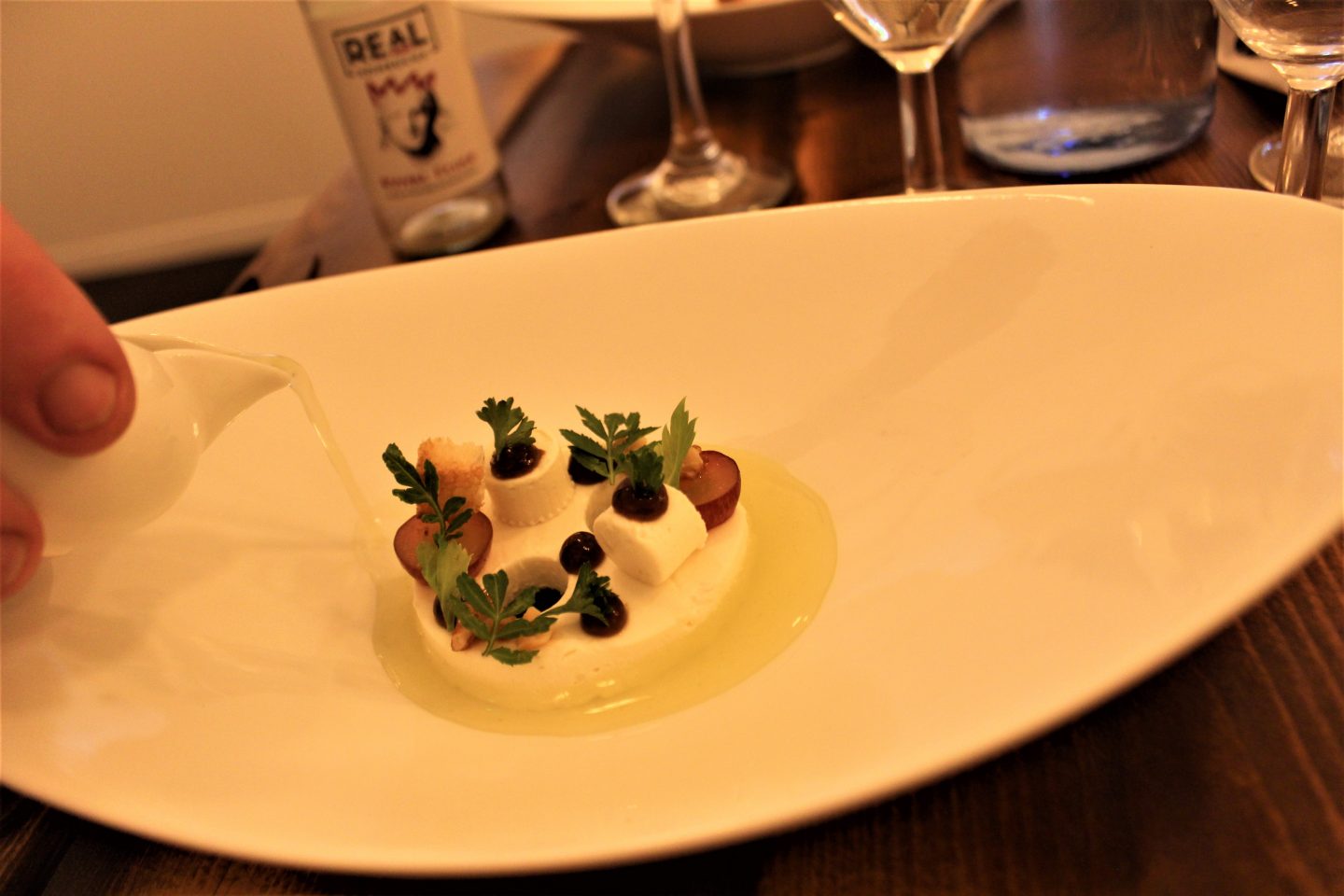 Before our final savoury course came we were presented with an introduction to the course which explained why goat was the meat we were being served, the story behind the choice, the sourcing, the ethics and why this dish was a celebration of the humble goat! It was a really lovely element which highlighted the passion of the sourcing and the chef.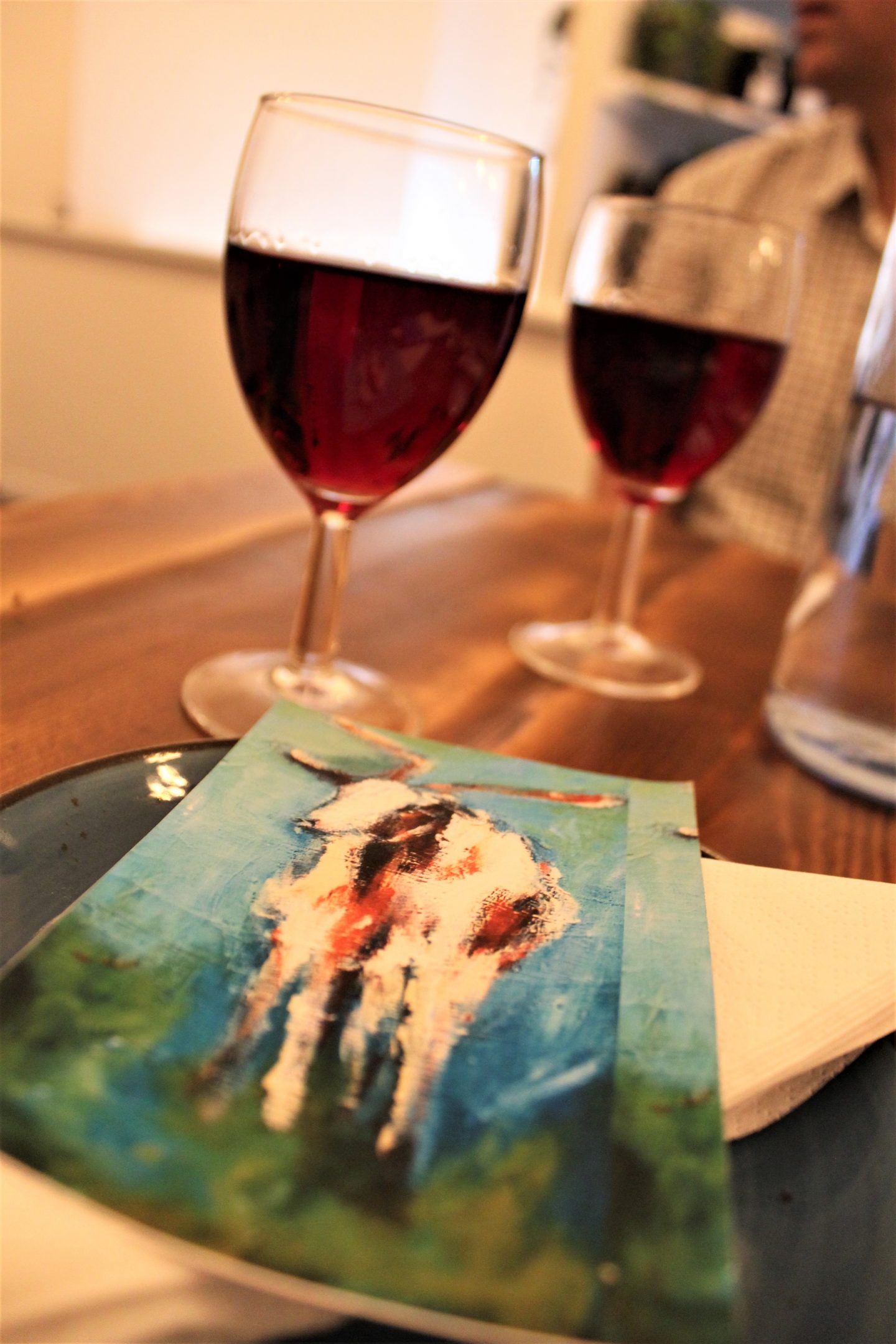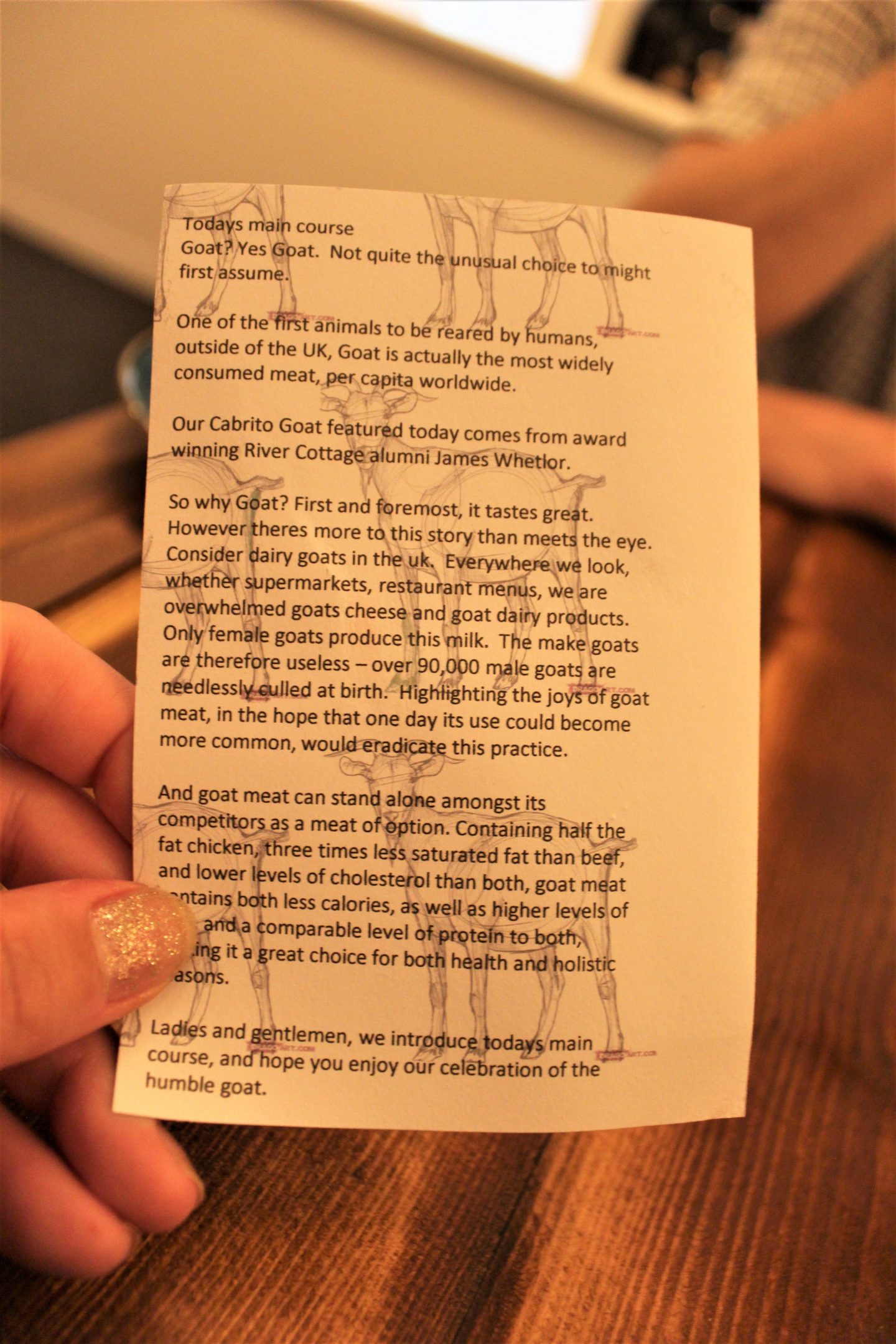 Now onto the dish itself – Goat, turnips, cockles, alliums. The goat was cooked perfectly and melted in the mouth. Such a beautiful meat full of flavour, it was definitely the star of the show with the other elements on the plate being lovely accompaniments, letting the star sing for itself!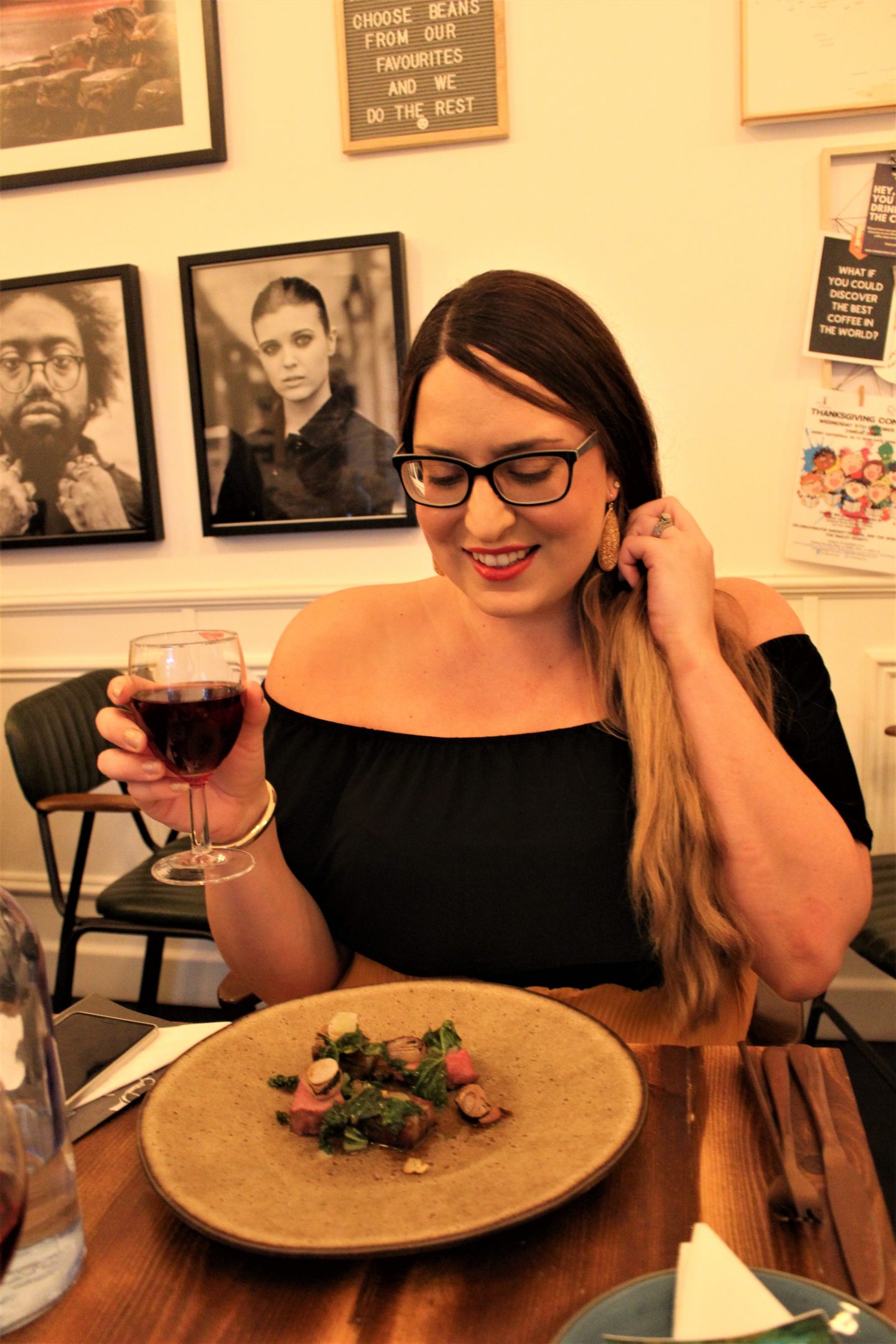 When you taste a dish as beautiful as this is makes you question why we do not see more of this amazing meat on menus in the UK. I was also really impressed with the wine pairing for this course – the Romanian Pinot Noir – it was a really delicate easy-drinking red which complemented the dish and didn't overpower it.
The first of our three desserts also worked well as a pallet cleanser – pear, yoghurt and gingerbread. The yoghurt foam had just the right amount of sourness and matched the spice of the gingerbread and freshness from the pear.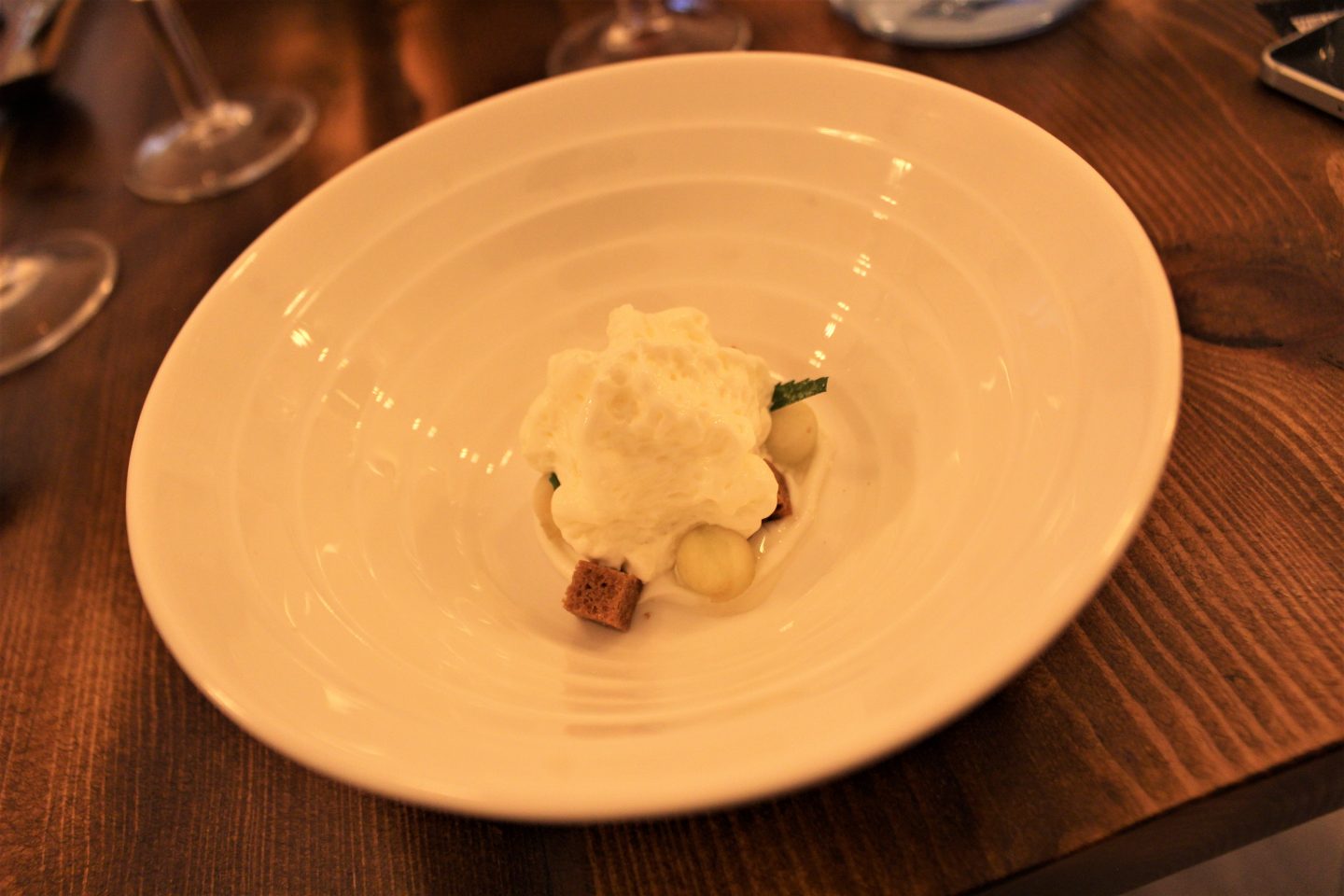 The next dessert, named 'Sort of a peach melba', held the classic flavours of a peach melba with the peach, raspberries and vanilla, but had fun with the textures and presentation. Mr B couldn't speak highly enough of this dessert!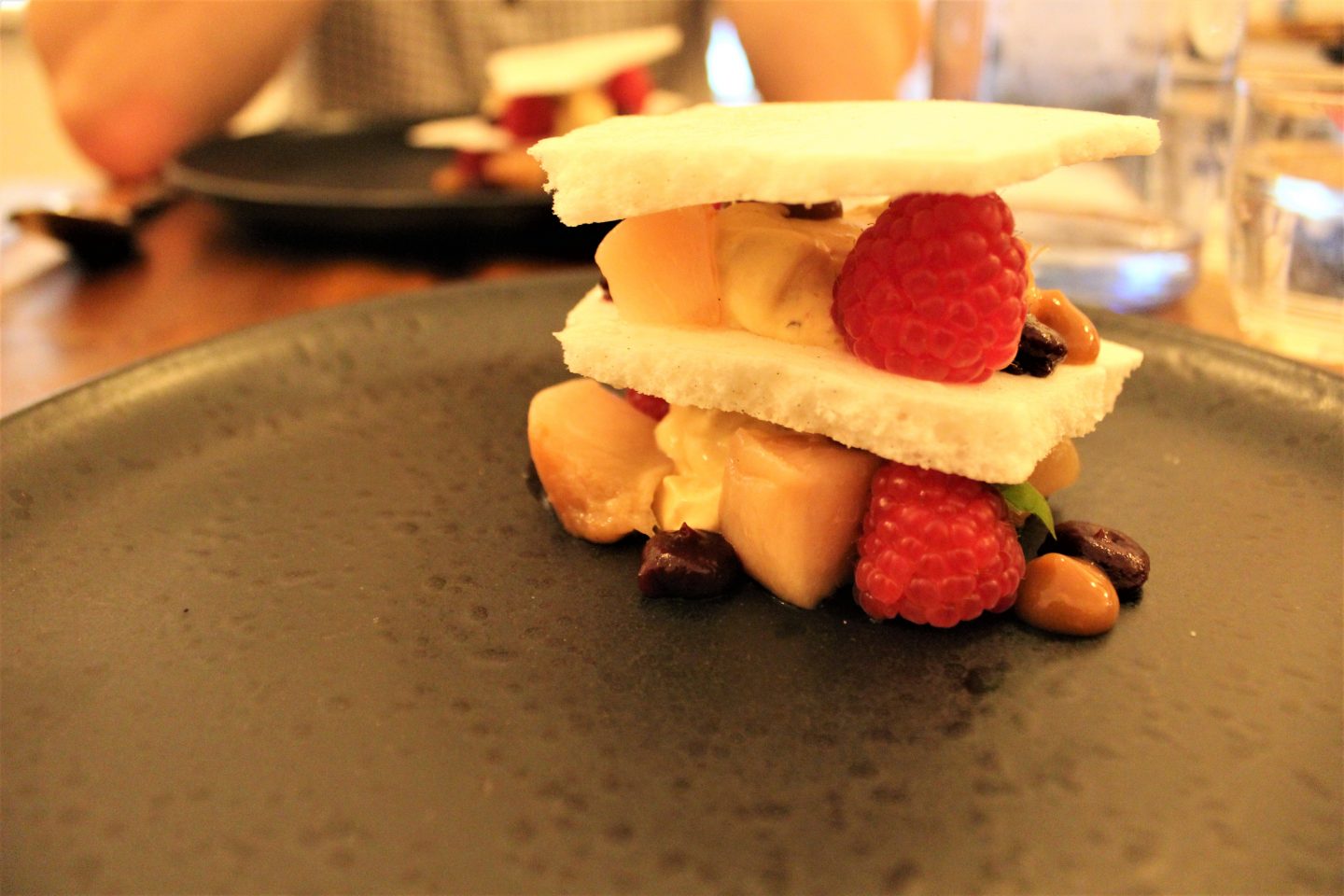 We ended the meal with 'The Last Kiss Goodnight', but not before ordering a house espresso which delivered in richness with undertones of chocolate. I have read that Elements offers some of the best coffee in Derby and if that espresso was anything to go by I can understand why!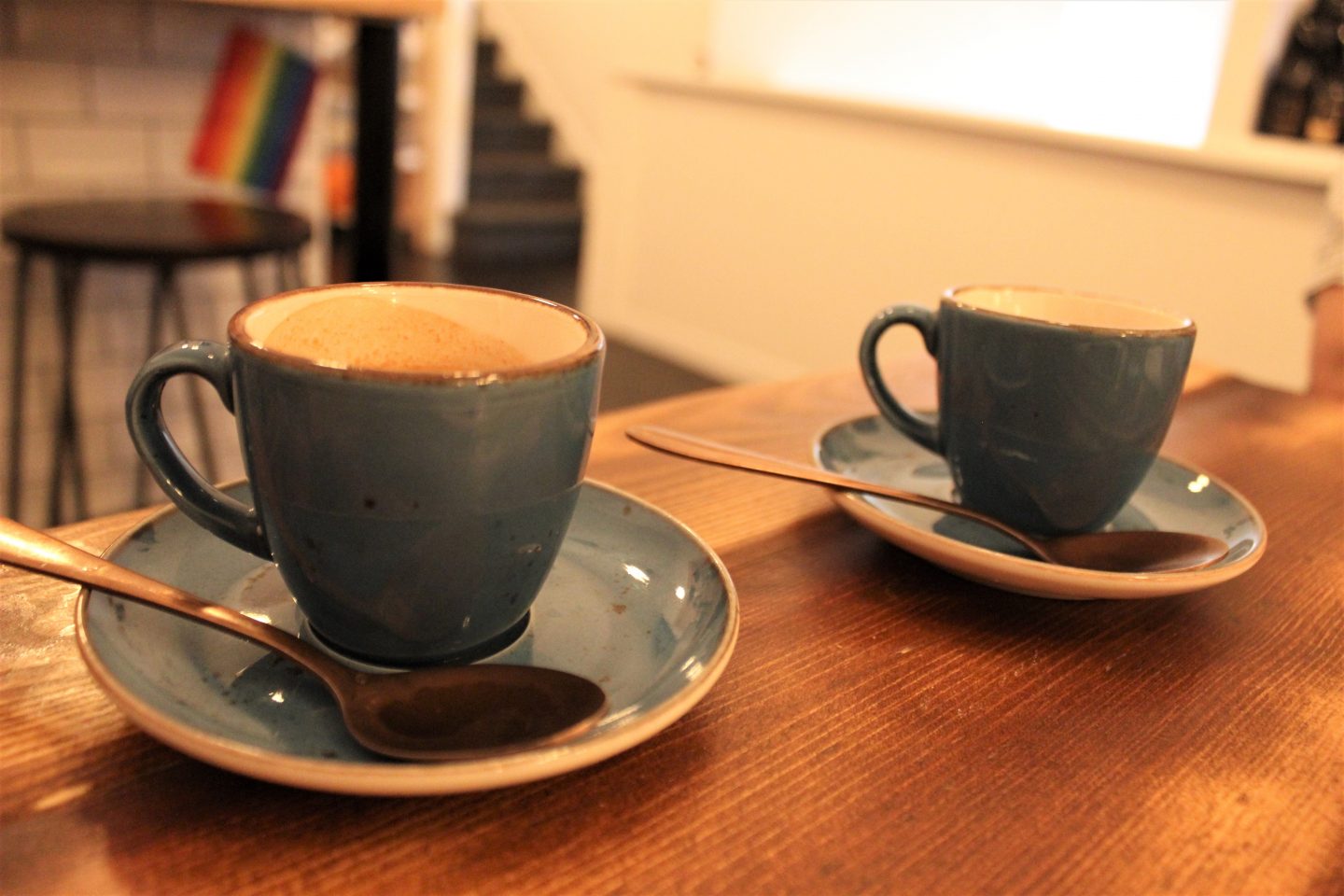 The Last Kiss Goodnight consisted of two petit fours, one of which was Salted caramel (always a winner for me!) and the other chocolate and ginger which really delivered with the heat from the ginger.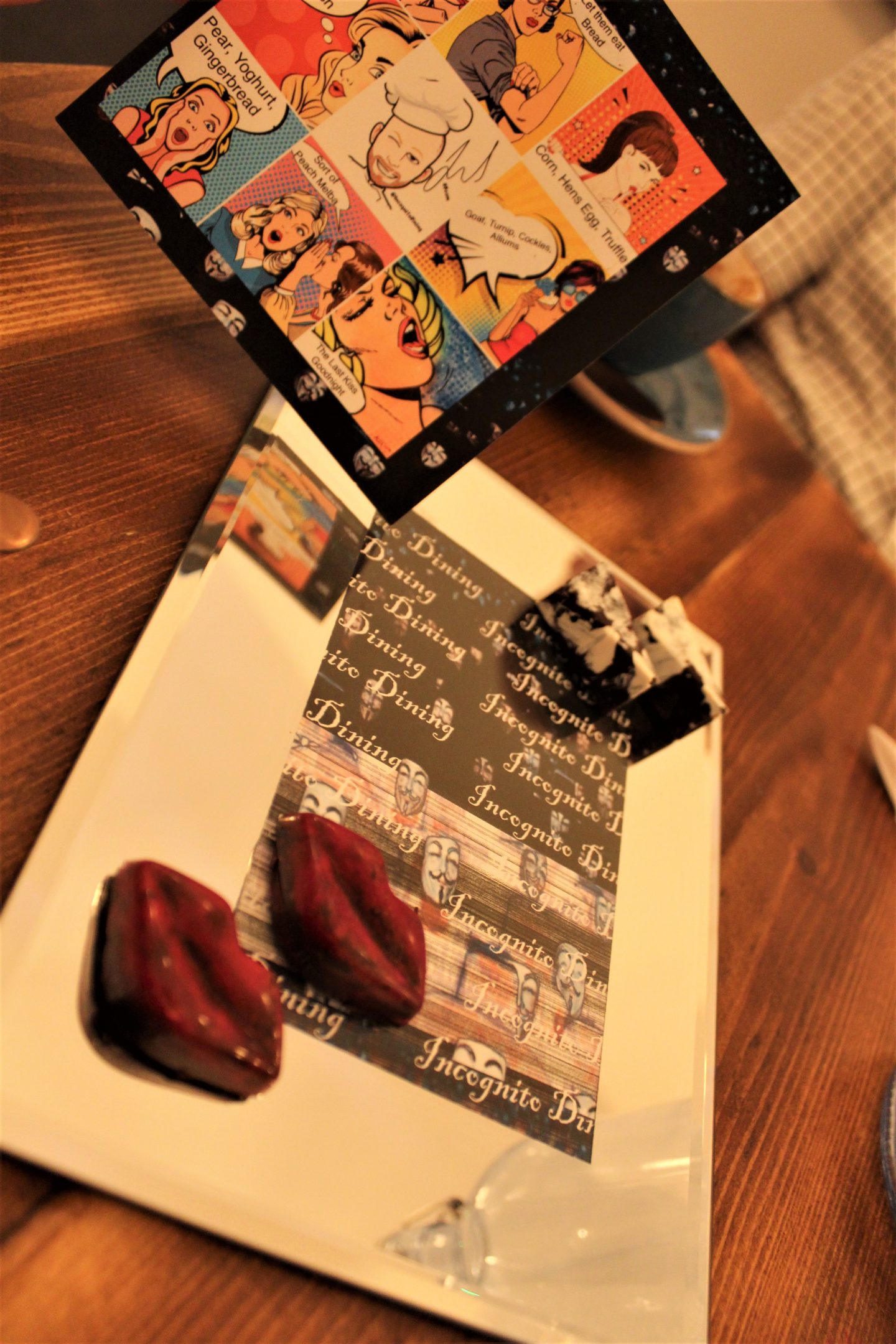 And after eight clever, fun dishes which really focused on quality ingredients and flavour combinations, we didn't leave feeling bloated and horrendously full, but pleasantly full and definitely impressed with the concept and delivery of Incognito Dining.
My meal was complimentary but as always all opinions are my own and honest.
https://www.incognitodining.co.uk/
Elements Tea and Coffee House Derby, 6 Royal Building, Victoria Street, Derby, DE1 1ES