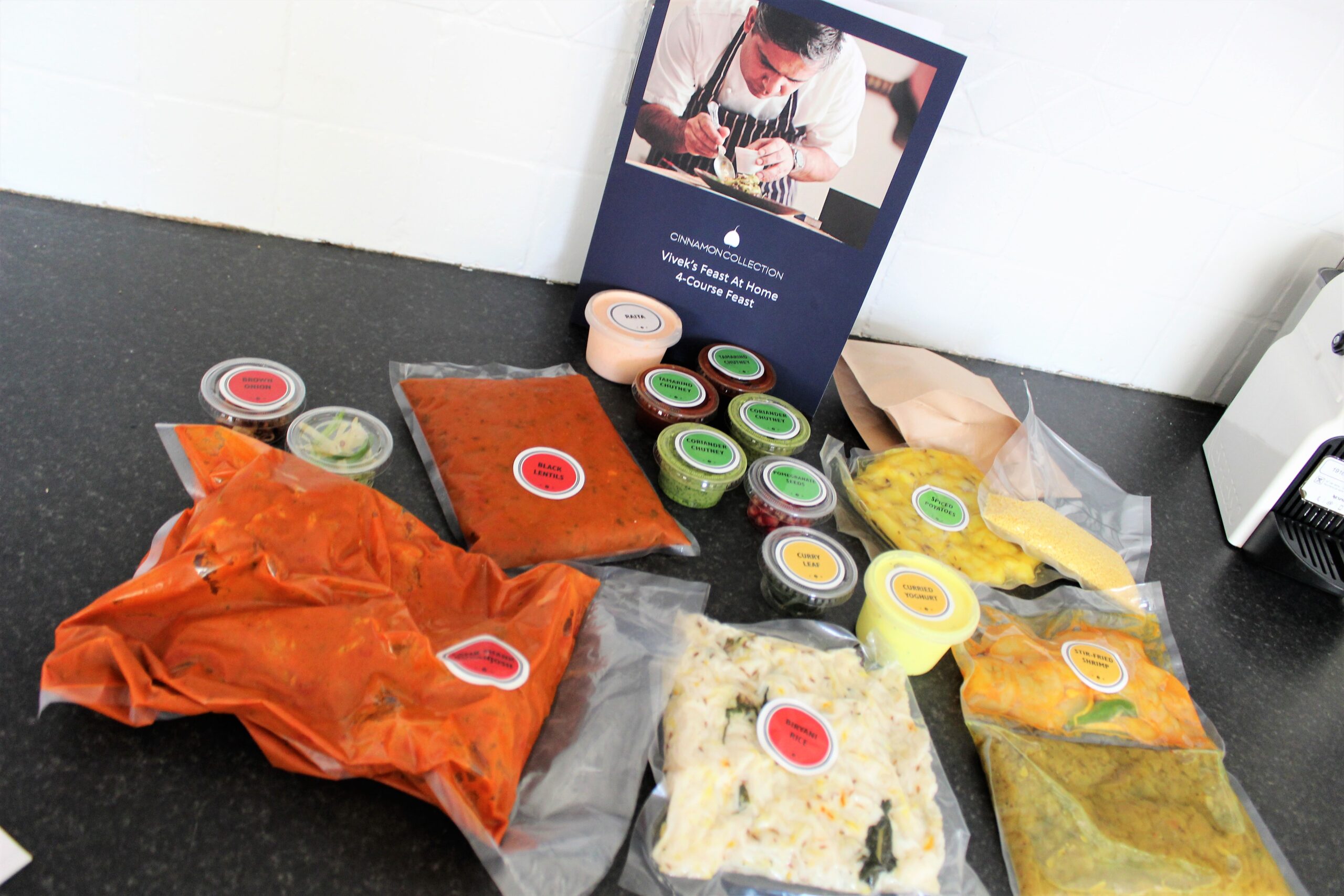 It's not very often Mr B and I have an Indian takeaway, not because we don't like the food, in fact we love Indian food! But in the past when we have ordered an Indian takeaway we always felt a bit disappointed. It was just never quite as nice as when we were to have it in a restaurant. But that has now changed. Not only was our most recent food box better than any Indian takeaway we have ever had, it was better than most Indian restaurants we have been to!  
This meal box certainty delivers something special and gives a huge wow factor when it comes to the complexity of flavours which are used and balanced in such ways only a truly skilled chef could know how.  
The famous Cinnamon Club is celebrating its 20th anniversary this year and just from the meal box we had at home it is clear to see why this business has lasted the test of time and will continue to do so.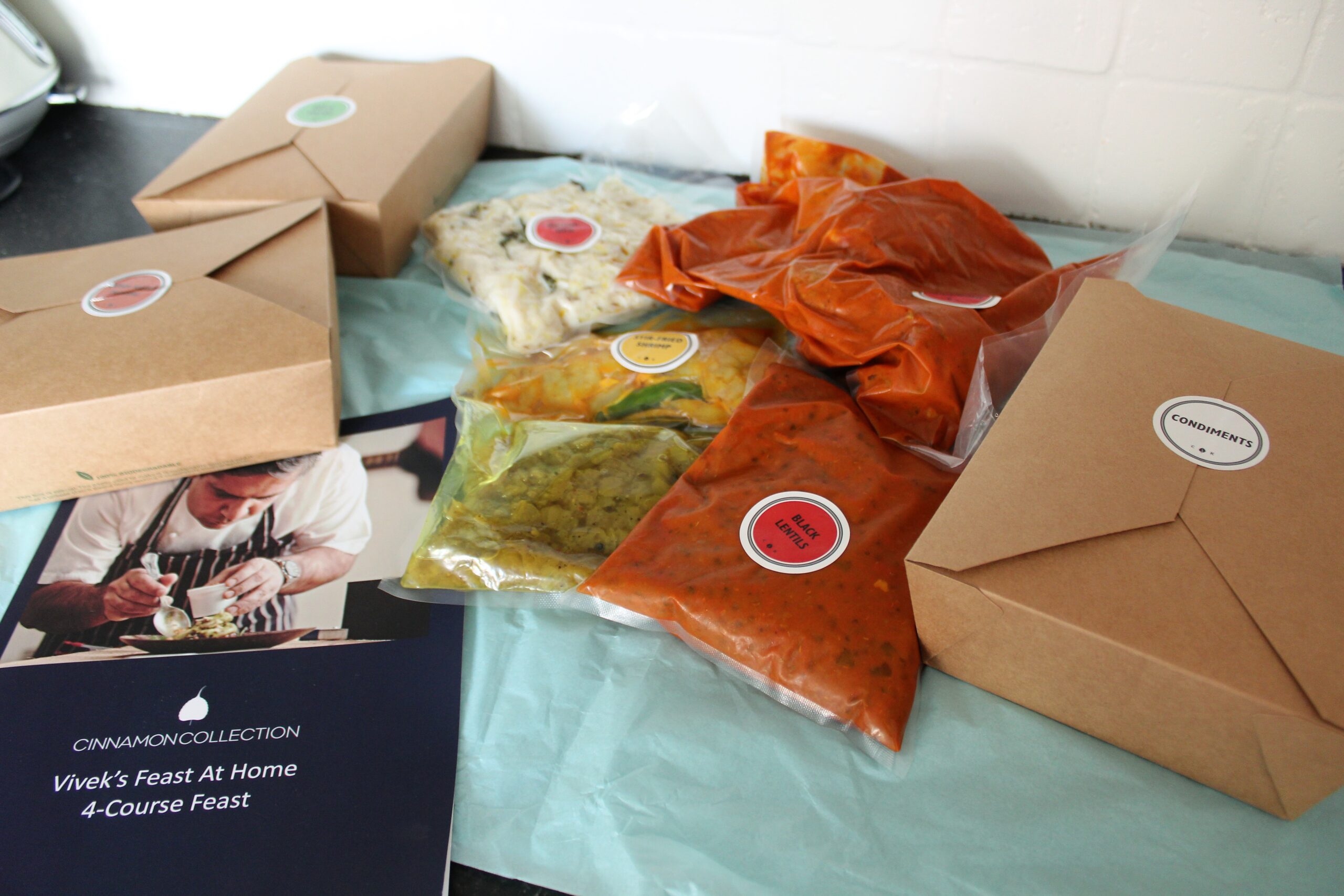 They offer a variety of meal kits, but we opted for the 'Four course feast at home for two' and boy was it a feast! We chose to serve all our dishes at the same time and enjoy them as sharing plates (apart from the dessert of course). Sometimes this is easier said than done with all the different timings and processes, but I was pleased at how simple everything was to heat and plate.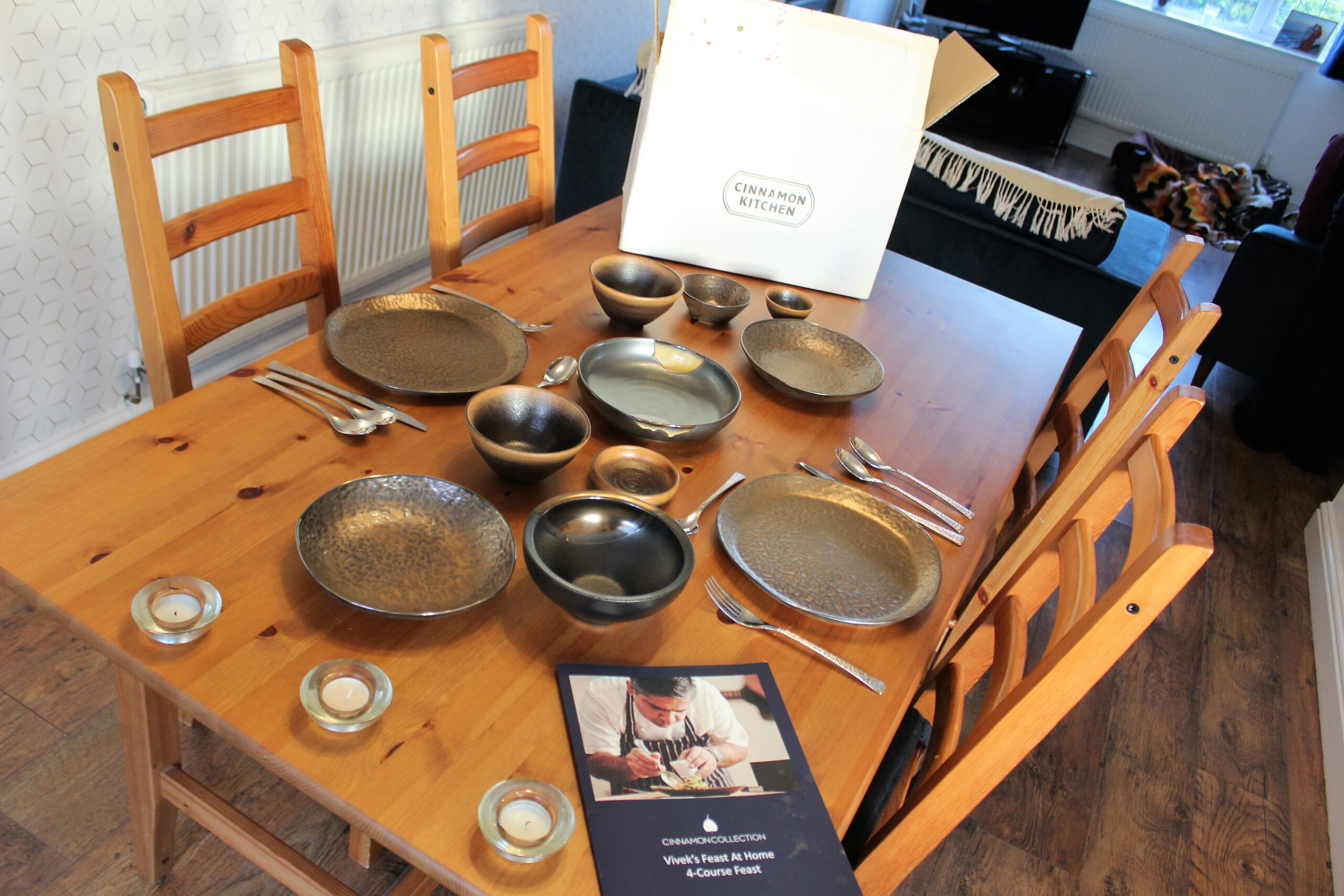 The first plate was 'Bhel papdi chaat' – this was a cold dish and just required mixing a few of the clearly labelled ingredients. The already pre-mixed cracked wheat and puffed rice is simply combined with the spiced potatoes, then add half of the tamarind and coriander chutney, pop it all in a bowl and top with the chickpea vermicelli and fresh pomegranate. This dish is inspired by an Indian street food dish and was unlike anything I have had before. It was such a wonderful combination of flavours and textures, tasted lovely and fresh and the two chutneys really made it for me.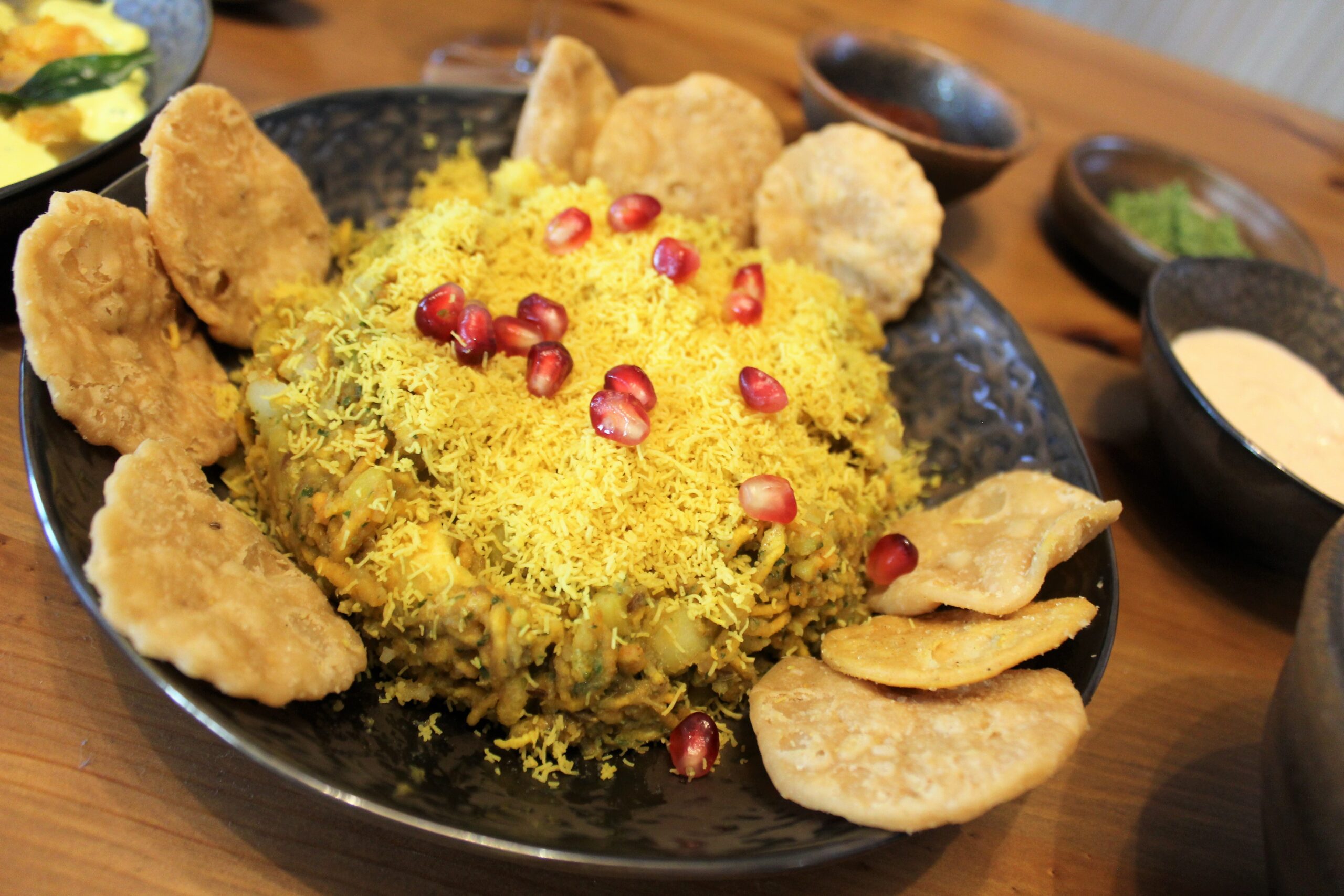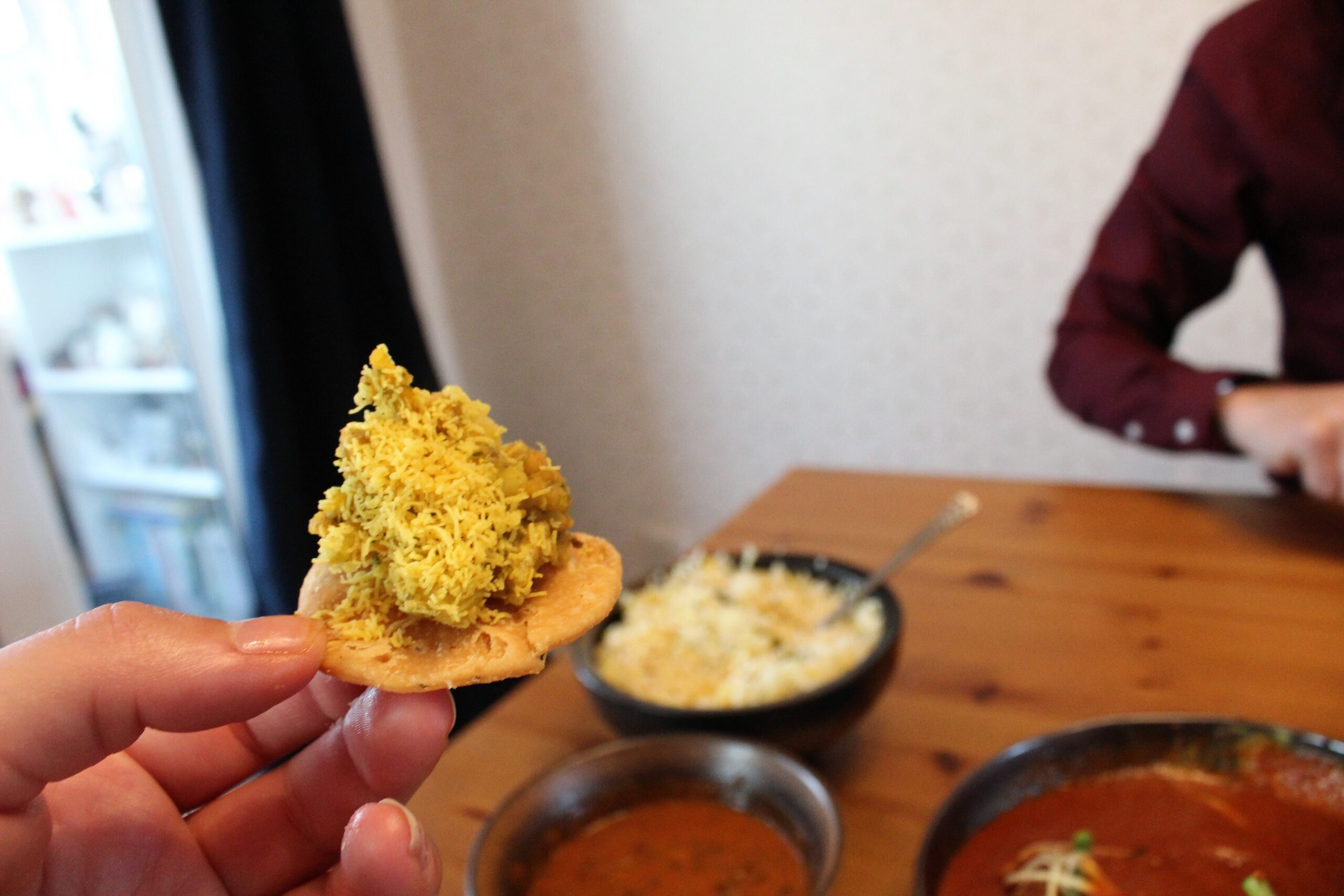 One of our main dishes was 'Madras shrimp pepper fry' – the nice plump shrimp came with a curry leaf and black pepper sauce. All we had to do with this was fry the shrimp for a few minutes, add the sauce to the same pan to warm through and that's it, nice and simple – just plate and garnish with the already-fried curry leaves. It was everything I want from a Indian seafood dish. It was fresh, fragrant and had a nice balance of spice which didn't overpower the seafood. It also had a lovely smoky undertone which reminded me of having something cooked over open flames.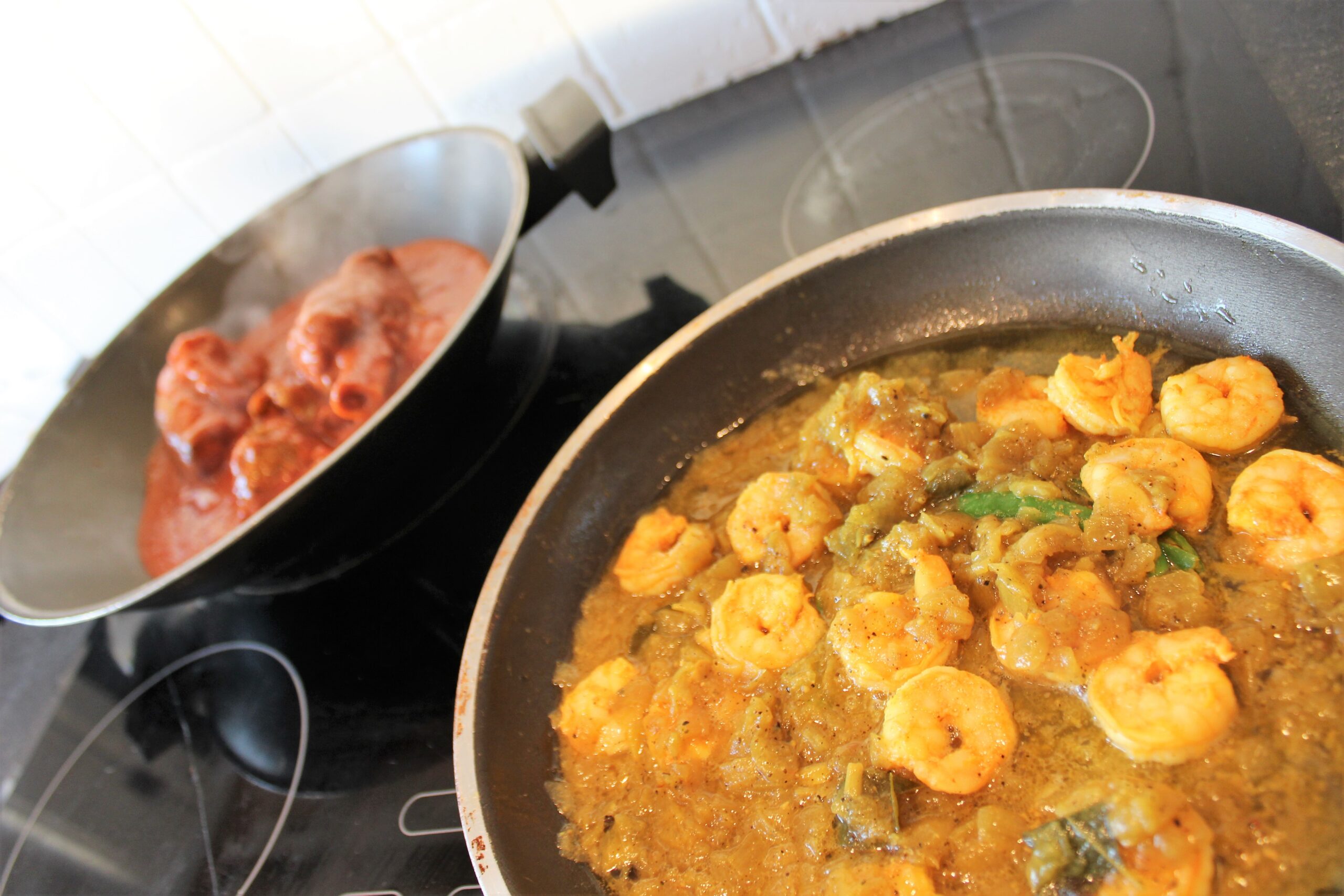 The next main course and arguably the star of the meal was the 'Lamb shank Roganjosh' – these pre-slow-braised lamb shanks were huge! They came in a vacuum sealed bag so all we needed to do was put the bag in a pan of boiling water and fry them off for a few minutes afterwards to enhance the flavours and colours of the dish. The hard work really had already been done for us. The lamb shanks must have been braised for hours as they were so tender – the meat just fell away from the bone. The sauce was full of different spices and was thick and rich. It really made your taste buds sing with delight!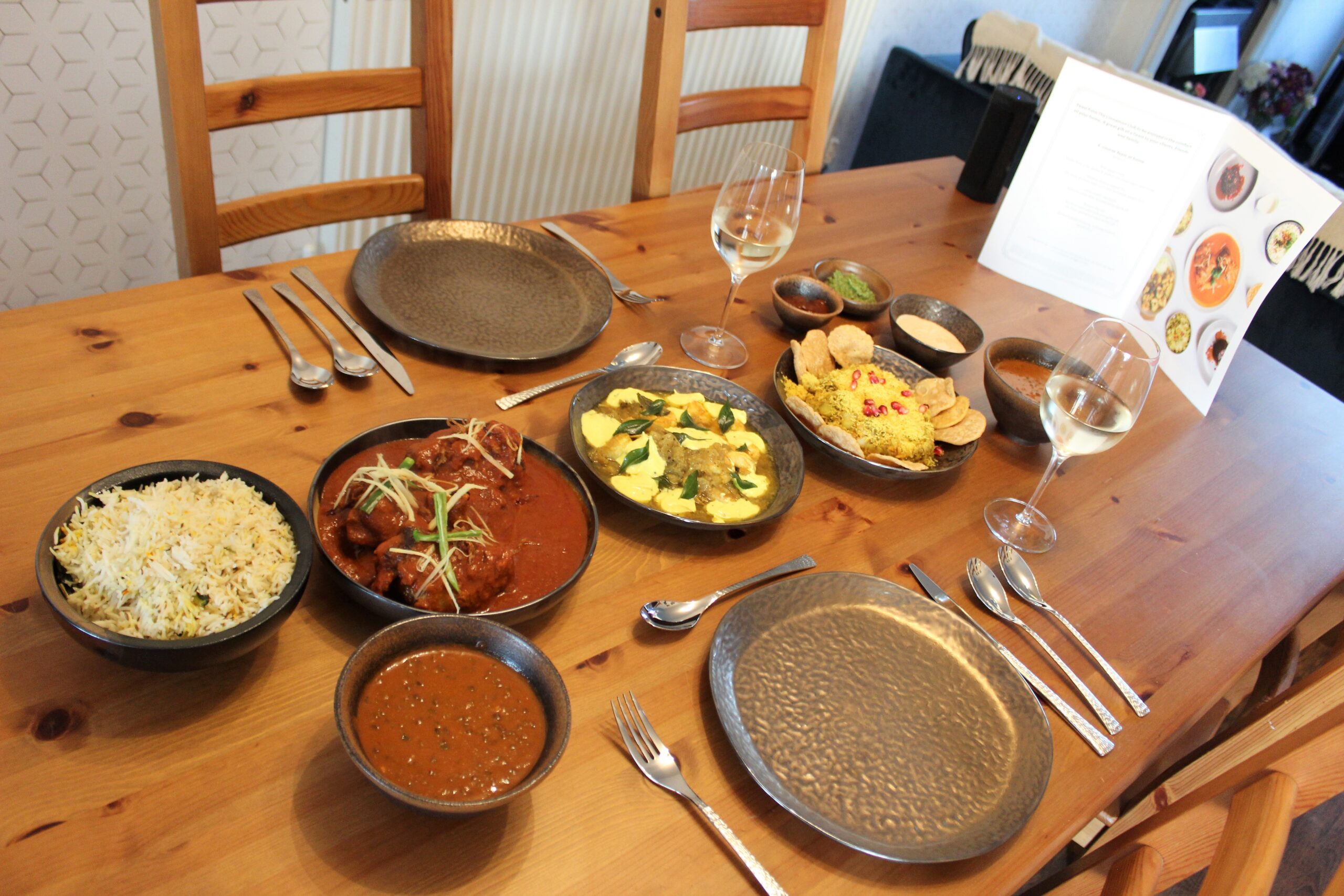 Of course, no curry would be complete without its accompaniments and our Biryani rice was more then enough for two people. The rice, like the lamb shank, was in a vacuum sealed bag so it simply went in the same pan of boing water in its bag to heat through. Even though the rice was pre-cooked, I was amazed at how soft and fluffy it was just like you would get in a restaurant. No gloopy, overcooked rice from the Cinnamon Club!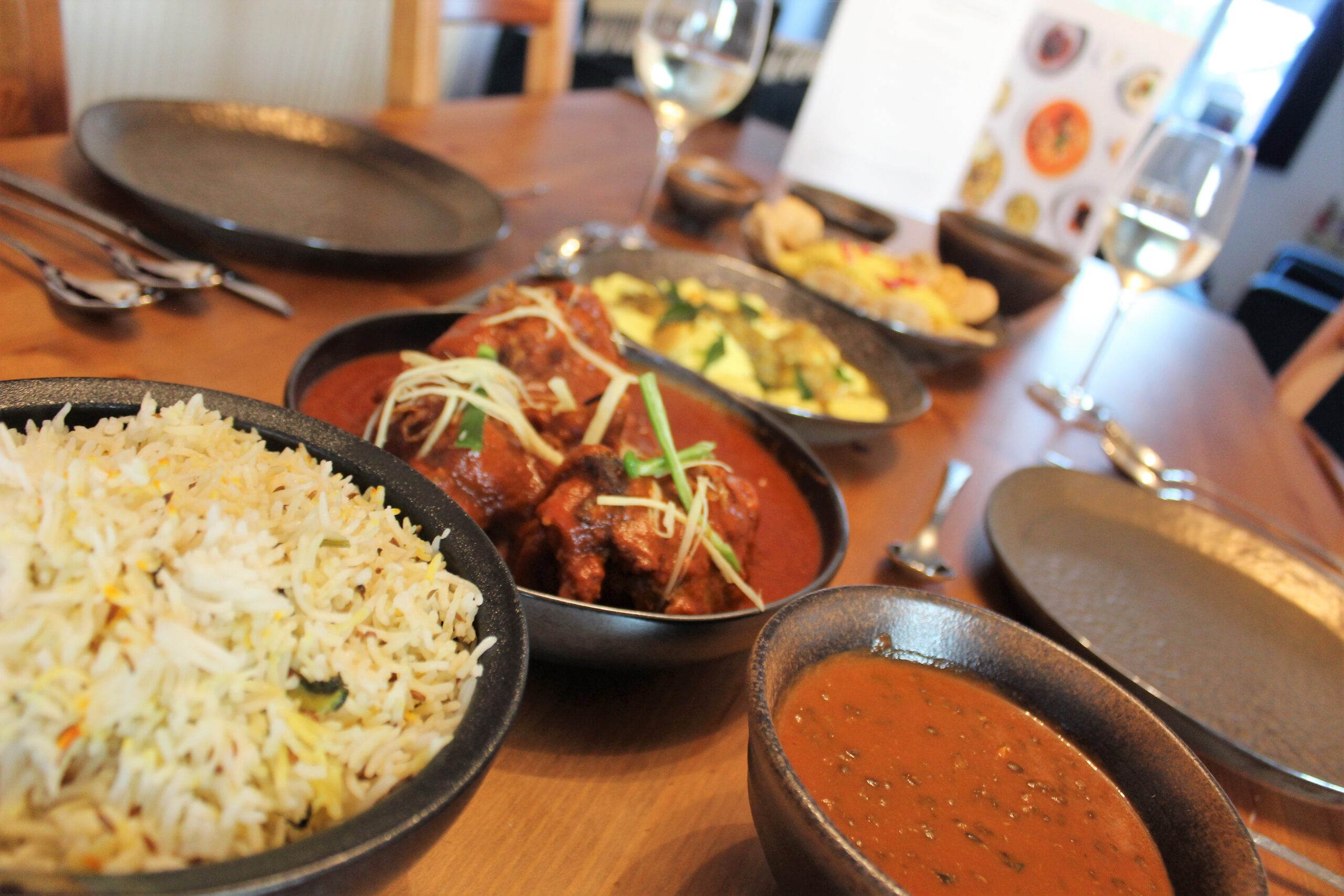 The second of our two sides was '24-hour simmered black lentils' – I am partial to a lentil dal and this delighted me just as much. I love the texture that lentils add to a dish. They do so well at soaking up the flavours of a thick rich sauce. This classic Punjabi dish was full of spice without blowing your head off!  
Mr B and I both have good appetites and we both made sure we were very hungry so we could enjoy this meal, but even so we had quite a bit of food left. Every dish had a very generous serving! It did us a huge lunch the next day (which was just as nice as having it for the first time)!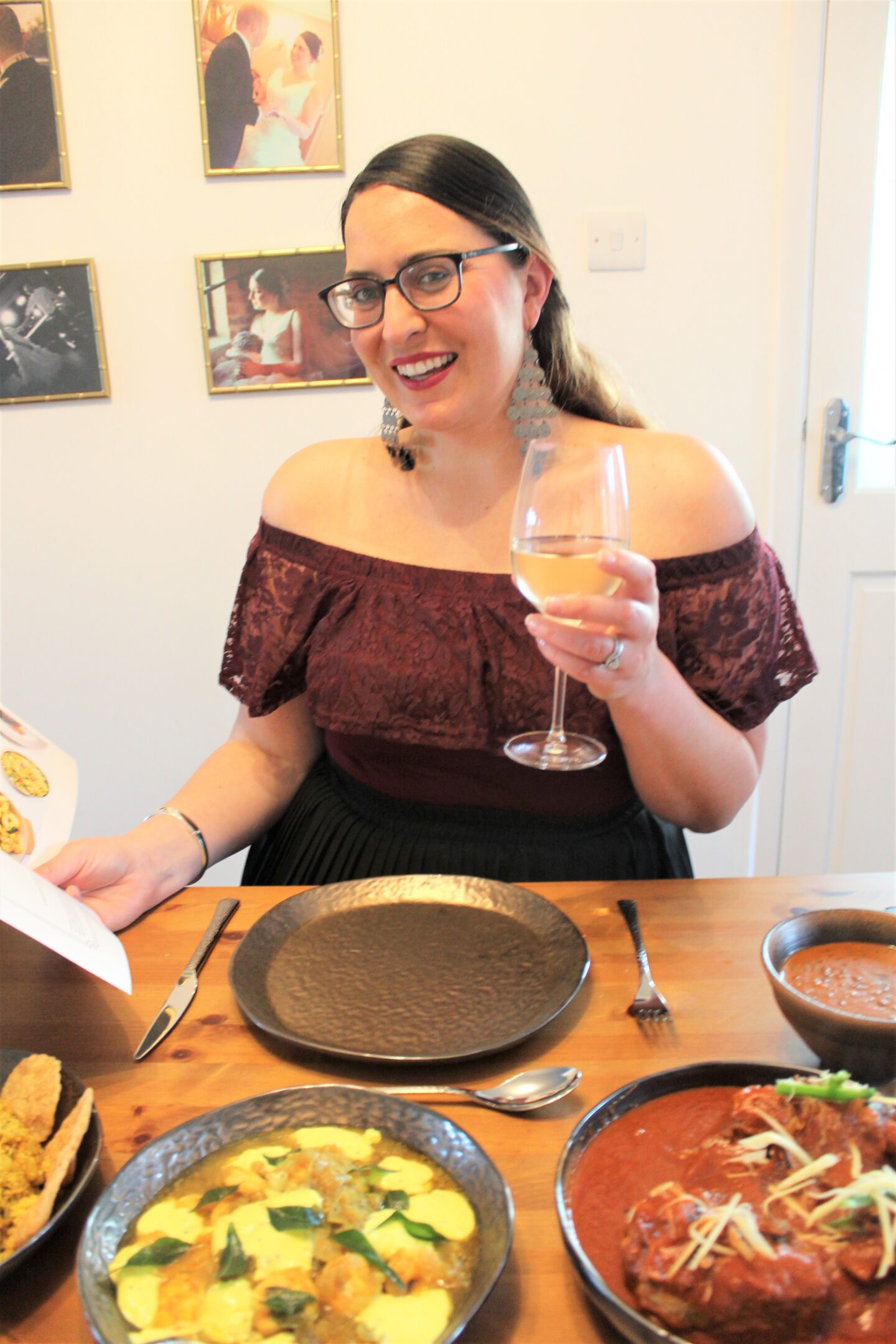 Having a small break so we could make room for our puddings, we were certainly looking forward to our last course which was 'Steamed ginger and garam masala pudding with nutmeg custard and toffee sauce'. The sponge in its foil tray went in a bain marie in the oven whilst we warmed up the sauce and the custard for a few minutes on the hob.  
We soaked the soft, light sponge in the toffee sauce which made it irresistible! It was sweet, sticky, moist and oh so delicious. The spicy nutmeg custard cut through the sweetness. I would never normally order a dessert when I go out to an Indian restaurant, but if we know they would be serving this Mr B and I would be ordering it every time!  
This meal box is no standard Indian food. This is next level and so brilliantly cooked and prepared to make it a doddle to serve at home. Perfect for a treat, but also special enough to have if you were celebrating an occasion at home.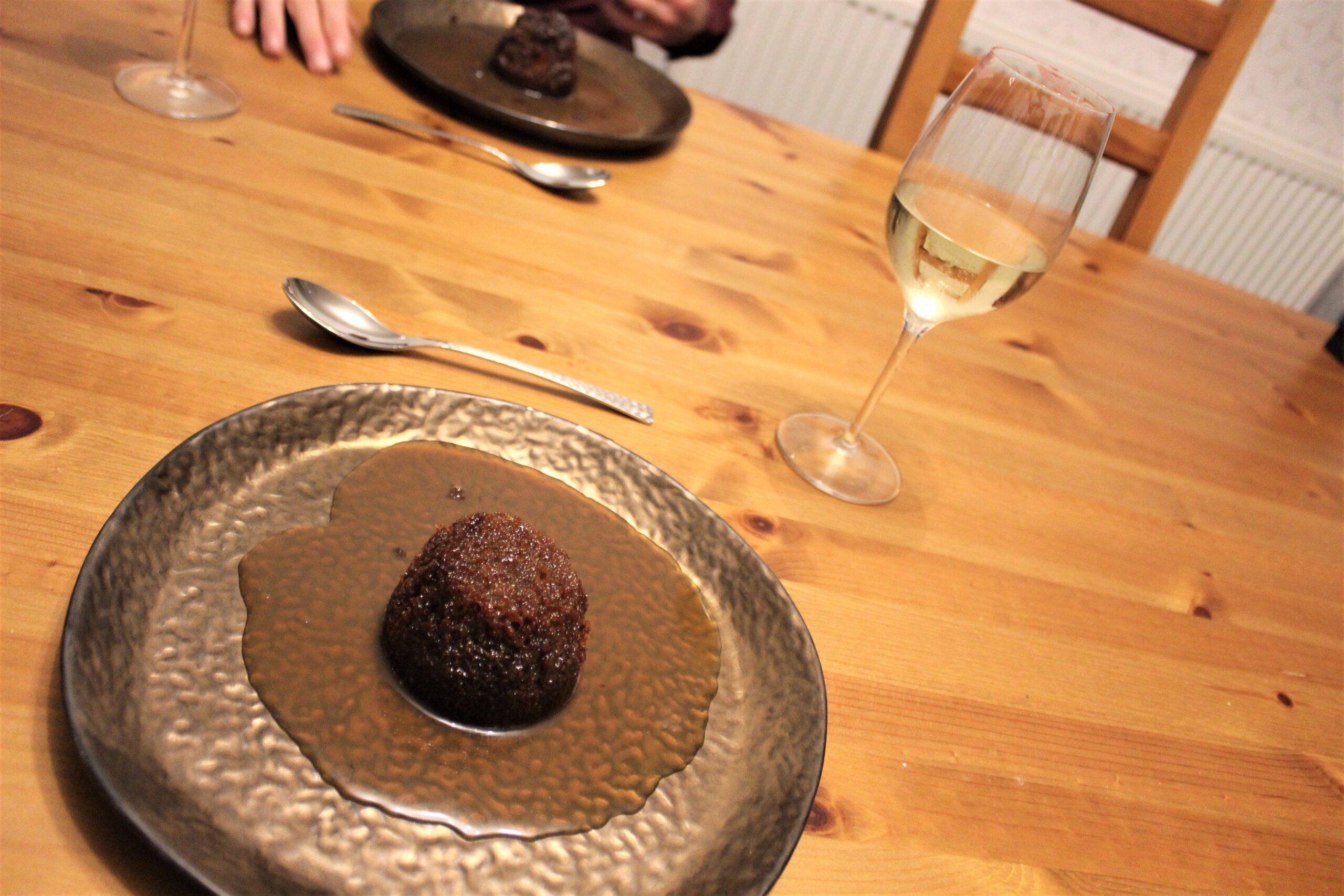 All the tableware I used for this meal including wine glasses, cutlery, plates and bowls are from UTOPIA who have a huge range of designs made specifically for the hospitality industry. 
https://www.thecinnamoncollection.com/blog/shop/dine-at-home-60pp-menu/