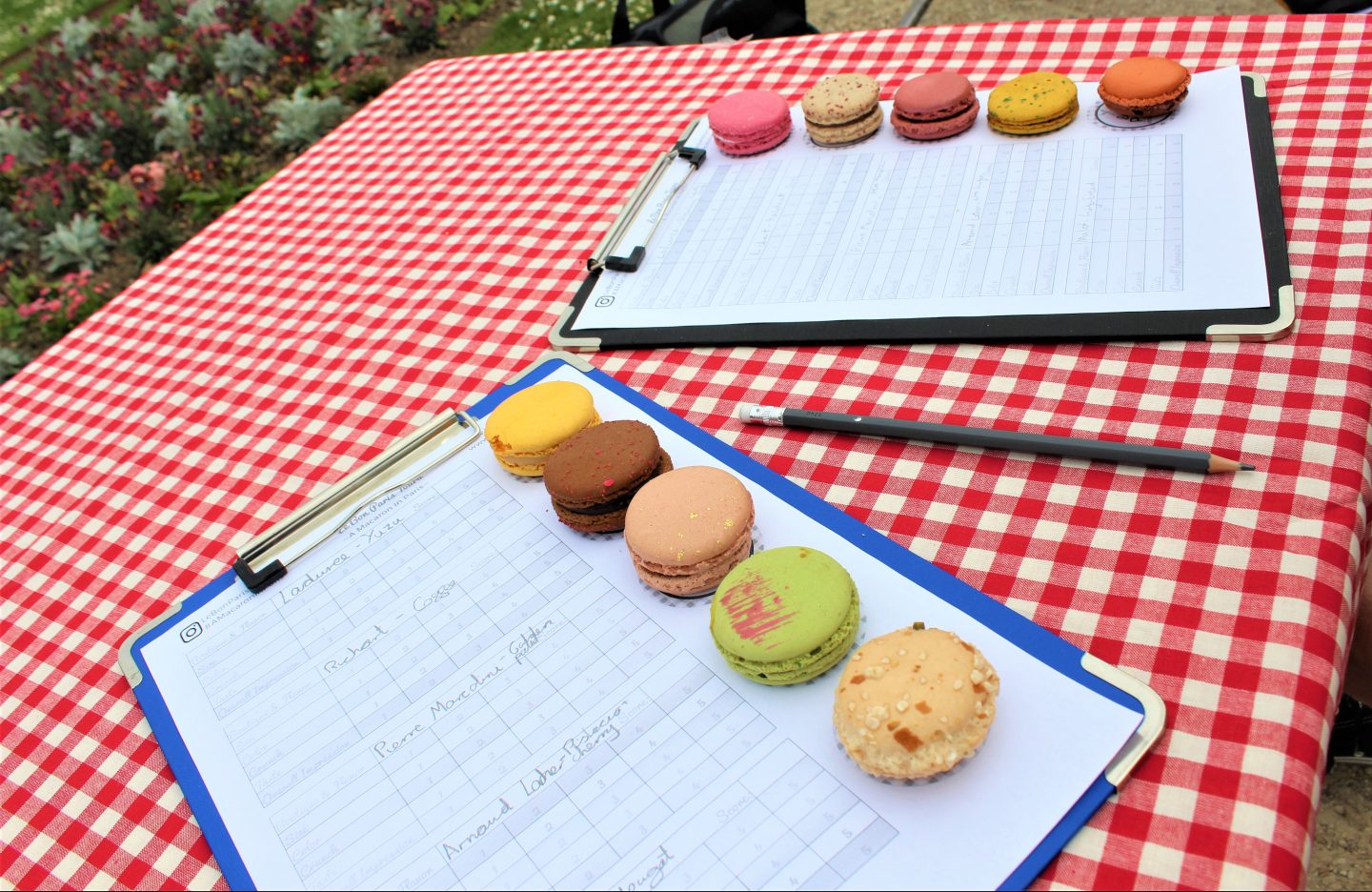 When I think of Paris there are two things that I automatically think of . . . The Eiffel Tower and all the amazing French food! Bistros, outside seating, Michelin star restaurants, fantastic bakeries and beautiful patisseries . . . Paris has it all!
When you think of French patisseries, is there anything more French and more fabulous than a macaron? I think not!
So on our recent trip to Paris we went on a macaron tour with a mission to find the best macaron in Paris!
We met our guide Jonny in the beautiful St. Germain Quarter, which is home to designer shops, galleries and some of the best patisseries and chocolatiers in Paris.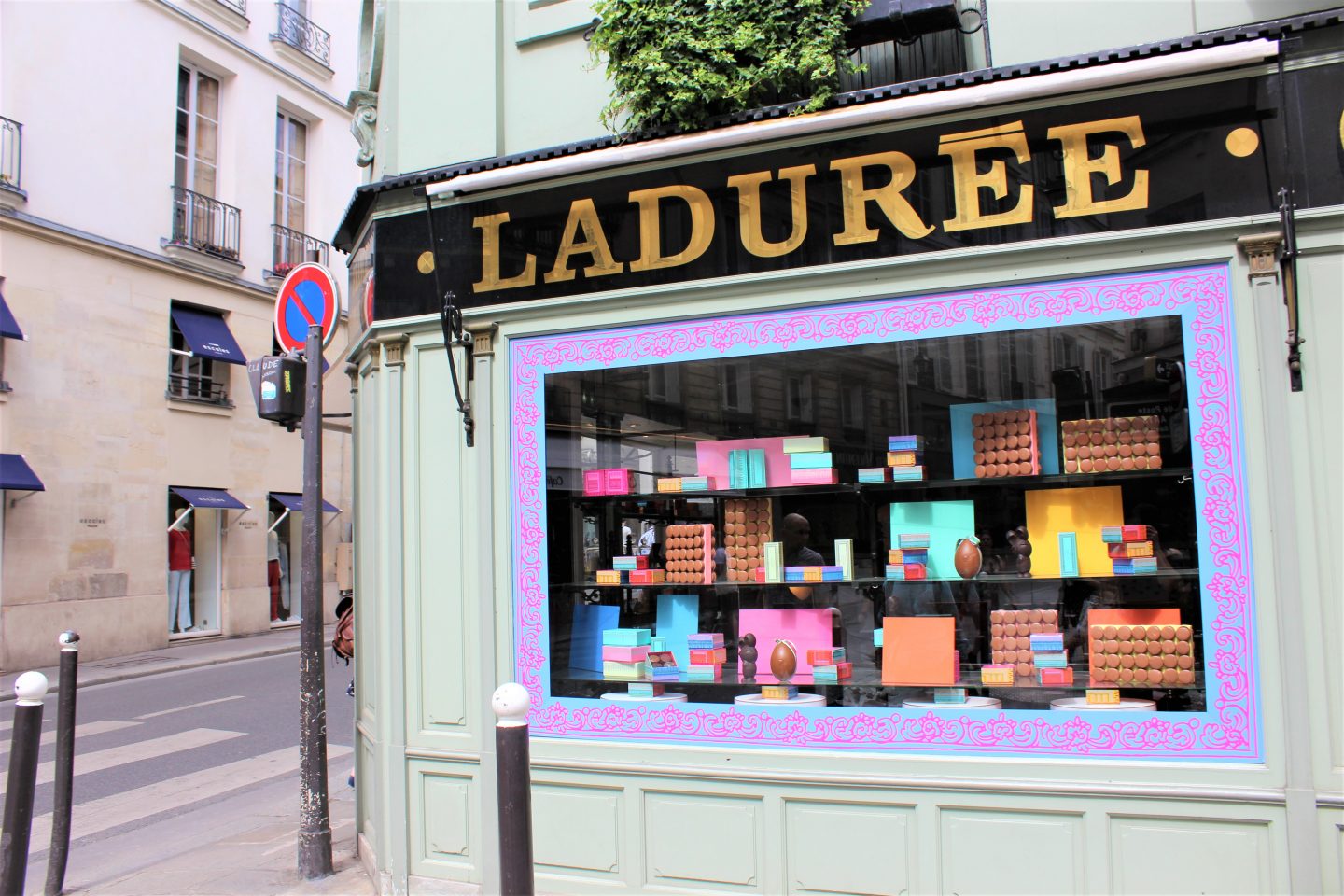 As we started to make our way through the beautiful cobblestone streets, I spotted our first stop before Jonny even pointed it out . . . the fabulous and famous Ladurée.
Ladurée has shops all around the world and is mostly well-known for its macarons so I had very high expectations! Joining the queue I could see the colourful macrons lined up and the huge range of  flavours.
I opted for the Yuzu as I am a big fan of this strong citrus flavour, while Mr B opted for a Strawberry macaron.
Our next stop was the elegant Richart with its beautiful window displays and miniature macrons on show. This shop is very inviting! I opted for a coffee macaron, a flavour I always love in dessert and sweet treats. Mr B went for the Hazelnut.
My favourite shop based on the interior was Pierre Marcolini. The way the colourful macarons and home-made chocolates were displayed reminded me of looking at jewellery in a jewellers and it was hard not to tuck into all the sweet delights there and then!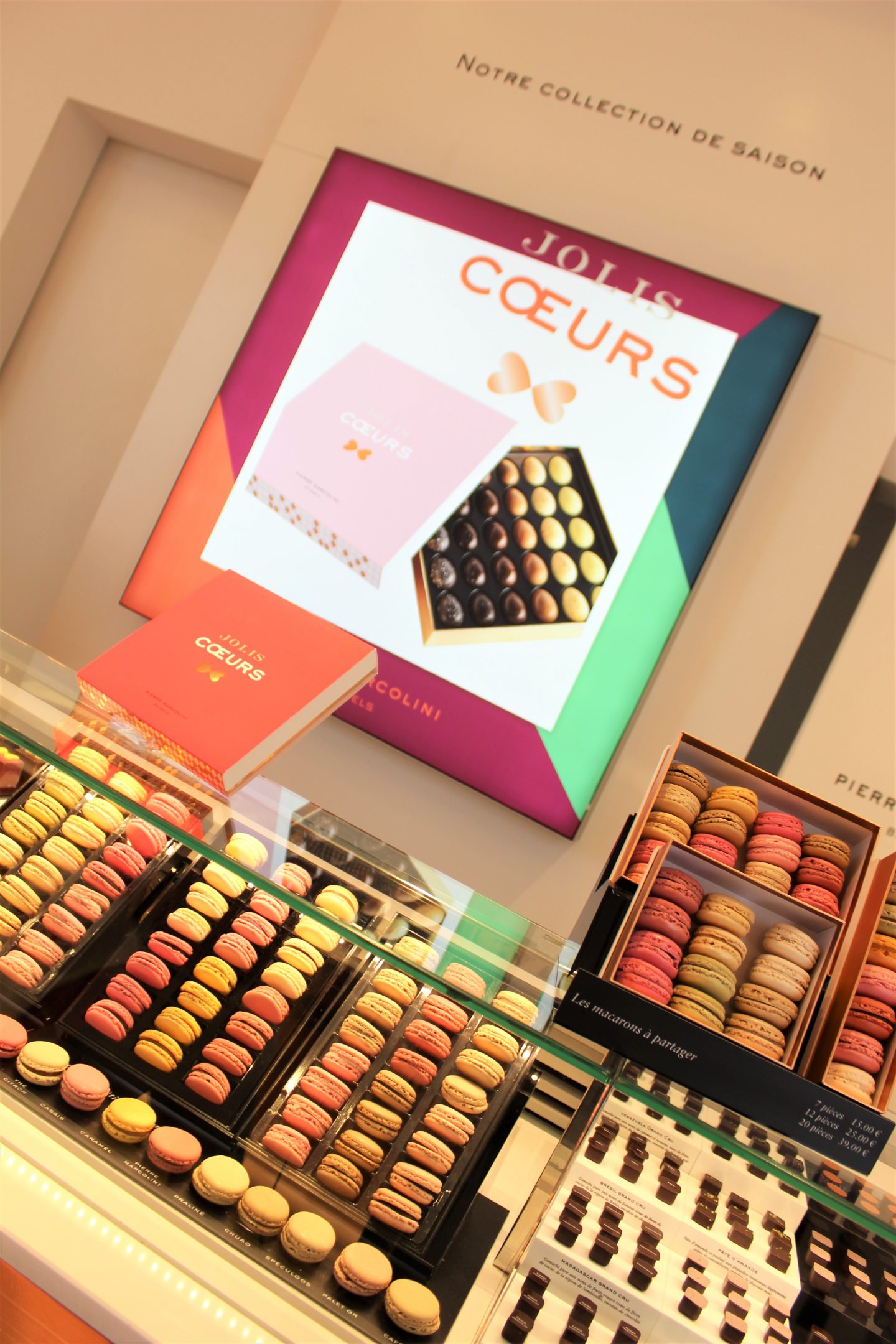 But I resisted temptation and chose a golden macaron (how could I resist a golden one!), while Mr B opted for the Pierre Marcolini signature.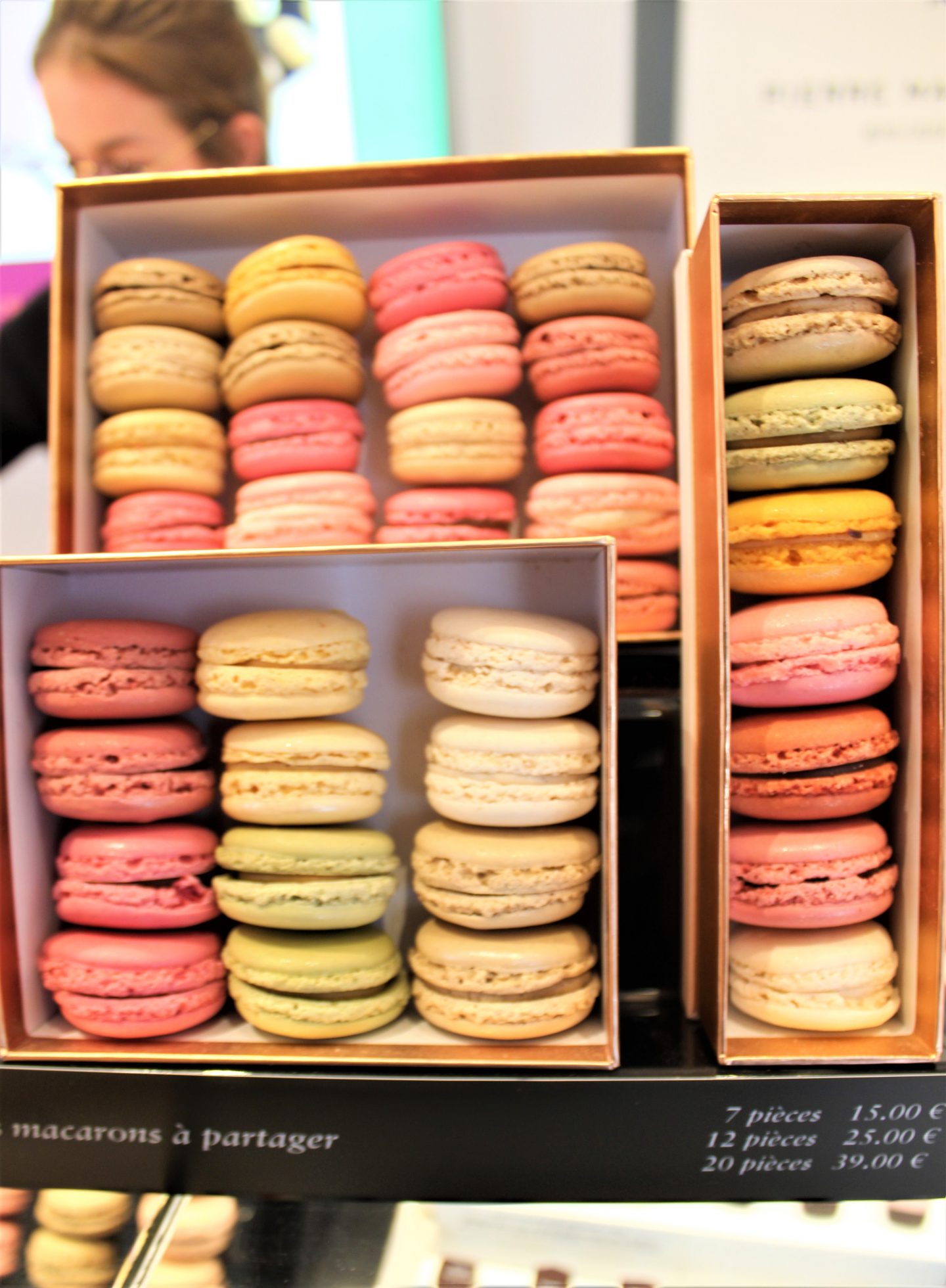 Arnaud Larher offered another difficult choice . . .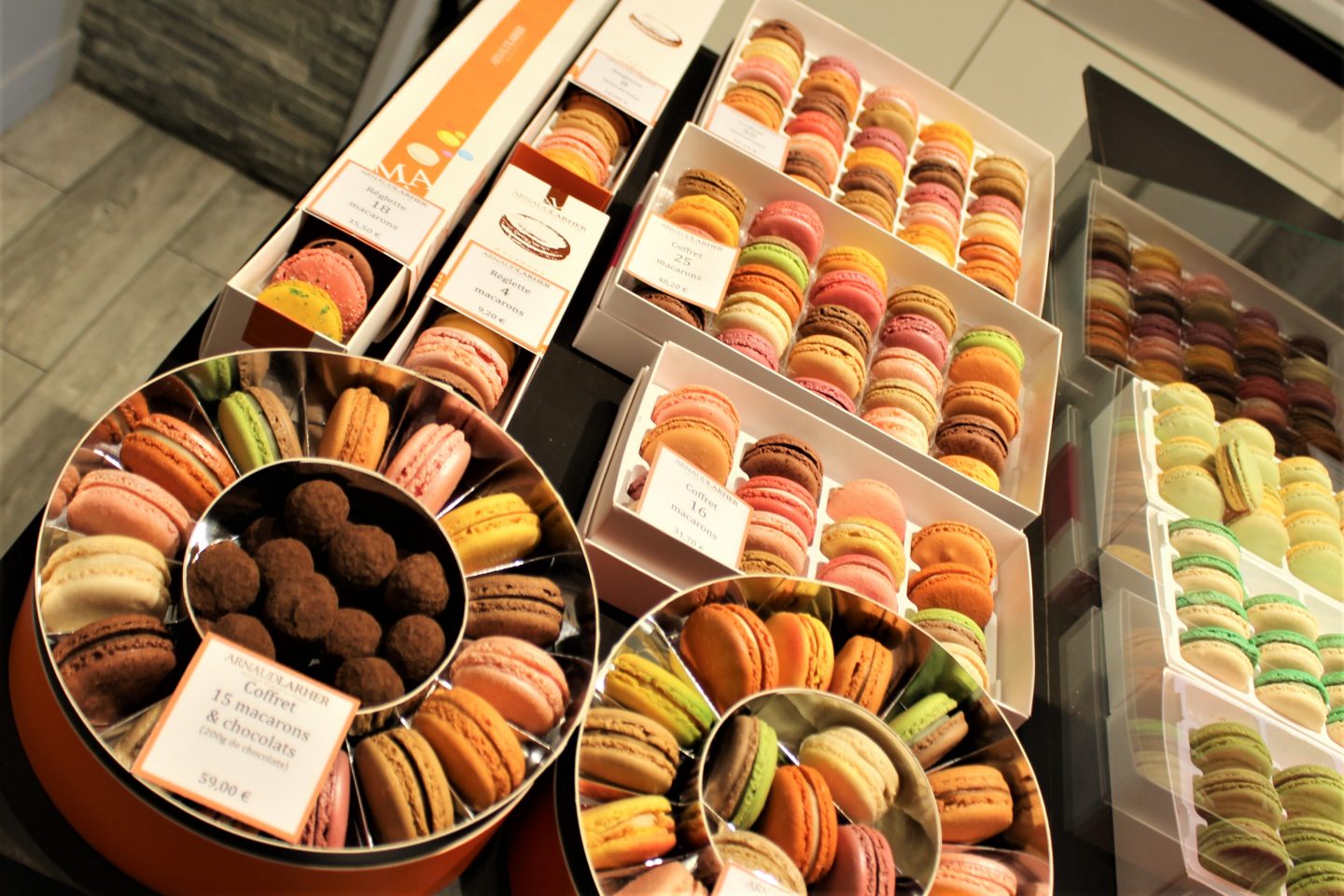 My choice was a twist on a classic . . . pistachio and cherry while Mr B choose something a bit different with a lime and ginger macaron.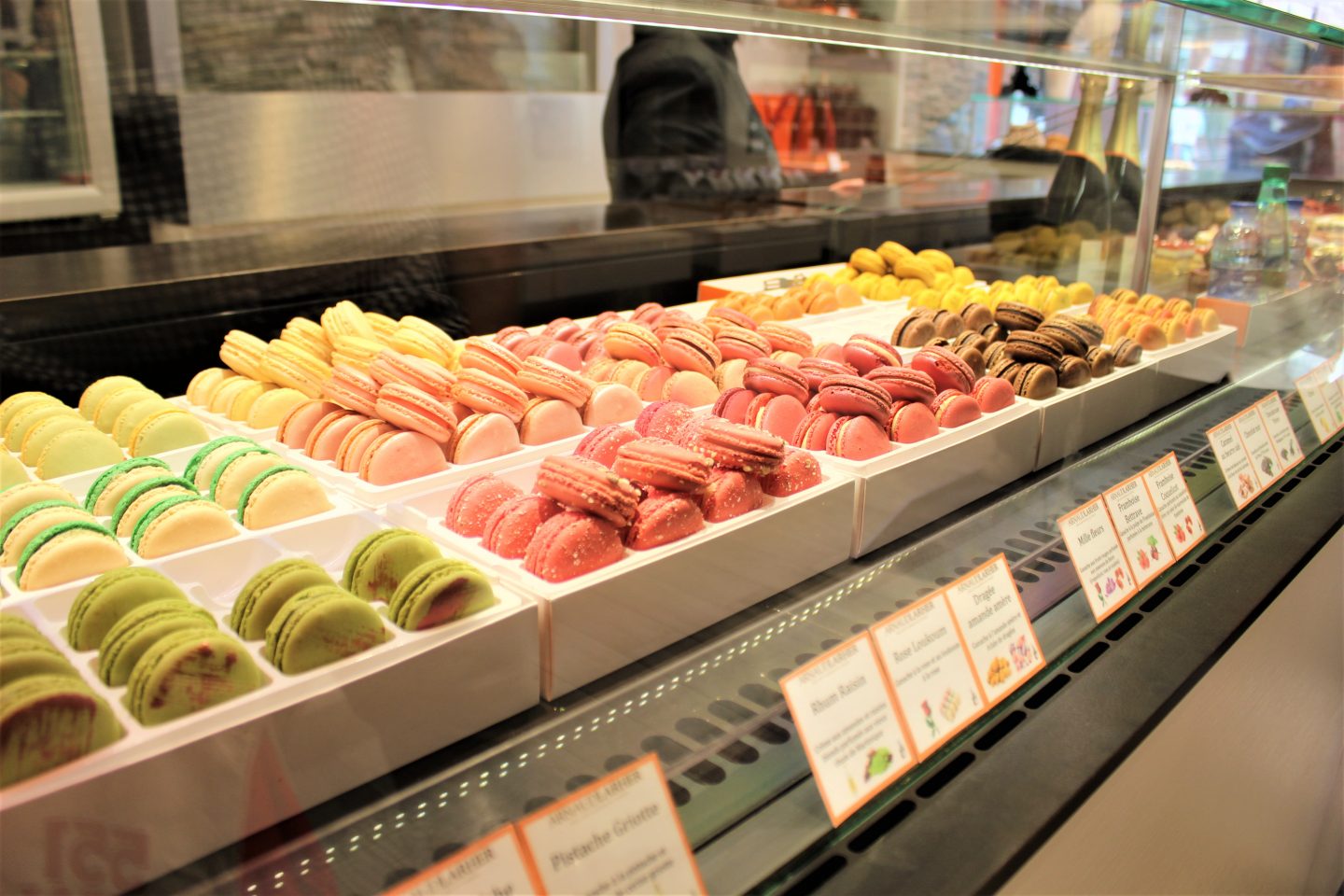 Our final stop and the busiest of them all was Maison Mulot.
It was a picture-perfect shop with so many divine looking cakes and pastries on display! For my final macaron I choose a nougat and for Mr B, the gingerbread.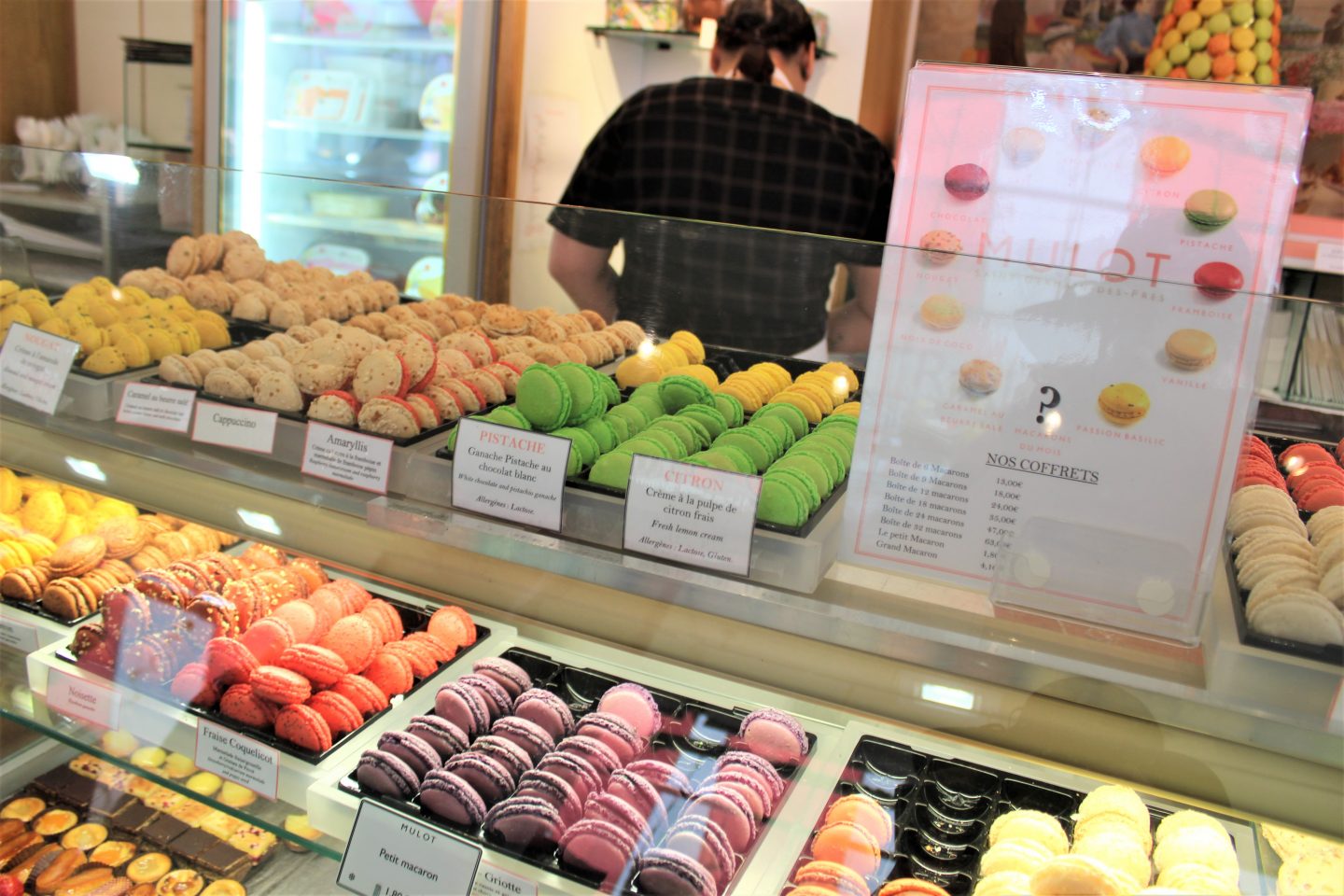 With our five carefully-chosen macarons being kept the perfect temperature in the cool bag, which our brilliant guide Jonny had bought with him, we made our way to the stunning Luxembourg Gardens for the judging and most importantly . . . the tasting!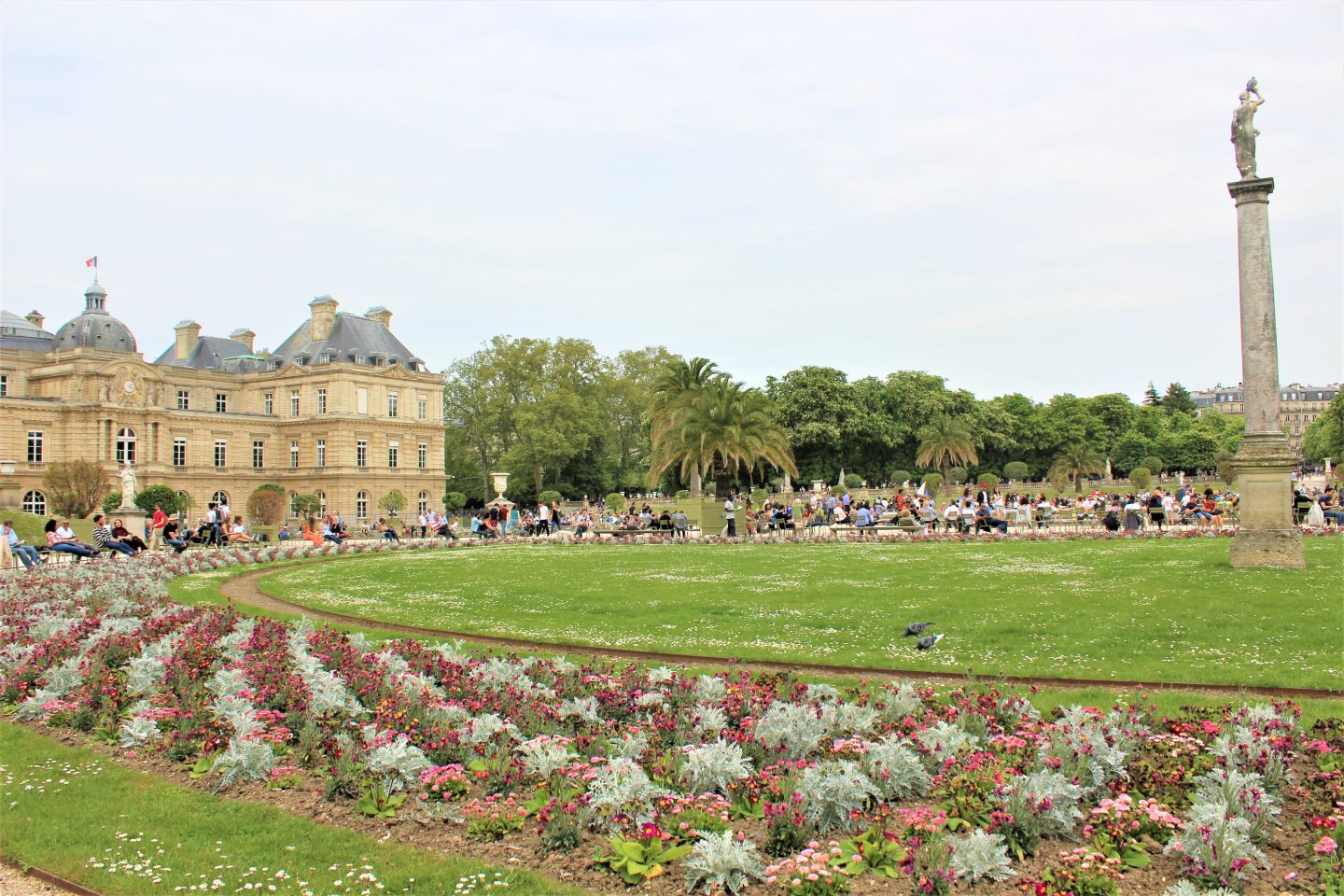 Luxembourg Gardens is free to enter and if you are in Paris you must visit as the gardens are simply stunning! Jonny set up a table and chairs in a beautiful spot in front of the perfectly manicured gardens.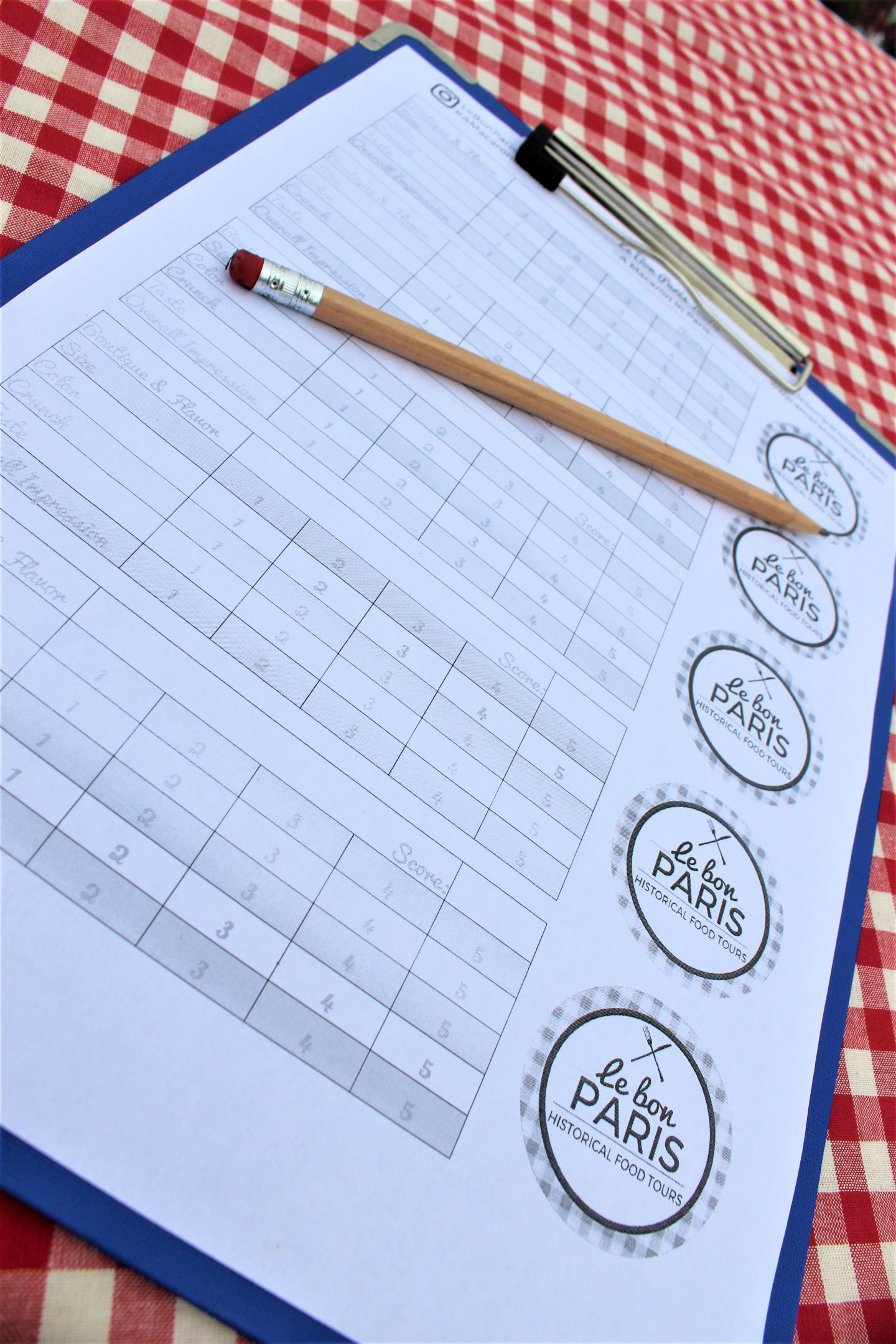 With macarons lined up and score cards ready, it was time for the judging to begin!
I knew what I was looking for in my perfect macaron . . . bright colours and with some height so I could see the filling. For the taste I wanted something crisp on the outside with a slightly chewy centre and most importantly I really wanted to be able to taste the flavours!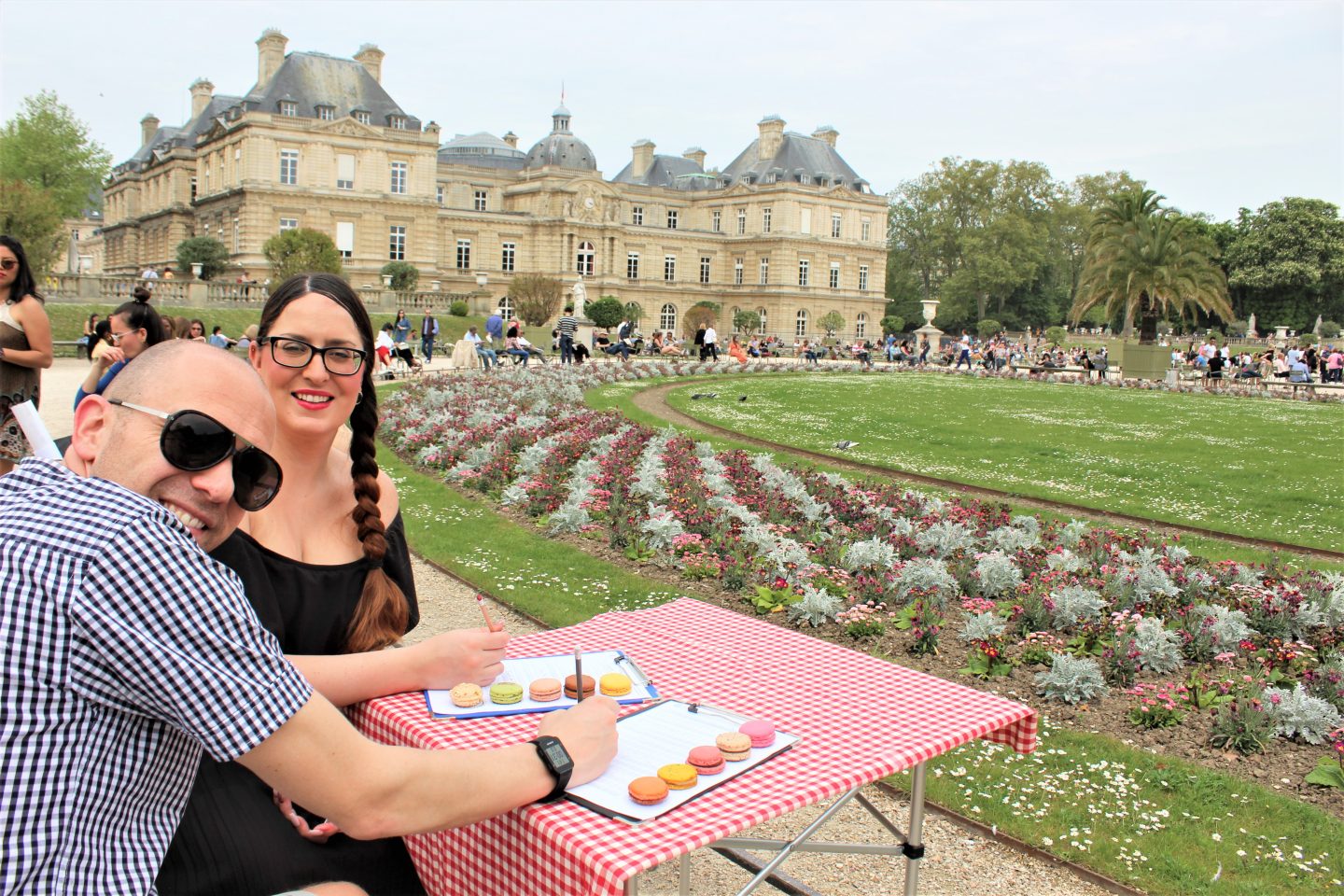 Visually, before we even opened the macarons, Pierre Marcolini definitely won for best packaging as it looked and felt so luxurious. The runner-up was Ladurée with its on-brand pastel green paper bag. The other packaging was slightly disappointing. If you are paying for a luxurious macaron you want to have the whole luxury experience and I think the packaging is part of that.
Macarons lined up at the ready, it was time to tuck in! We had five topics to score each macaron on which were size, colour, crunch, taste and overall impression. For each one we gave a maximum of five points.
We carefully ate our macarons while thinking about all the points before writing down our scores.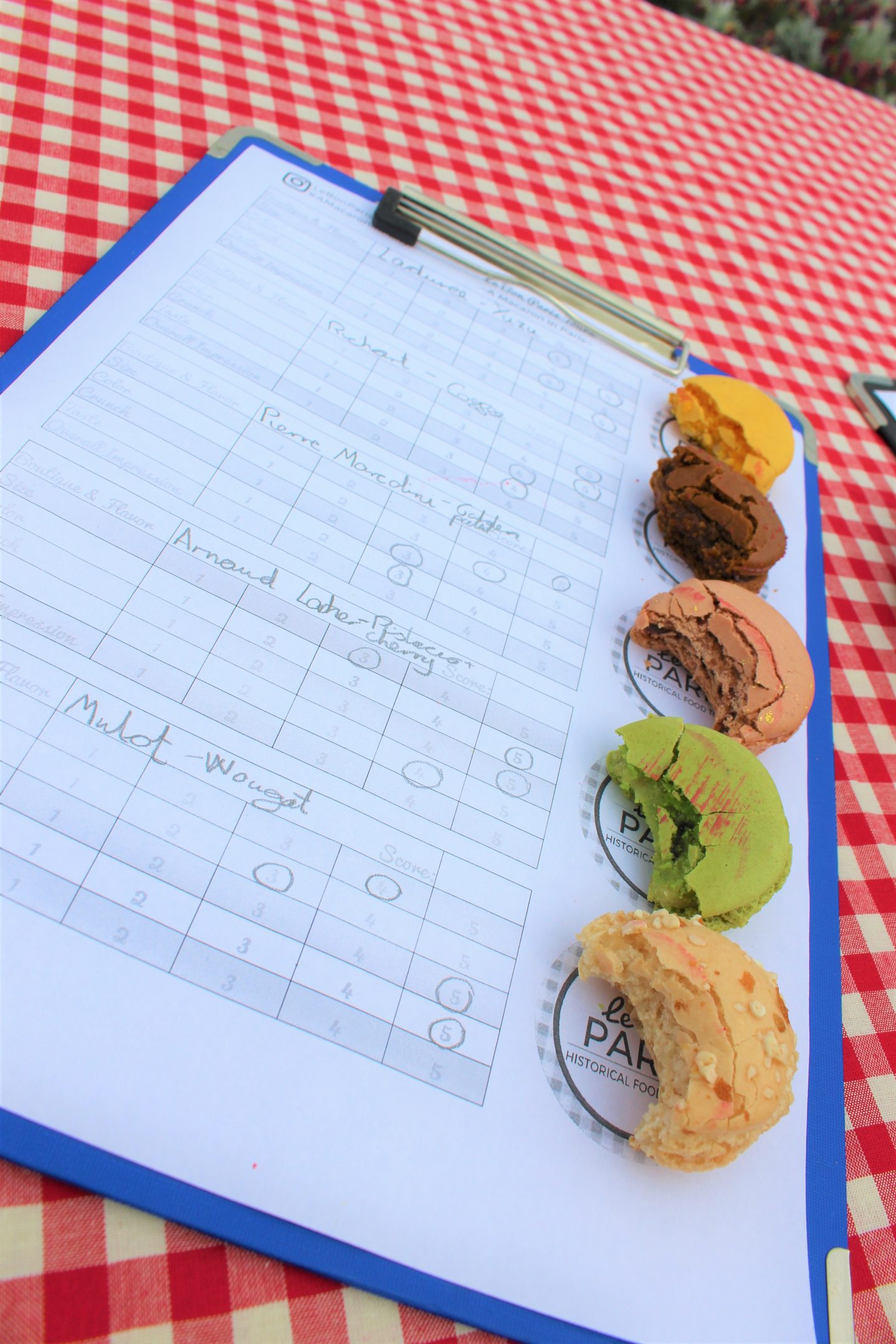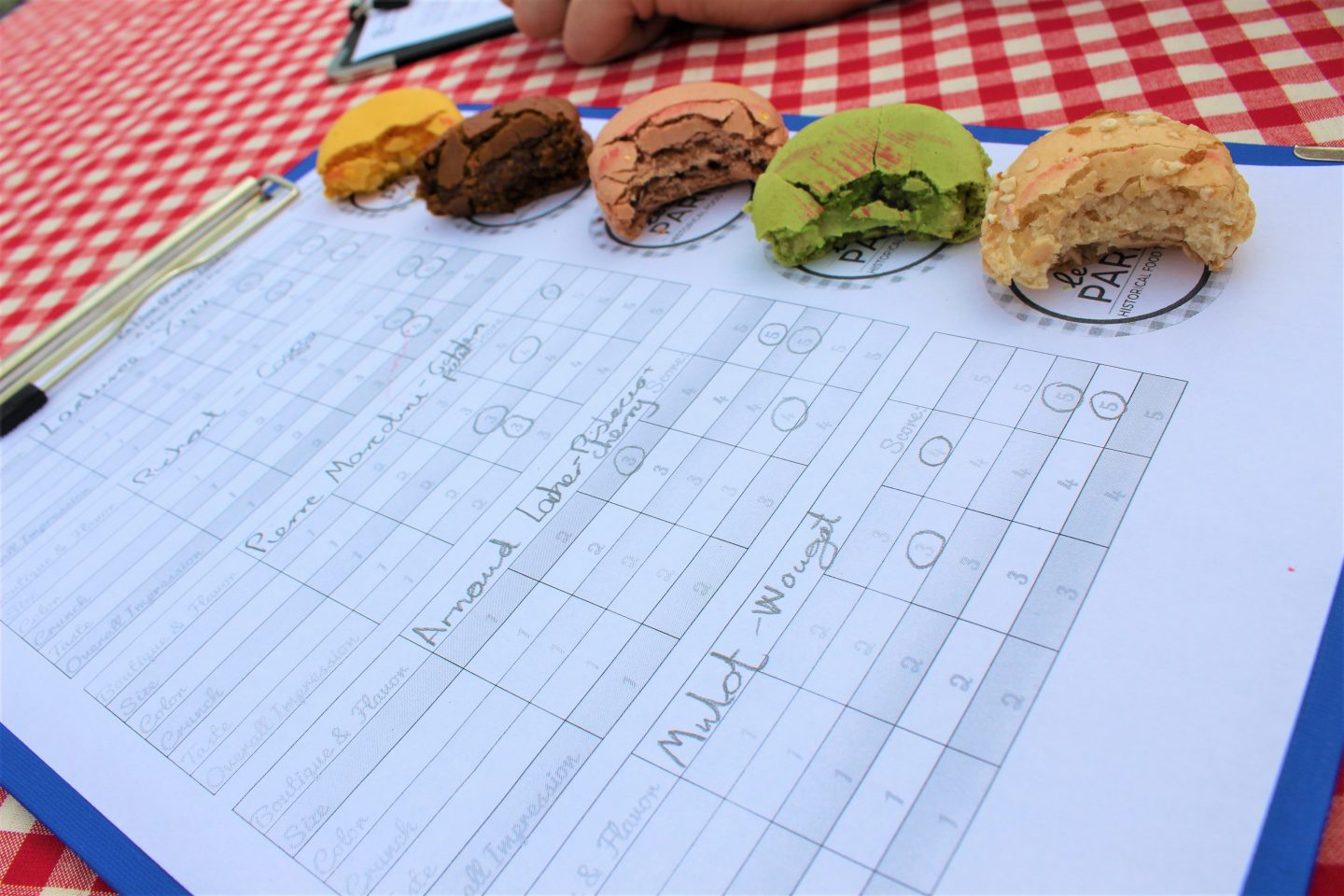 Of course, we had a sneaky taste of each other's macarons . . .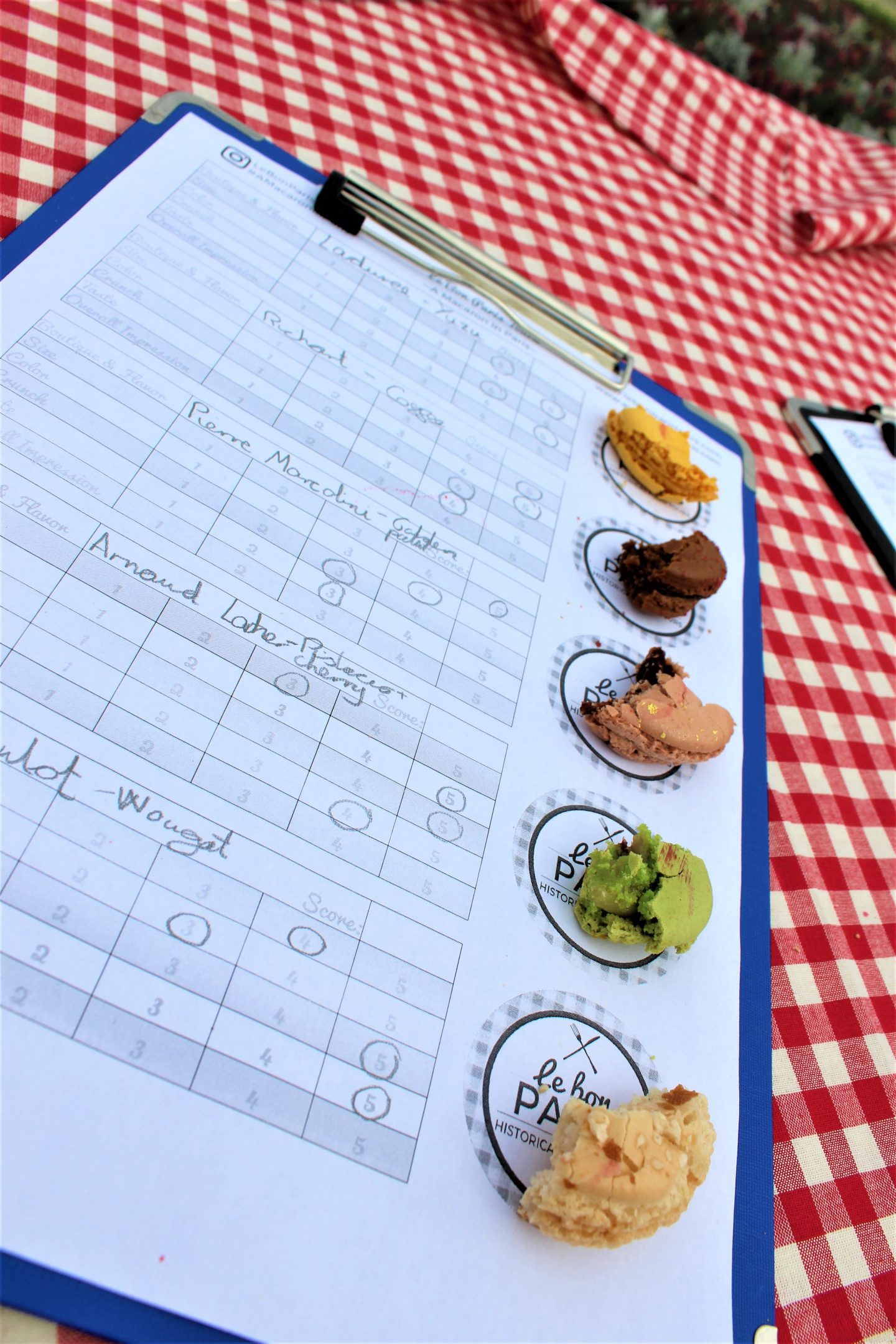 And the winner . . . . for me it was the Yuzu macaron from Ladurée! Although it was tight, I was trying to be critical with my scoring, but to be honest I would eat them all again!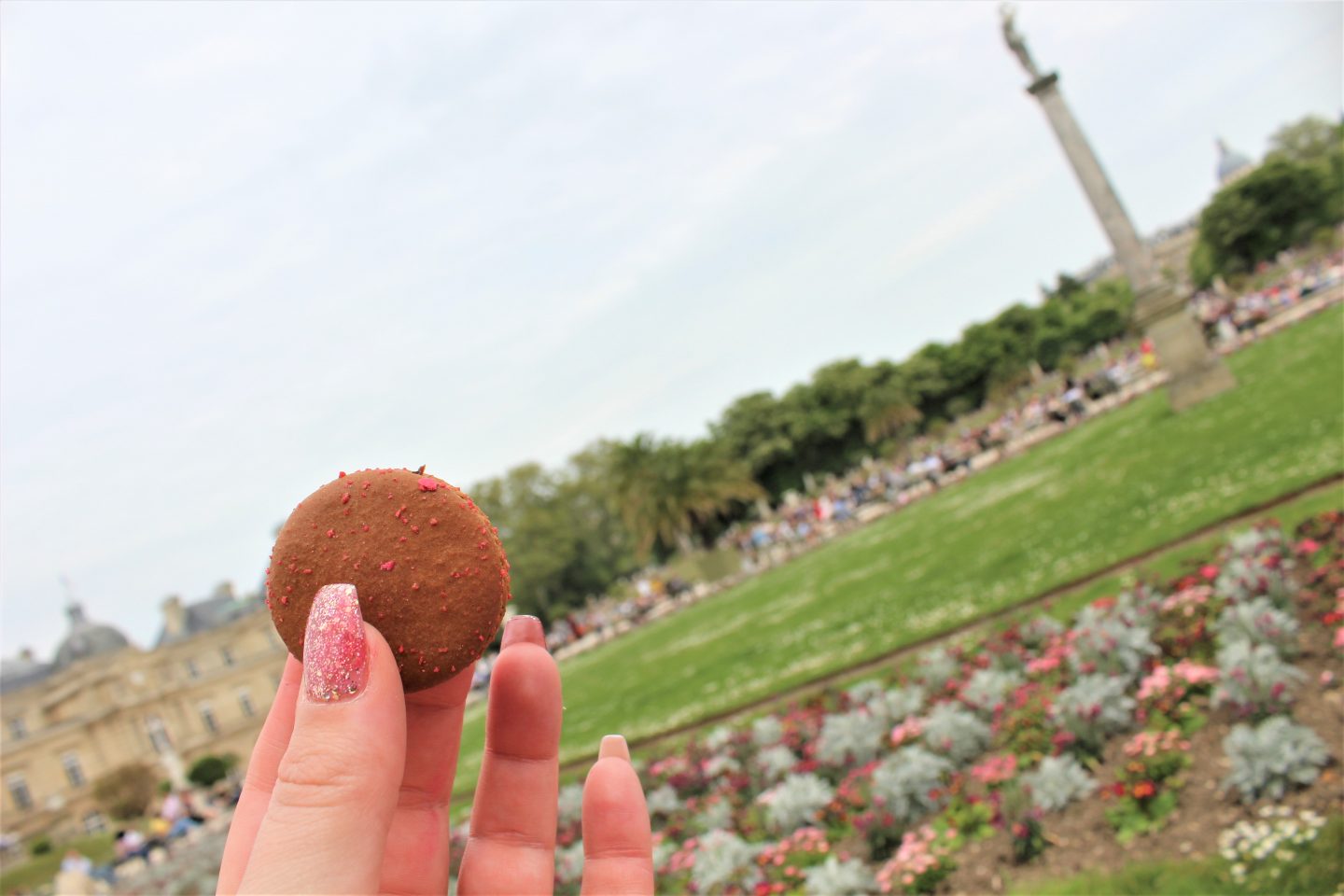 My final results were . . . 1st Ladurée, 2nd Richart, 3rd Arnaud Larher, 4th Maison Mulot and 5th Pierre Marcolini.
And Mr B's were . . . 1st Richart, 2nd Maison Mulot, 3rd Pierre Marcolini, 4th Arnaud Larher and 5th Ladurée.
It just goes to show how different everyone's tastes are and what is the perfect macaron for one person may not be for another so if you are asking what is the best macaron is Paris, go on a macaron tour with Le Bon Paris and judge for yourself!
http://www.lebonparistours.com/