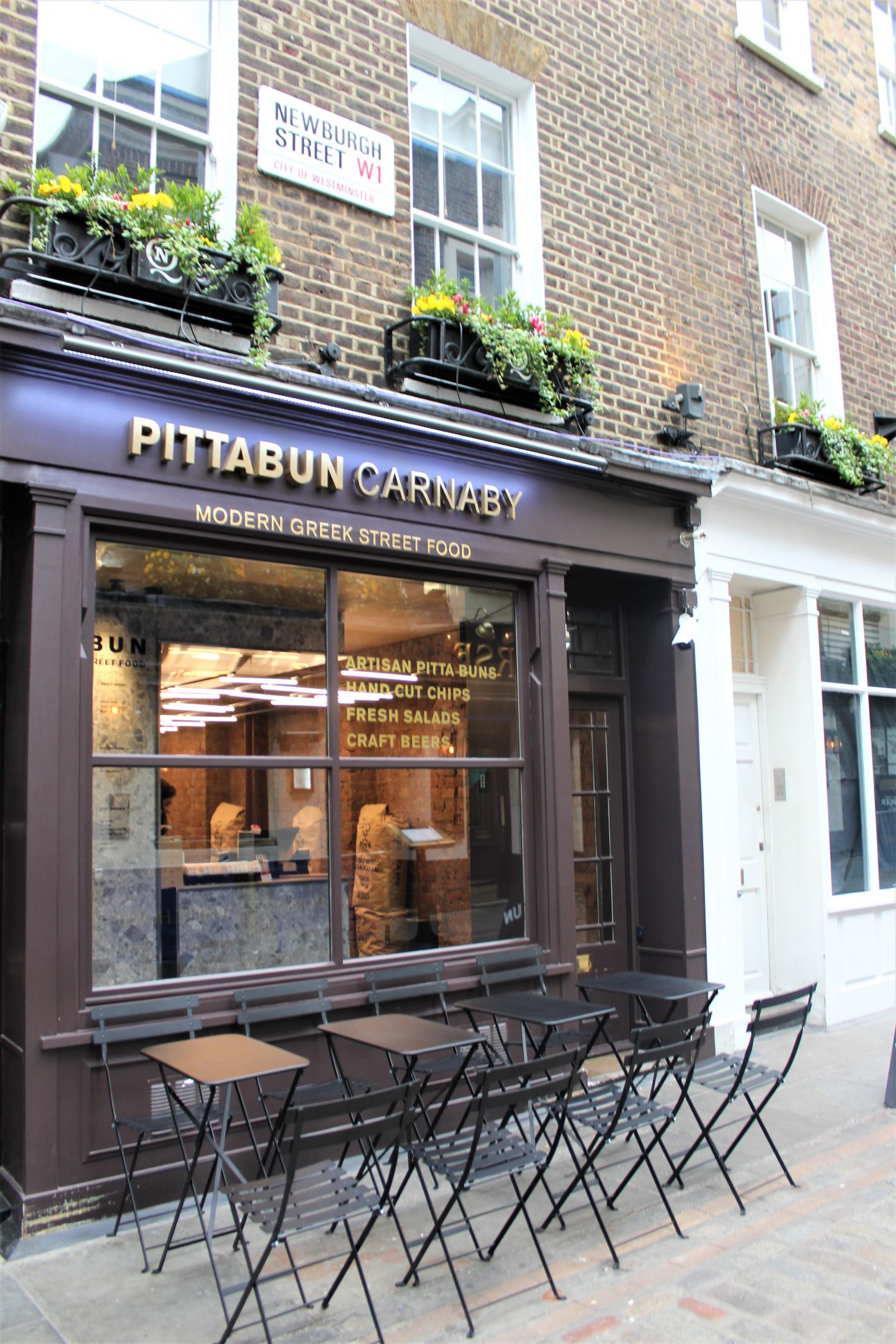 Knowing we were having some posh nosh for dinner on our Saturday night in Soho meant we wanted something more relaxed and casual at lunchtime so we could fit it in around all the shopping and sightseeing we had planned. But that of course does not mean we were willing to compromise on the taste and quality of the food!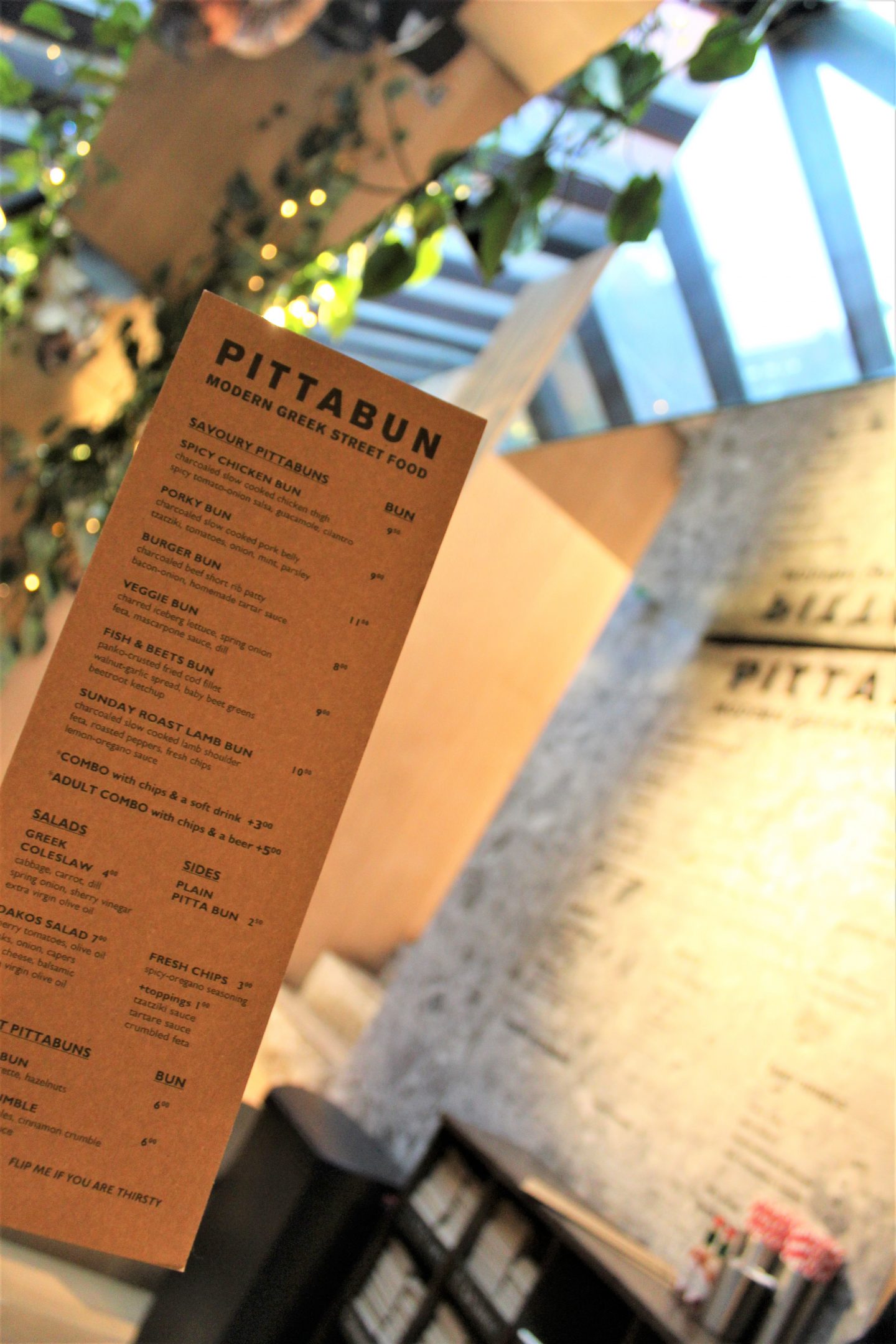 Well we certainly got it spot-on with a visit to PittaBun, which serves modern Greek street food. You can just pop in and order food to go, but walk downstairs and you will find a cute little seating area with benches, stools and tables.
Looking like tourists as we usually do (I blame my massive camera!), we got chatting to the manager about our love of Greek food and she started to talk us through the menu. The pitta bread is freshly-baked daily, the meats are slow-cooked overnight, the sauces are handmade and many ingredients are flown over from Greece, including one of my favourite . . . feta cheese!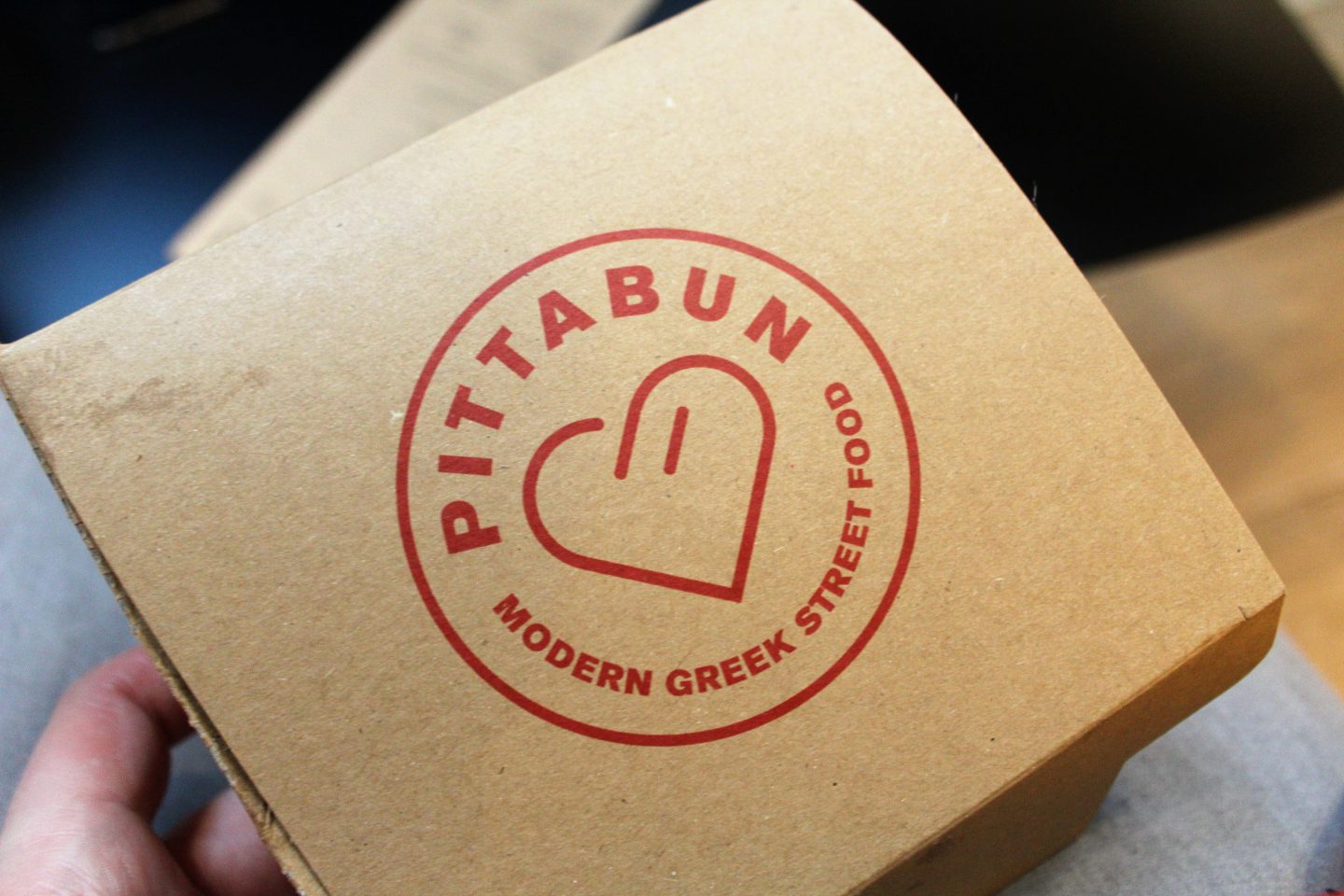 While we were looking at the menu we ordered a Greek wine, which I think is really underrated. Honestly, I have never had bad Greek wine.
For my first PittaBun (yes I did say first . . . we will come back to that later!), I chose the 'Sunday Roast Lamb Bun', charcoaled slow cooked lamb shoulder, feta, roasted peppers, fresh chips and lemon-oregano sauce.
It took me straight back to our holidays in Greece (minus the sun!). The sweet lamb really melted in the mouth and had such a beautiful charcoal flavour, with a crunch from the peppers, saltiness from the delicious feta and freshness from the punchy lemon-oregano sauce.
Mr B chose the 'Fish & Beets Bun', panko – crusted fried cod fillet, walnut-garlic spread, baby beet greens and beetroot ketchup. This was equally delicious!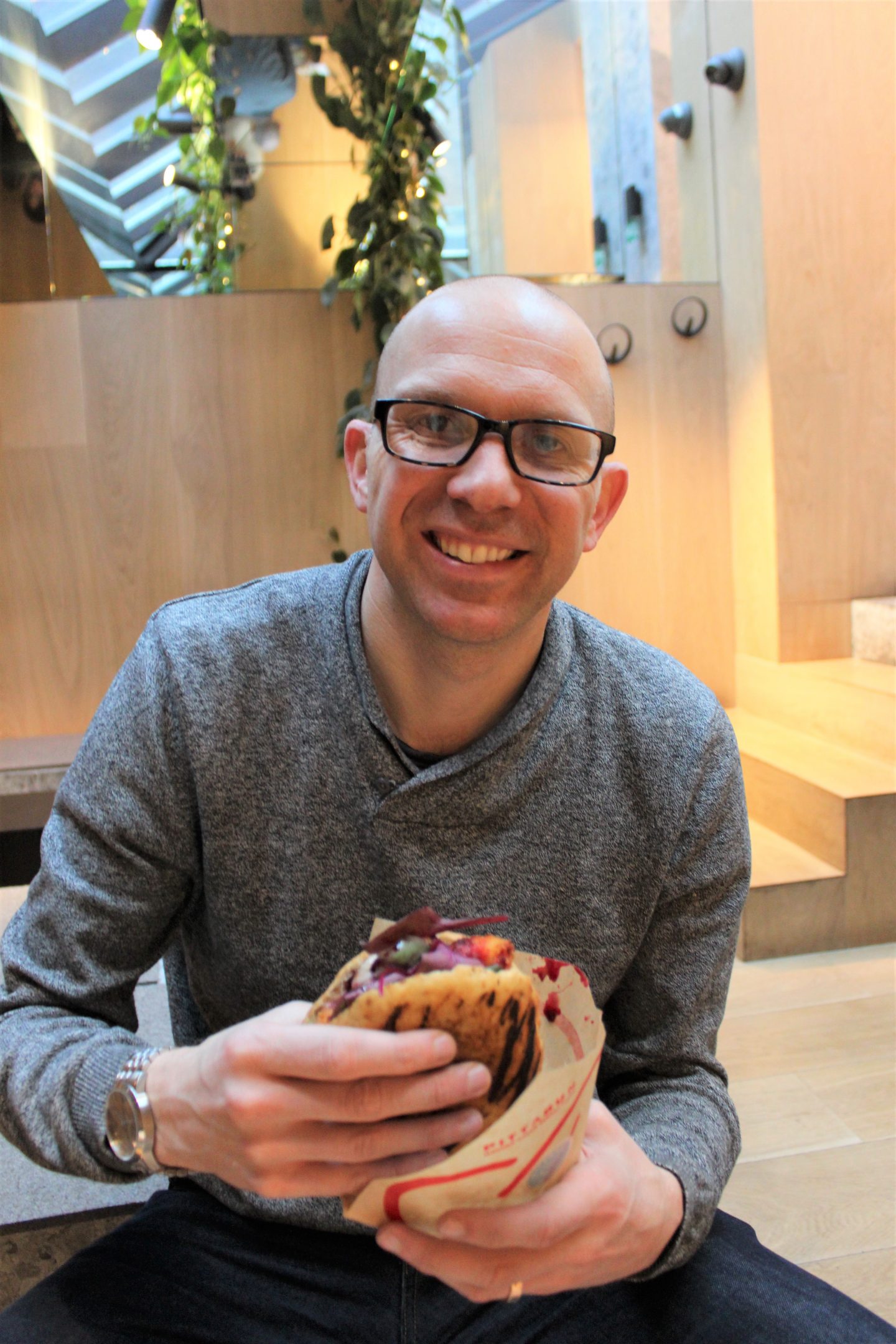 We couldn't resist sharing a portion of chips which had a spicy coating and were generously crumbled with creamy feta. Mr B also had the Greek coleslaw which was lovely and fresh. We also had a tzatziki sauce which was definitely not shy on the garlic. It was one of those dips you just can't help going back for more!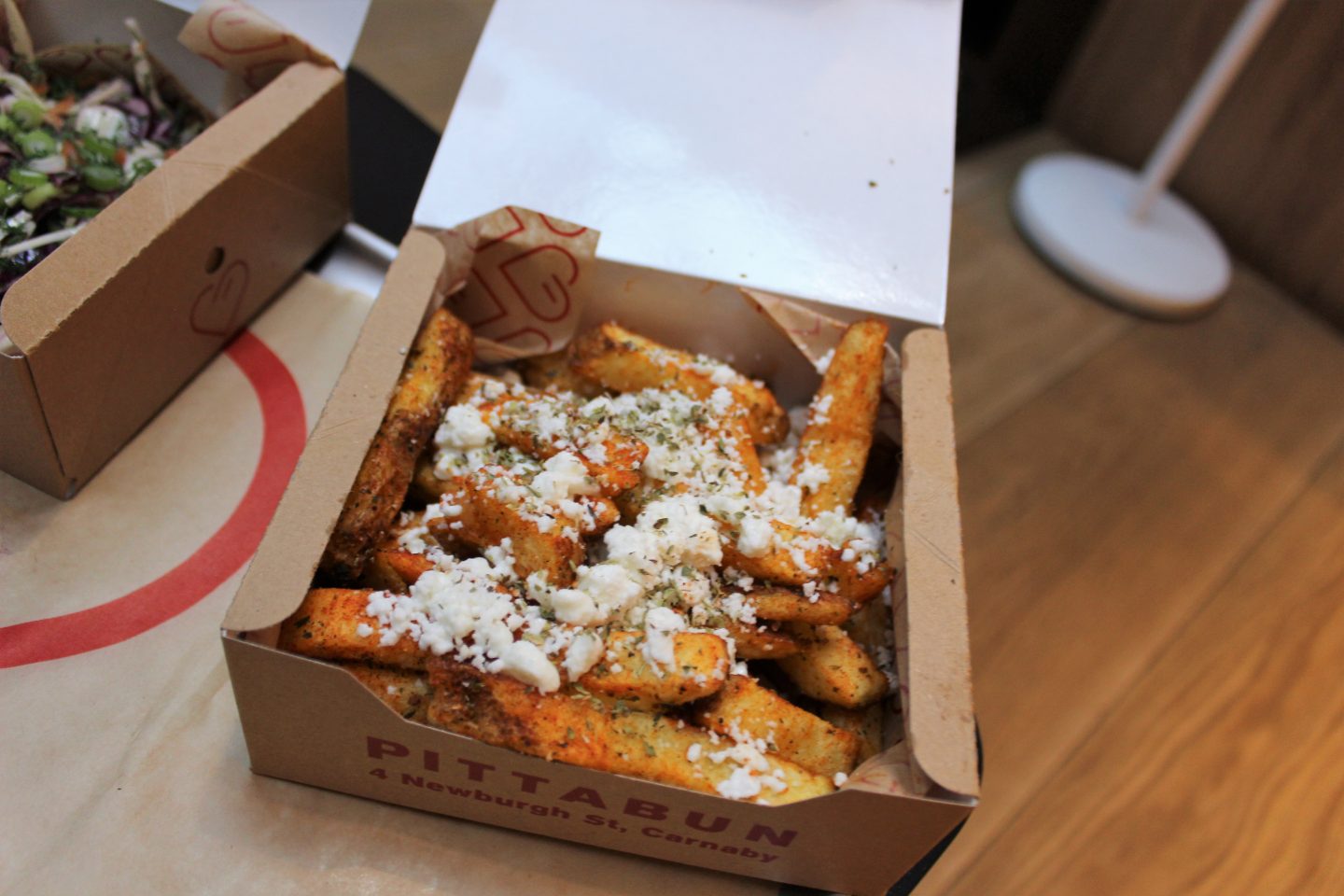 Now in our defence we got up very early to catch the train from Nottingham that morning and only had a measly bowl of cereal, so we were both starving . . . hence another round of Pittabuns!
This time for me it was the 'Spicy Chicken Bun', charcoaled slow cooked chicken thigh, spicy tomato-onion salsa, guacamole and coriander. I loved the creamy guacamole and fresh herbs which worked really well to cool down the spice. Mr B had the Veggie bun, homemade pesto, burrata, tomato and basil. It was beautiful and fresh and you could really taste the quality of the ingredients.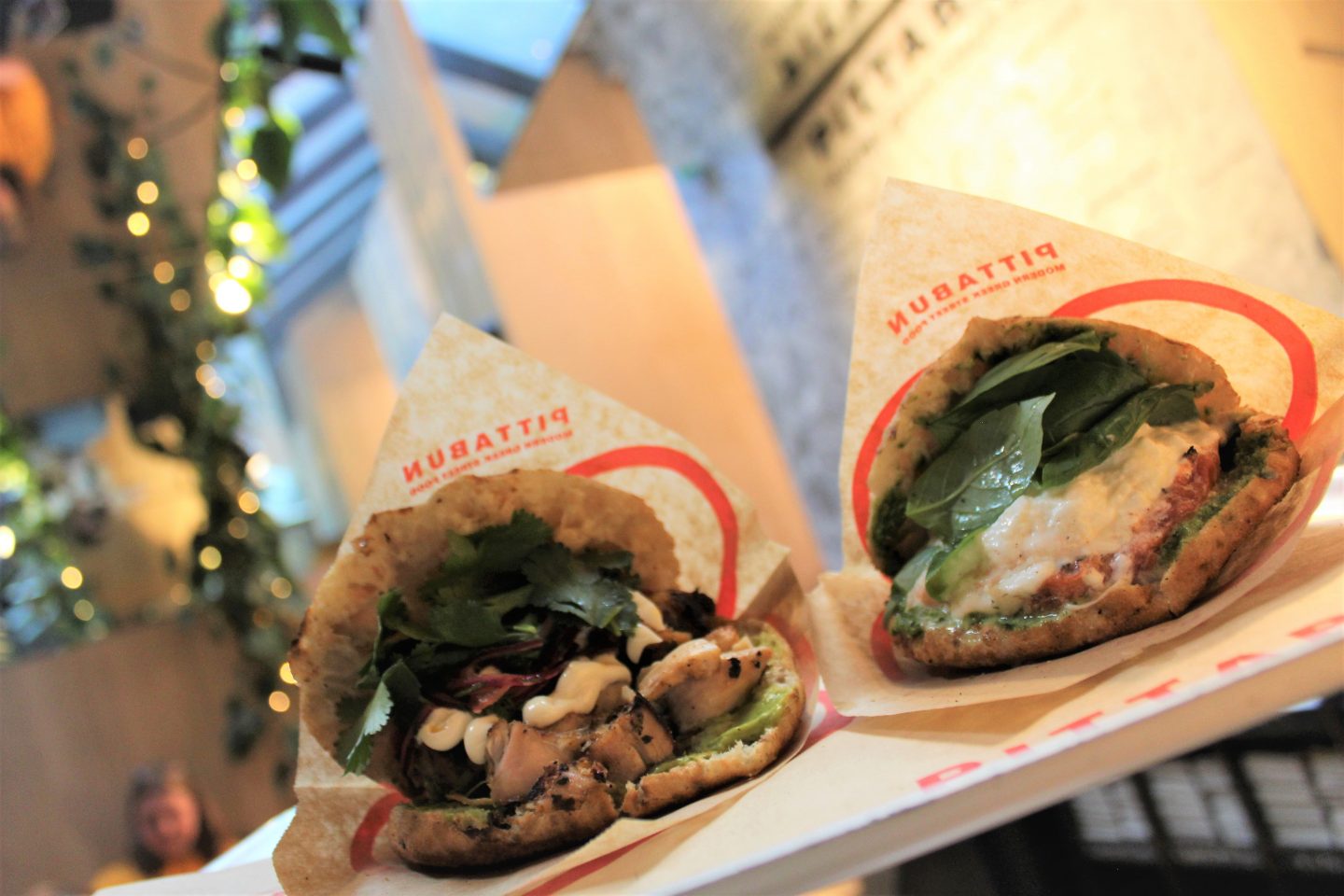 We couldn't resist trying the sweet PittaBuns! Mr B went for the 'Apple Crumble', caramelized apples, cinnamon crumble and salted carmel sauce, while I had the 'Choco Bun' Nutella, gaufrette and hazelnuts. It was love at first sight . . . I mean come on . . . home baked dough, lashings of Nutella, crunchy hazelnuts . . . what was there not to love?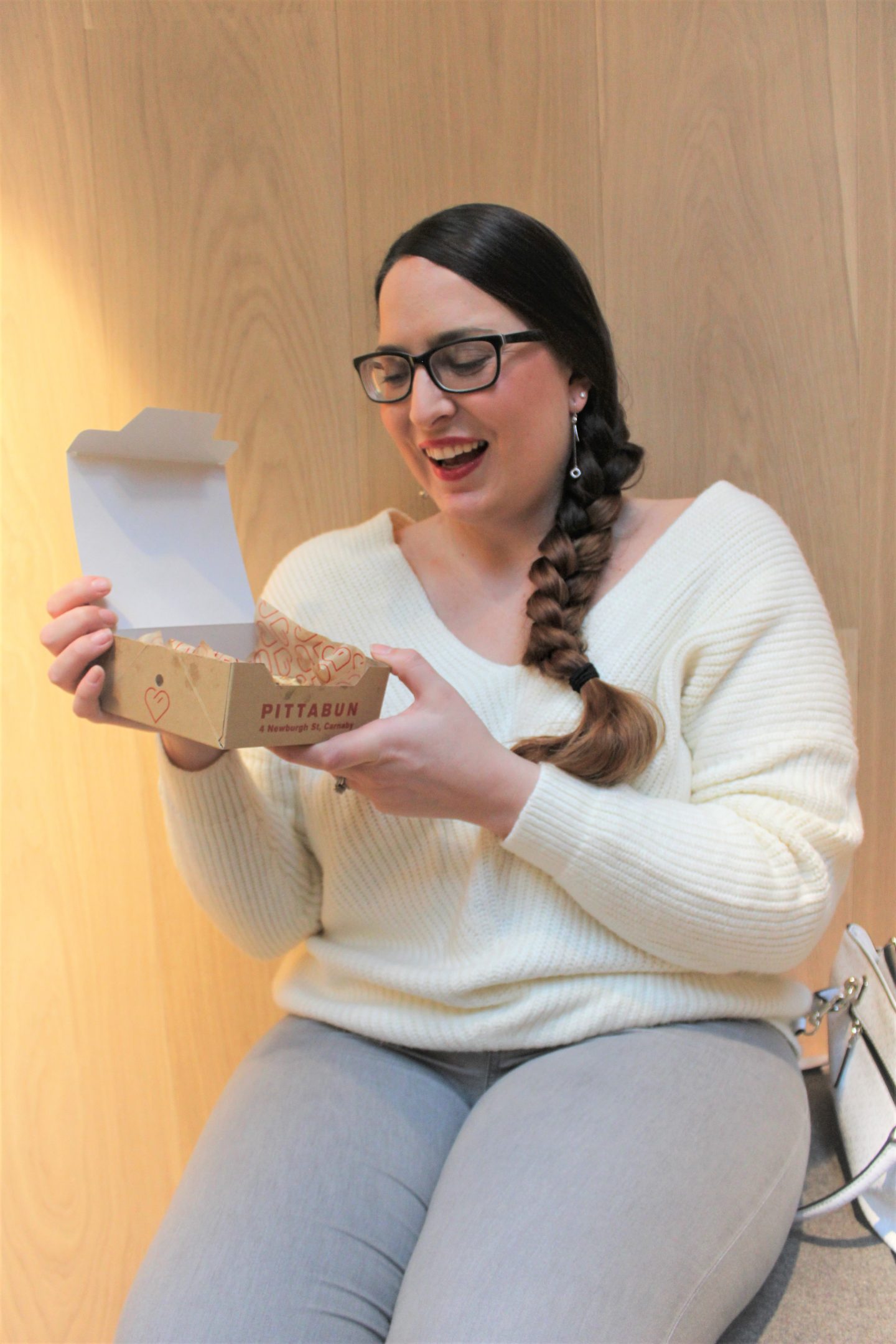 The food we had at PittaBun was the most authentic Greek food I have had in the UK! Our holidays in Greece are always about finding the little family-run taverners and eating beautiful homemade cuisines and the flavours, tastes and ingredients at PittaBun took us right back.
4 Newburgh St, Soho, London W1F 7RF