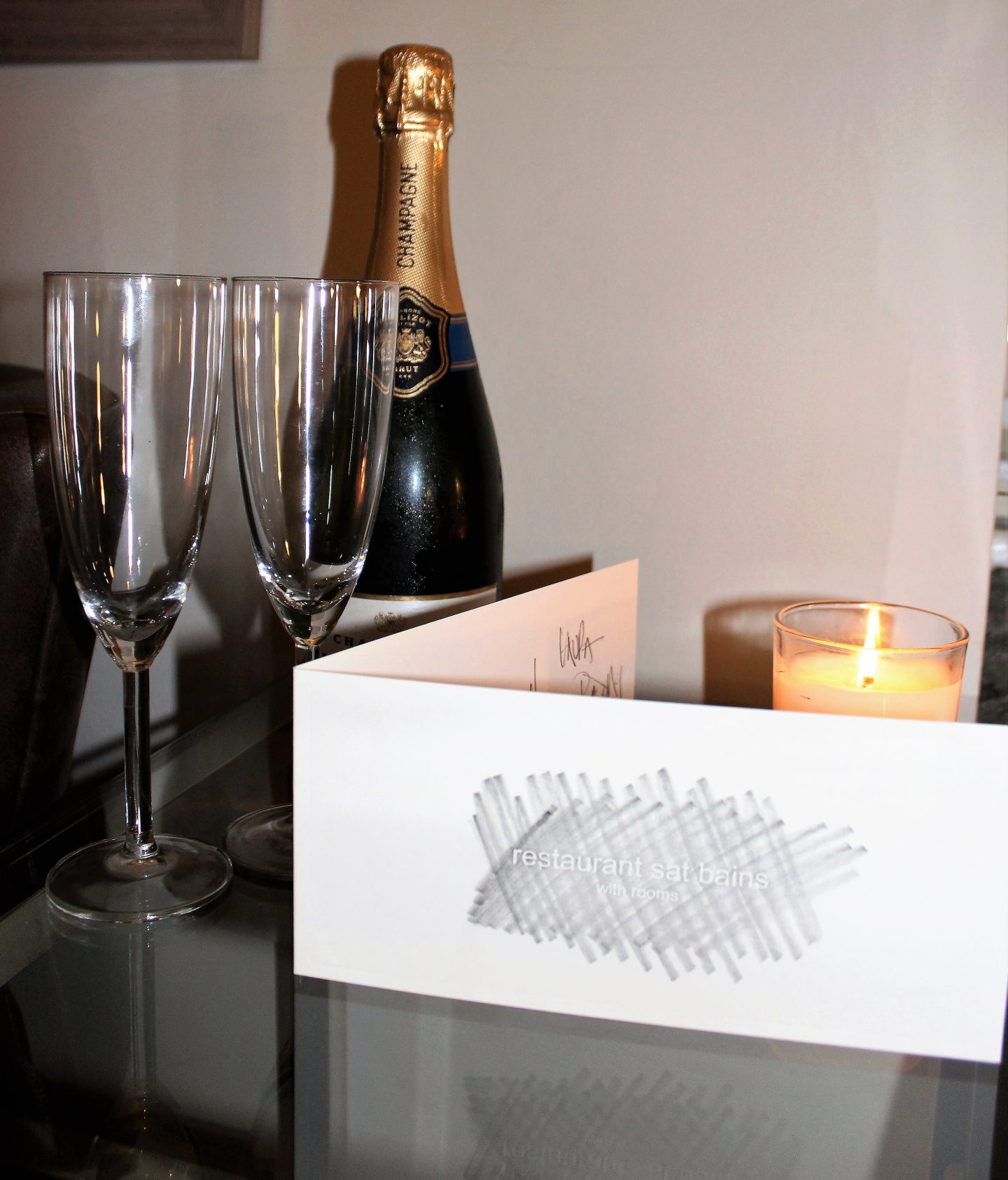 The last weekend before Christmas in 2018, to celebrate my 31st Birthday, Mr B and I ticked something else off our bucket list, a visit to two-Michelin star Sat Bains. You can read about that visit here . . .
Since that visit we have several times declared how it is one of the best meals we have ever had! What made the experience even better was that we stayed the night in one of the beautiful rooms to make a full weekend of it.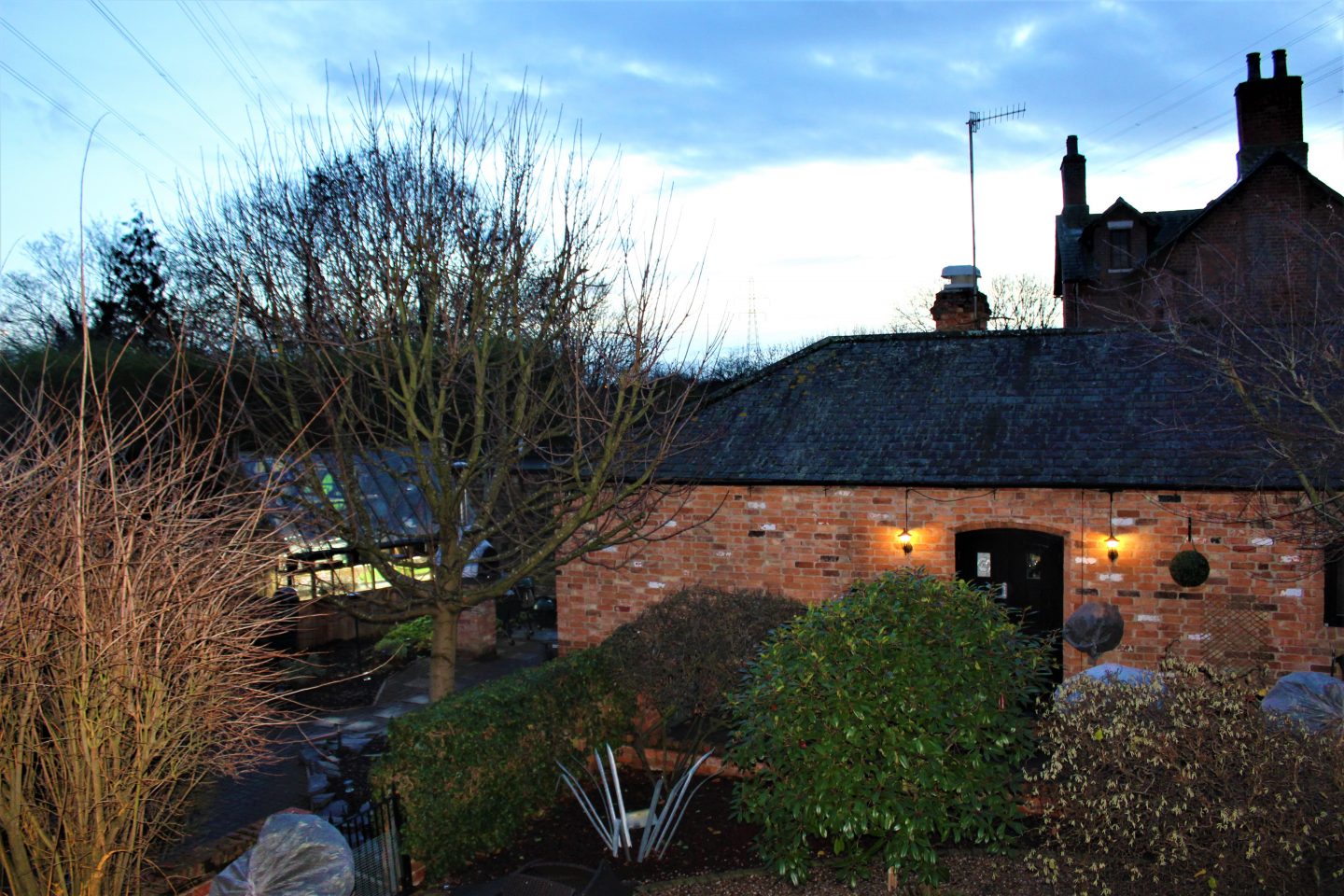 Much to my delight, Mr B decided to re-create the magical weekend by taking me there one year later, on the last weekend before Christmas to celebrate my 32nd birthday.
We received a lovely warm welcome back to Sat Bains. Mr B chose a different room for us to stay in, which was open plan with a beautiful bathroom which included a large shower and lovely Aesop toiletries, which smelt divine!
The very comfy bed was made even more fabulous with sequin pillows and a throw.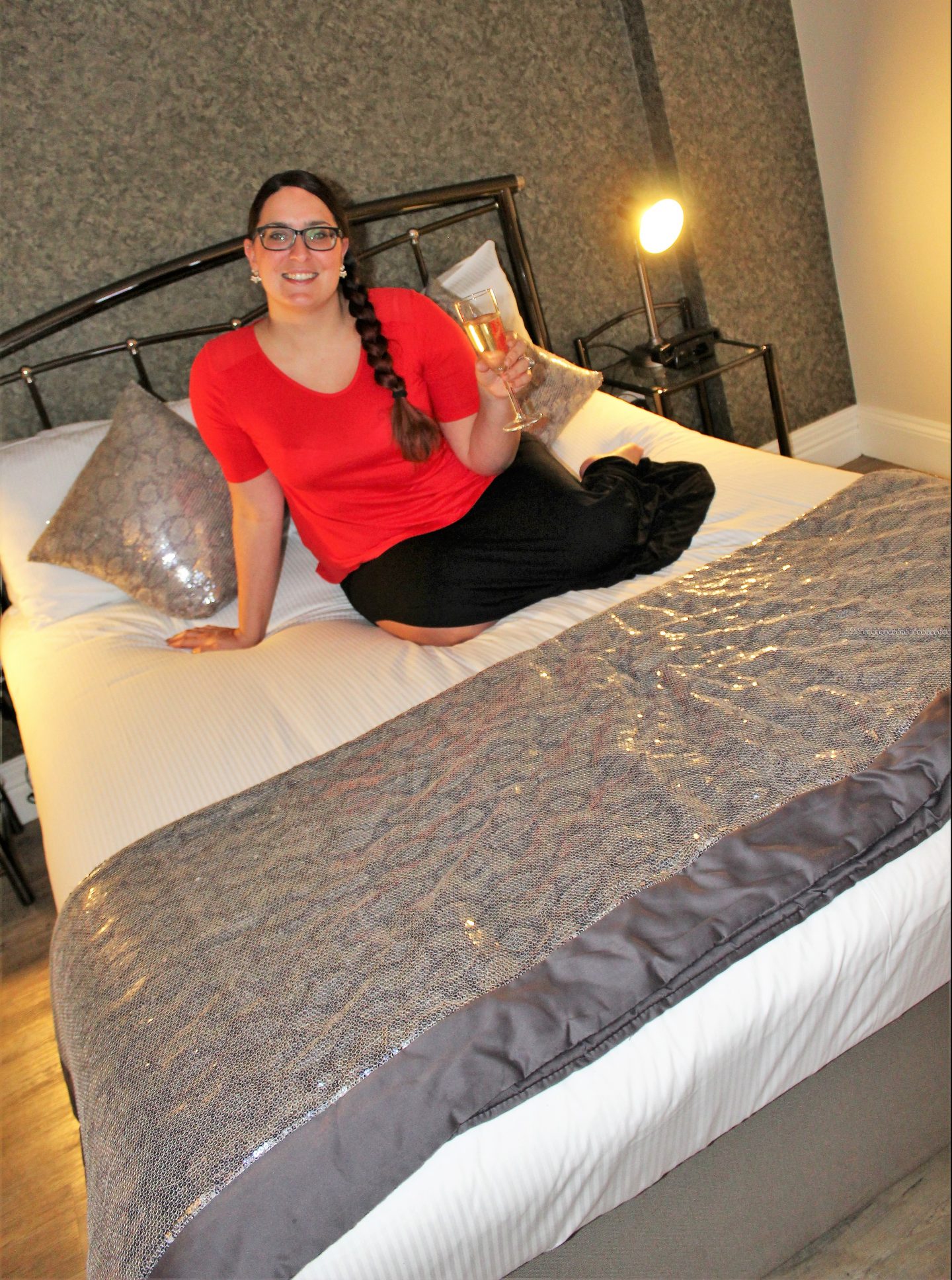 The tea tray was there waiting for us with incredible home made shortbread, fresh coffee, Tea Pigs tea and fresh milk which was topped up for us before bed.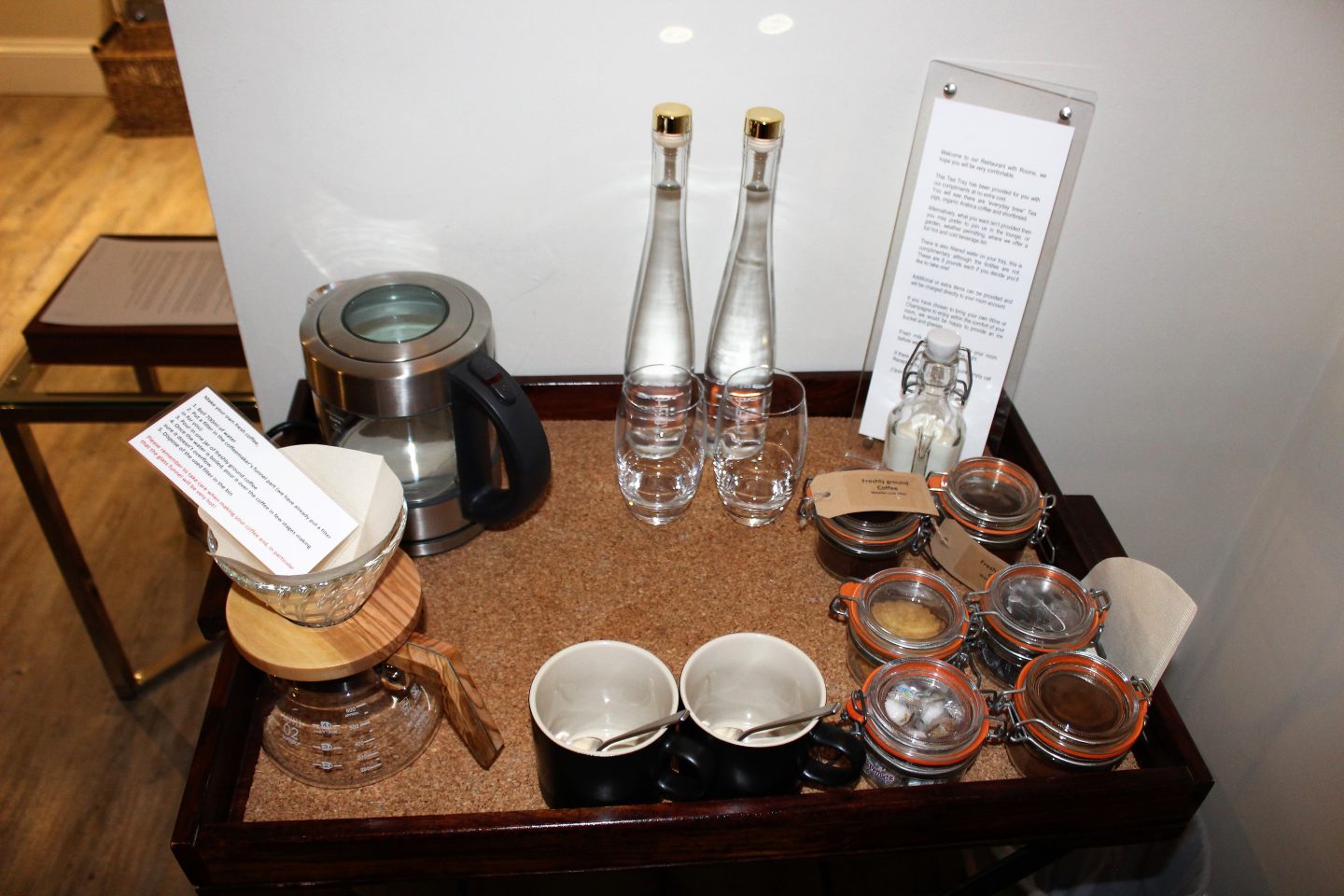 The icing on the cake for me was the hand-signed birthday card from the man himself! We also received a lovely letter in our room welcoming us back!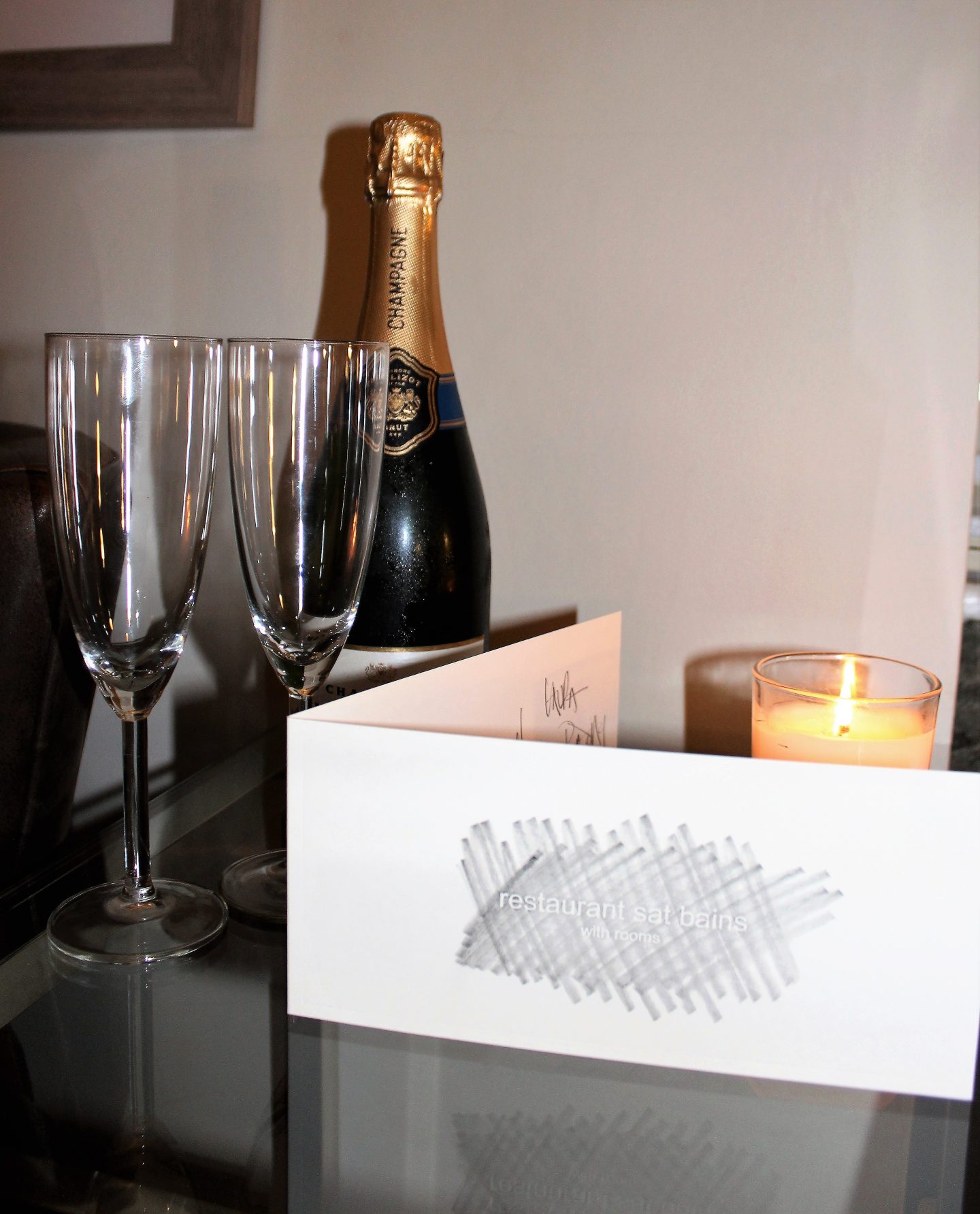 Now onto the main event. We headed down to the bar for a pre-dinner drink – a perfectly made G&T for me and a local pale ale for Mr B.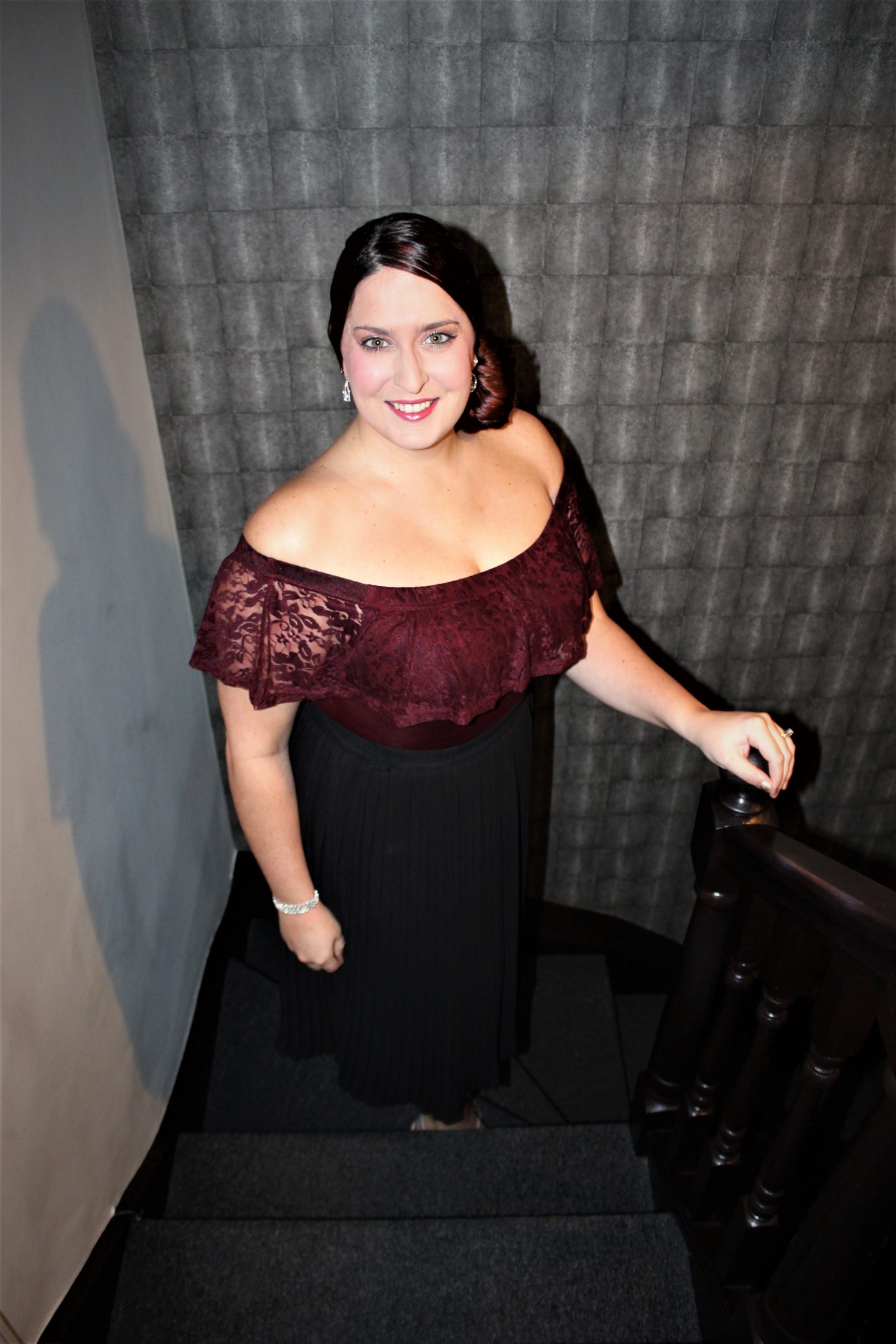 I recognised some of the famous dishes on the menu, but was delighted to see some new additions.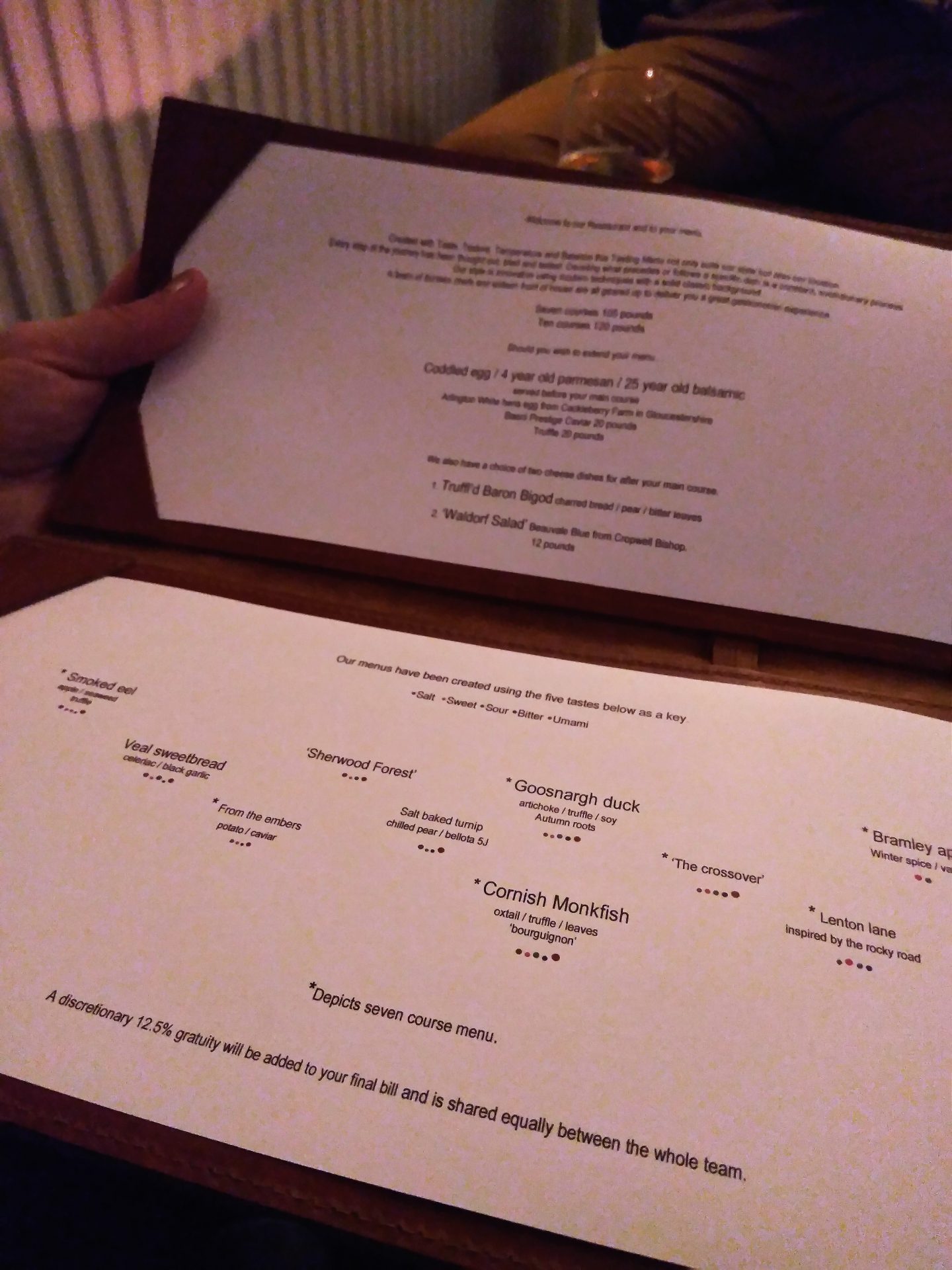 After our first course – the 'introduction' –  it was time for a new dish – 'Smoked Eel, apple, turnip, seaweed, truffle', and I must say it was one of my favourites. The textures of the dish were perfect, the flavours delicate and the taste sublime!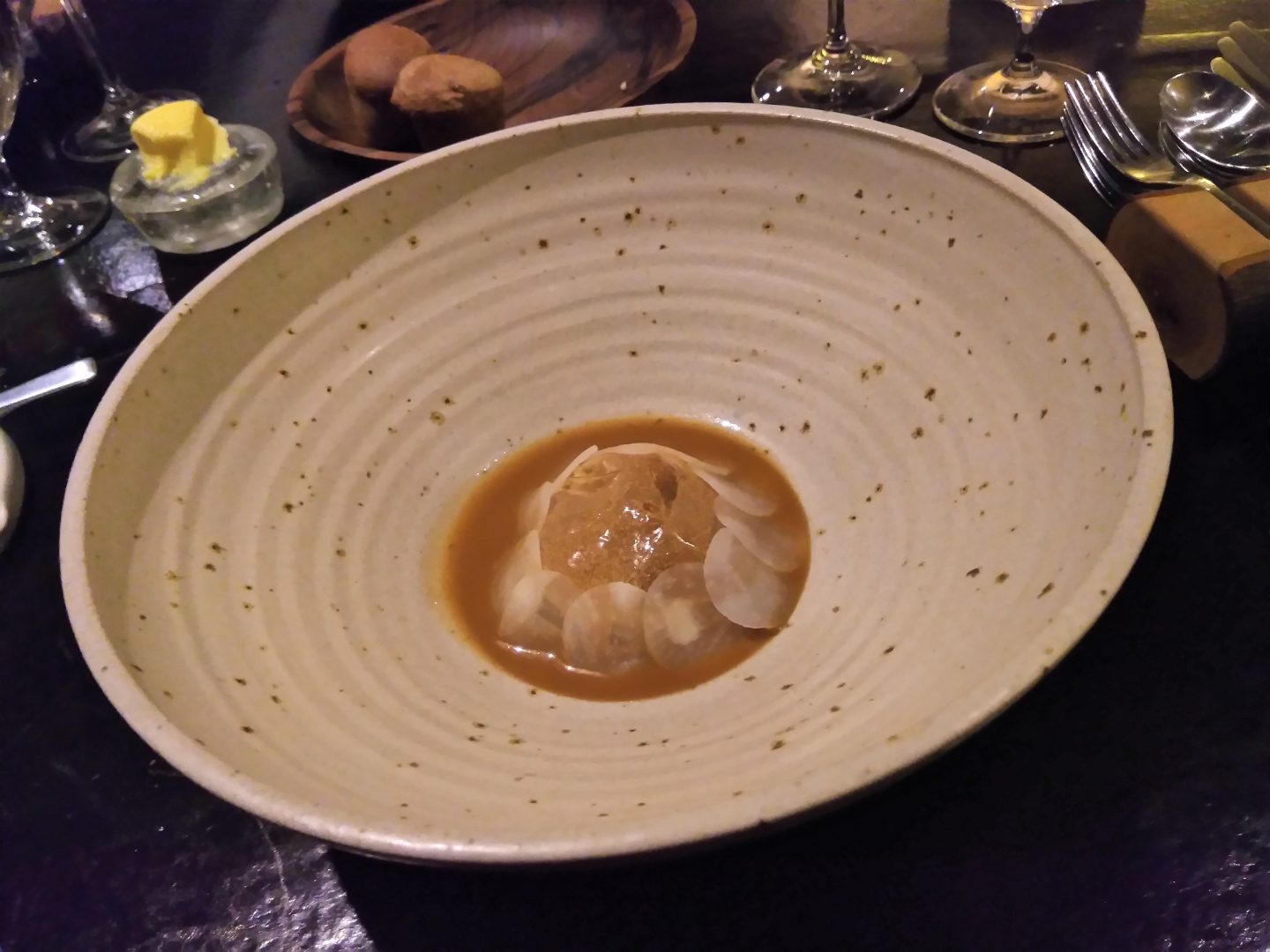 The next dish was served at the table –  'Veal sweetbread, celeriac, black garlic', and before it was even plated up it smelt divine. The sweetbreads were buttery and soft and with the crunch from the celeriac and punch from the black garlic, we both devoured this dish!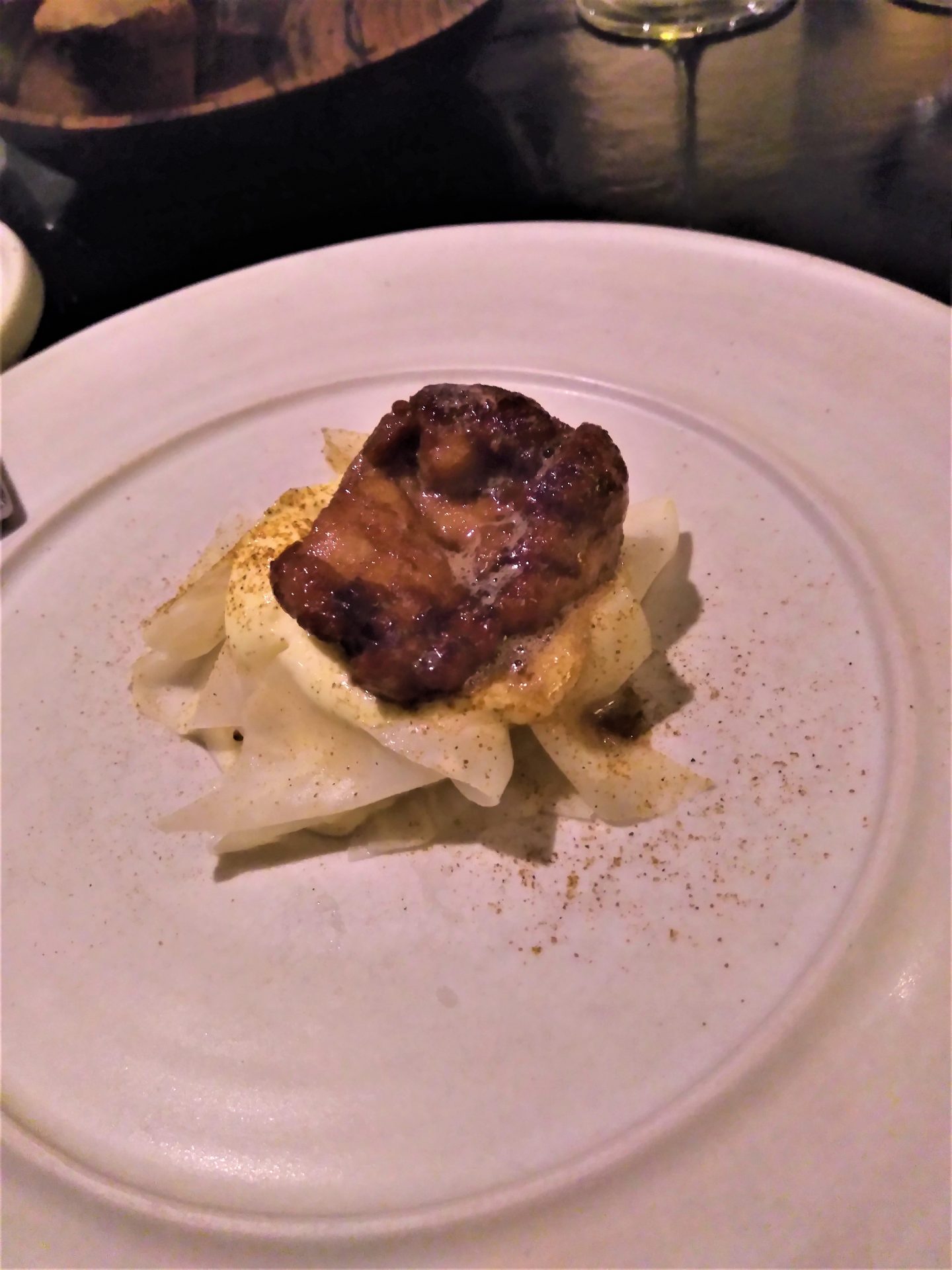 The next course was one I remember very fondly and had the same high expectations for. 'From the Embers, potato, caviar' – it was as perfect as the first time we had it. Beautiful smoky soft potato with mounds of caviar . . . what is there not to love?
Another new dish for us – 'Sherwood Forest', which was a beautiful venison dish full of punchy flavours. We also couldn't help but say yes to another basket of incredible fresh bread.
'Salt baked turnip, chilled pear, bellota 5J' was a surprise dish for me as I don't really like turnip. But of course this wasn't any old turnip. This was a melody of flavours and textures that sang and tasted absolutely delicious!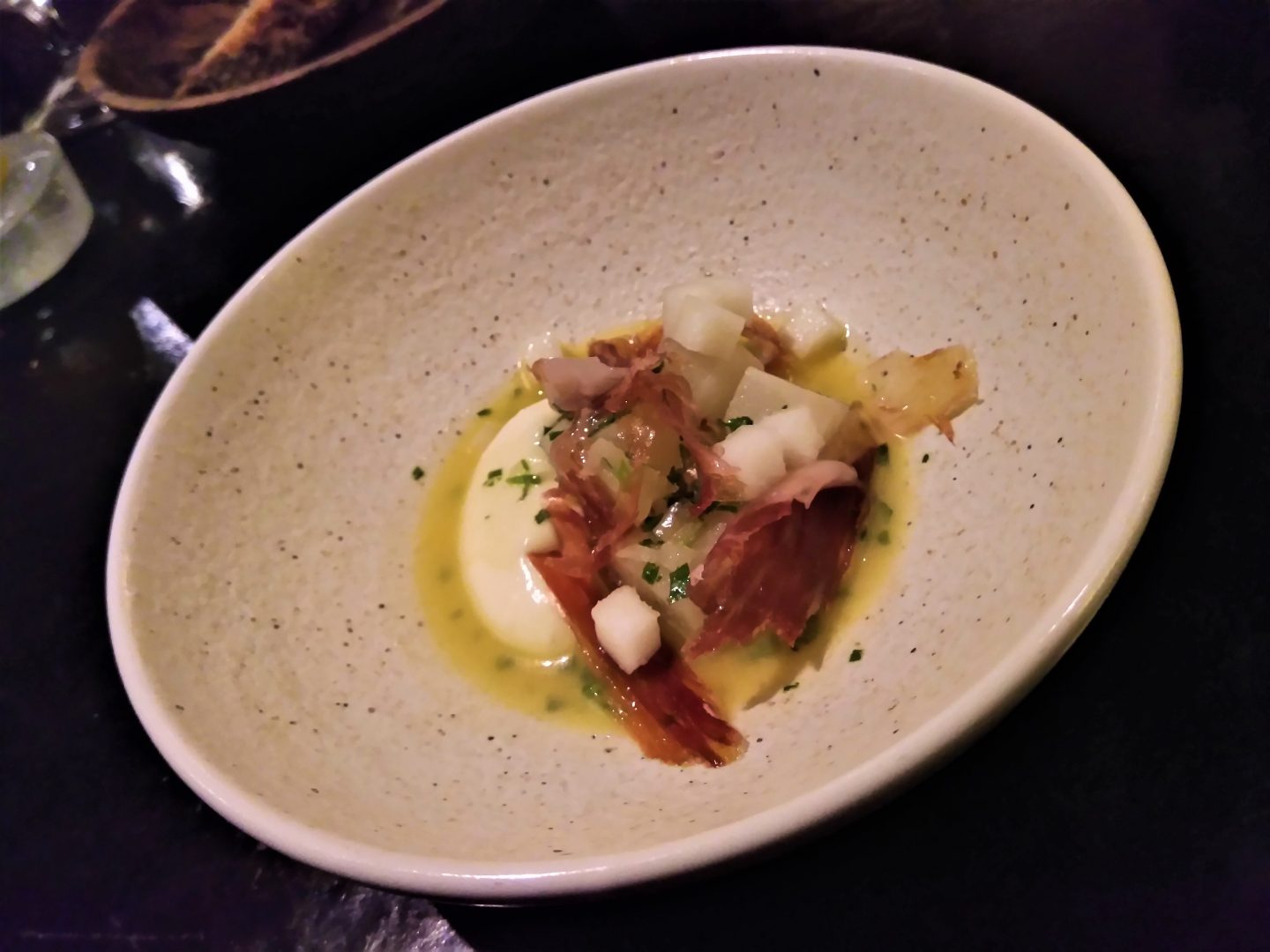 Goosnarge Duck, artichoke, truffle, soy, autumn roots was our final dish. We originally opted for the 10-course menu, but I had been feeling under the weather that day and a few days prior to our visit so we gracefully bowed out after 7 incredible courses.
Walking downstairs for breakfast the next morning, several of the staff asked how I was feeling. I was very much looking forward to breakfast as a Sat Bains breakfast is a very special breakfast!
While you look at the menu and decide what to have for your starter and main (yes we are still talking about breakfast), freshly squeezed orange juice, tea and coffee is served.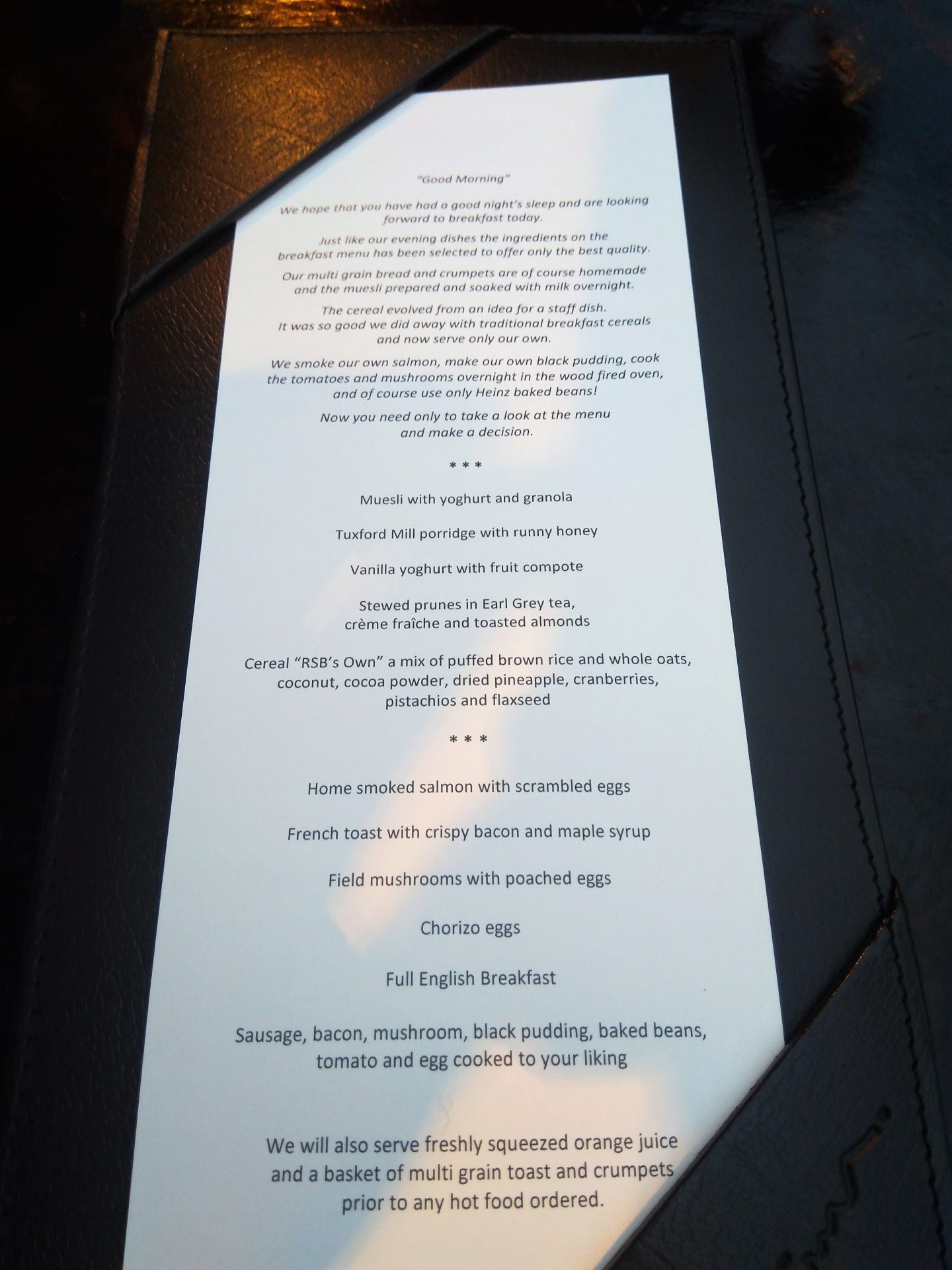 To start I had the 'Tuxford mill porridge with runny honey', which was delicious and creamy. What I also couldn't stop eating were the incredible home made crumpets . . . no other crumpet will ever compare!
For main I chose the 'Home smoked salmon with scrambled eggs'. At Sat Bains they even smoke their own salmon which shows in the taste as you can taste the quality in every mouthful. Rich smoked salmon with creamy delicious scrambled eggs and just the right amount of cracked black pepper . . . it was the perfect breakfast!
Mr B chose the 'Chirizo eggs', which is what we both had for breakfast during our previous stay and Mr B hasn't really stopped talking about it since!
This was another perfect stay which couldn't have ended any better. As we checked out the man himself came to say hello and walking to our car we bumped into Laurence who had only weeks before been crowed the winner of MasterChef The Professionals 2018.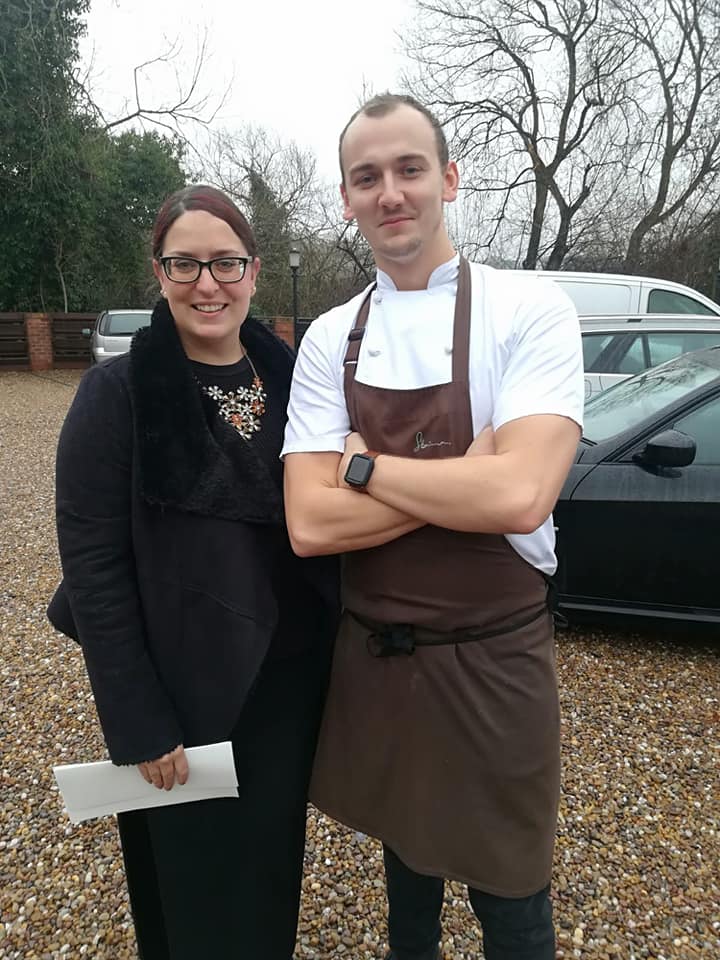 http://www.restaurantsatbains.com/
Lenton Ln, Nottingham NG7 2SA
0115 986 6566