Cruising down the Danube is a holiday on a lot of people's bucket list. It was on ours and we got to do it in style whilst being seriously well looked after sailing on the beautiful Viking Rinda.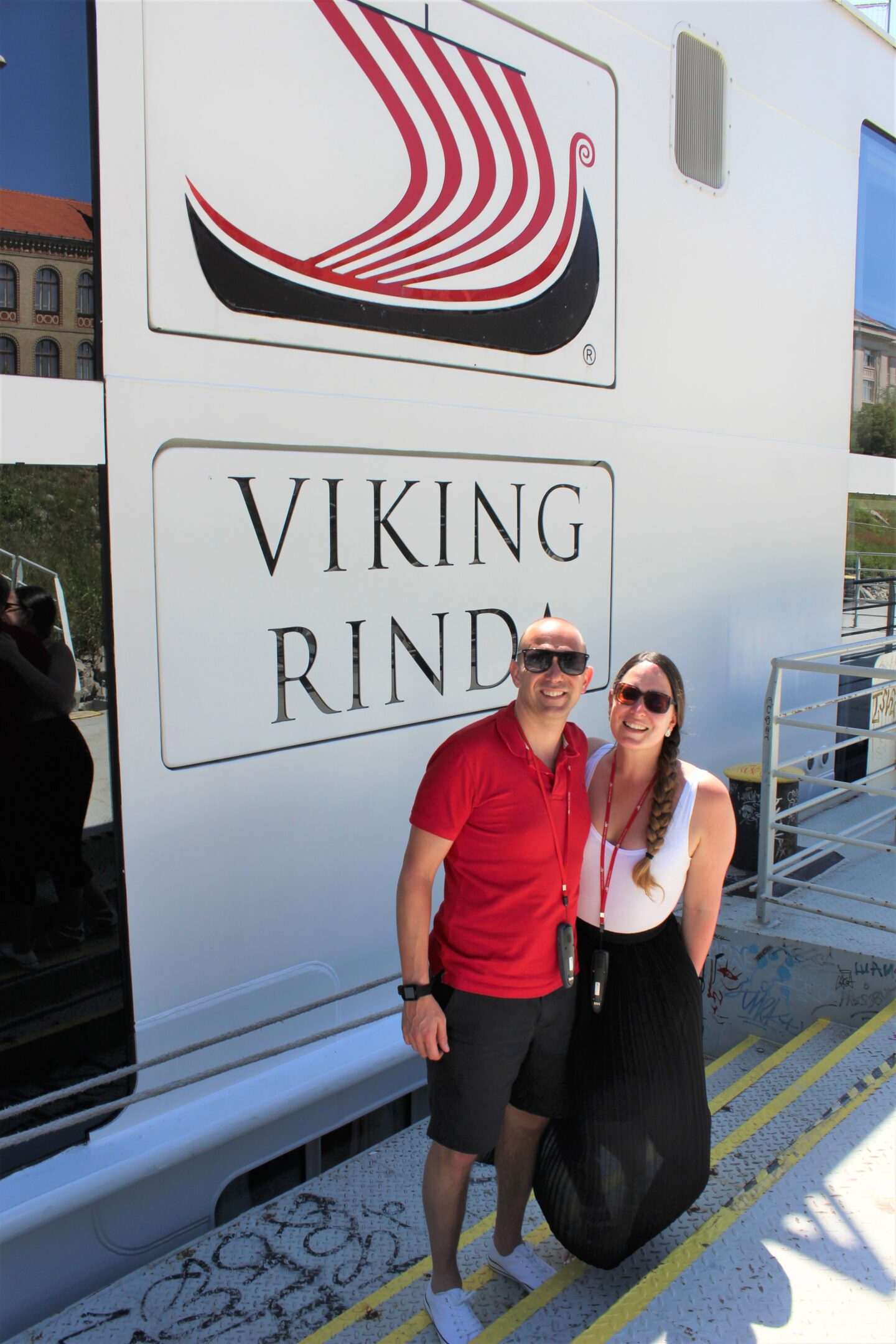 Viking Rinda was built in 2013, but for us shows no sign of age. She holds 190 guests and we sailed at approximately three-quarters capacity with 144 guests.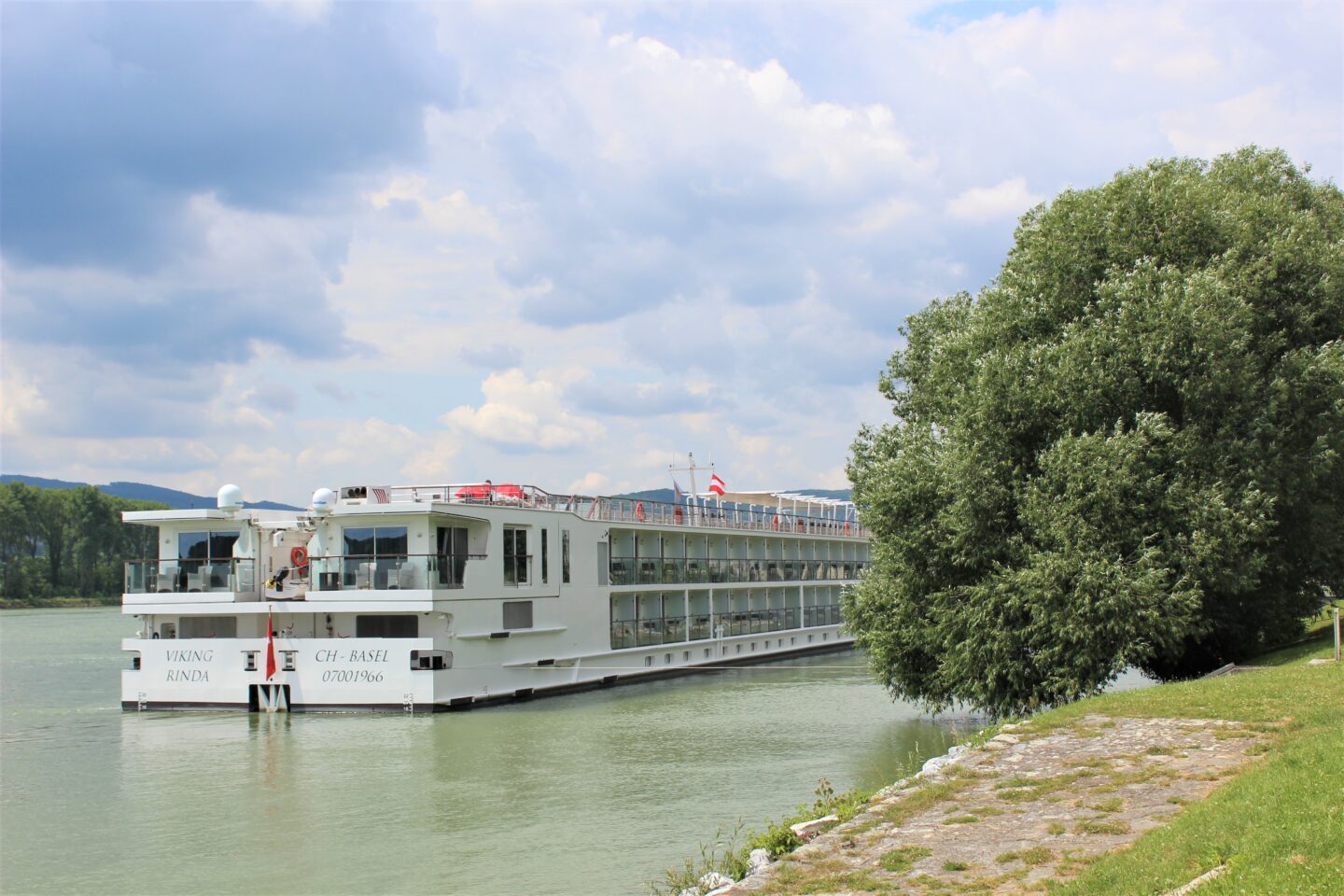 On approach to the dock, from what seemed like out of nowhere, someone appeared to take our suitcases and walk us along the gang plank to introduce us to our home for the week.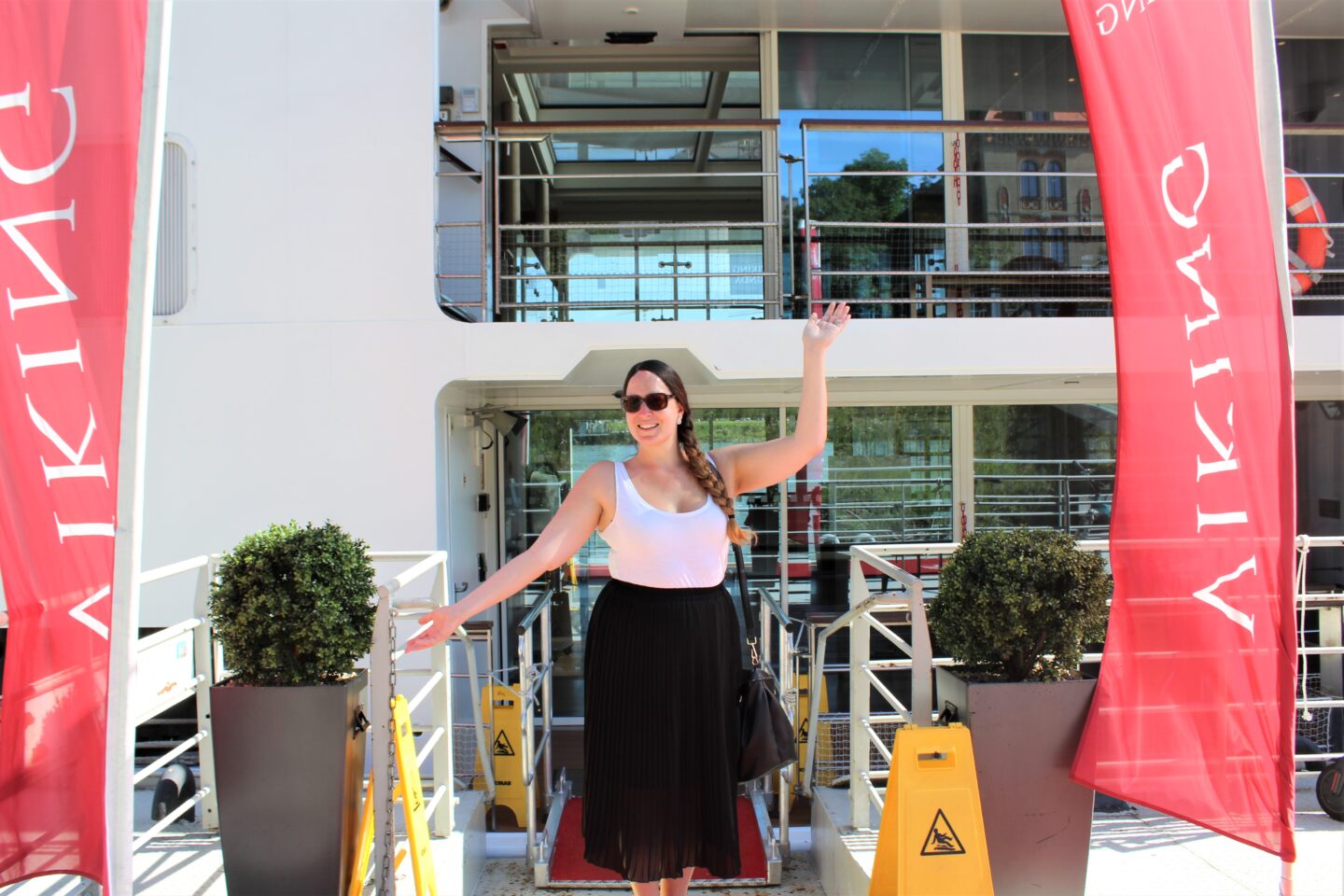 From stepping on board, a quick scan of our passports was all that was required. Amazingly, from being greeted, we were shown to our cabin and were inside our room within five minutes. A very impressive start indeed!
There are five cabin types on board – we stayed in a veranda stateroom. It was light and airy, complemented by the neutral Scandinavian décor. Our queen size bed was a dream to sleep in.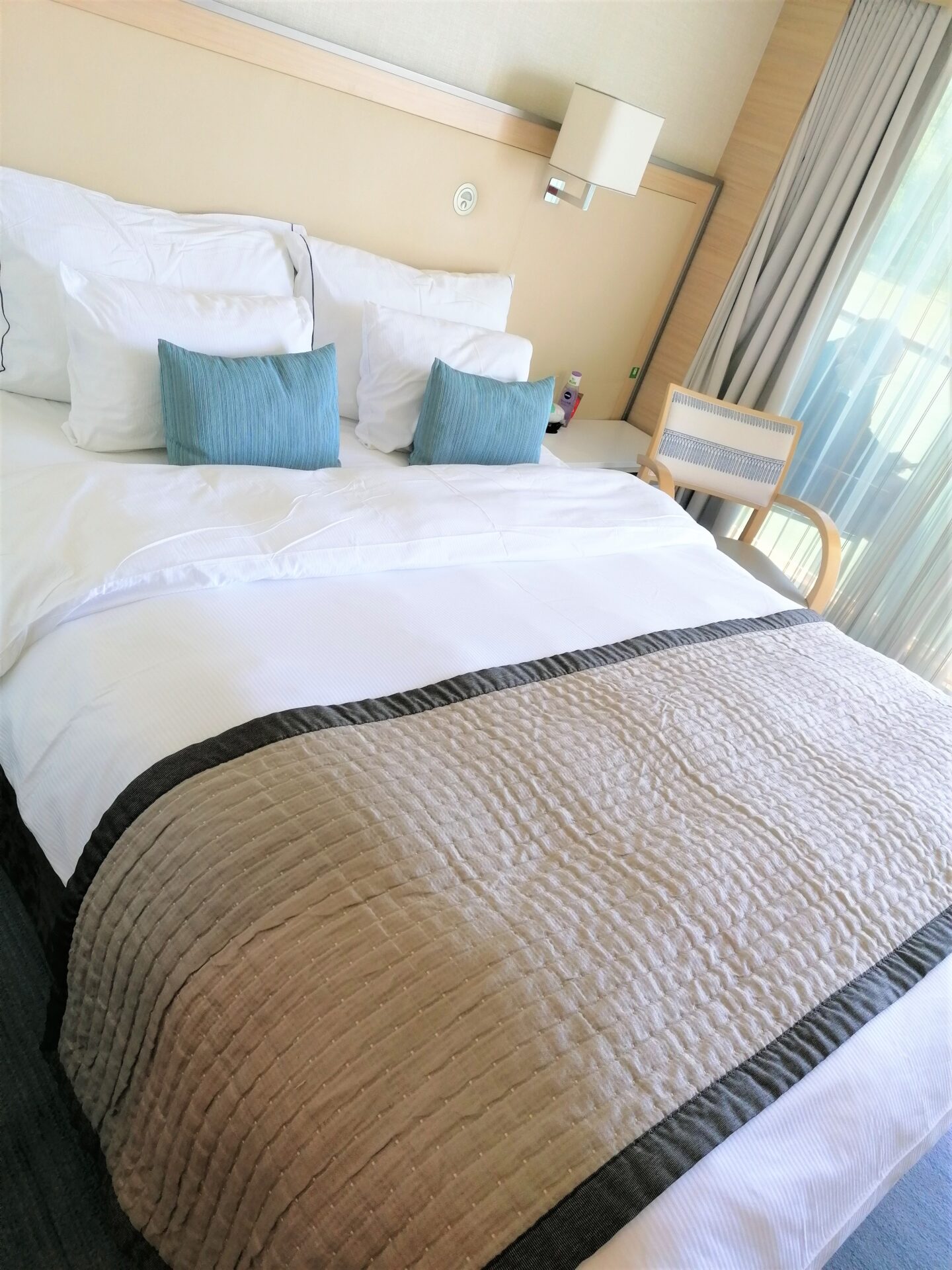 Under the bed was enough room to store your cases once you had unpacked. We found that there was a generous amount of drawer space and the wardrobe large enough for our many clothes (ok, my many clothes). When unpacking we asked for extra hangers and after being asked which type, another 10 wooden hangers were delivered to our cabin only five minutes after the request!
There is a 42-inch TV which I think we only put on twice! But it did have a selection of movies and some news channels along with a range of music. It was also where you could check your onboard account, which you could also do at reception.
Complimentary bottled water was provided and replenished every day. Our room also had a safe, a fridge and really good air con.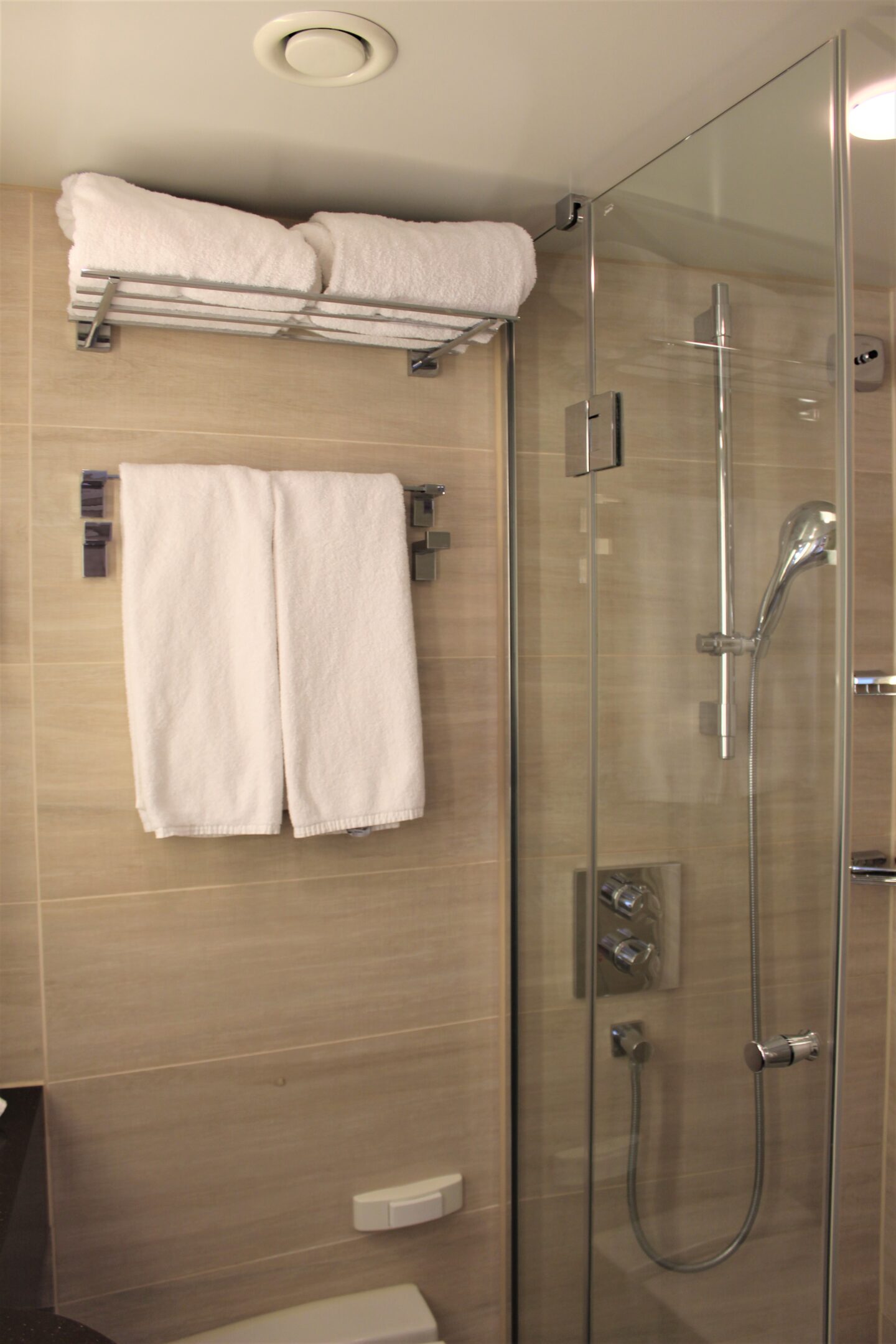 Our bathroom had a lovely glass shower and one of my favourite bits, a heated floor! Freyja toiletries were provided – bodywash, shampoo, conditioner, body lotion and soap, all of which were replenished. We never ran out of anything which was nice – it's so frustrating when you are half way through washing your hair and you realise that there is no conditioner left!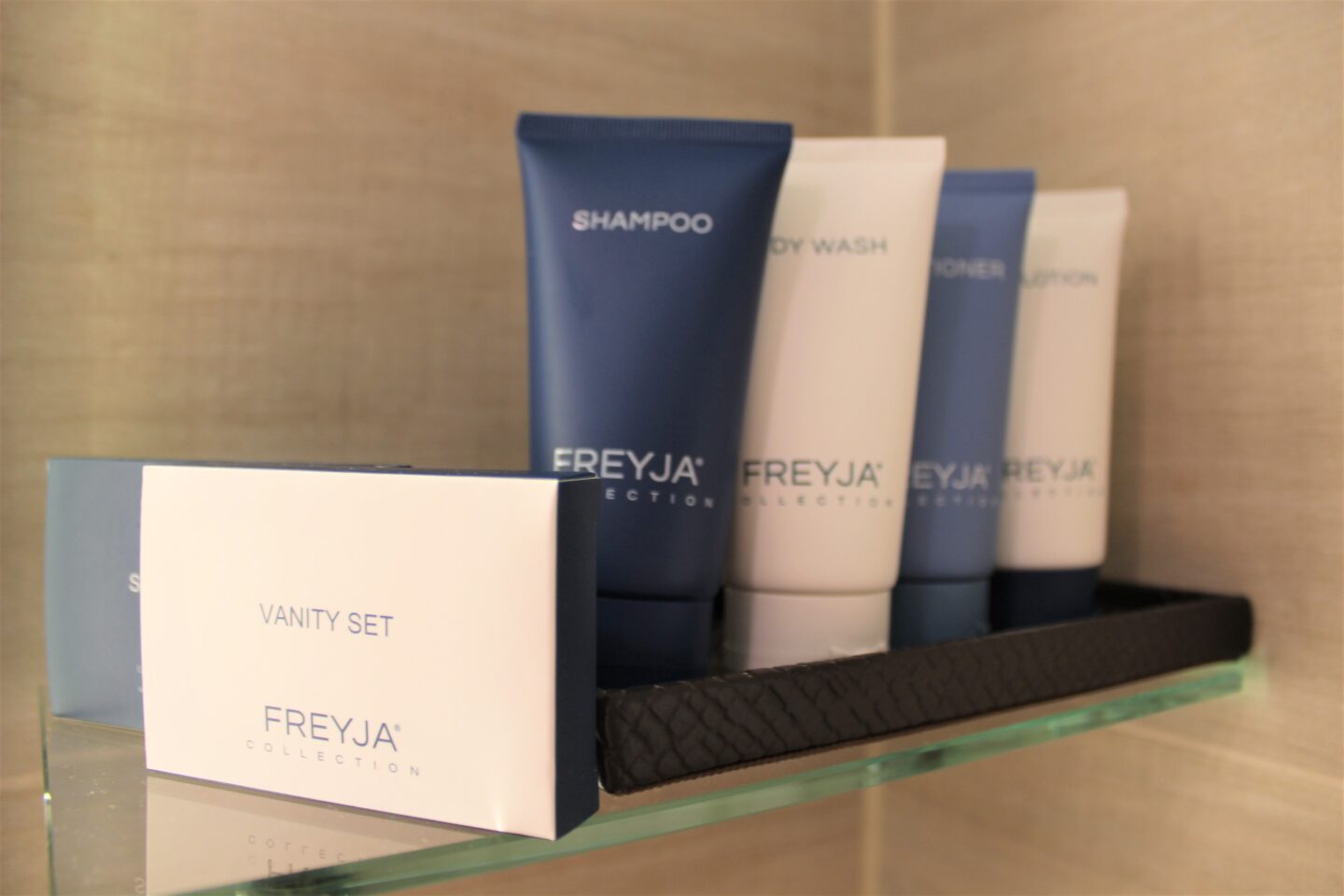 One of the true highlights of our room was our veranda, which had a table and two chairs and was home to some special memories on this cruise for us.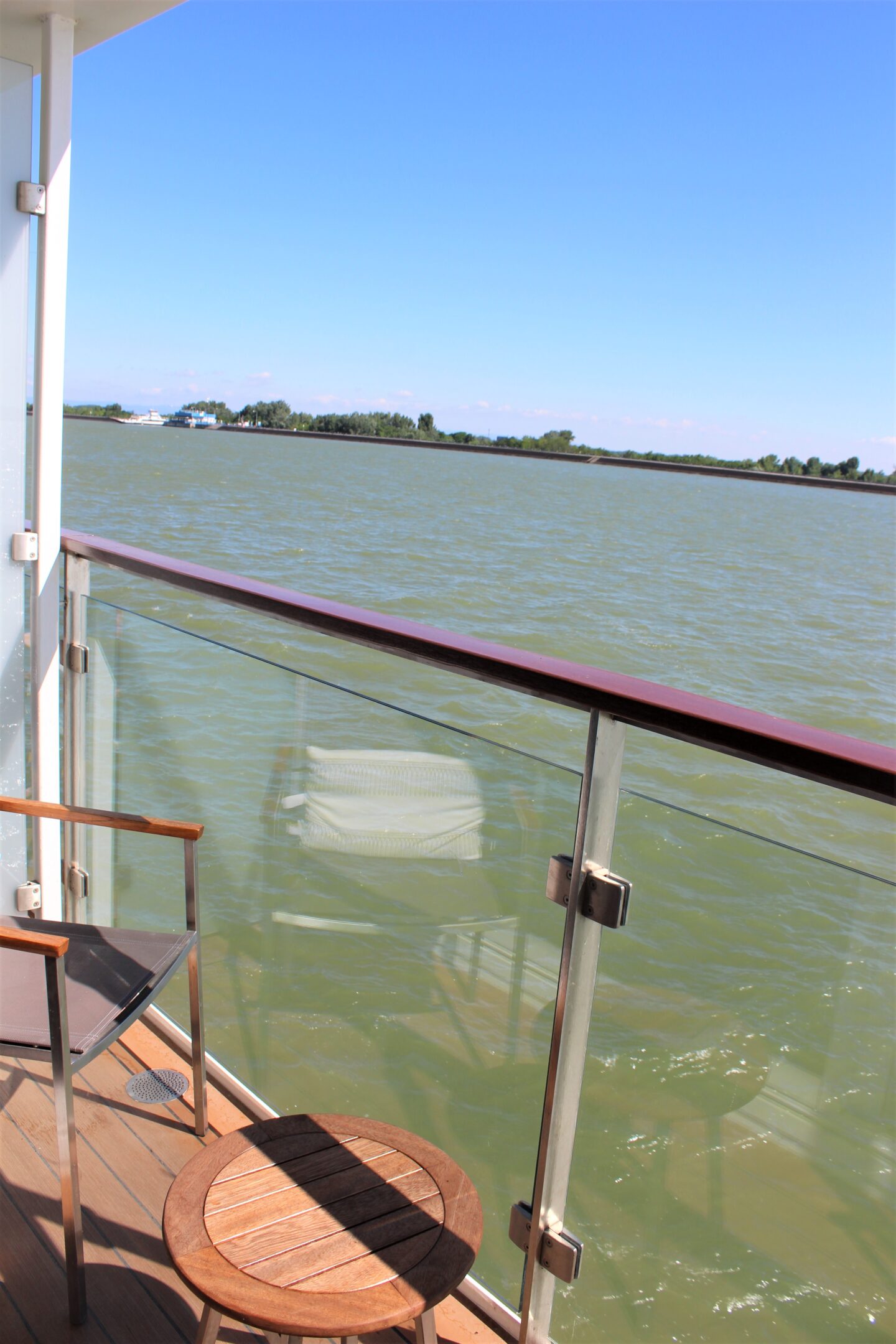 Sailing along the Danube on our way to Bratislava, we sat relaxing on our balcony taking in the wonderful countryside which surrounded us.
One morning we woke up to discover we were just entering a lock and another afternoon sailing had us fascinated and enjoying the view of going through a lock, once whilst next to another Viking ship where we waved to our fellow passengers who were also enjoying the experience.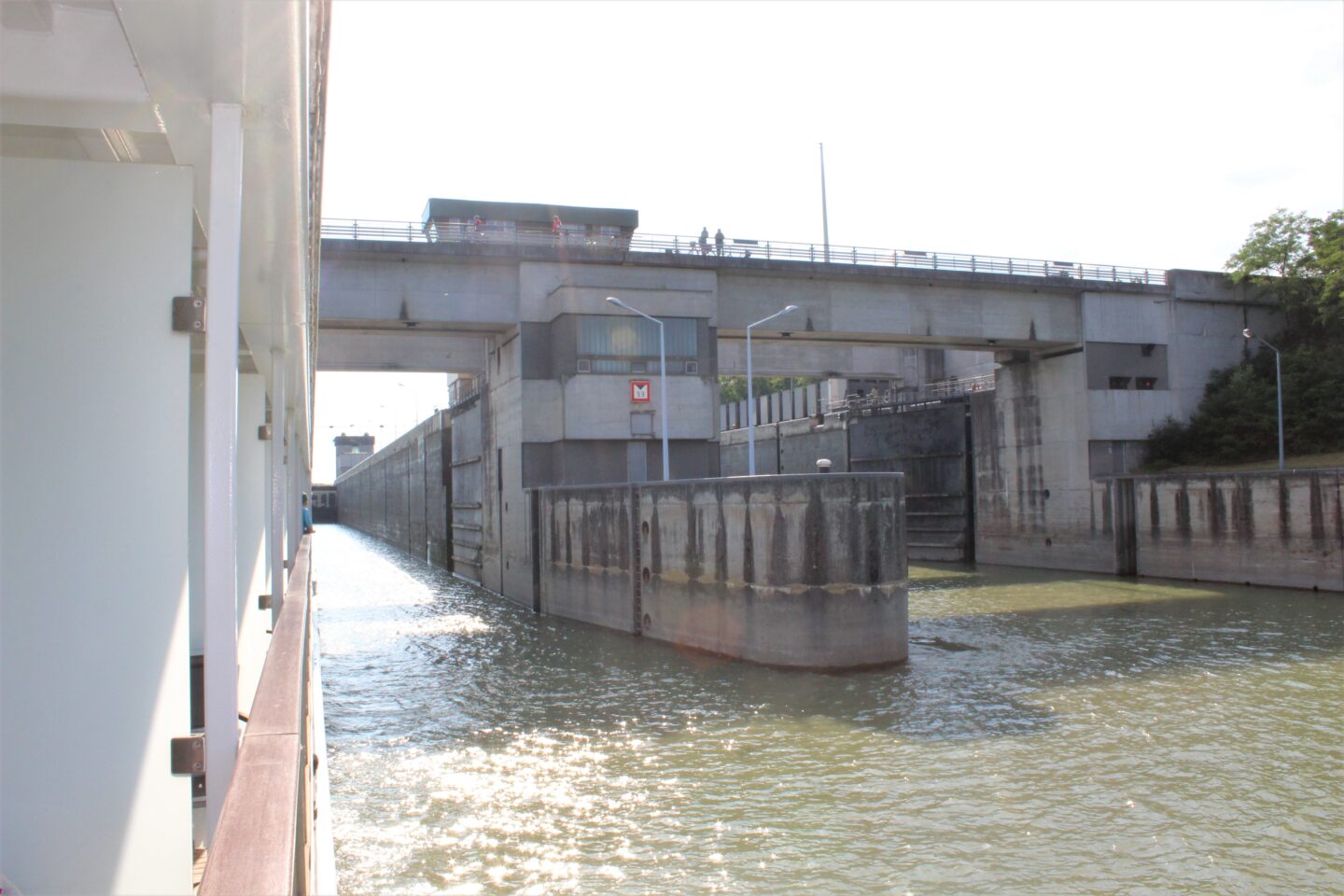 Every day when we walked into our cabin was like the first day, that lovely fresh smell of crisp linen, perfectly folded towels and everything looking so neat and tidy. Most definitely none of that was down to us! It was all due to our wonderful room steward Svetoslav who twice a day like a ninja went into our room and worked his magic. When we did get chance to see him was when we were usually walking down our corridor on our way out. We were always greeted with a lovely hello and how are you.
Head to the top of the ship and you will find the sundeck, oh what a wonderful space it was. There was plenty of seating with the option of table and chairs along with loungers with options to sit in the sun or the shade.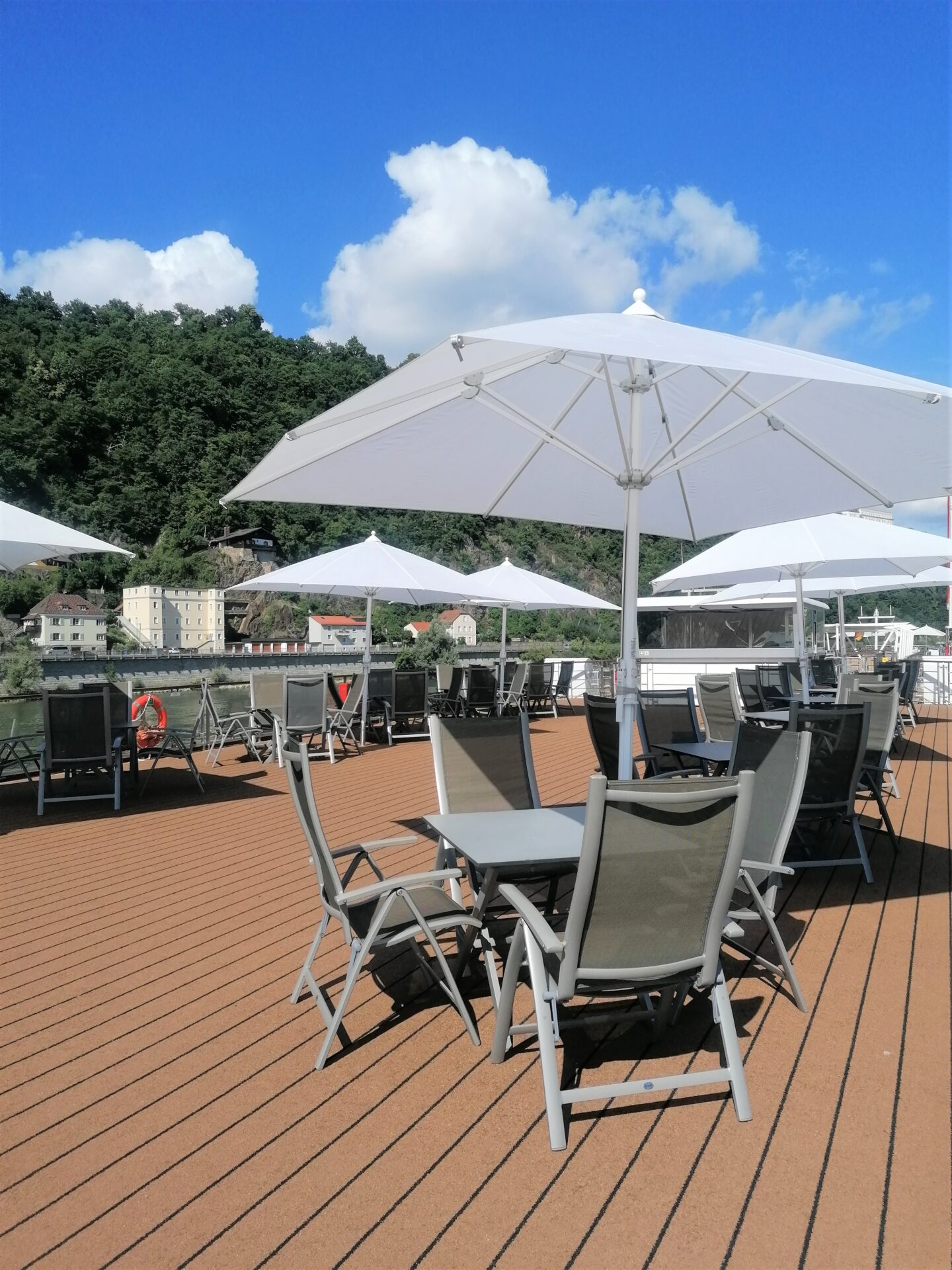 Sitting at the front of the ship as we sailed along the famous Wachau Valley was the highlight of the holiday for Mr B and I as we sat there taking in the amazing views, sipping on a perfectly made Aperol spritz. It was one of those 'pinch me' moments that we will remember forever.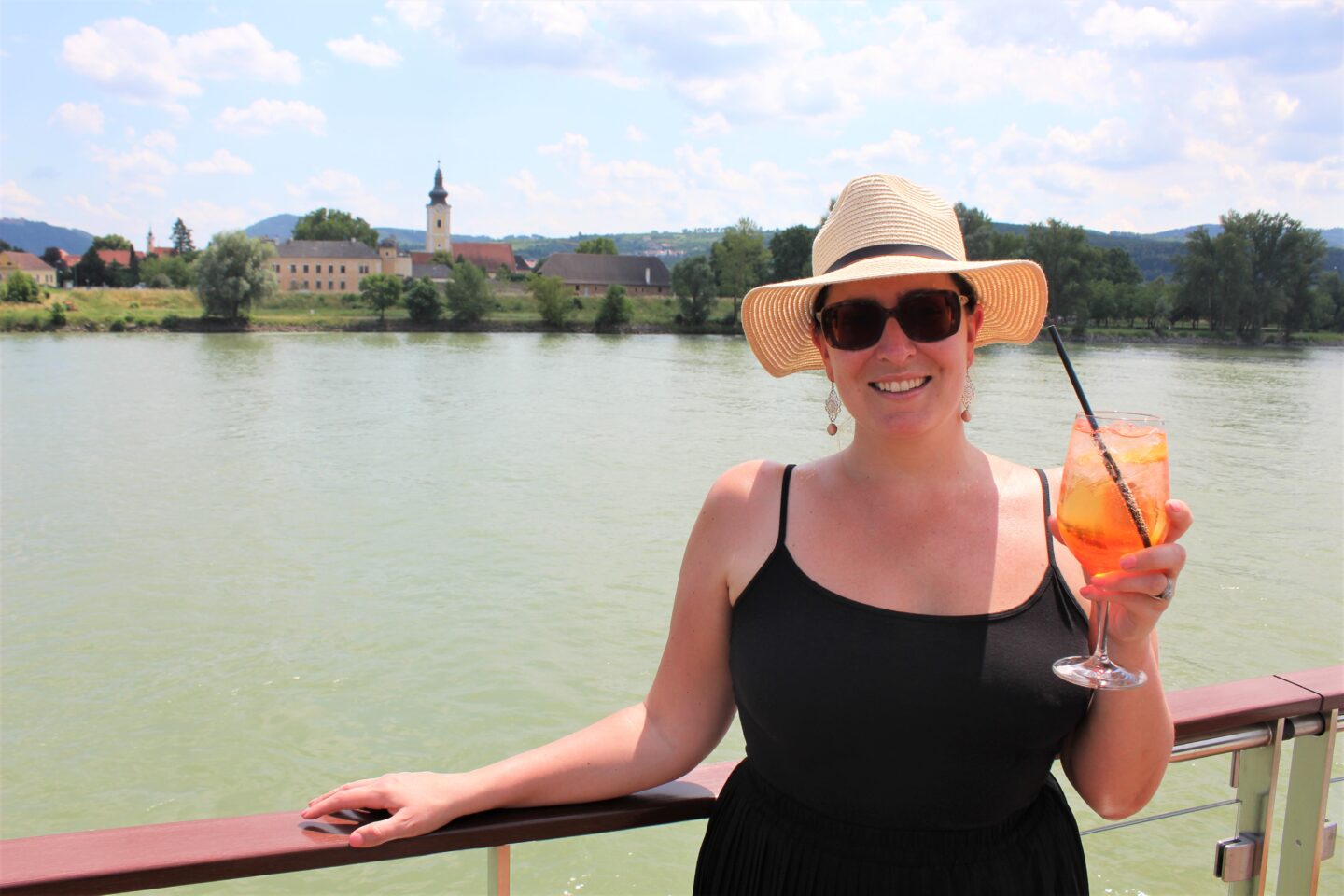 Head to the back of the sundeck and you will find the chef's herb garden along with a small putting green, where Mr B practised his aim and I sat back and watched whilst sipping on an iced coffee.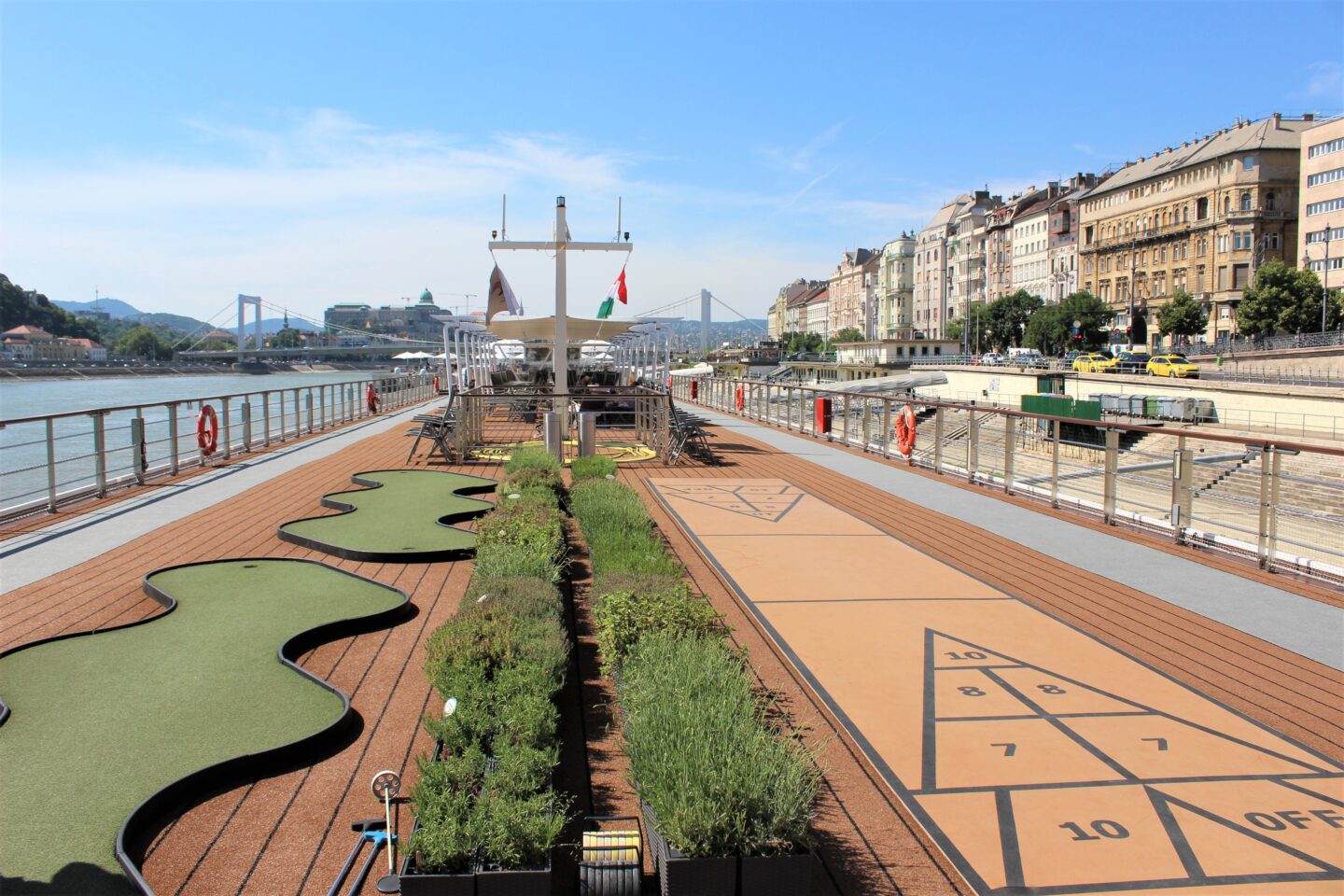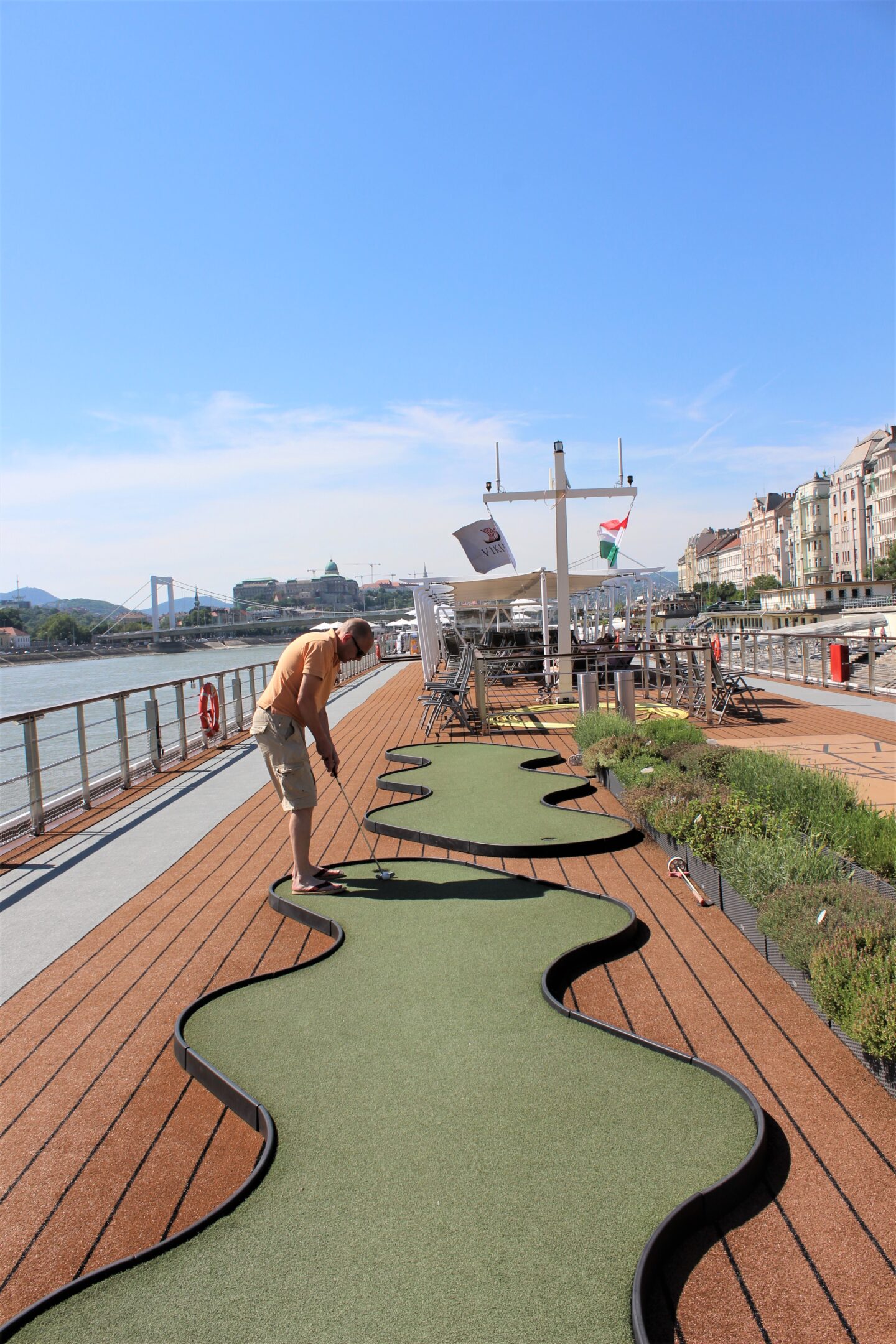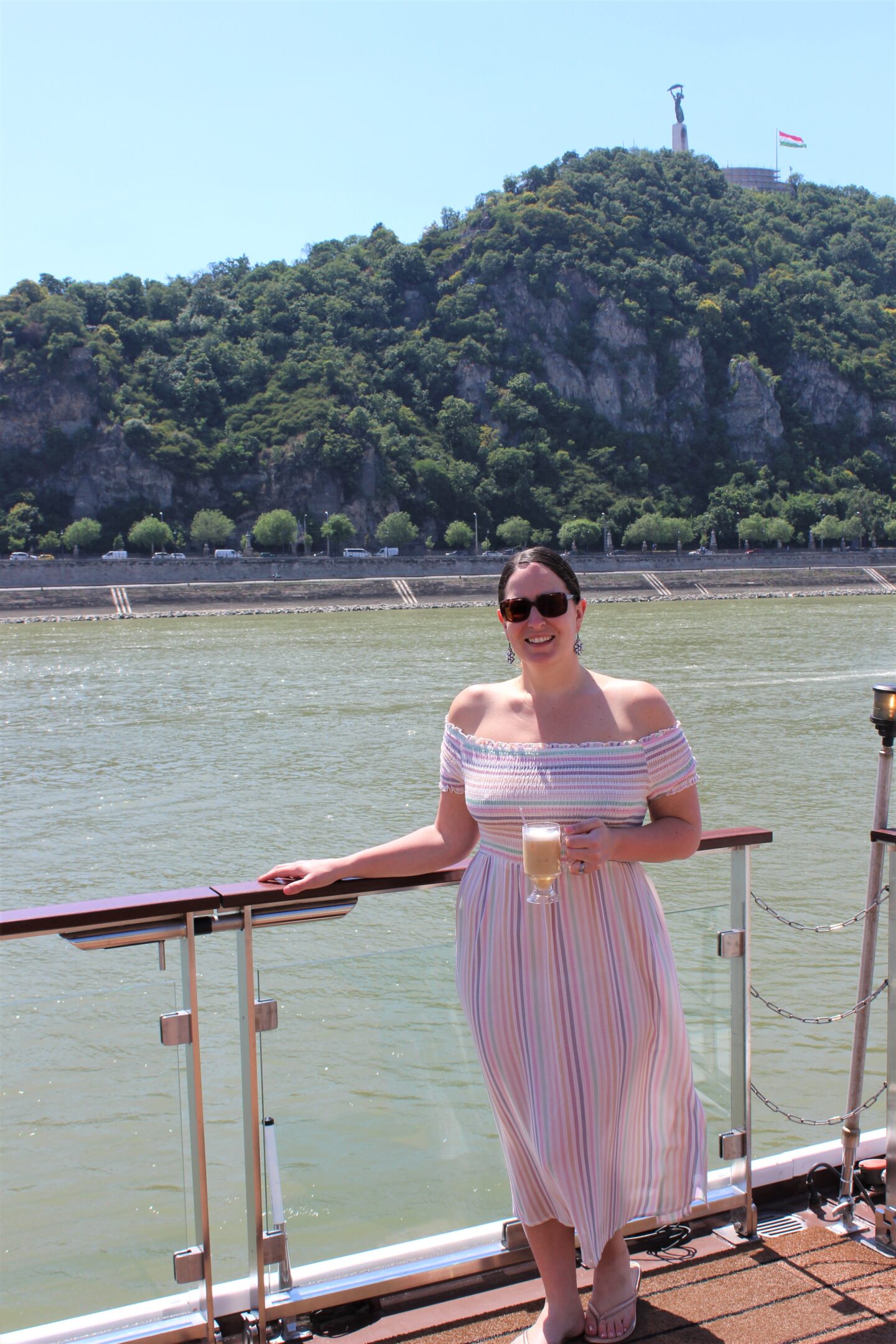 Head from the sundeck down one flight of stairs and you will find the library where guests are welcome to borrow books and a selection of games. There are also two computers available to use any time.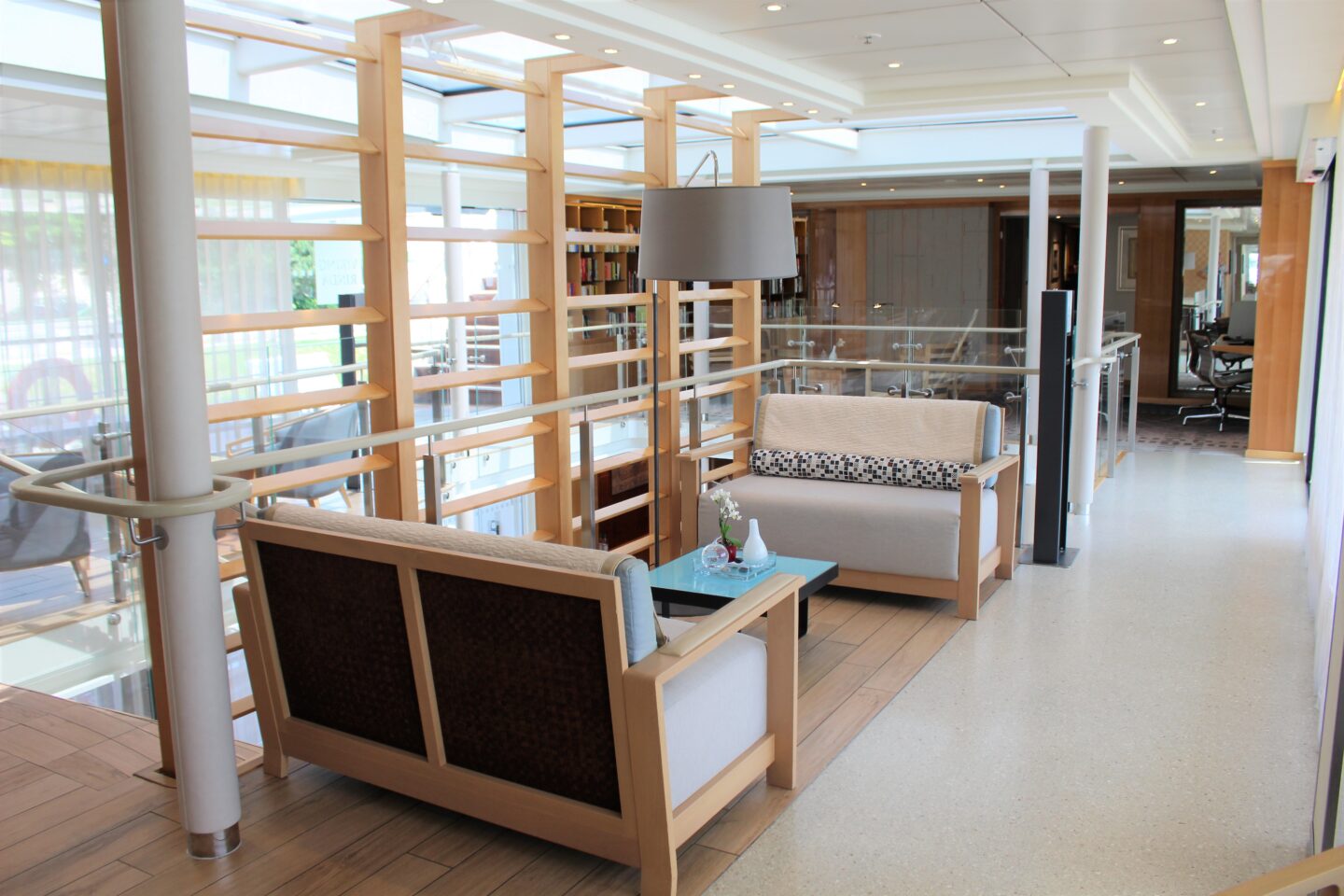 There are two coffee stations which are available 24/7, with a selection of tea along with a coffee machine with a range of coffees. My favourite part of the coffee station was the fresh pastries, which were always available. The cookies – oh my goodness they were delicious – I lost count of how many oatmeal & raisin and double chocolate cookies I made my way through on the trip!
Head through the automatic glass doors in front of the coffee station and it will take you to, in my opinion, the heart of the ship, the lounge and bar area. Daily port talks are held here pre-dinner to fill you in on where you are docking the next day and any excursions on offer. Any other daily talks or demonstrations were also in the lounge.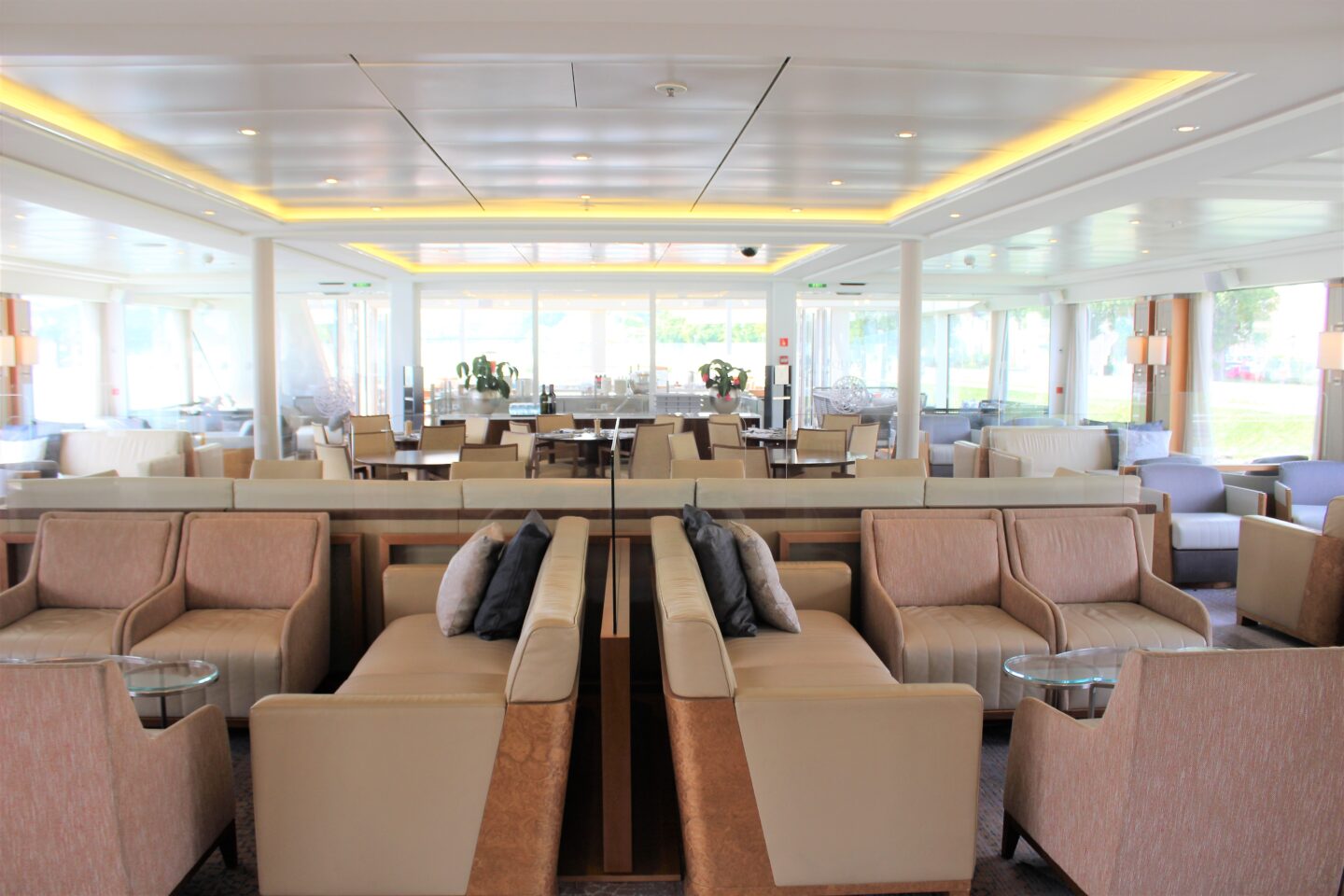 The lounge had a range of seating with lovely floor-to-ceiling glass windows giving you lots of natural light and, of course, wonderful views wherever you were docked or sailing.
The evenings saw resident musician Angel at the piano, singing wonderfully and keeping us entertained. Three other nights the superb programme director Paul hosted a range of fun quizzes and a very entertaining game of 'toss the pretzel' on Austrian night! But for us special memories were made by our nights sitting at our favourite seats at the bar whilst Bogdan (i.e the best bar chef ever!) created us fantastic cocktail after cocktail.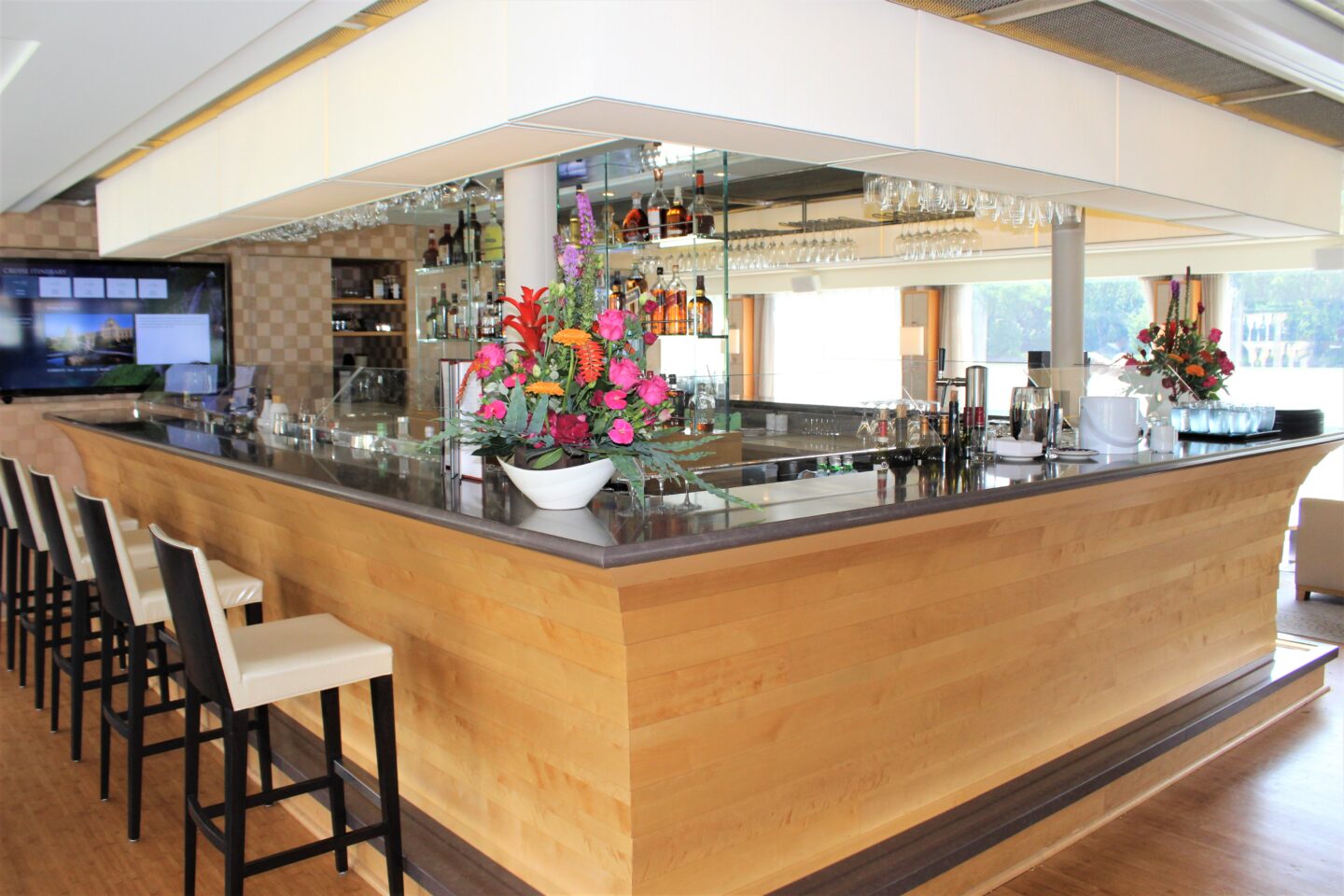 Head through the lounge to the end of the ship and here you will find the Aquavit terrace. With seating inside and outside (weather dependent) this was for us one of the best spots on the ship to relax with a glass of wine and to enjoy an al fresco lunch.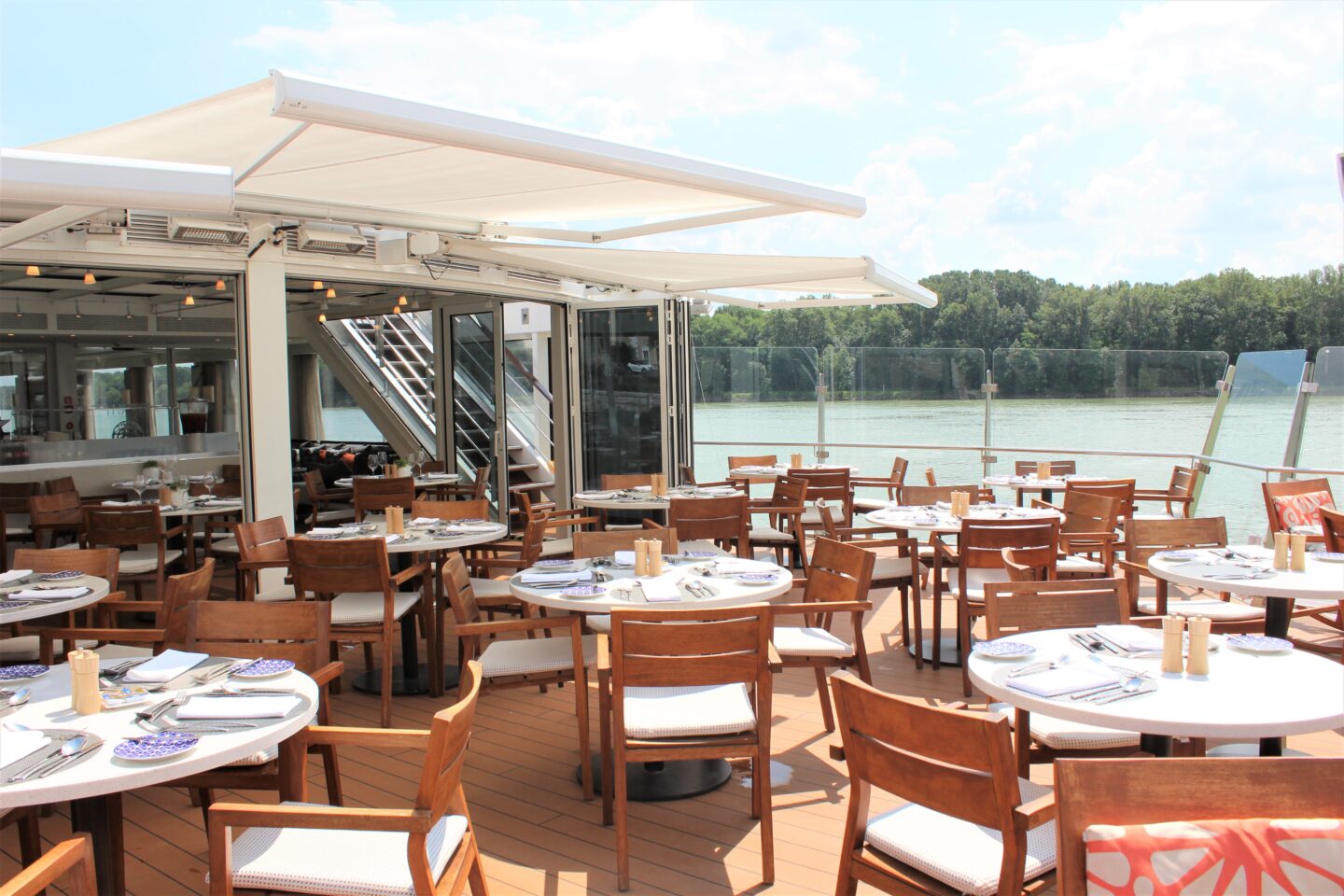 Down the next flight of stairs and in the centre of the ship you had reception which was open 24/7. Opposite reception is a small shop selling a range of Viking merchandise.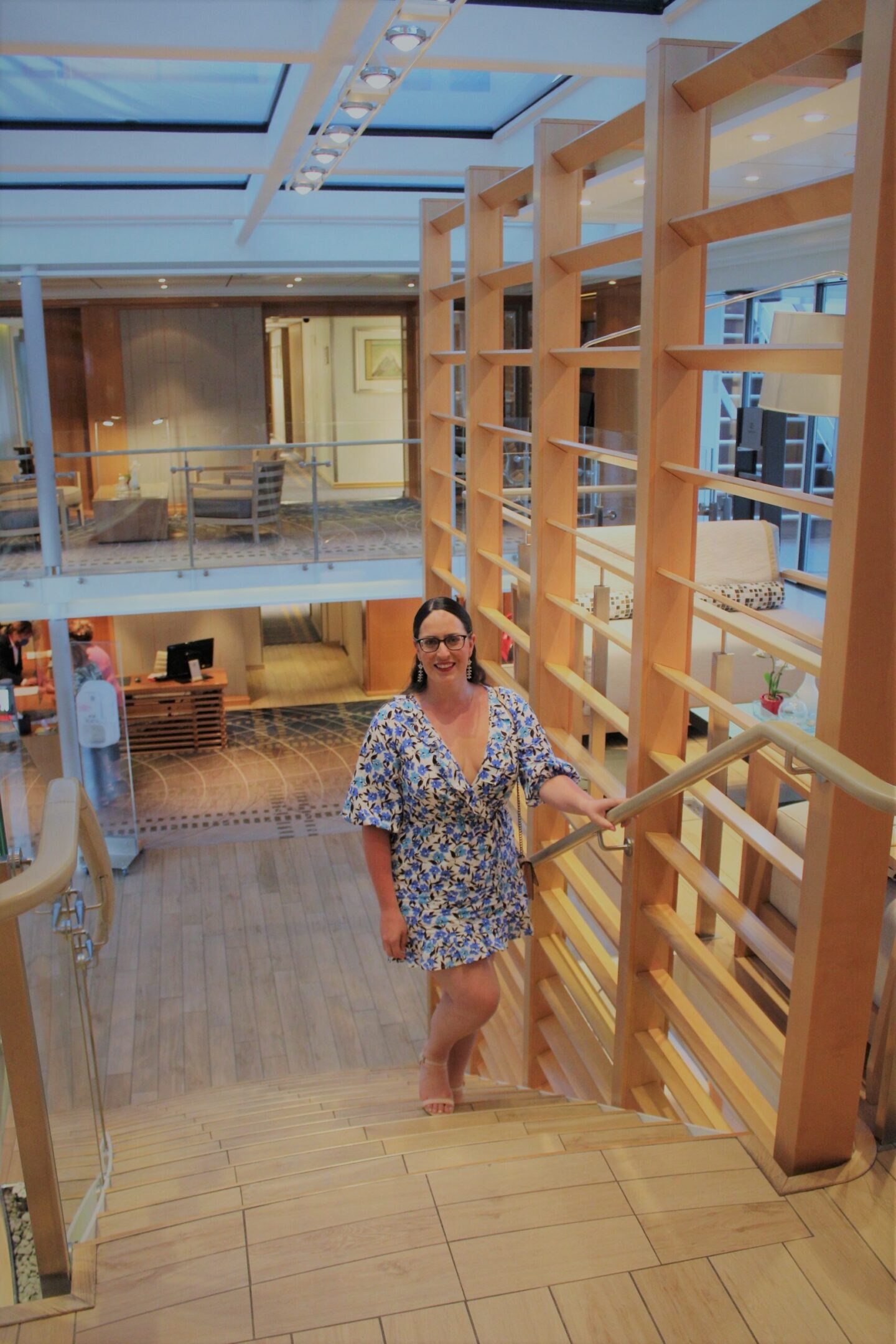 Walk forwards and you will find the onboard restaurant. We loved how open and airy it felt, our favourite tables being the ones where we could see directly out of the floor-to-ceiling windows. This is also where we sat with so many wonderful guests and got to know some truly lovely passengers from all walks of life. We loved sharing stories of travels and of how everyone's day had gone.
We absolutely loved sailing on Viking Rinda. She is a beautiful ship, classic and elegant, but what made our sailing extra special was the incredible crew on board. I can honestly say every crew member that we had the pleasure of speaking to and being looked after by were so polite and friendly, and it genuinely came across that they really loved their jobs and looking after the passengers onboard. Some we only had the pleasure of passing for a daily hello, others we got to share stories with or find out more about them and by the end of the holiday it felt like we had built unique friendships.
Thank you Rinda for a wonderful holiday and a huge thank you to the crew for making our sailing extra special.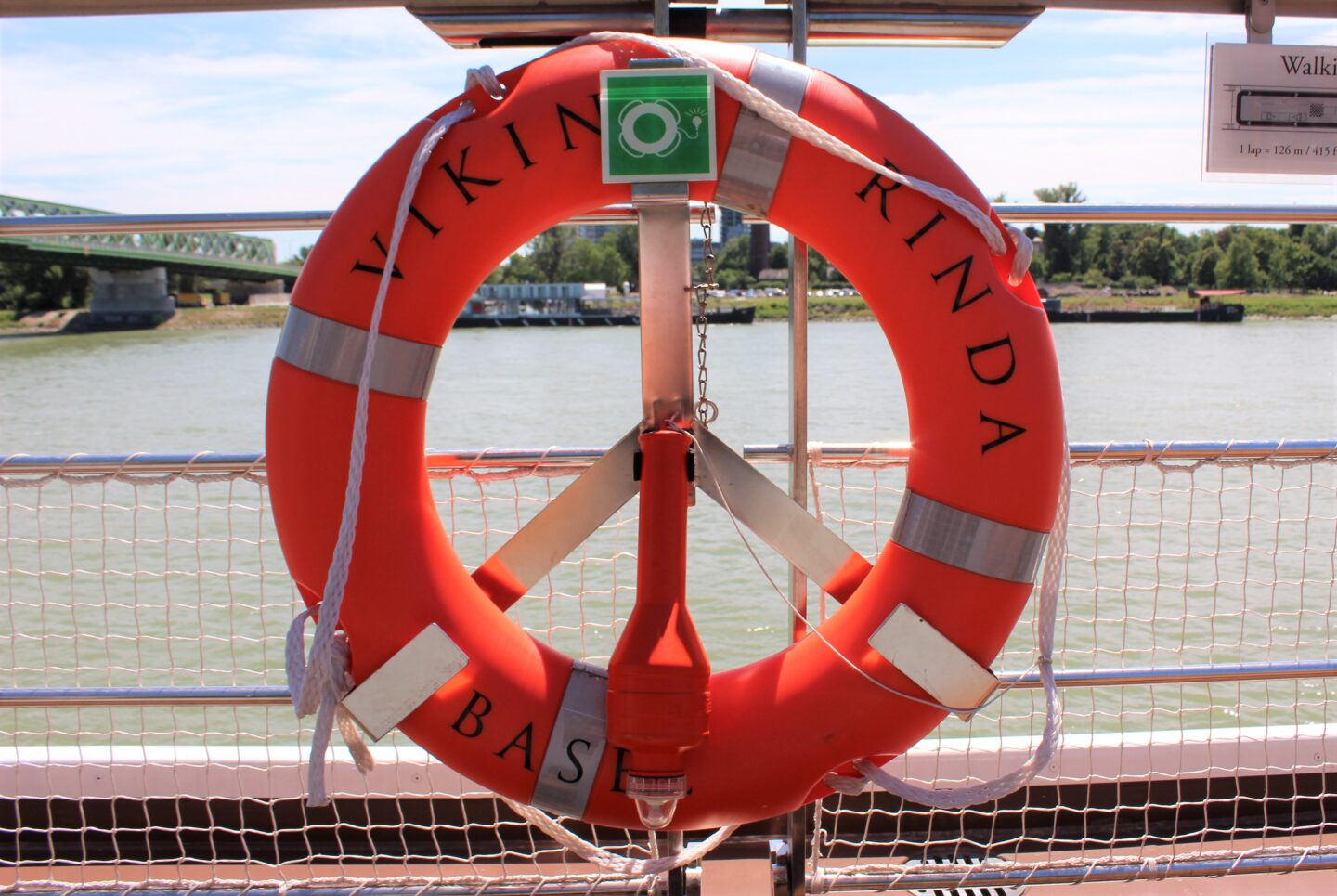 Read about our 8 day itinerary sailing down the beautiful Danube on my other blog post below . . .
Have a look at all the wonderful food we enjoyed on our sailing on my below post . . .
Want to know what is included on the Viking Silver Spirits drinks package? Have a read of my below post . . .