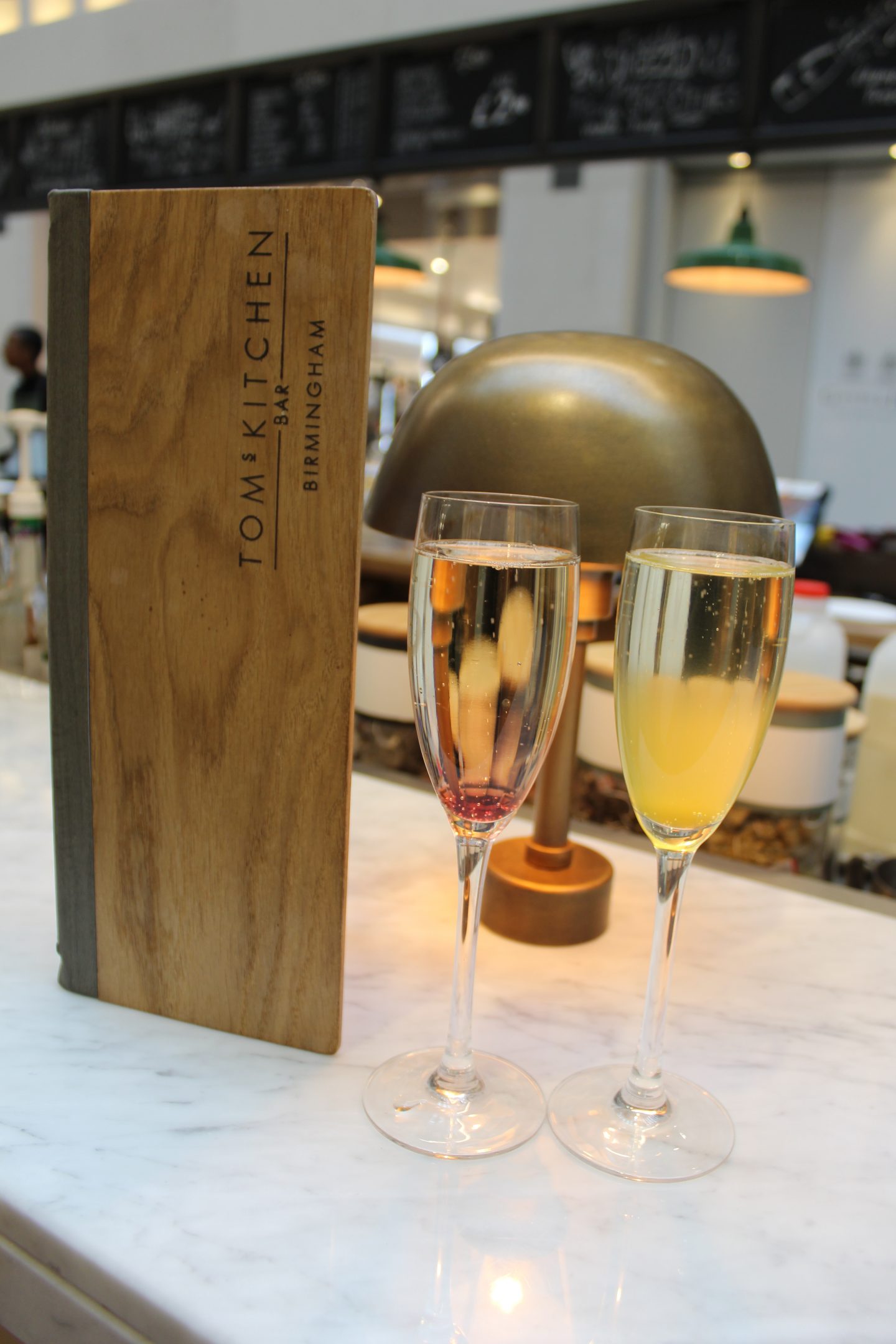 Tom's Kitchen Birmingham is the only other Tom's Kitchen restaurant in the UK outside of London. Located in the Mailbox it's surrounded by luxury shops and has a lovely relaxed vibe to it.
When we entered the Mailbox and went up the escalator the first thing we were drawn to was Tom's Deli, which is located in the centre of the Mailbox and offers lunch on-the-go, sandwiches, coffees, champagne, prosecco and a few selected cocktails! We sat at the bar and enjoyed pre-dinner cocktails. I opted for a passion fruit prosecco cocktail and Mr B a Raspberry prosecco cocktail. It was a lovely spot to enjoy a drink, do a bit of people-watching and gaze at the surrounding shops.
Finishing our cocktails we made the 10-second stroll to Tom's Kitchen (it's a hard life!). We were greeted at the entrance, shown to our table and kindly had our coats taken. Our visit was at 2:30pm on a Sunday and the restaurant was buzzing with life. Our lovely waitress gave us our menus and left us for a few minutes to pursue, but not before I ordered a large glass of my favourite red wine, Malbec. This one in particular I really enjoyed. It was a Malbec, Trapiche 'Melodias Winemakers Selection' Mendoza, Argentina 2015. What I really liked was that Mr B and I both ordered a large glass each and instead of getting a massive glass of wine, it came in a small carafe from which our fantastic waitress kept us topped up.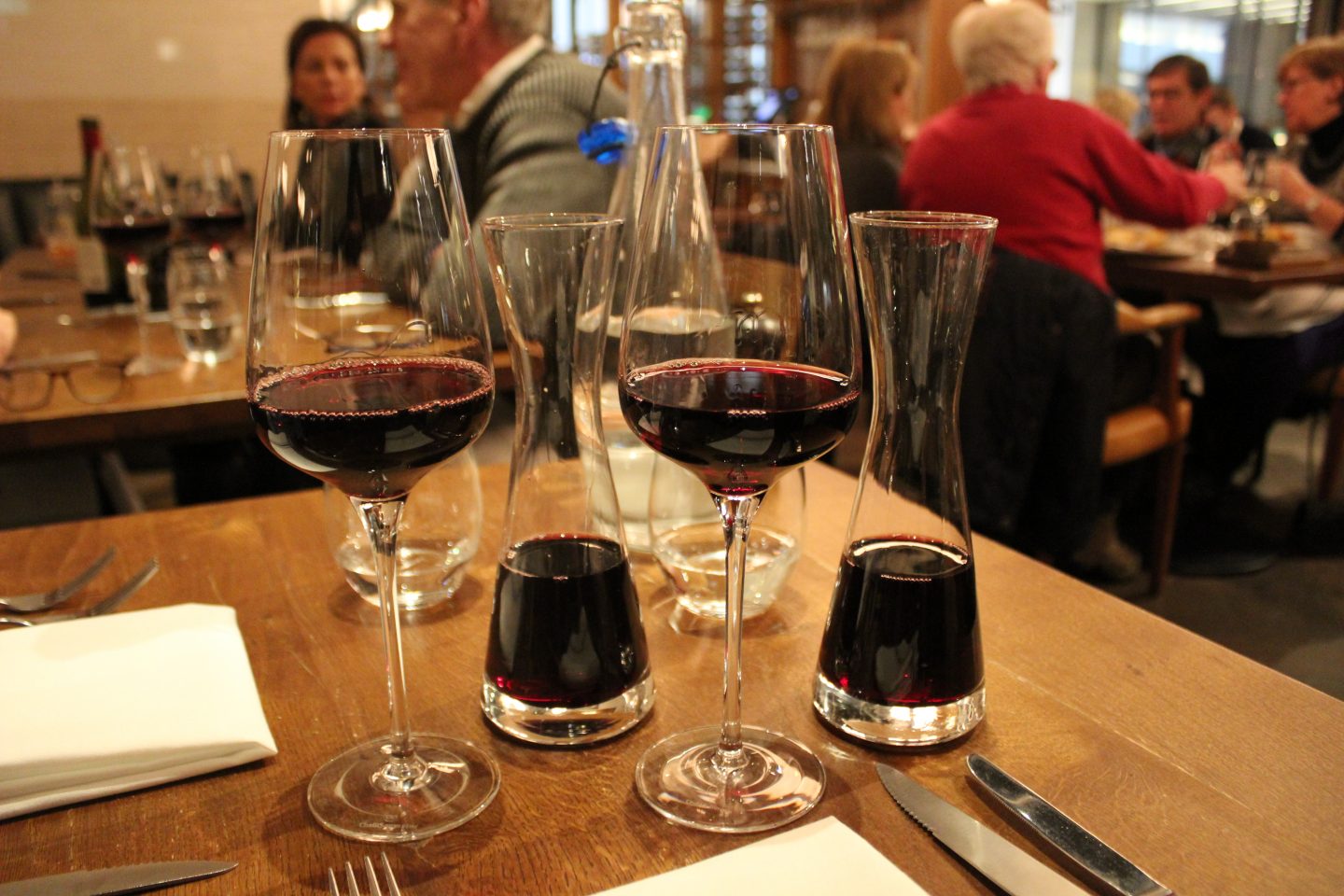 I really loved the sound of a lot of the dishes on the menu. Tom's Kitchen offer British classics and another thing I love is that they work with lots of local and British suppliers, which always gets brownie points from me!
For starter I opted for 'Macaroni Cheese' and you can add truffle to the dish for only £2 extra. Is that even an option?! I LOVE the combination of truffle and cheese.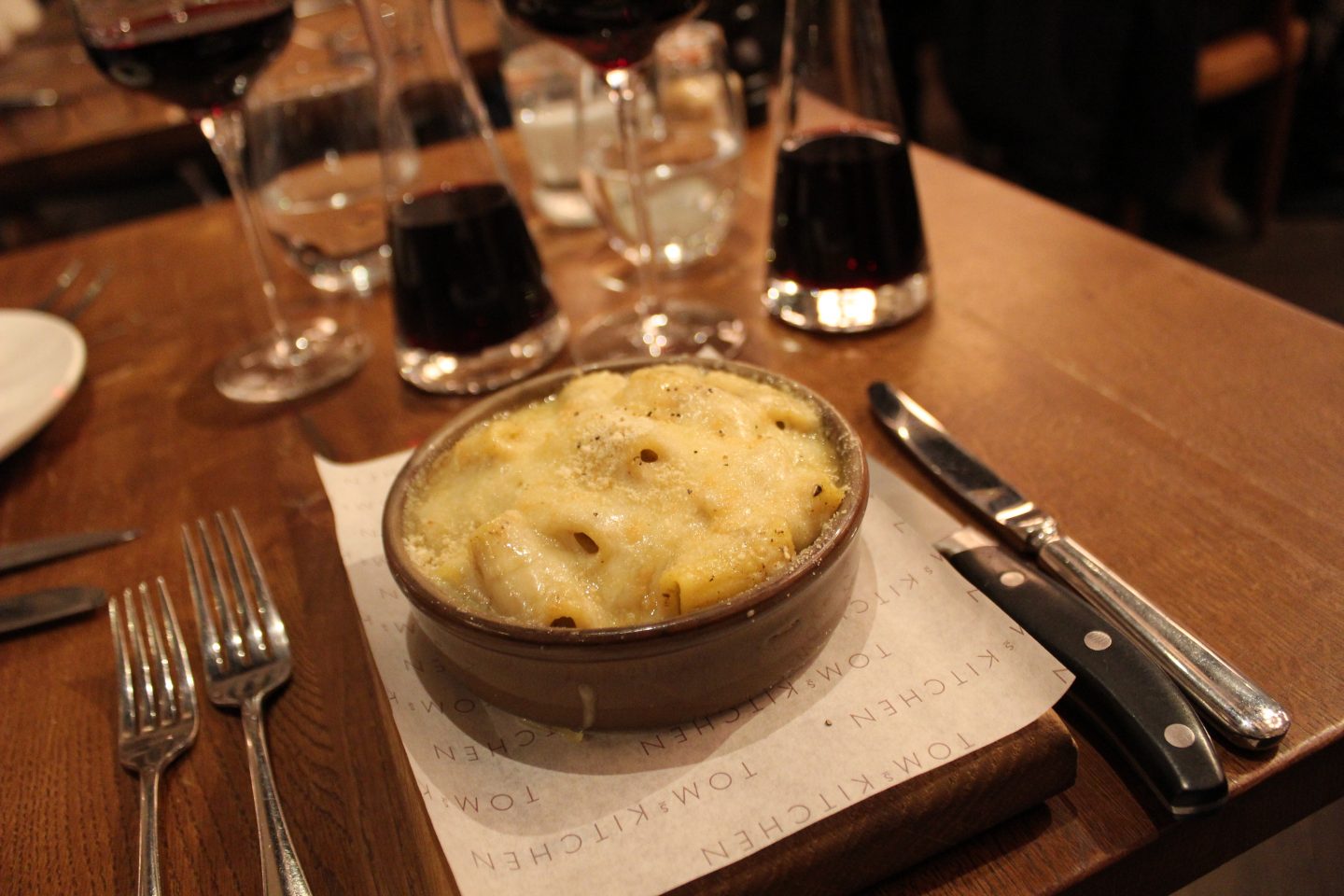 Just describing this dish as delicious doesn't seem enough. It was cheesy, gooey, trufflely yumminess! Mr B admitted he had food envy . . . look at that melty cheese, mmmmmm . . .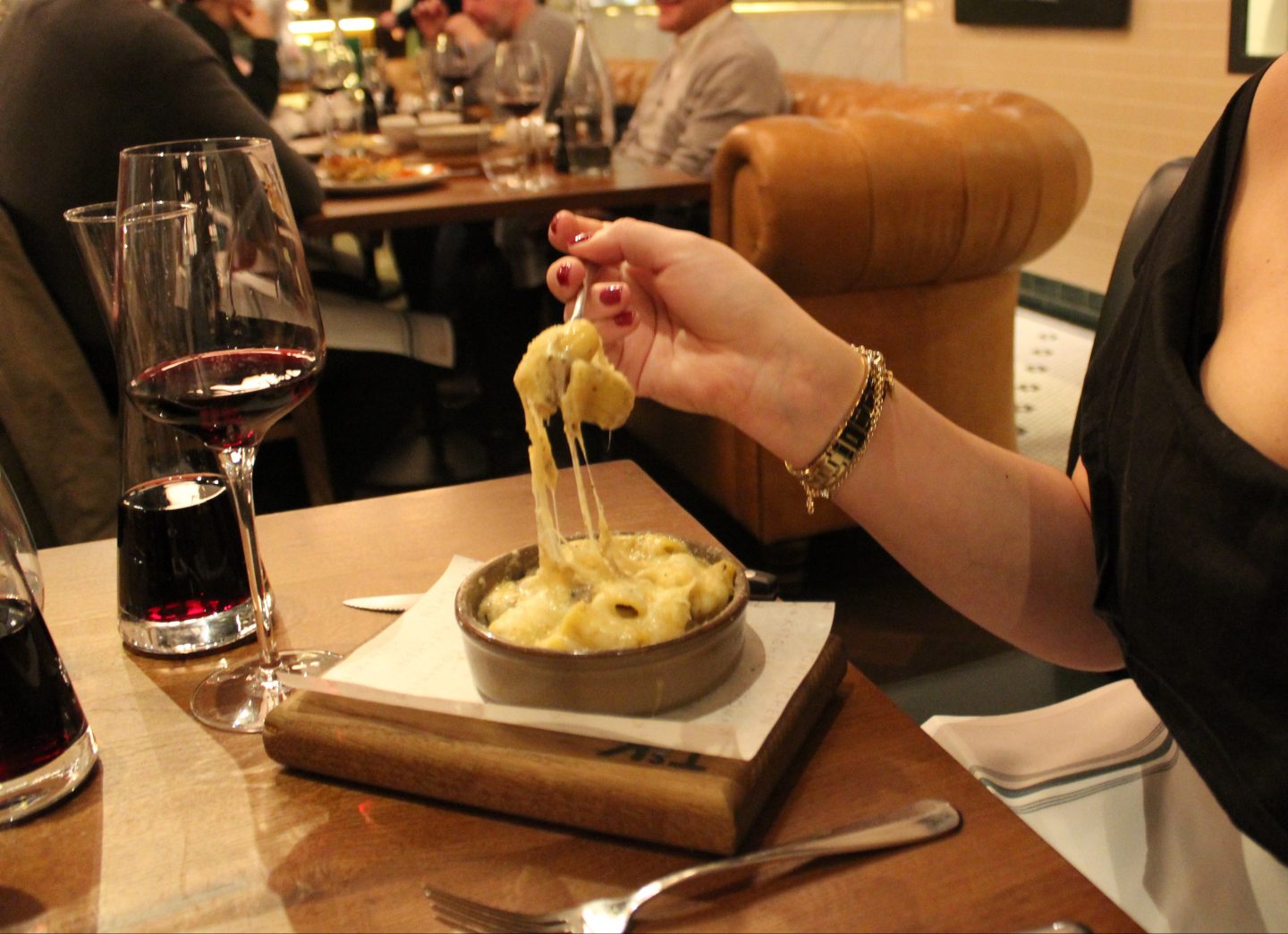 Mr B had the 'Spicy Devonshire Crab Cake with cucumber & quinoa salad'. I had a taste (of course) and the first taste was of the sweet crab meat followed by a kick from the spice, but then cooled down by the cucumber salad.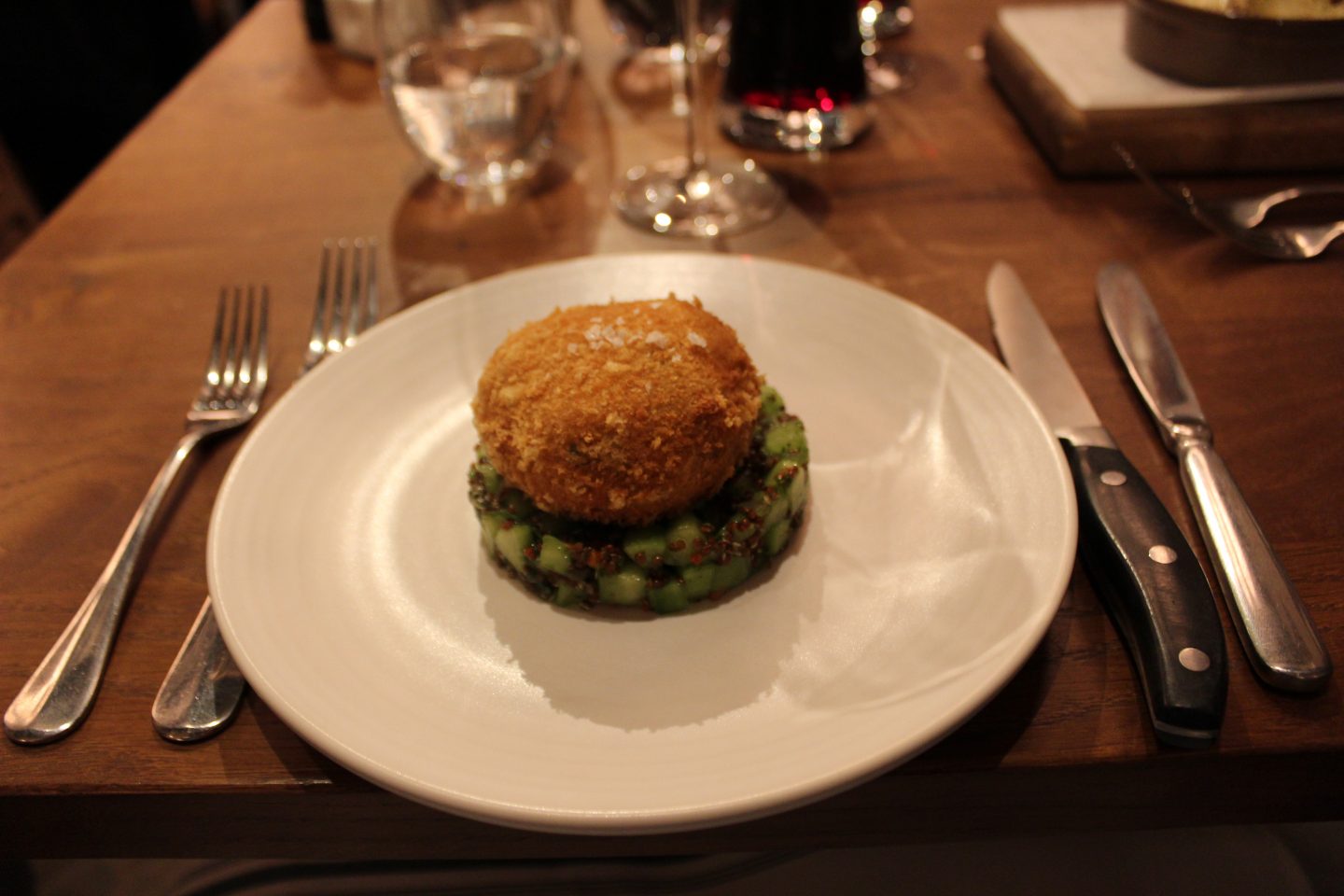 It was easy for me to choose my main course. Venison is my favourite meat so as soon as I saw this on the menu I knew it was the one for me! It was 'Loin of Venison, salt baked celeriac, savoy cabbage, juniper and blueberry jus'. The meat was cooked to perfection, very tender and full of flavour, and the classic pairing of celeriac was delicious . . . a perfect dish.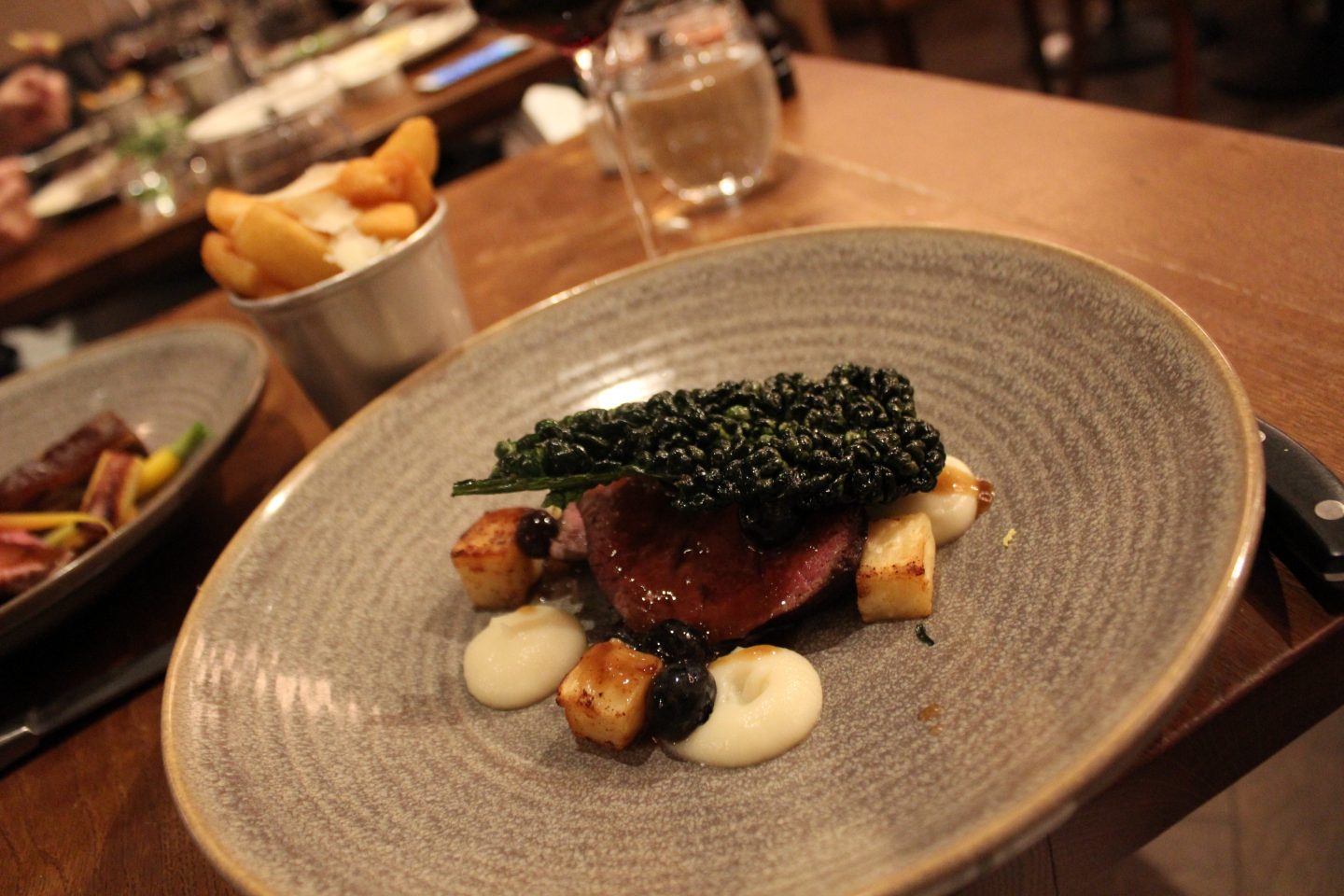 Mr B chose from the specials board and he had 'Lamb Rump with seasonal vegetables'. The lamb was perfectly pink and tender and he enjoyed his main dish as much as I enjoyed mine!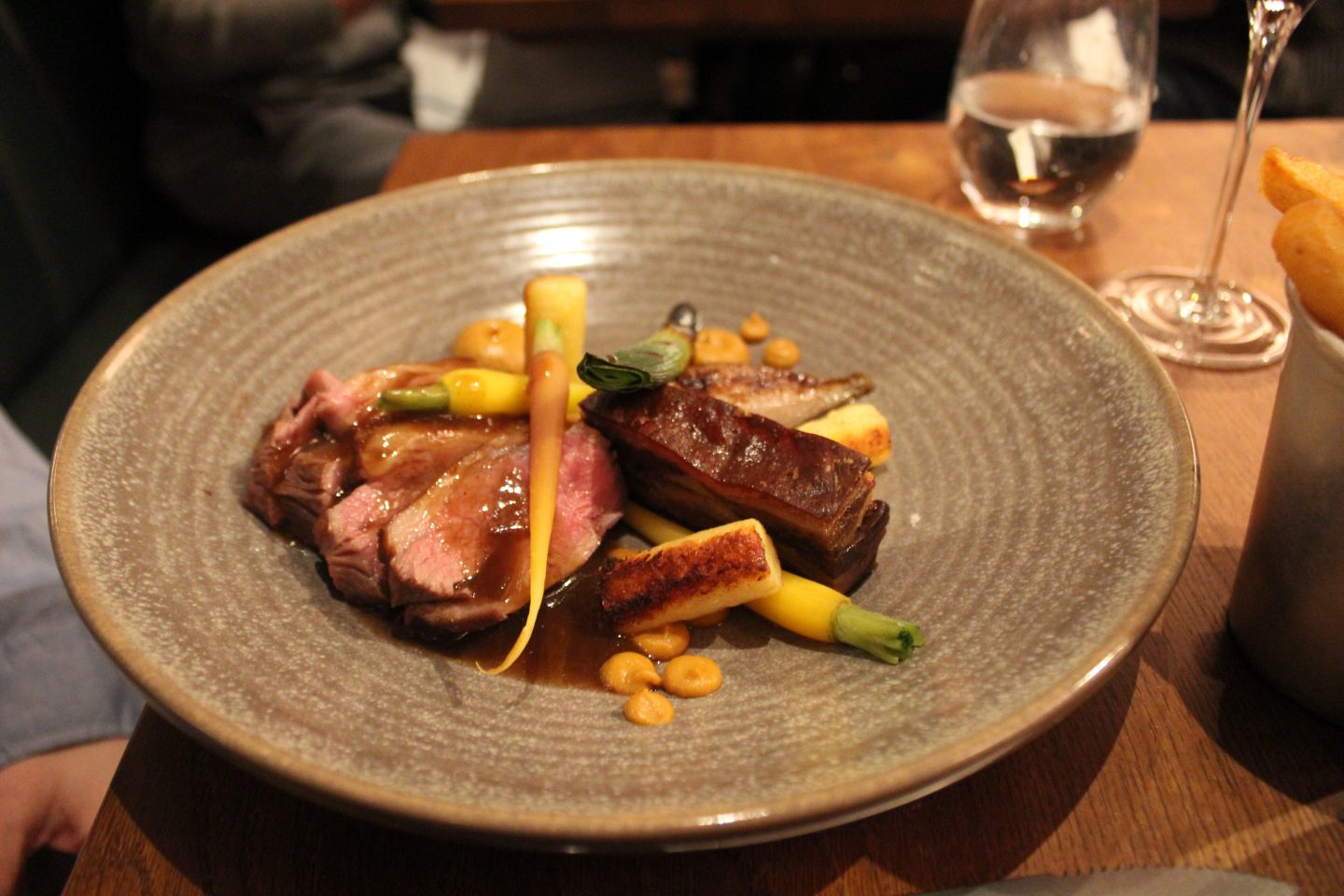 We also had a side of Triple Cooked Chips with truffle and parmesan (told you I love truffle and cheese!). The chips were crispy on the outside and soft and fluffy on the inside, just as they should be. The truffle and parmesan added a lovely richness and now every time I have chips I want them topped with truffle and cheese!
Dessert was also an easy decision for both of us because on the specials board was 'Pistachio Crème Brulee with biscotti'. I am a huge fan of crème brulee and have never had a pistachio version.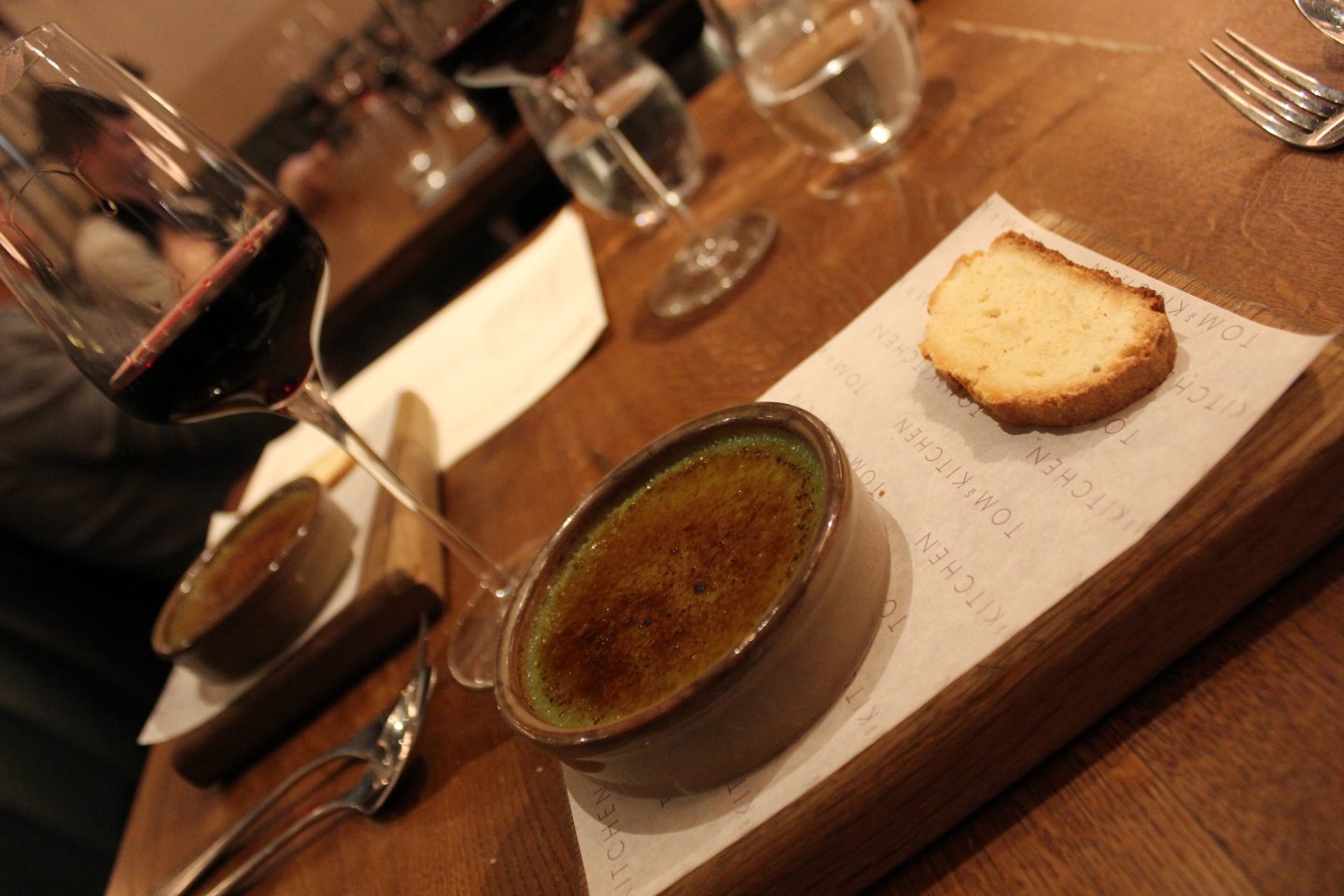 Oooooo it was so so good . . . this is my dessert love face. I could tell from just looking it had a lovely crisp caramelised top. I was also very happy with the generous portion size!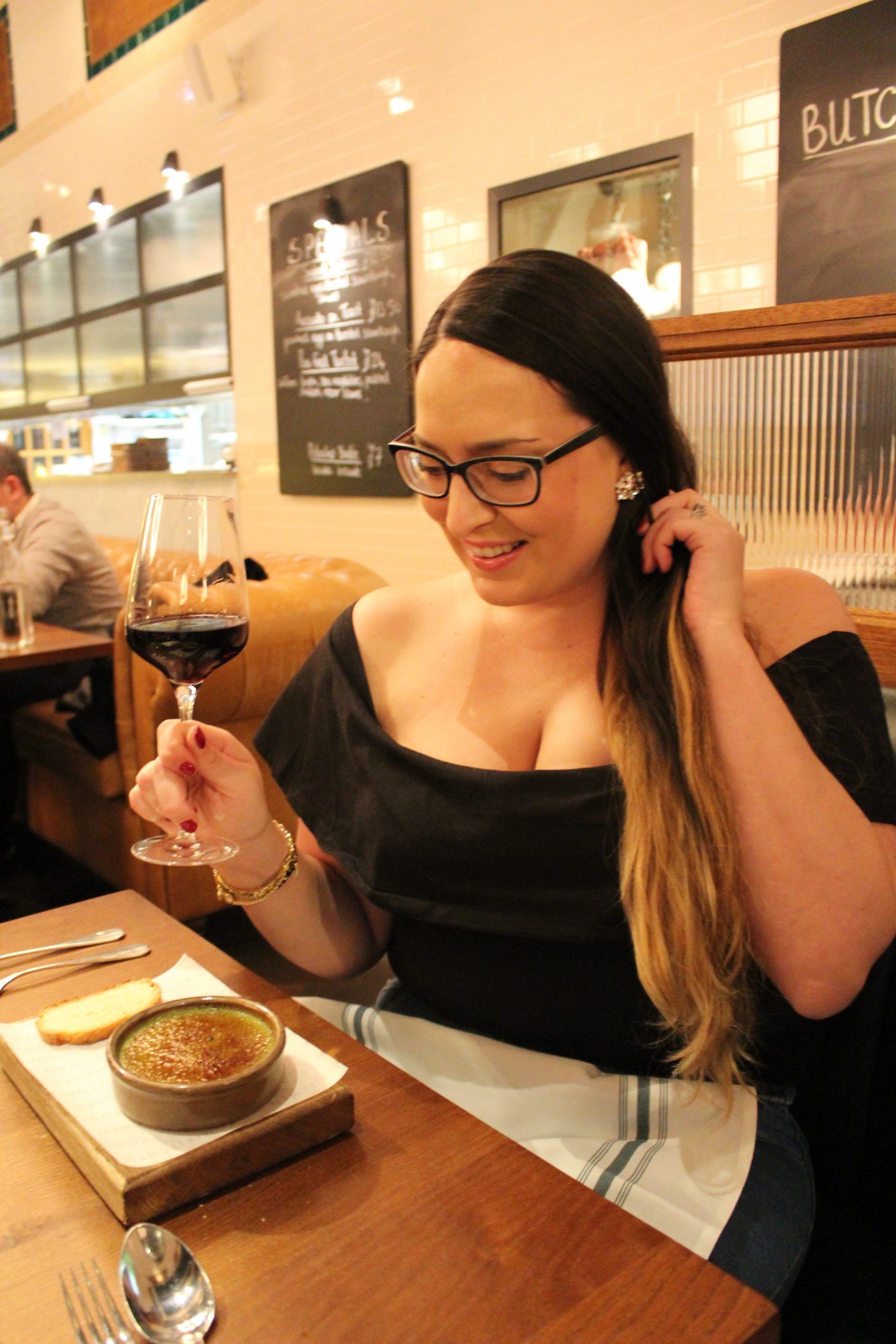 We enjoyed a dessert wine with it which was paired perfectly. If you are unsure ask the staff here as they are all so friendly, polite and helpful. From the fantastic food and great service I can see why this place has so many regular diners that keep returning.
https://www.tomskitchen.co.uk/
The Mailbox, Wharfside St, Birmingham B1 1RE
0121 289 5111