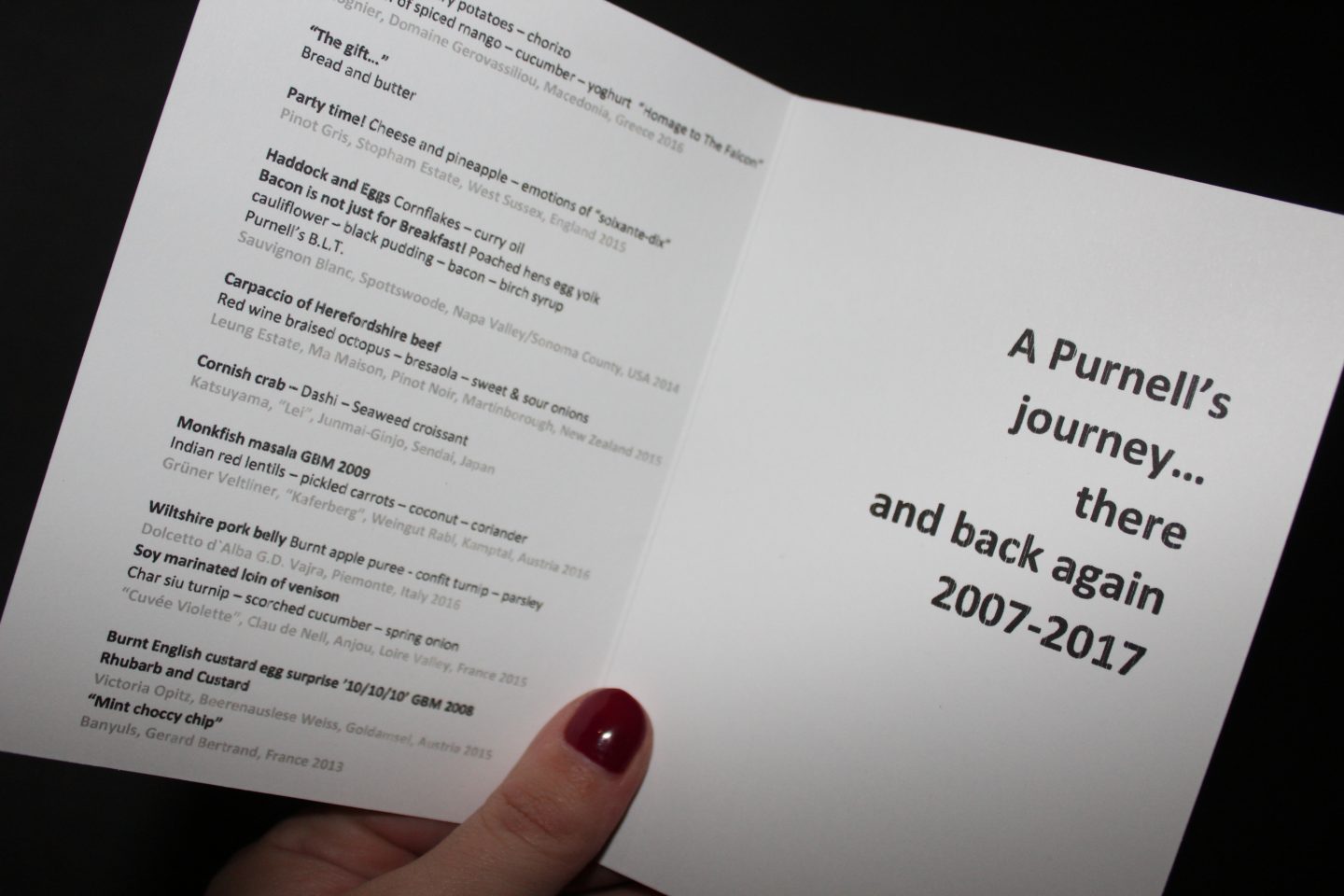 Trudging through the snow carrying my heels with -3 degree wind blowing in my face was not the glamourous entrance I wanted to make into the stunning Michelin star restaurant Purnell's, but not even a snow storm would have kept me away!
As soon as we stepped in the door we got a lovely welcome inviting us to sit down and warm up, and within minutes I felt completely relaxed and comfortable. No sooner had we sat down we were sipping on a perfectly chilled glass of champagne . . . the perfect start to any dining experience.
On a Friday and Saturday night Purnell's offer two tasting menus. They both sounded fantastic and we could not choose between the two so we said we were happy for the kitchen to decide for us. When you are visiting such a special establishment you know you are in safe hands.
After being shown to our table our dining experience began and what an experience it was!
We started off with '"Faux" Black Canary potatoes – chorizo' . . . it really did look like charcoal but was all edible! The potatoes were soft and fluffy but with a lovely strong barbecue flavour. The rest of the 'charcoal' almost melted in the mouth but had a crisp outside. We couldn't put our finger on what it was but when told it was meringue it seemed obvious. It was a great start to the meal and a very clever and fun dish which really got us excited for what was to come.
Along with our 'charcoal' we were served 'Papadum of spiced mango – cucumber – yoghurt'. All the flavours were delicious from the cumin in the crisp poppadum's to the sweet and refreshing toppings.
Next up came my weakness, the amazing homemade bread! It was as delicious as I was expecting and was served with whipped butter and sea salt flakes.
Our next course was presented to us by the man himself . . . Glynn Purnell! Mr B said I was very composed and the only sign of excitement was that my voice went a little high-pitched, ha-ha! Anyway back to what you all want to know about, the dish – 'Party time! Cheese and Pineapple' – a dish which was inspired from when Glynn was a child and used to go to discos, skid across the dance floor on his knees and eat cheese and pineapple on sticks.The cheese flavour was so strong which I wasn't expecting from such a light dish, but I loved it and the tangy pineapple worked perfectly.
Next up was 'Haddock and Eggs – cornflakes – curry oil' . . . oh my this dish was a taste sensation and is definitely up there with one of my favourite dishes of all time.
When Glynn was a child his Mum would poach haddock in milk and pour the milk down the sink (my mum did that too!) which is what inspired this dish. I can't do it justice by describing it, but will try. The egg yolk was silky and runny with the milk foam delivering a soft haddock flavour which was complemented by the curry oil and hidden underneath the milk was beautiful soft haddock. The dish was served with a fish finger, which I wish I could buy in the supermarket in a box of 10 as it was delicious.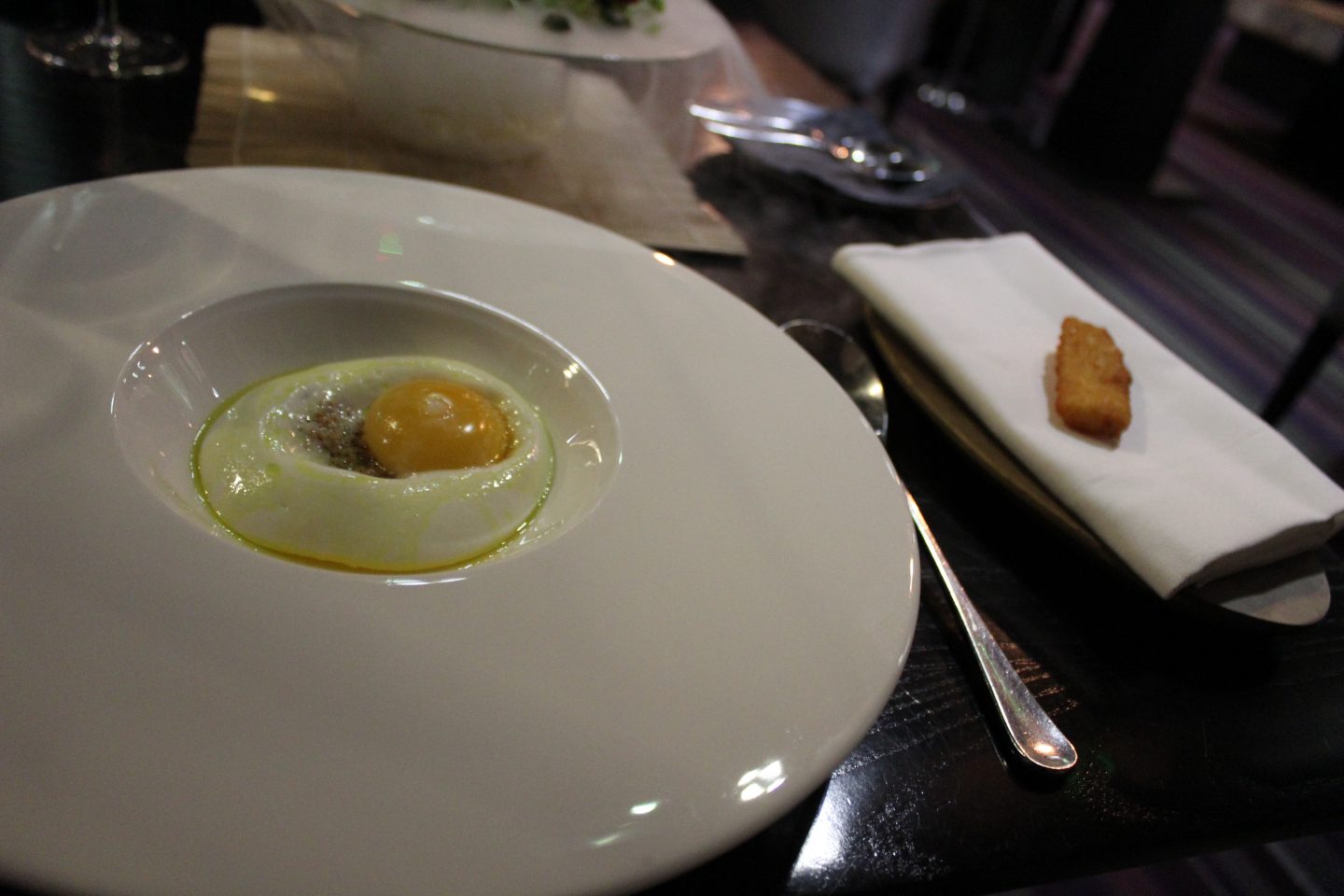 With the dish came mouth-size bites of yumminess, one of which was tomato and the other goats cheese, which were served dramatically with dry ice . . . I do love a bit of food theatre!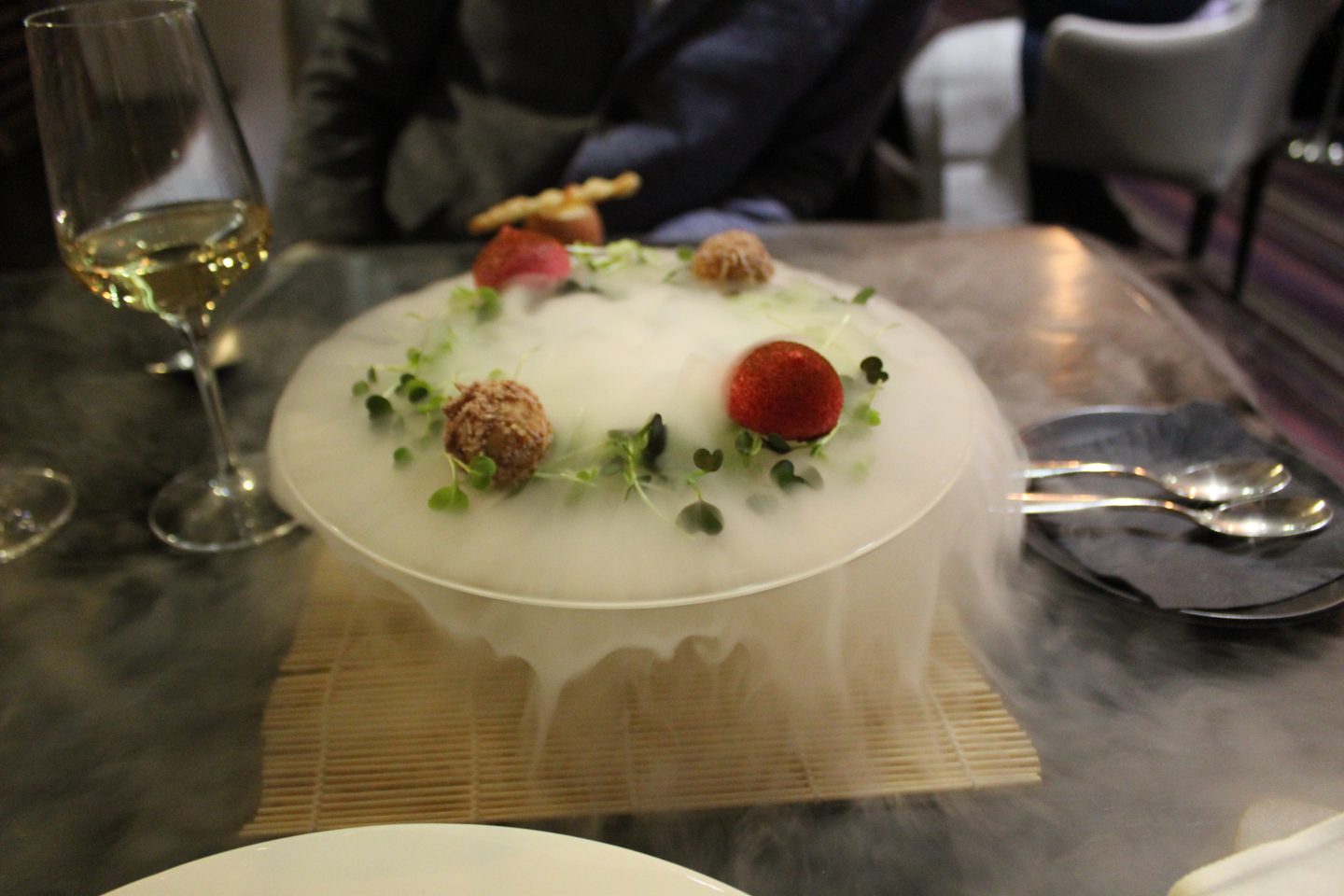 I knew I would love the next dish as soon as it was placed in front of me, which was 'Carpaccio of Herefordshire Beef – Red wine braised octopus – bresaola – sweet and sour onions'. I adore carpaccio and octopus. It was a perfect match of flavours, looked beautiful and delicate and that is just how it tasted.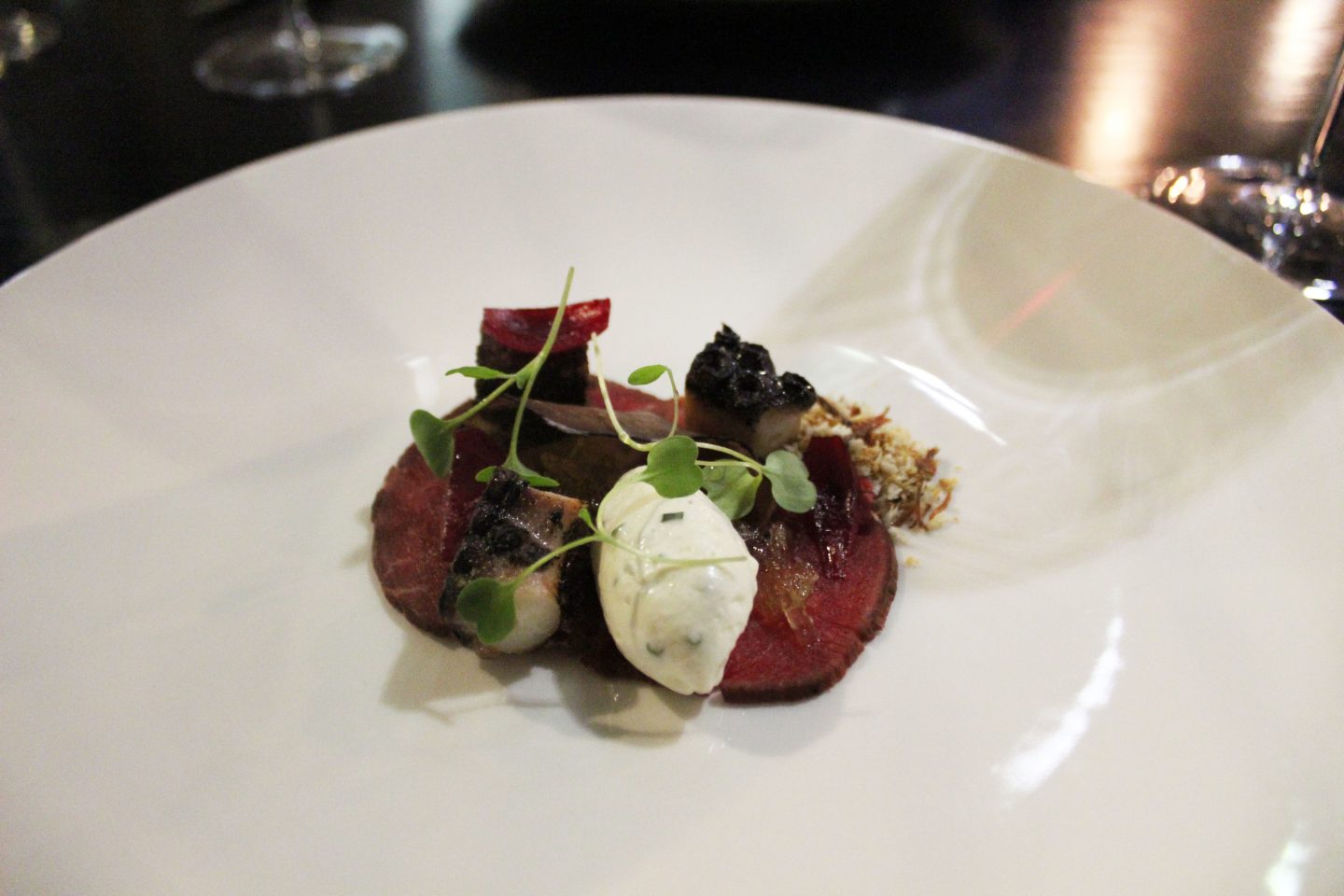 Another fun dish which packed a punch of flavours was 'Cornish crab – dashi – seaweed croissant, caviar'. I loved the presentation which was fun and exciting. Served in a caviar tin, the flavour of the crab was superb and the sweet crab meat was hidden at the bottom of the tin. The dashi was full of flavour as dashi should be and the seaweed croissant was buttery and flaky.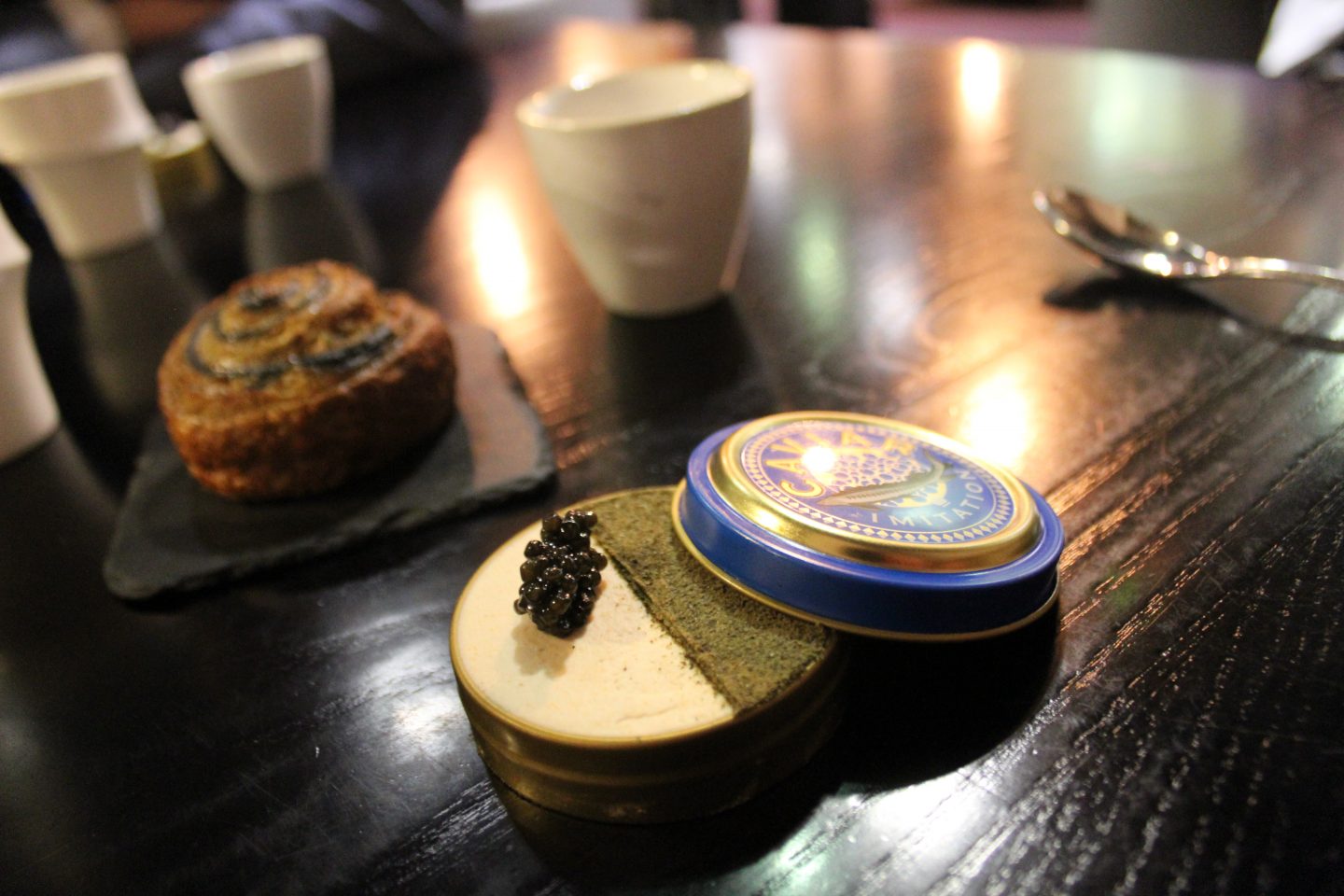 Fellow food geeks like myself will probably have heard of the next dish as it won the fish course on The Great British Menu back in 2009, which was 'Monkfish masala GBM 2009 – Indian red lentils – pickled carrots – coconut – coriander'. This was one of Mr B's favourites and I can completely see why. The monkfish was moist but still retained its meaty texture, the flavours in the lentils reminded me of a fantastic Indian dhal and the pickled carrots and the fresh coconut were the perfect accompaniments. I can easily see why this was a winning dish, but as it turned out I thought all the courses we had were winning dishes and I don't think I'm easily pleased!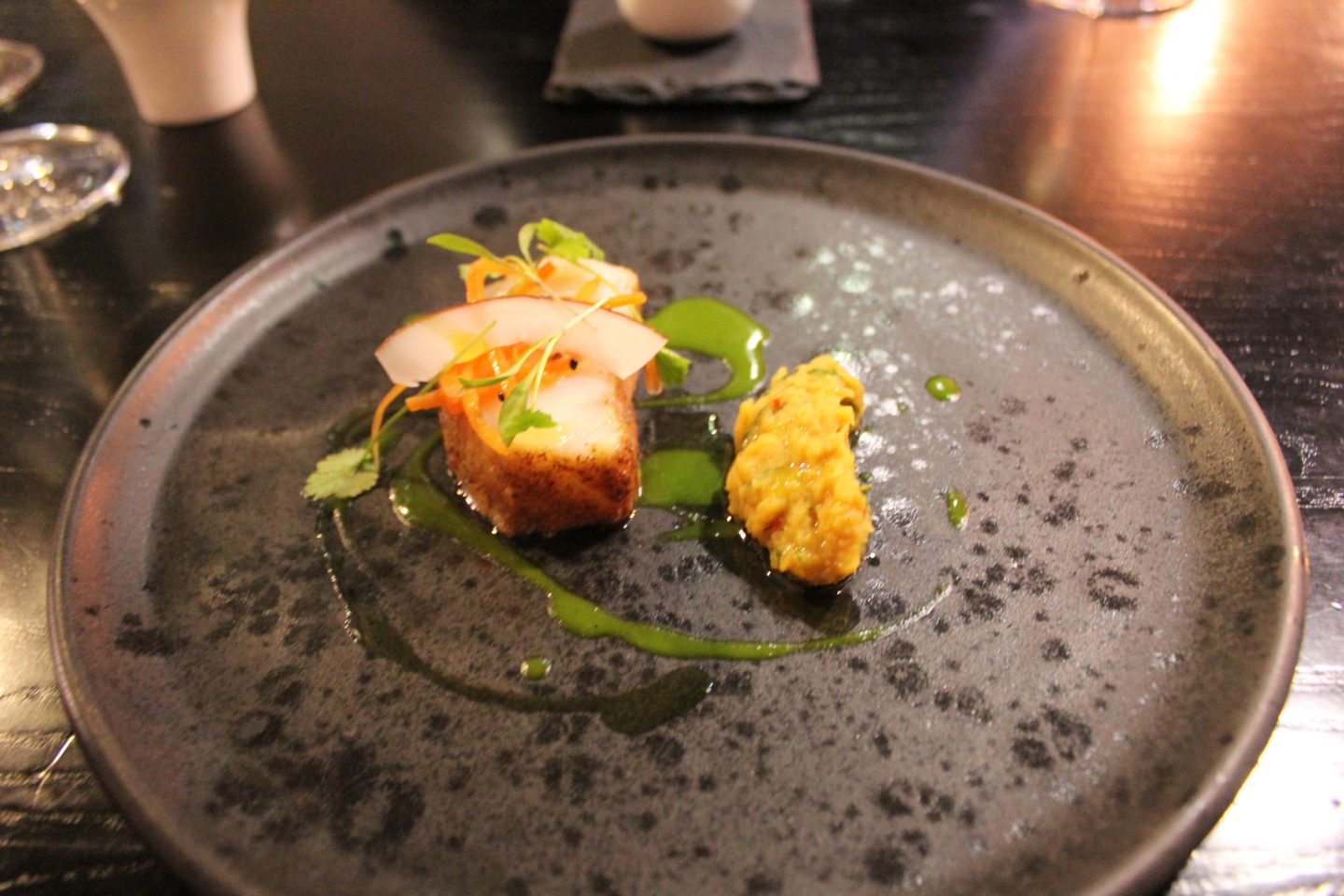 My 'main course' dish was 'Wiltshire pork belly – Burnt apple puree – confit turnip – parsley'. The pork belly was soft and delicious and almost melting in the mouth, the turnip added a lovely texture and the sharpness from the apple worked perfectly with the pork.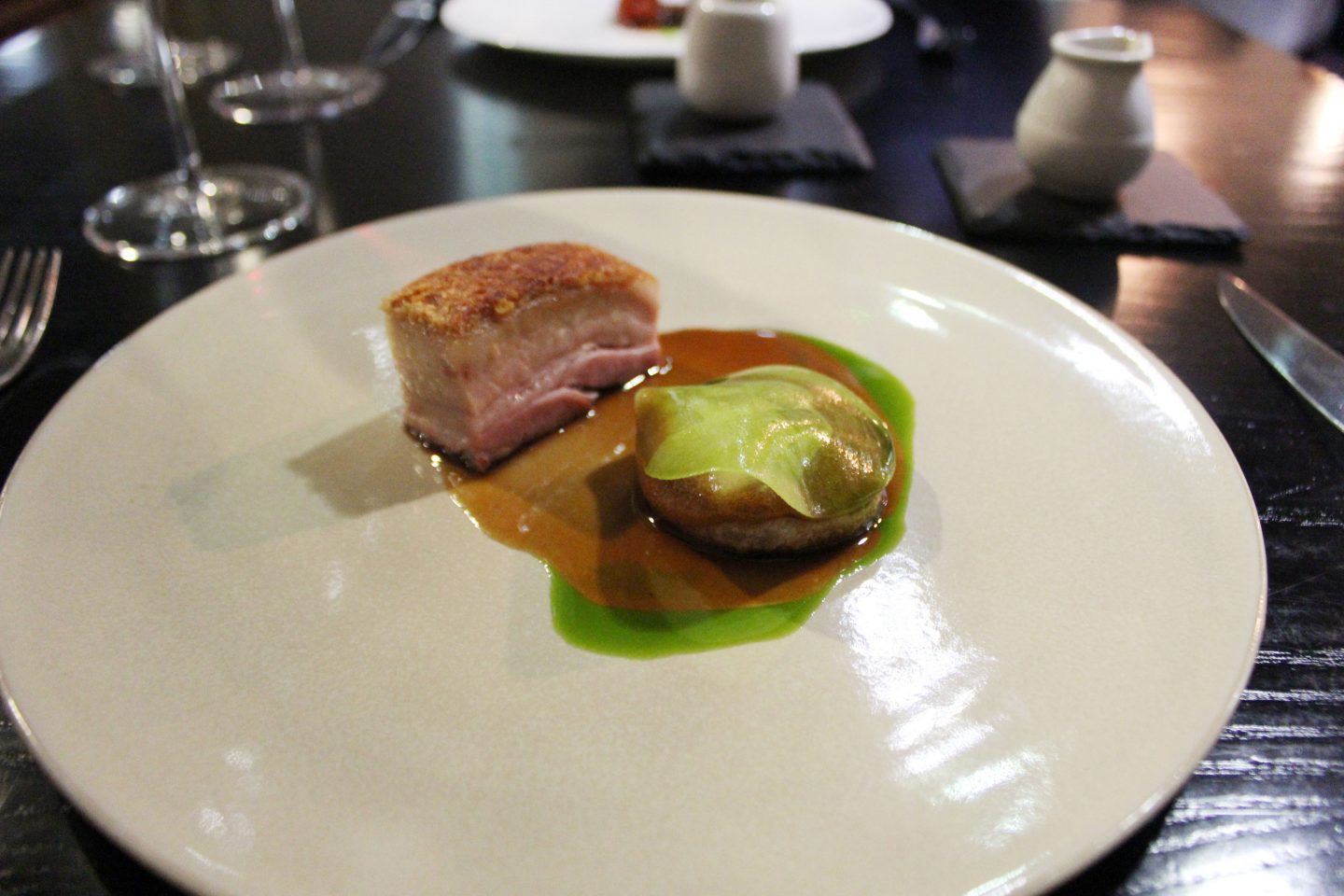 Mr B had 'Soy marinated loin of venison – Char siu turnip – scorched cucumber – sprint onion'. Mr B and I both had food envy as he loves pork belly and venison is my favourite meat, so we did what any self-respecting husband and wife would do and went halves. The Venison was cooked to perfection and had a lovely flavour from the soy and the portion was very generous too. (Can you tell I asked Mr B to take this picture, you can't even see the inside of the beautiful meat! Doh!)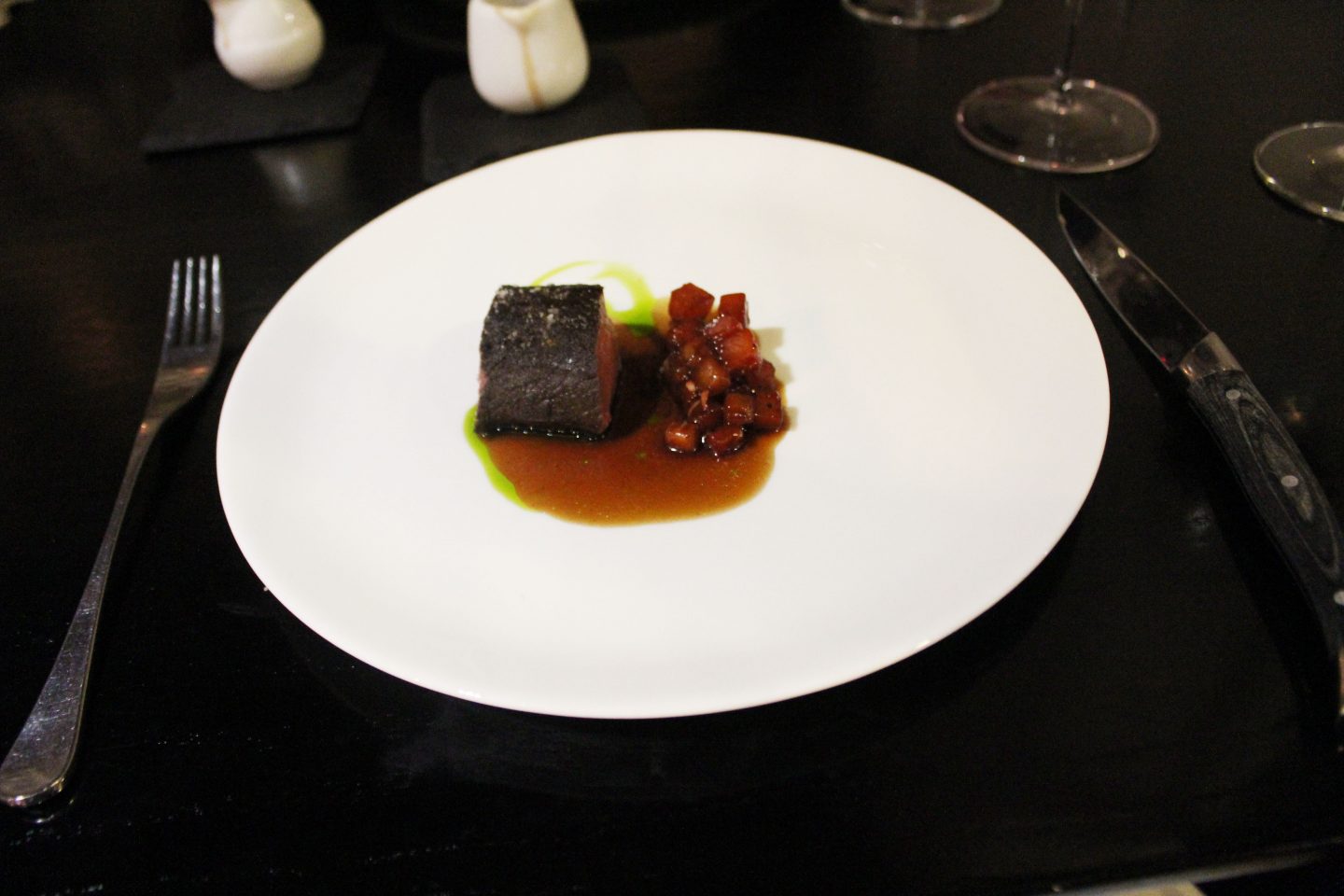 I adore having wine parings, especially with a tasting menu. It is such a fantastic way to try wines you would never normally try and I always love hearing about them from the sommelier because their knowledge always amazes me. Purnell's was no exception.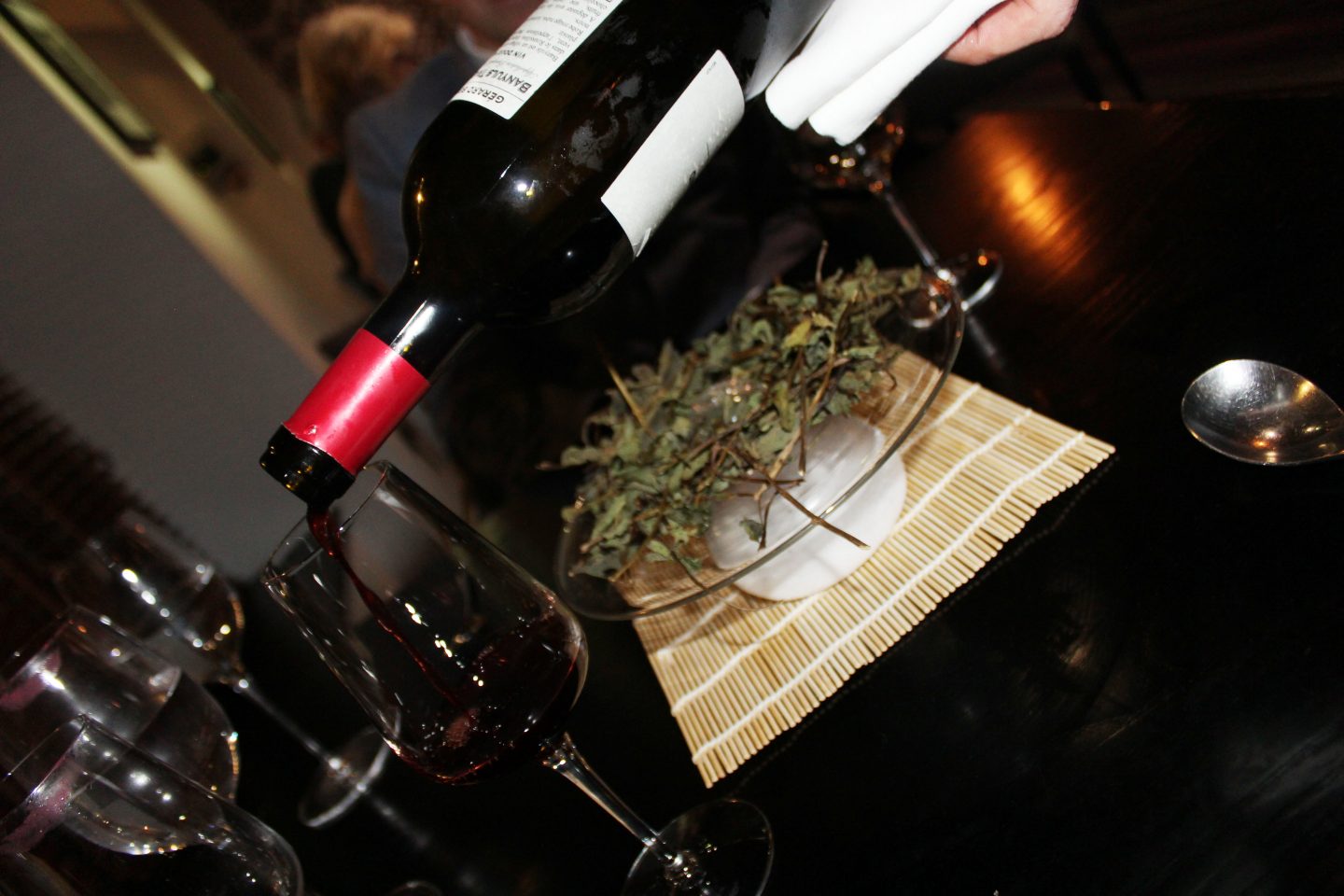 We had 10 stunning wines with our tasting menu and each one was a delight. The ones that really stood out for me were the 2014 Savignon Blanc, Spottswood, Napa Valley/Sonoma Country and a fantastic 2015 Pinot Noir, Leung Estate, Ma Masion, Martinborough from New Zealand.
Just when you think something can't get any better sometimes something magical happens and surprises you. This is definitely what happened when we moved onto dessert.
The first of our desserts was 'Burnt English custard egg surprise '10/10/10' GBM 2008 – rhubarb and custard'. Burnt English custard egg surprise was another winning Great British Menu dish of Glynn Purnell's and . . .  are you ready for this . . . prepare yourselves . . . it is the best dessert I have ever eaten in my entire life! And trust me when I tell you I have had a lot of them!!!! Thinking about it now I worry for the other dinners having to listen to all the yummy noises that were coming from our table. And it wasn't just me . . . Mr B was joining in on the action too!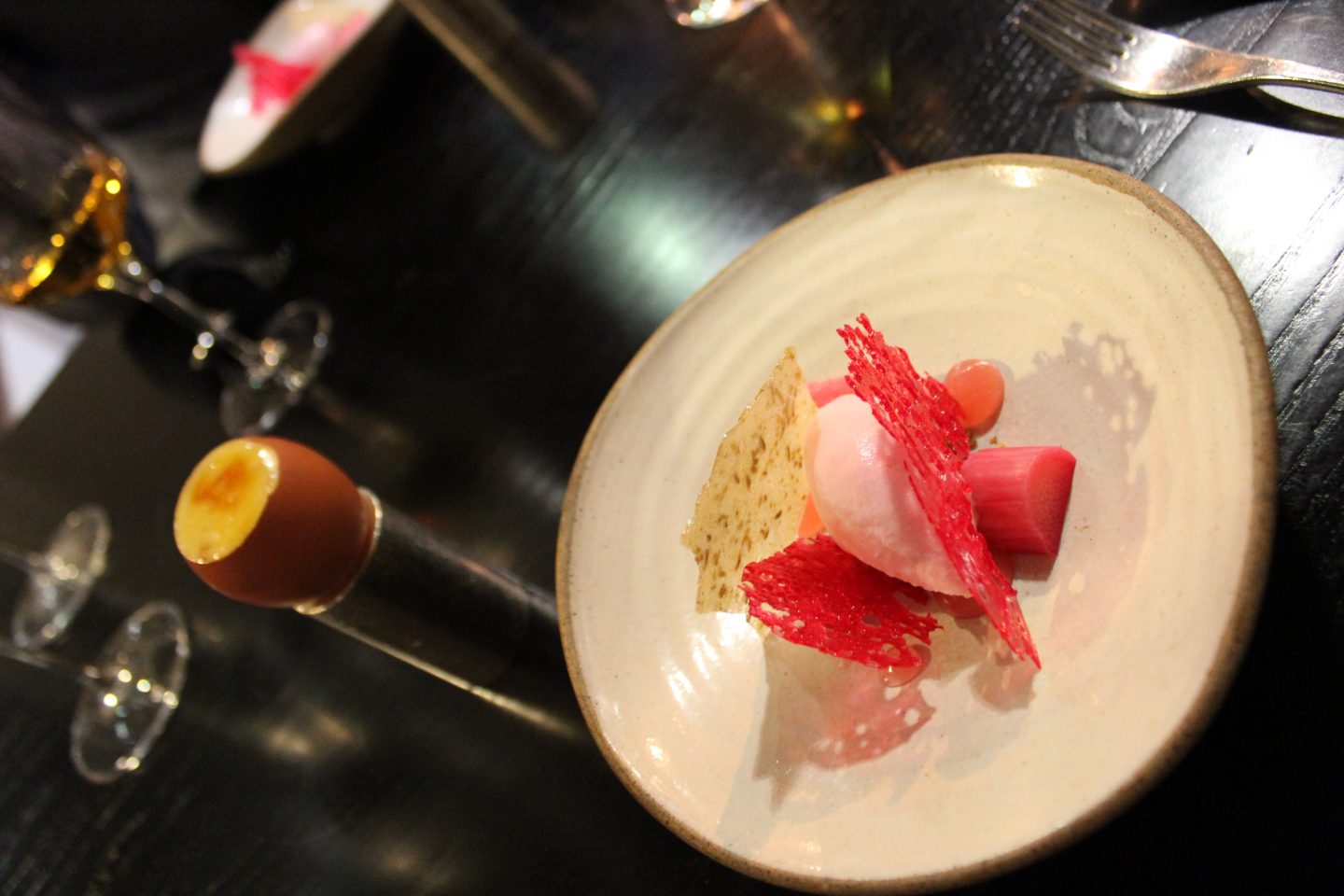 If you love crème brulee (and why wouldn't you?) this dish will blow you away. The textures from the crisp top to the smooth custard and the incredible flavours were simply perfection.
The dish it was served with had different textures of rhubarb, which was sweet, sour and sharp and worked perfectly with the 'Burnt English custard egg surprise'. It was also very pretty and I loved the presentation.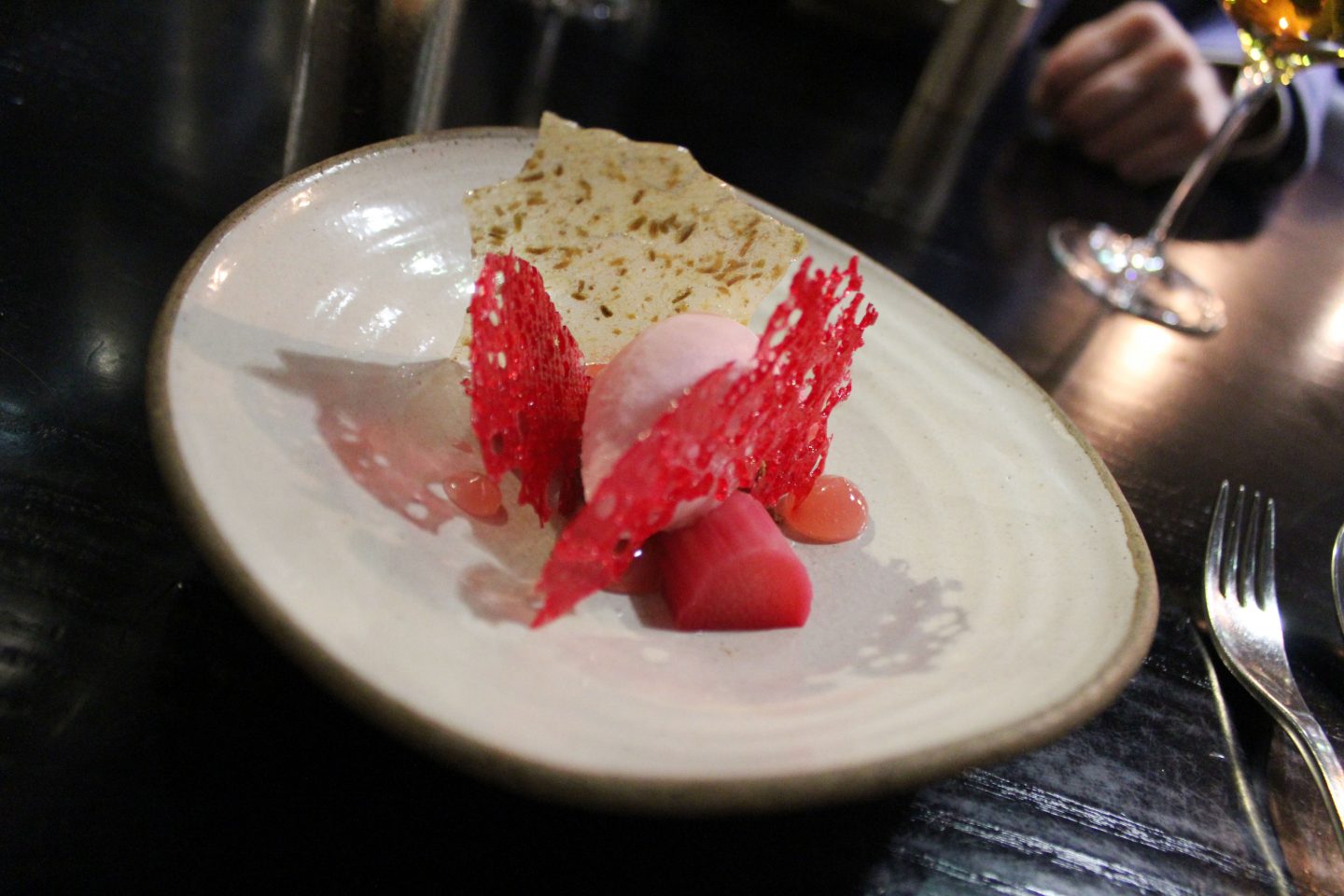 At this point we were in food heaven and still had one dessert to go. We were excited for what else was left to come. How do you end such a stunning menu? Well the answer to that is with a dish that is made from the heart, tastes amazing and has lots of drama.
Simply called 'Mint choccy chip', this dish was inspired by Glynn and his sister's love of chocolate and mint ice-cream. It was served with a fantastic show of dry ice but this wasn't just for theatre. There was a fantastic peppermint aroma which came from the beautiful smoke and we couldn't help but be excited by this. Now the dish itself . . . the chocolate was light, airy and rich and the peppermint ice-cream was creamy and full of flavour. For a chocolate-lover like myself it was the perfect end to a perfect meal.
Something which I think sets Purnell's apart from any other Michelin star restaurant we have been to was the story behind each dish. When each one was served we were told the food memory of Glynn's which inspired the dish, which made the menu full of personality and fun and unlike any other menu we have experienced.
A visit to Purnell's will remind you of your childhood, leave you feeling inspired about the food you have eaten and give you fantastic food memories which you will be talking about for years to come.
http://www.purnellsrestaurant.com/
55 Cornwall St, Birmingham B3 2DH
0121 212 9799