Silversea
6 Star Luxury Cruising
The ultimate luxury hotel at sea! This post will be filled with wows, luxury and mentions of champagne! That is because that's how Mr B and I spent our 10 days at sea on the floating beauty which is Silver Spirit, having lots of wow moments, a glass of champagne pressed into our hands and enjoying the luxury. (The perfect example below, drinking champagne on our private balcony in Monte Carlo!)
Mr B and I have cruised three times in the past and have loved every minute. One of the best things for us is waking up in a new place every day and on our 10-day Mediterranean voyage with Silversea we were visiting nine beautiful places in Italy, the south of France and Spain.
To say we were looking forward to this holiday was an understatement, but Silversea not only met our expectations, they completely blew them out of the water (not literally!).
When we were dropped off outside the ship in Rome, we didn't have to touch our luggage. We simply gave our names and passports and were whisked on, no queuing, no waiting around, nothing. Stepping on board we were greeted with a "welcome to Silversea Mr & Mrs Bailey" and a glass of chilled crisp champagne was pressed into my hand. At this point I was holding in a squeal and Mr B had a Cheshire cat grin on his face. This happened quite a few more times during our voyage.
I am going to break this down into a few posts because there is simply so many amazing things to tell you about our holiday with Silversea. I am going to ramble on a lot!
The Ship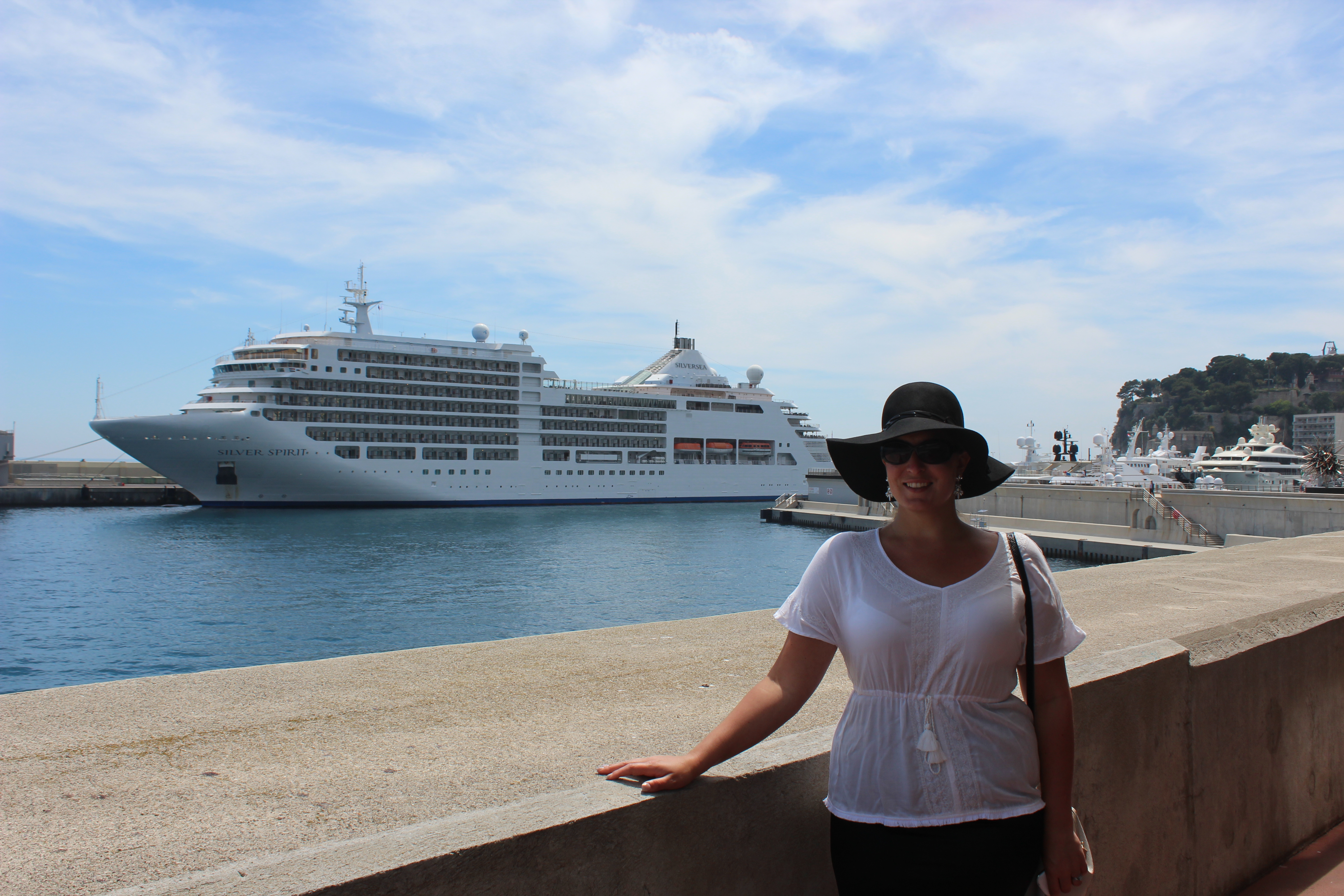 We had a veranda suite because we love having a balcony when we cruise, admiring the view while you dock or when you sail away is fantastic.
Our suite had a marble bathroom complete with full size bath tub and separate shower and Bvlgari toiletries which were replenished everyday (and smelt lovely). We were offered a choice of three sets of toiletries when we checked into our suit, but I couldn't possibly say no to Bvlgari!
We had a walk-in wardrobe, queen-size bed, living area with vanity table and chair, sofa and coffee table. Extra luxuries included personalised stationary (yes really!), bathrobes and slippers, i-Pod dock and best of all … a fridge stocked with any beverages of our choice … anything, absolutely anything! Full size bottles of spirits, mixers or my favourite … champagne. And we never had to ask for it to be re-filled. Every day we were given an ice bucket and all our beverages were re-stocked. That is because of our fantastic butler Pankaj, yes I did say butler because every suite on Silversea ships has its very own butler.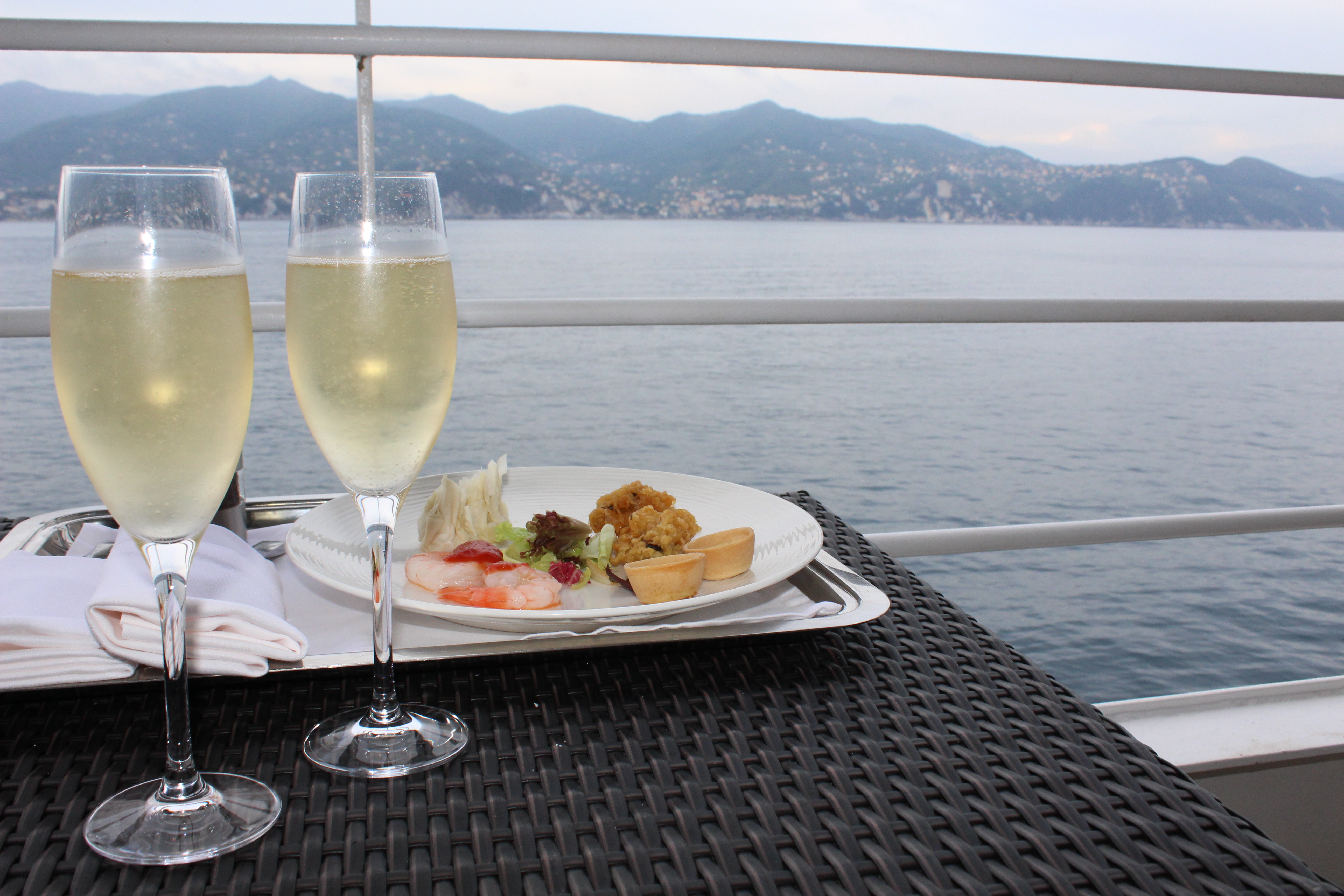 I am aware that no one needs one, we have certainly never had one before on any other holiday, but it was bloody nice! Pankaj would bring our room service orders, laying out the table with white linen and silver crockery, and he bought us canapes with our pre-dinner champagne, but it was the little things that we didn't ask for that stood out. When we got back to our room, we found our glasses and sunglasses had been polished and left in a Silversea cloth, all my crap. . . ermmm I mean make up, hair stuff, lotions etc … would all be lined up neatly and the day before our departure our suitcases were left open for us with a note saying our luggage had been cleaned.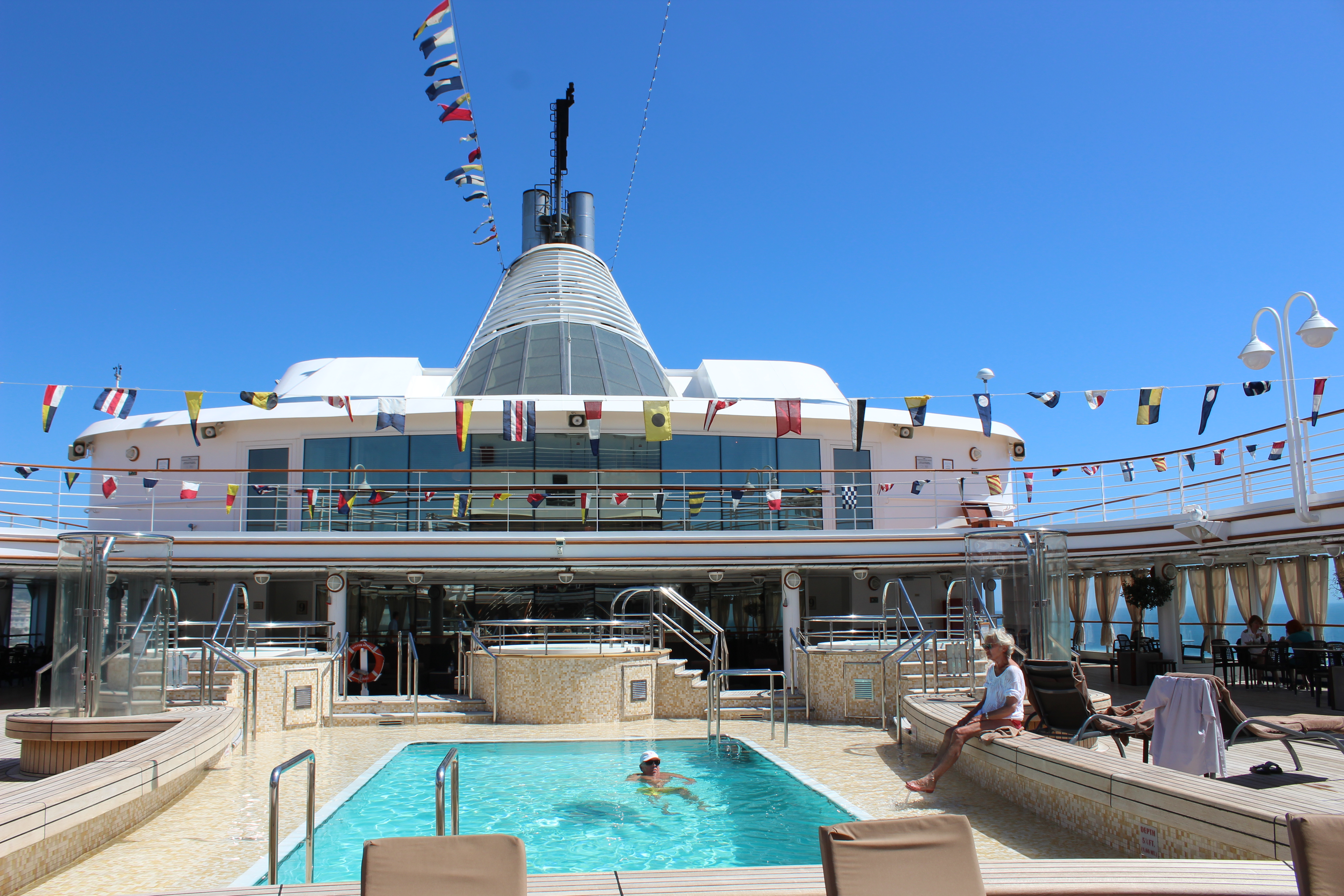 The pool area is the perfect place to relax in the sun, with padded sunbeds, plush towels and the fantastic staff, who make sure you are never without a drink. We regularly used one of the three hot tubs on the ship and after only five minutes we had a glass of chilled champagne in our hands … perfection!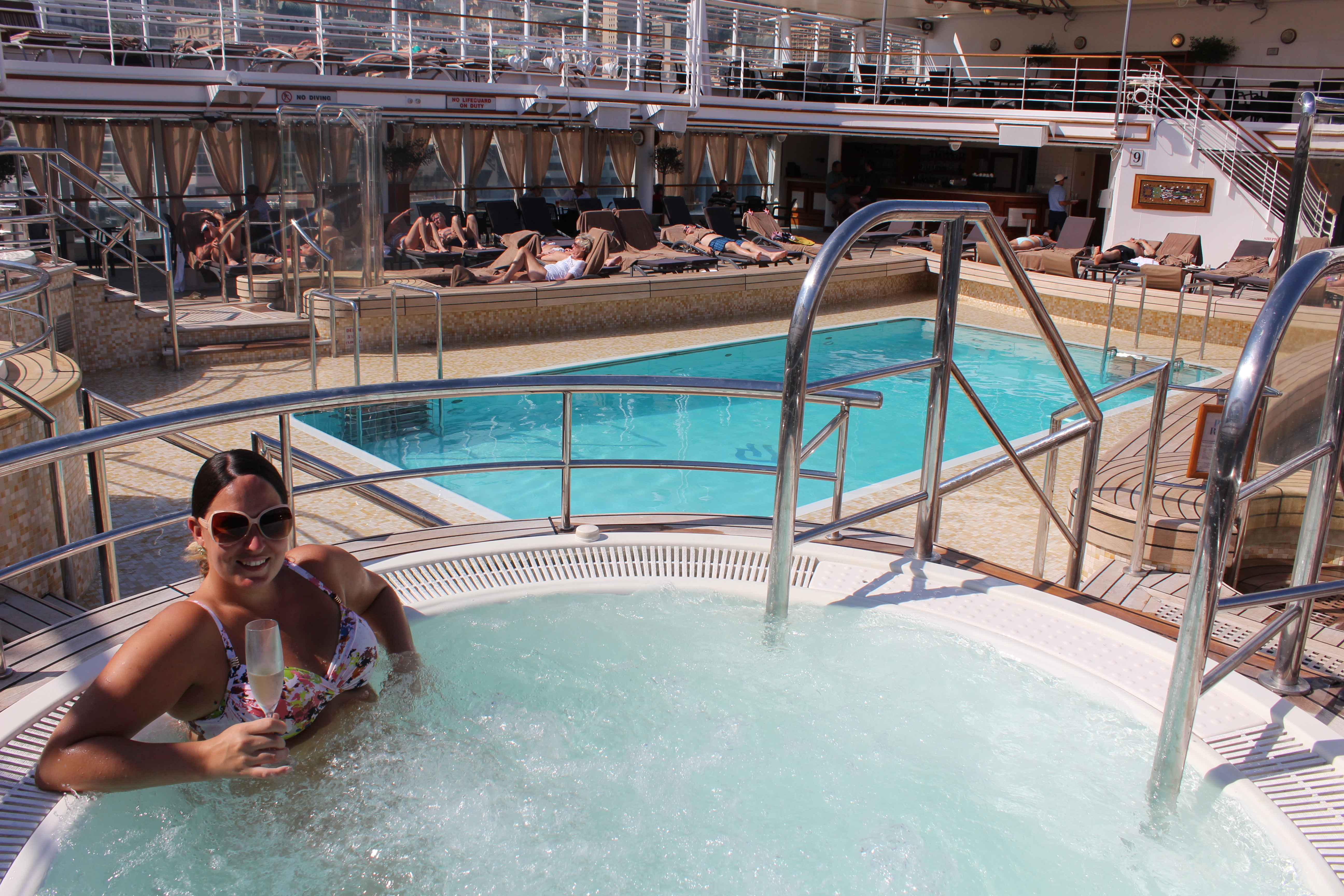 There is a lovely choice of bars on board for pre-dinner drinks and after-dinner cocktails, some of which have live entertainment. We loved going to 'Stars' in the evening, where we sat until the early hours drinking lovely cocktails and listening to the incredible jazz duo who played there every night.
Silver Spirit even has its own theatre with lovely big comfy seats, which are sometimes a risk after dinner as we did catch a few people having a little cat nap! But this was no reflection on the entertainment. The Voices of Silversea who performed in the theatre every night were all fantastic, each with their own vocal style. We had many an entertaining night in the theatre and on a few nights we did boogie into the wee hours of the morning at the late night disco (usually when we had had a few too many cocktails).
At the back of the ship on the deck there are some lovely oversized lounges, which we found was a lovely place to watch the sunset in the evening.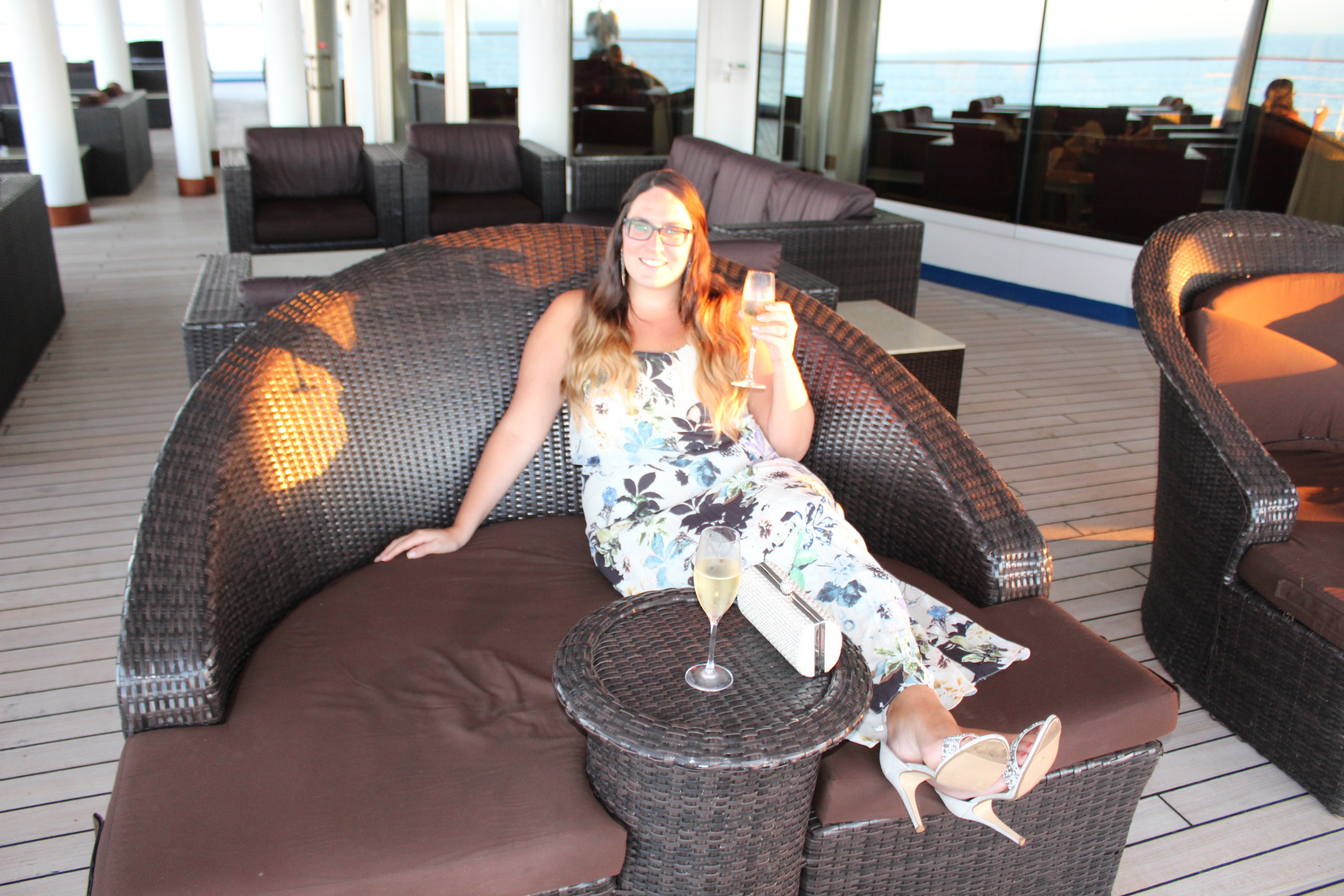 On our first night whilst we were watching the sun go down, we heard a voice say 'what a perfect moment, the only thing that can make it better is some champagne perhaps?' It was like the staff on board knew what we wanted even before we did!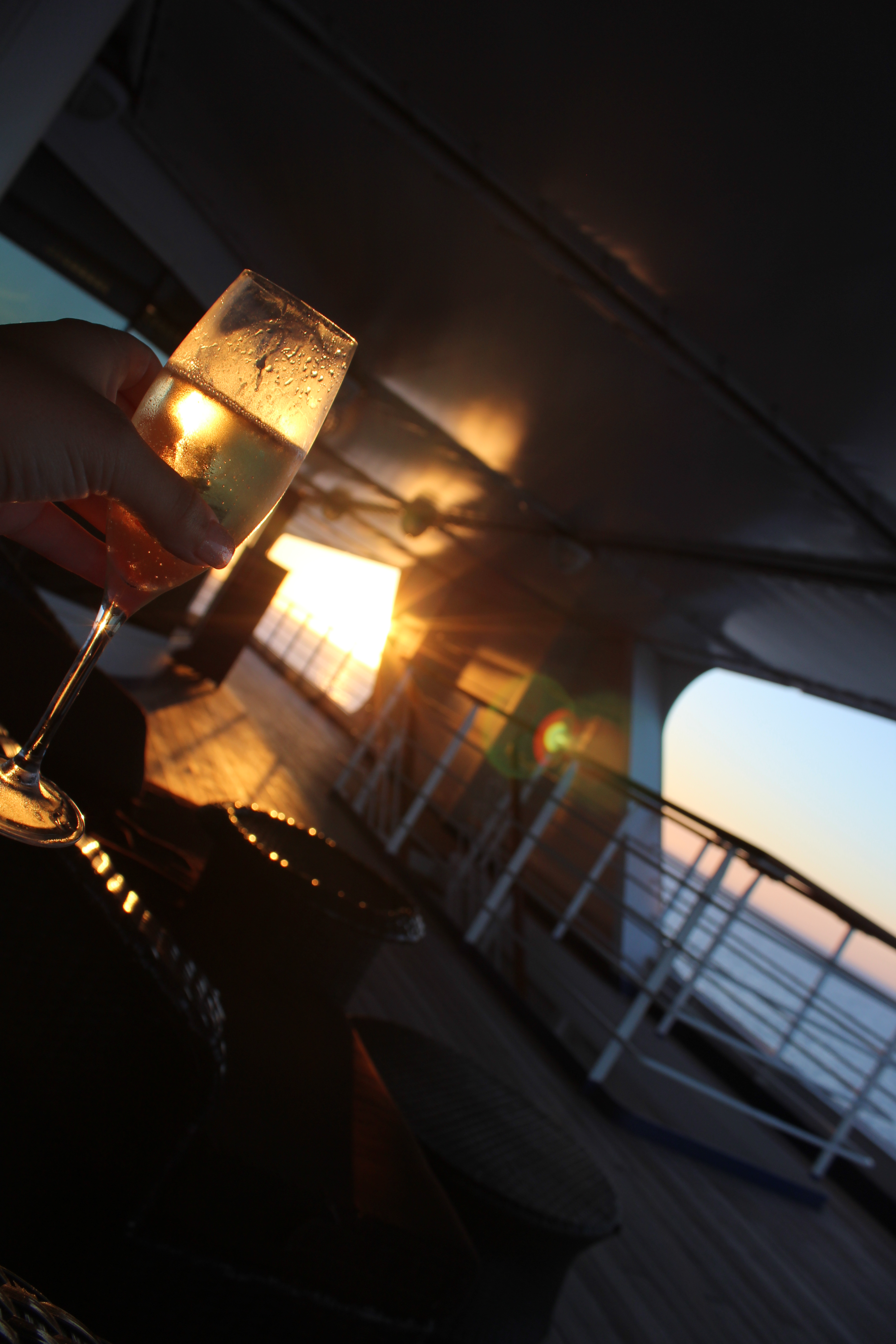 A few people have asked me if all the formality made us feel uncomfortable. The answer is no, not in the slightest, no way, not at all! All the staff that work for Silversea are so professional, but friendly at the same time and they have achieved the perfect balance of making you feel special whilst also making you feel completely at ease.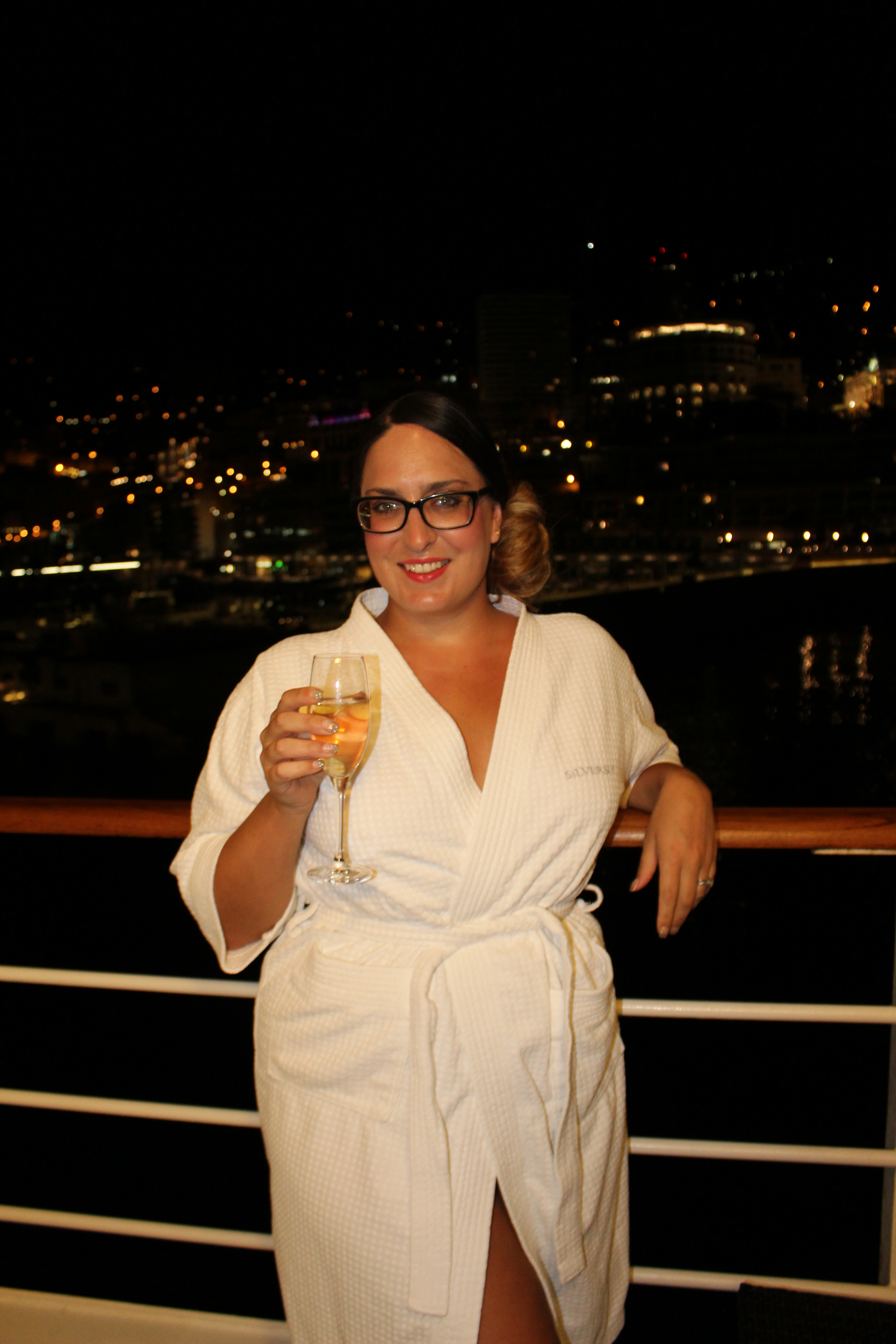 Our cruise on Silversea was the ultimate luxury holiday, one which I think will be nearly impossible to beat, unless of course we go on another Silversea cruise. Added to our bucket list is a Silversea Expedition cruise on a specialised purpose-built ship travelling around the world. Who wouldn't love to sail in the Antarctic or admire at the wildlife in the Galapagos? Maybe one day!
Cheers Silversea, hopefully we will meet again one day!
Read the second part of my review were I tell you all about the amazing food and drink on board!