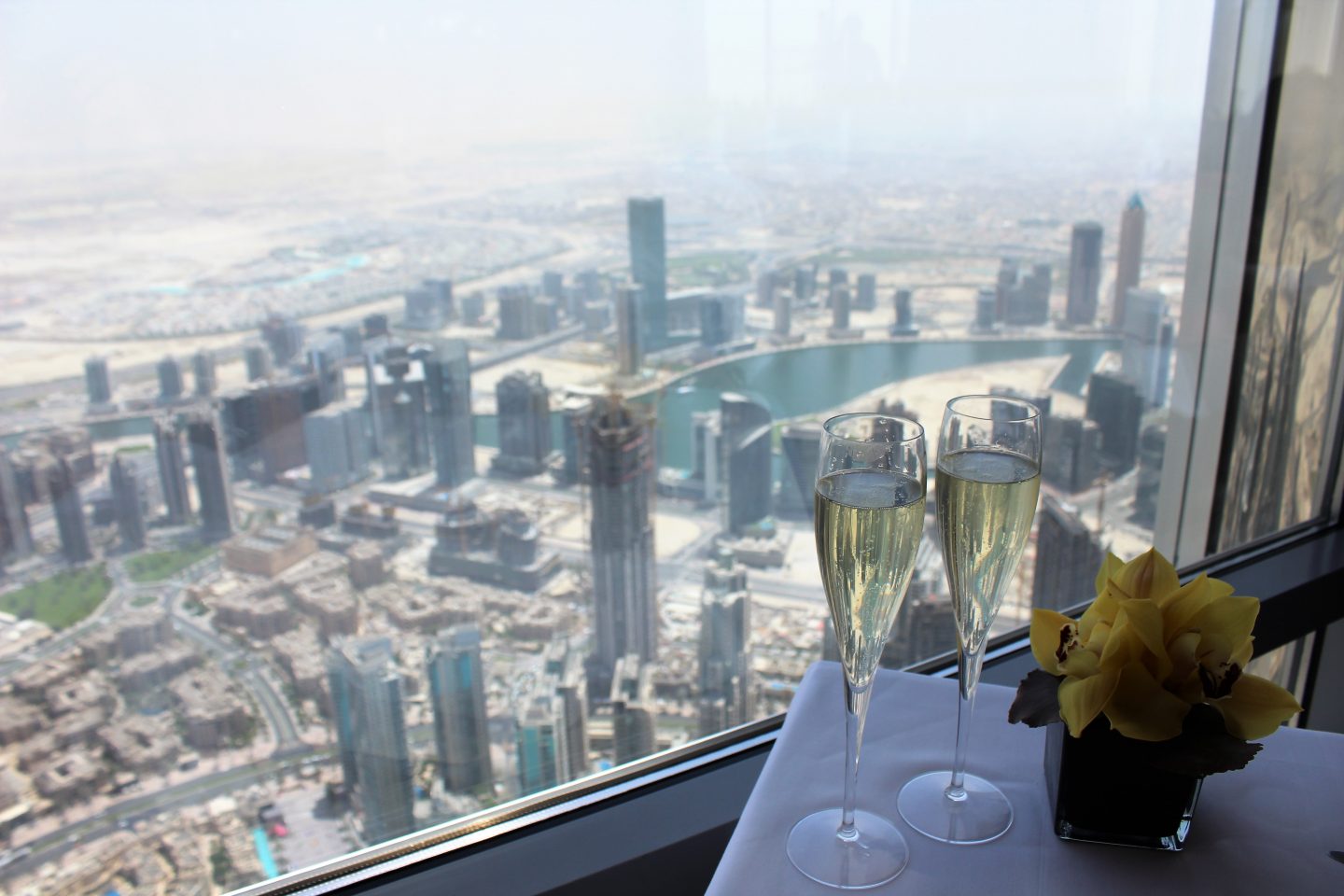 When you are going to have luxury afternoon tea in the world's tallest building you know it is going to be spectacular, but it wasn't only that, for both Mr B and I it was the highlight of our holiday to Dubai!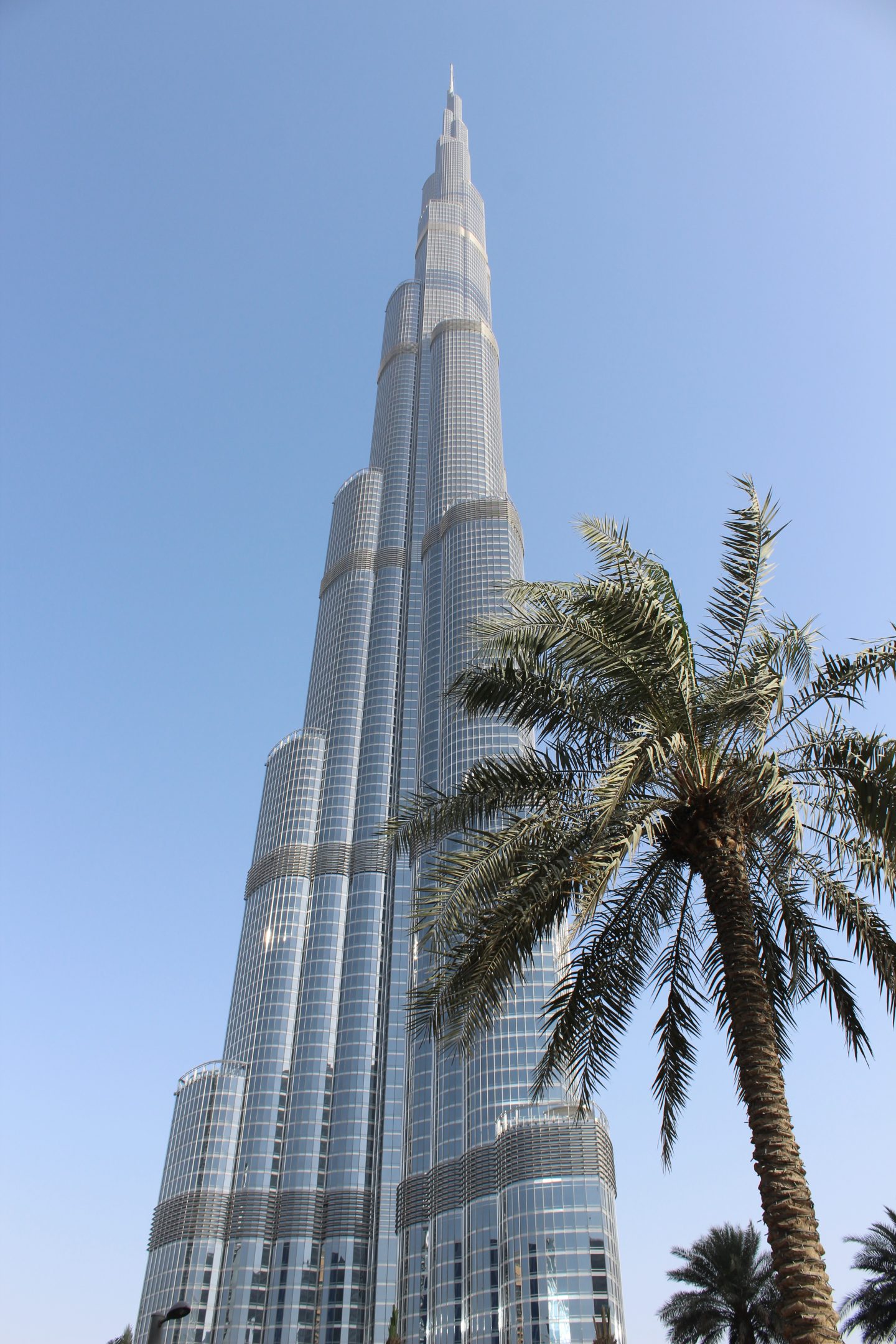 When our car pulled up outside the entrance of the Armani Hotel (which is the entrance for anyone dining in At.Mosphere), our doors were opened and we were welcomed into the entrance and taken to the lift which was going to take us 123 floors up. The lift went up with such speed but you wouldn't notice if it wasn't for how quickly the numbers were going up and when your ears popped!
As soon as we walked into the lounge at At.Mosphere we were completely taken back by the stunning views. It really is indescribable and my words and pictures will not do it justice.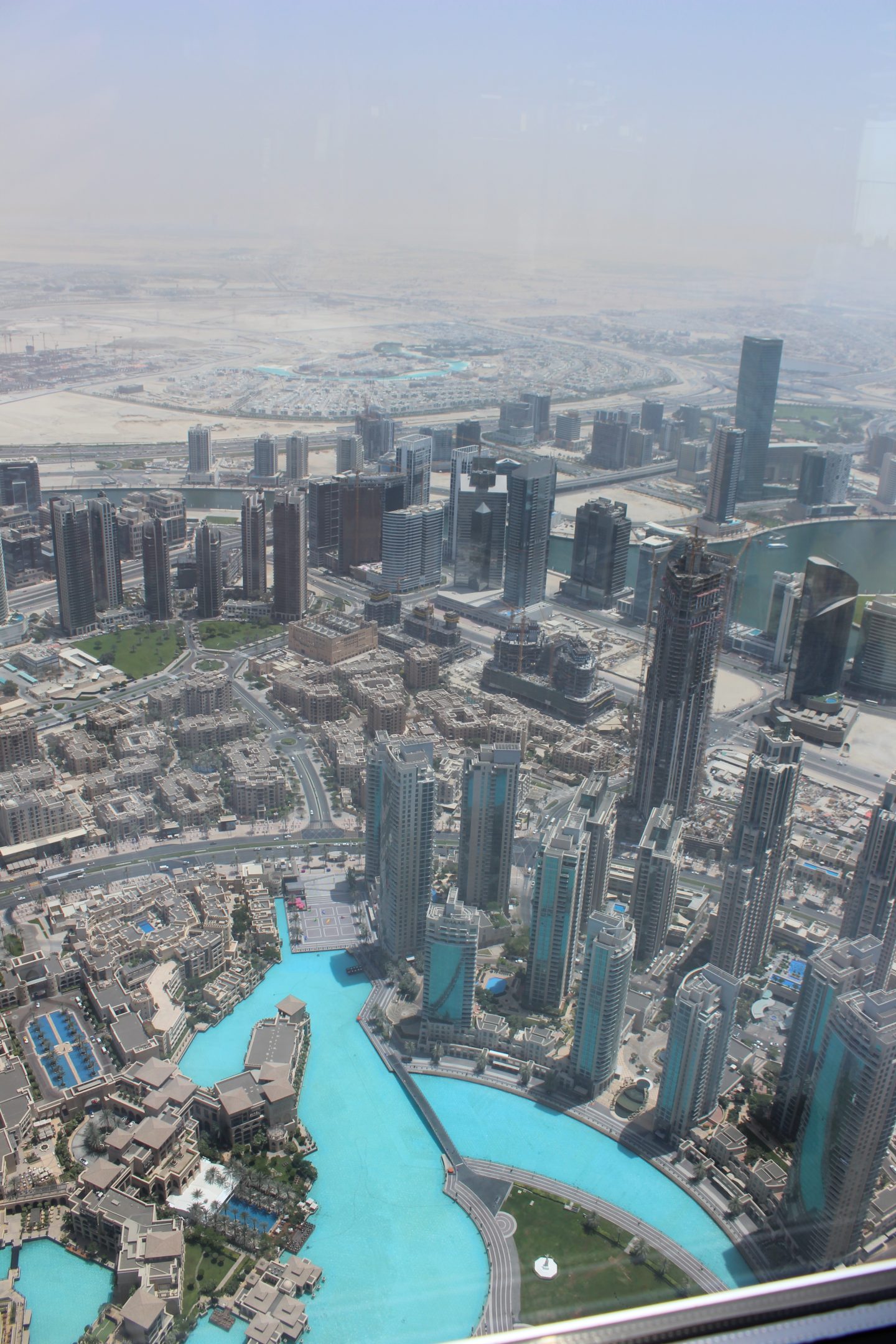 It was a clear day so we had beautiful views. At 123 floors up even the skyscrapers looked small! We were completely mesmerized.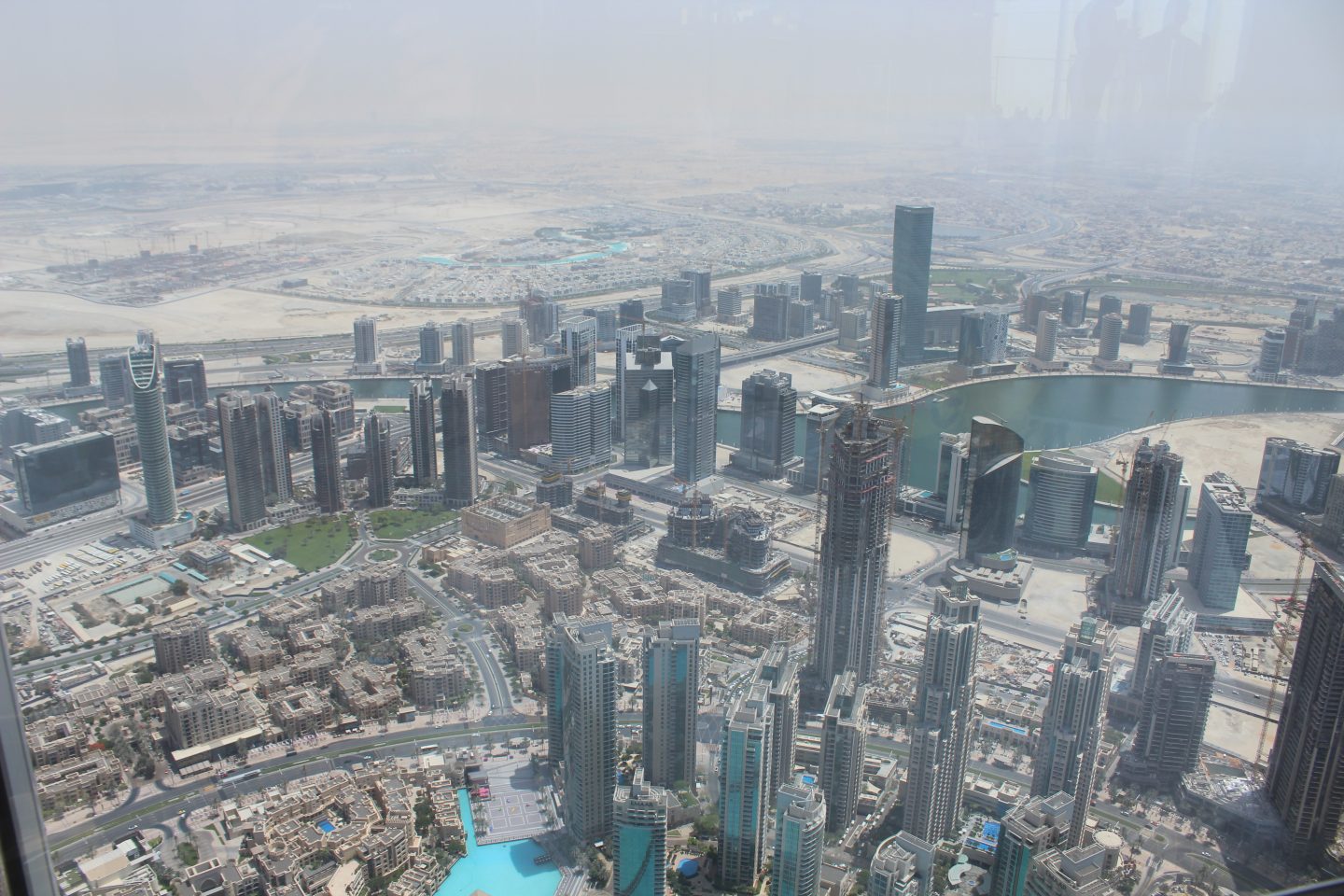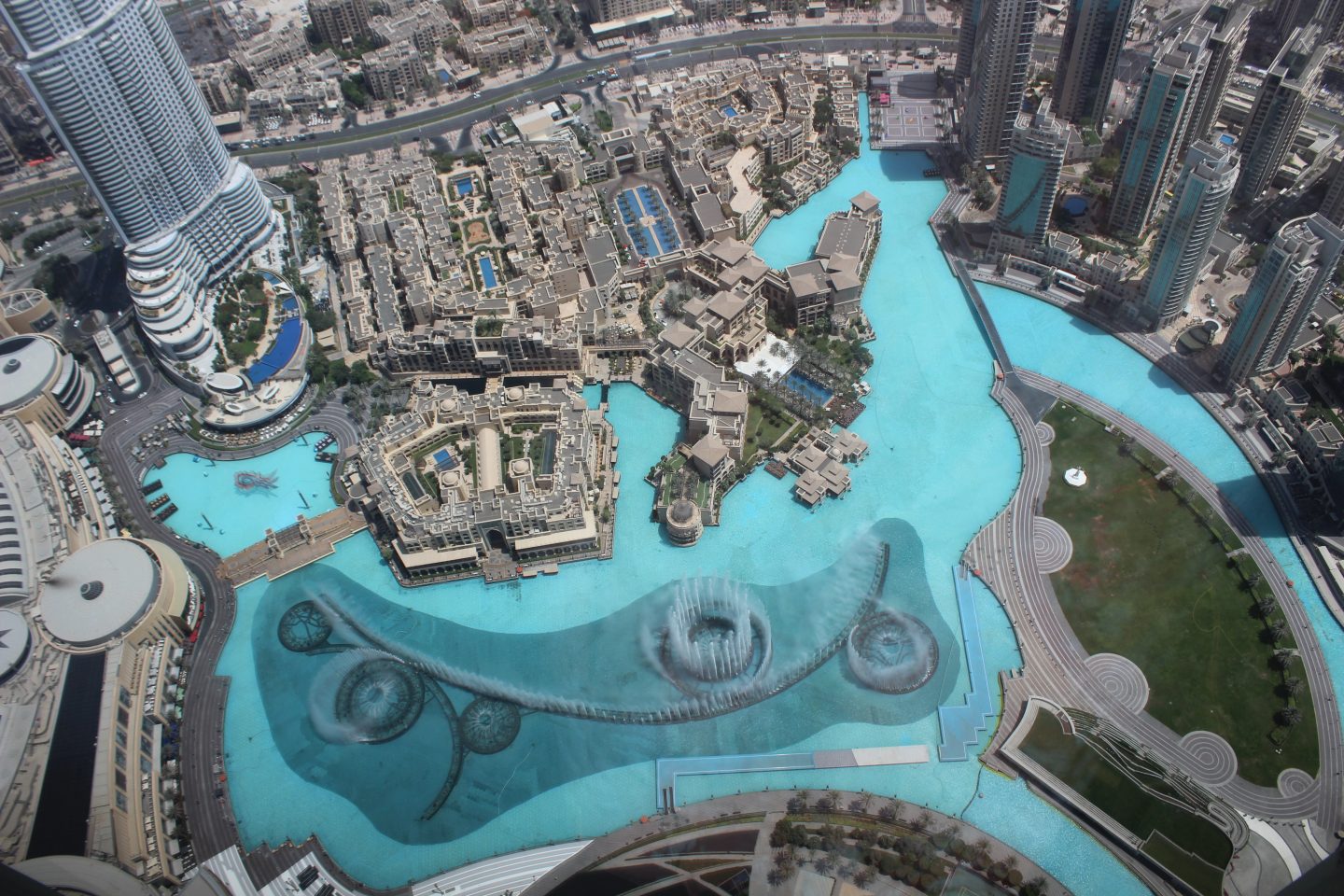 We opted for a window table. There is a higher charge for window tables but it isn't a huge amount and the spectacular views are worth the cost a hundred times over.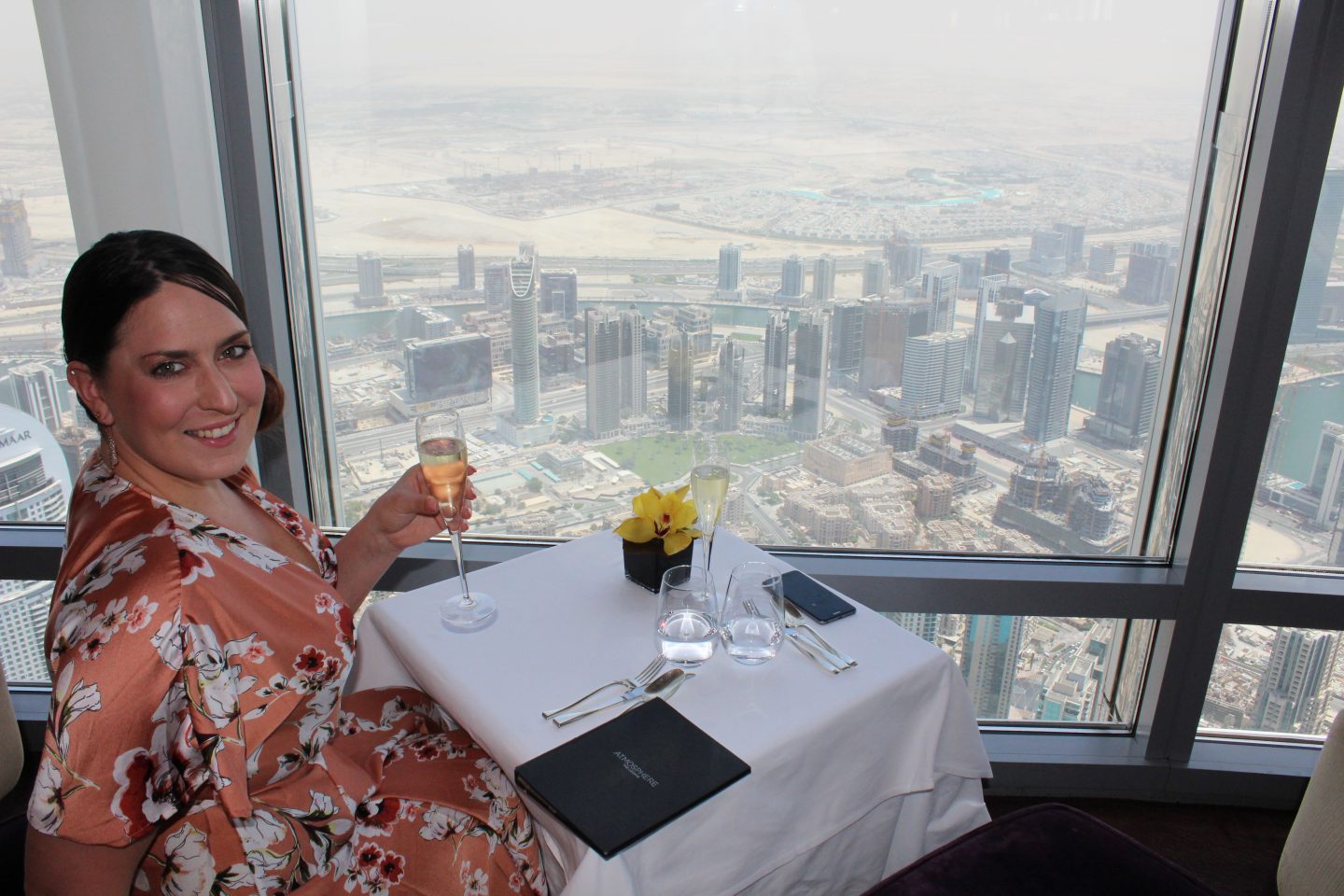 As soon as we were seated our waiter came over and introduced himself and talked us through the experience, and before we knew it I heard my favourite sound (the popping of a champagne cork!) and we were presented with our first glasses of fizz which were kept topped up until we sadly finished the bottle.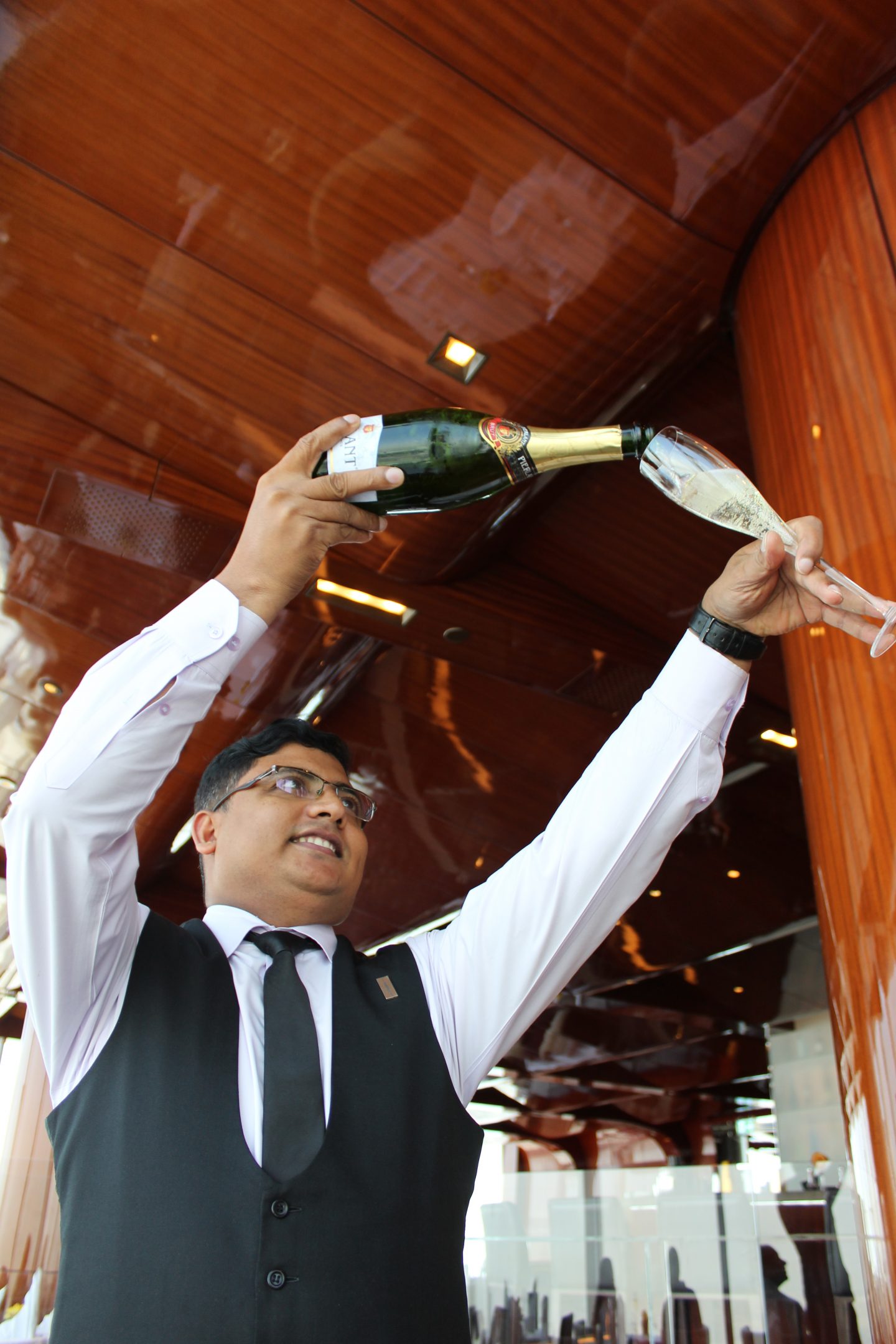 The luxury afternoon tea at the Burj Khalifa isn't just any afternoon tea. First you get your savoury sandwich selection, then you opt for the catch of the day or roast of the day and lastly you get the very impressive afternoon tea stand full of sweet treats. But we were first presented with an amuse bouche of salmon tata, fennel and lemon gel, which was delicious and really got our appetites going.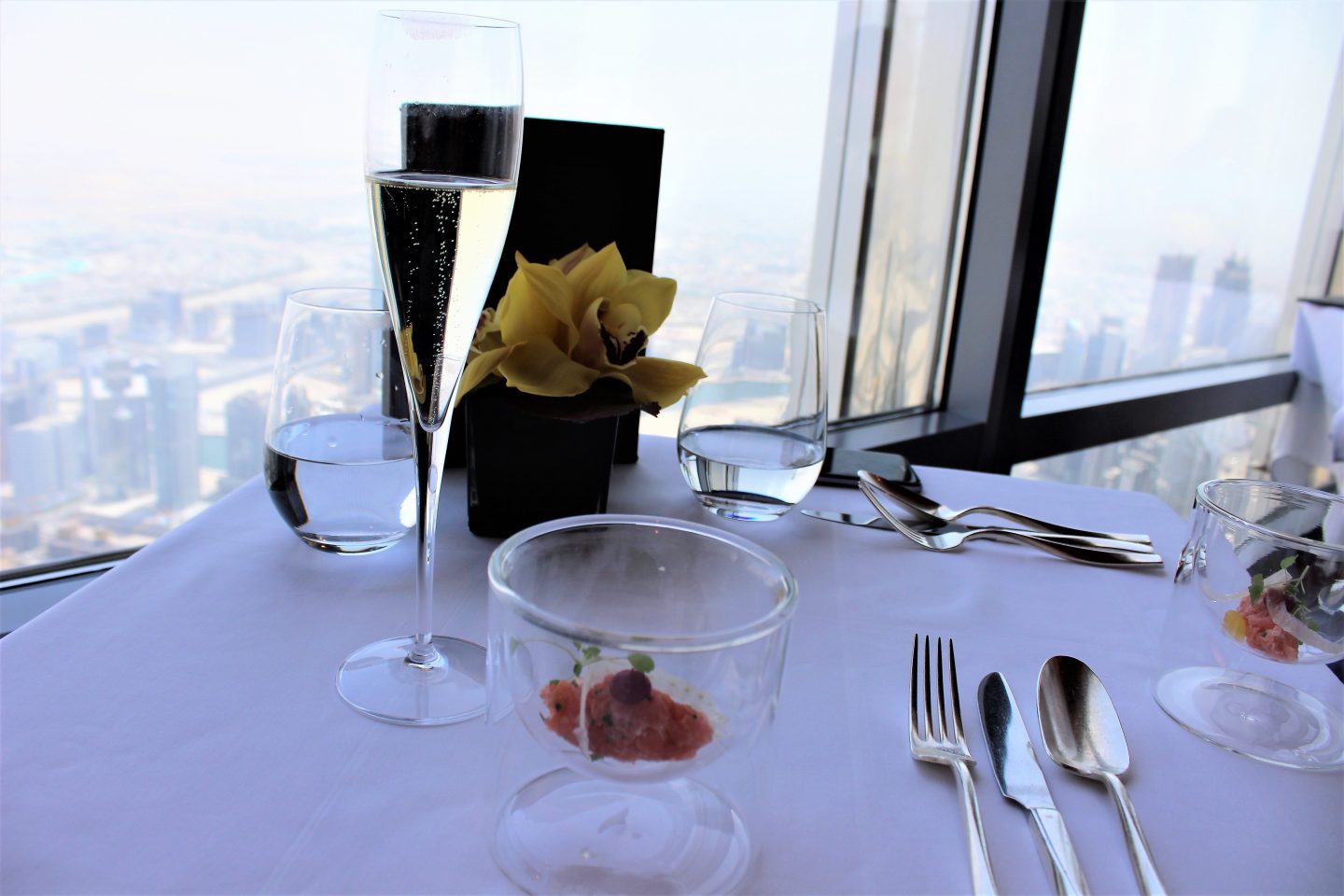 We were like giddy school kids at this point . . . the view, the champagne, the food and the service . . . it all felt so special!
Also included in the price of your luxury afternoon tea is a bottle of fizz, mocktails and of course tea and coffee. The list of mocktails and iced teas was extensive so instead of deciding myself I asked our lovely waiter to pick anything he recommended. He chose a passion fruit mocktail which was so delicious and refreshing. He then continued to pair another mocktail with each course for us.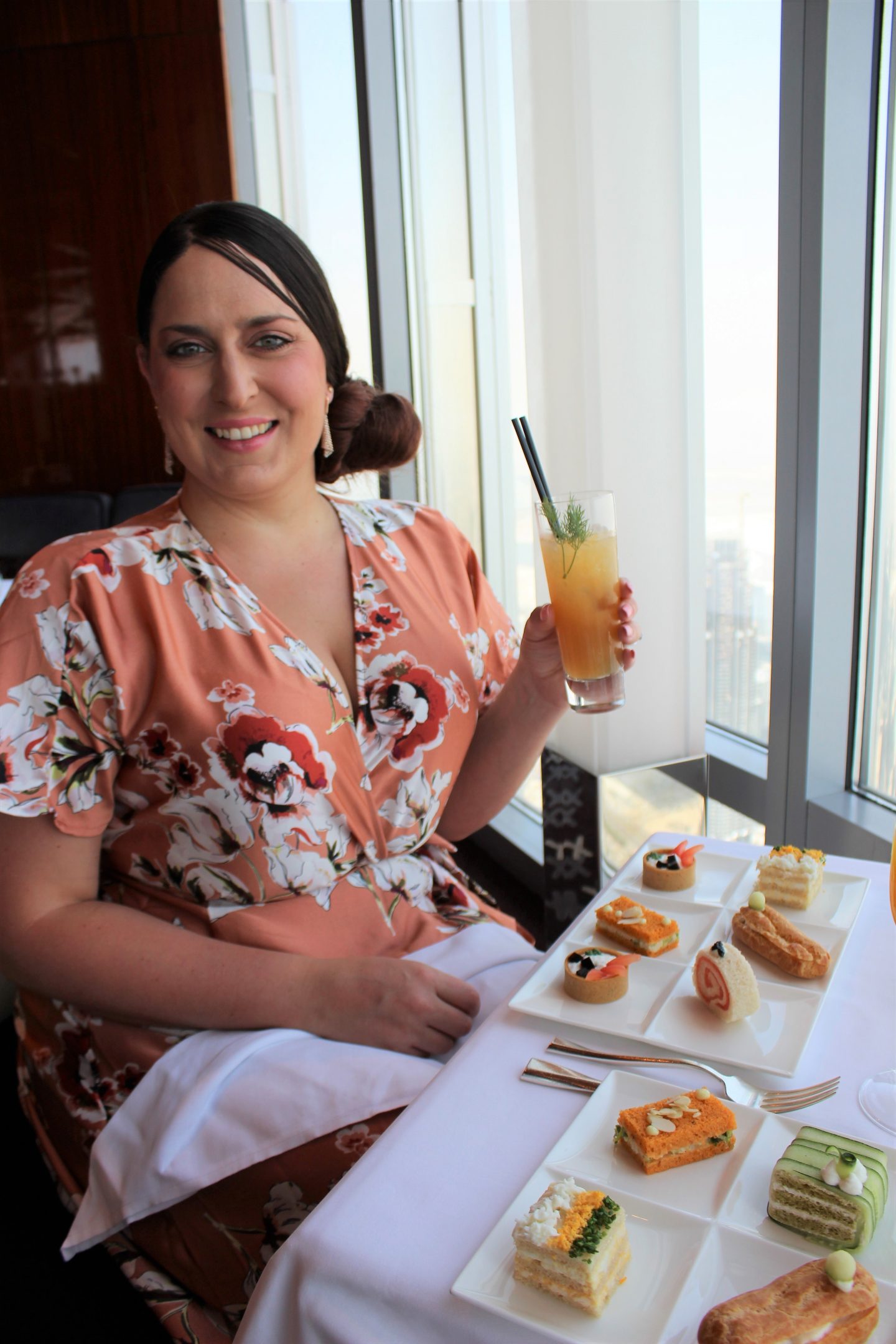 Next up was our savoury selection, which included the most beautiful egg sandwich I have ever seen, a lobster éclair, a smoked salmon sandwich, a cheese tart and a chicken sandwich on spiced bread. Each one was absolutely delicious but my favourites were the lobster éclair which was light and full of perfectly seasoned lobster and the cheese tart. I did actually have two cheese tarts as I opted not to have the cucumber sandwich. The pastry was so buttery and delicious and it was topped with caviar which is never a bad thing is it?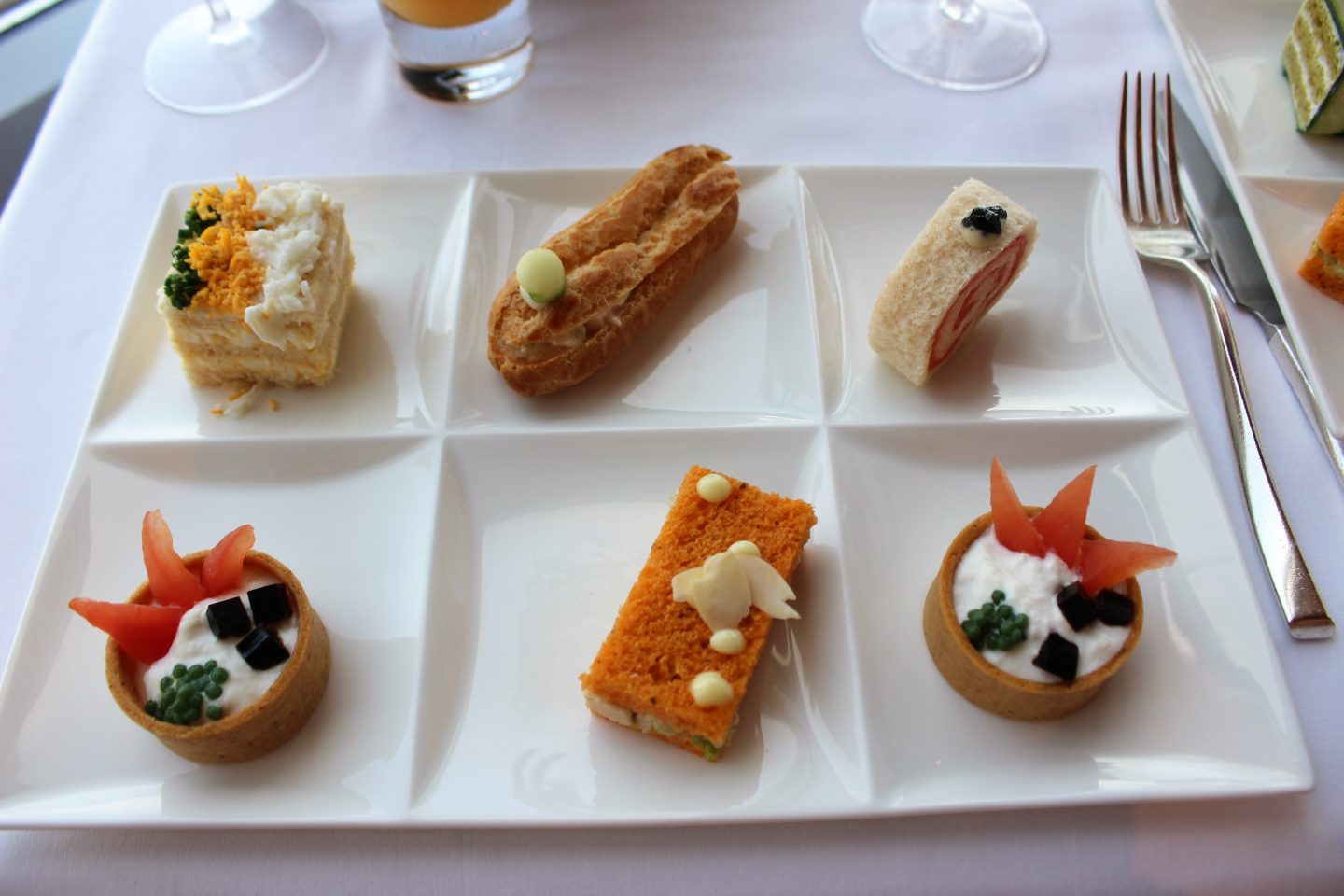 Mr B and I both opted for the catch of the day which was scallops with pumpkin puree, pumpkin seeds and apple foam. Scallops are one of my favourite things and these were delicious. They were nice and plump and cooked to perfection. The pumpkin accompaniments complimented the scallops very well and all the elements together created a perfect dish.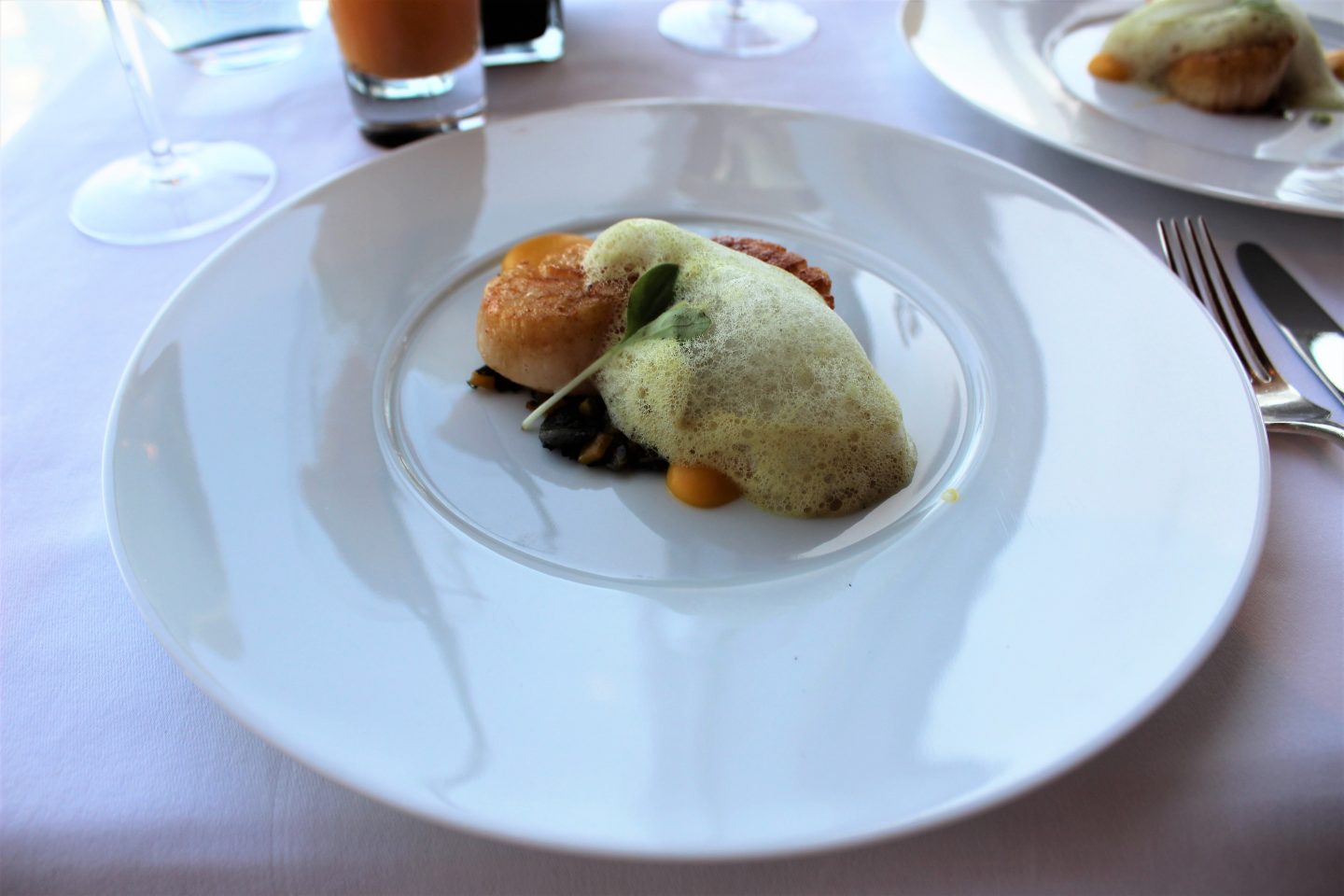 To go with our sweet stand, which we were eagerly waiting for, we had the most delicious chocolate mocktails which were like puddings in themselves! I had chocolate and coffee and Mr B had chocolate and coconut. They were both very yummy and were the perfect start to our sweet treats.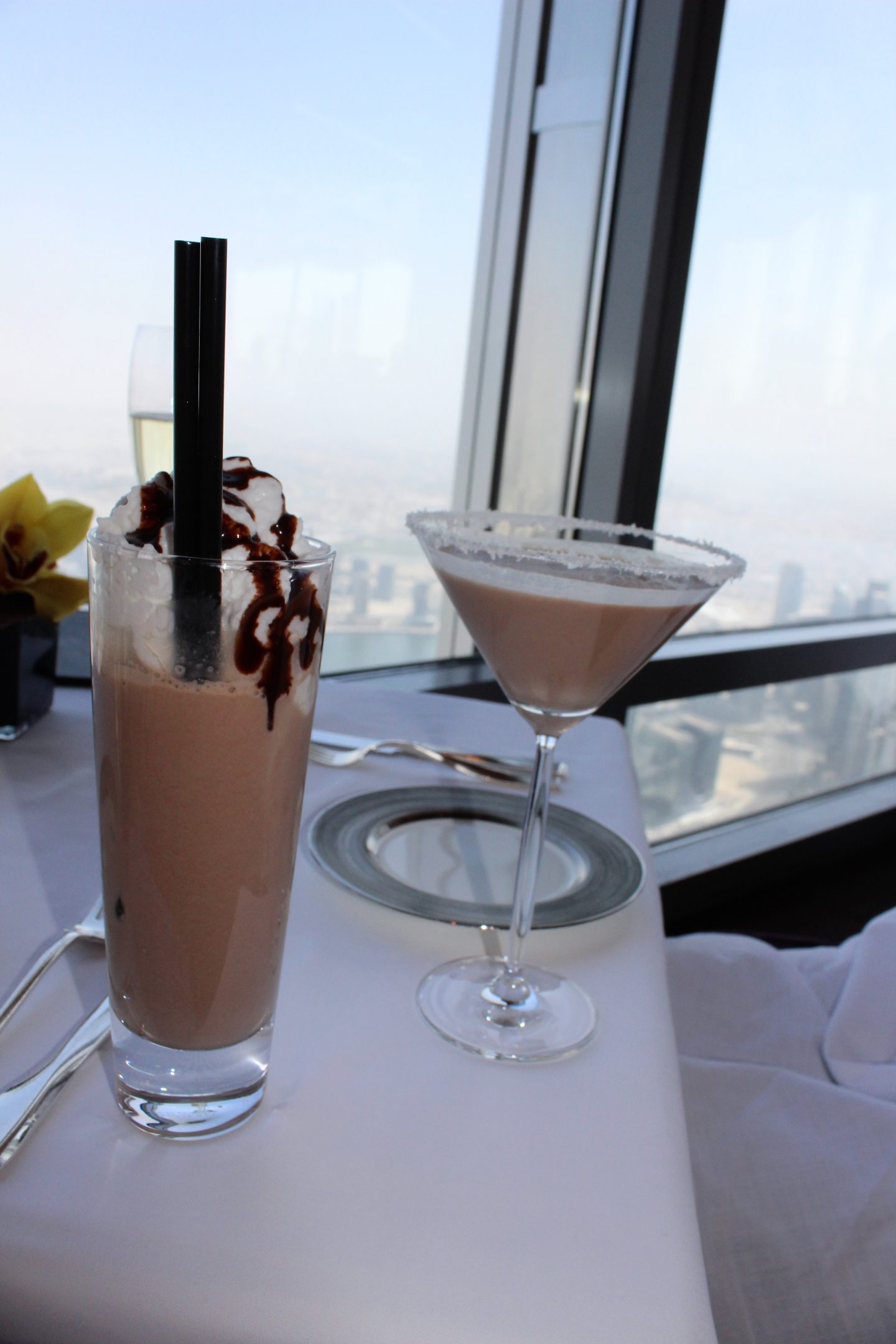 And then came out the masterpiece, our beautiful afternoon tea stand full of goodies!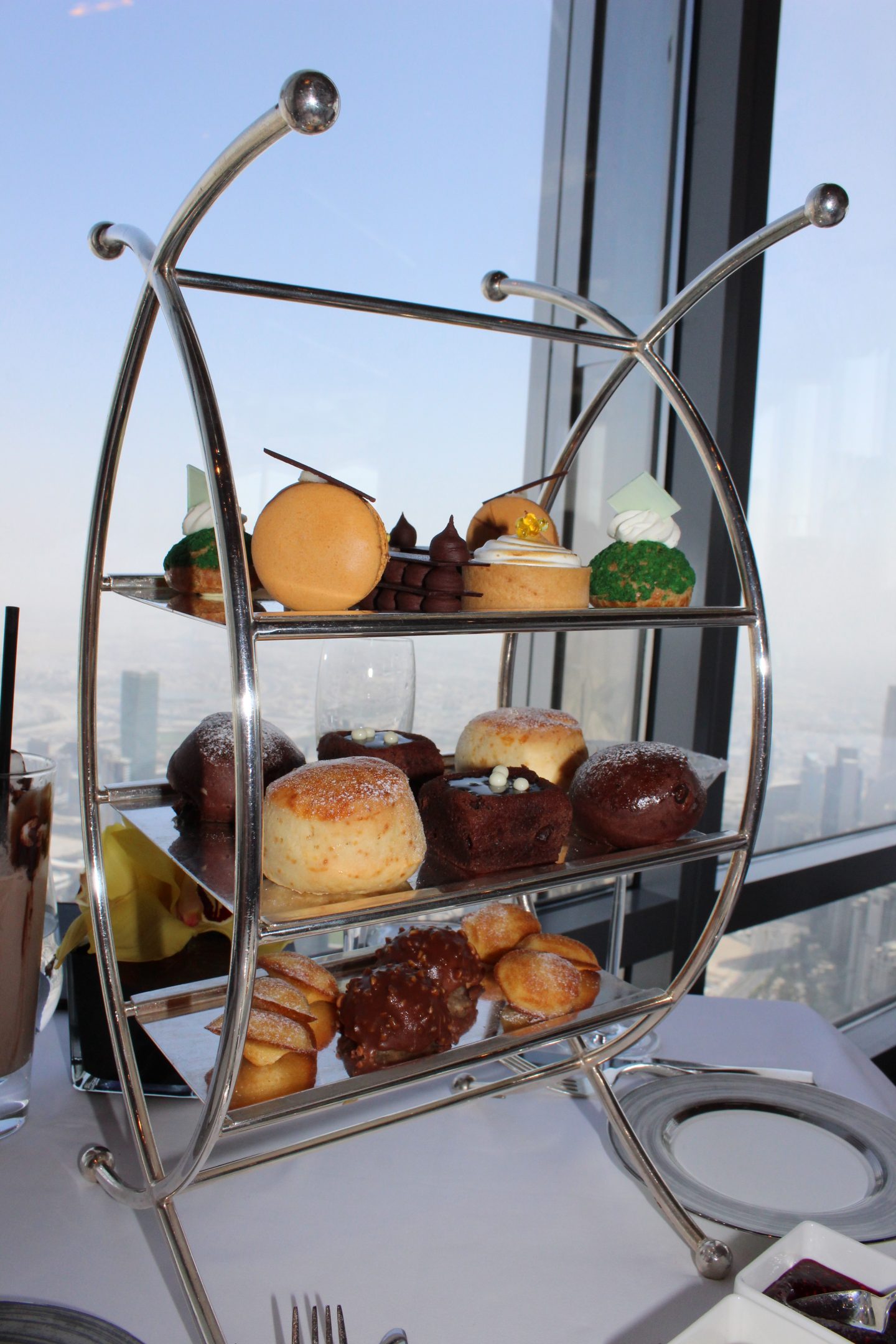 We had a warm chocolate and plain scone each with a strawberry compote, mango compote and cream.
The bottom tier held beautiful light and fluffy madeleines and a chocolate and hazelnut truffle which tasted like an even better version of a ferrero rocher!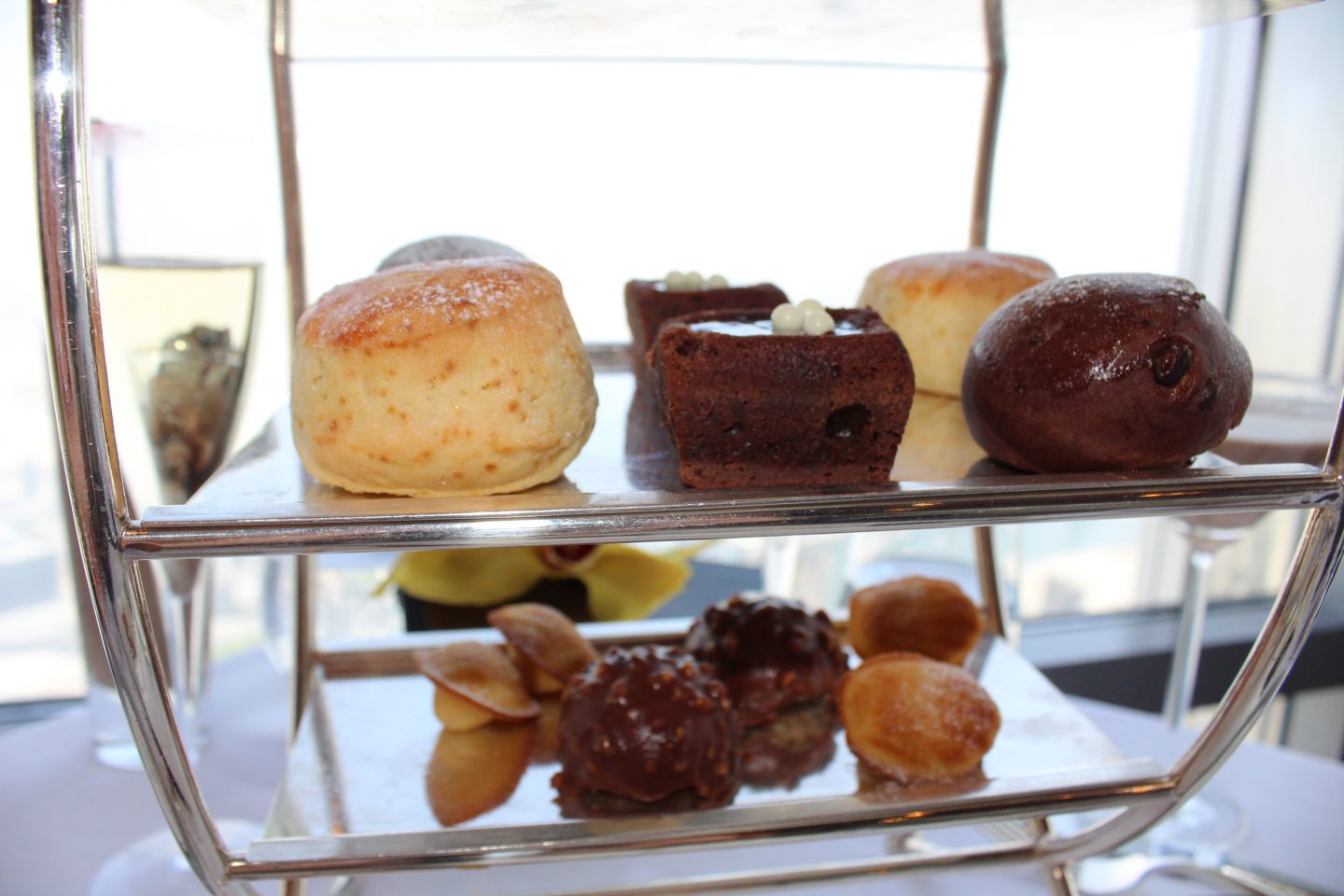 The top tier, I have to admit, was my favourite! It was filled with a pistachio craquelin choux bun, a passion fruit meringue pie, a salted caramel macaron and dark chocolate truffle. I can honestly say each one them tasted absolutely sublime! My favourite was the passion fruit meringue pie, which had the perfect balance of sweet from the French meringue and sour from the passion fruit curd.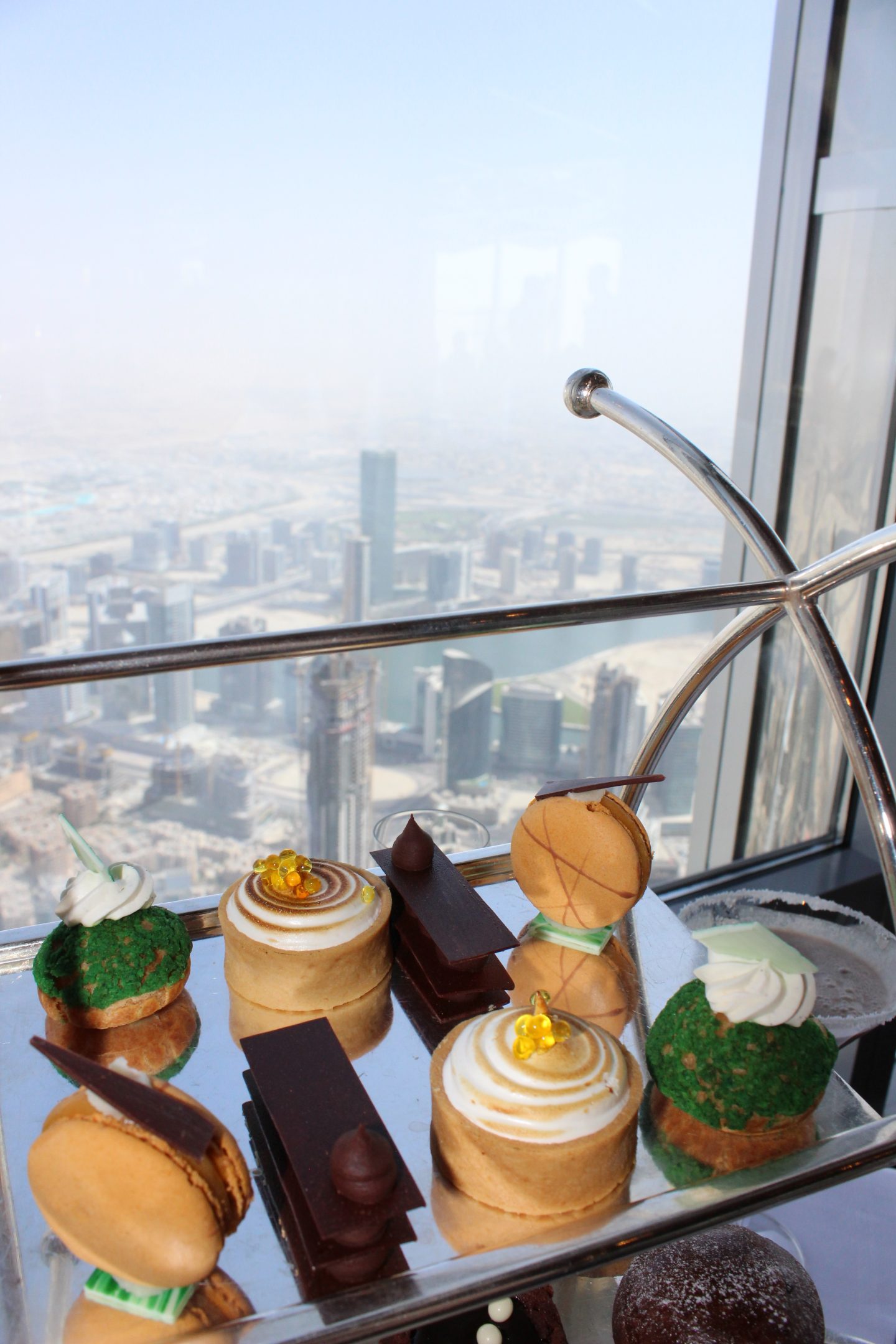 Mr B has a special birthday coming up (the big 40!) and for his birthday I have got us tickets to the Formula 1 at Silverstone. It has been his childhood dream to go but I had the dilemma of not knowing how to present him with it as his birthday is in September and the Formula 1 is in July! But as soon as we booked our afternoon tea I knew that would be the perfect location. You can't forget being presented with your 40th birthday present at the top of Burj Khalifa can you? The staff were amazing and even though I had not pre-arranged it or asked for it they brought out a birthday cake with a candle in and presented the gift to him for me.
It was such a special moment and the perfect way to surprise him. I've been keeping it a secret for over a year so I was glad to finally let the cat out of the bag so to speak!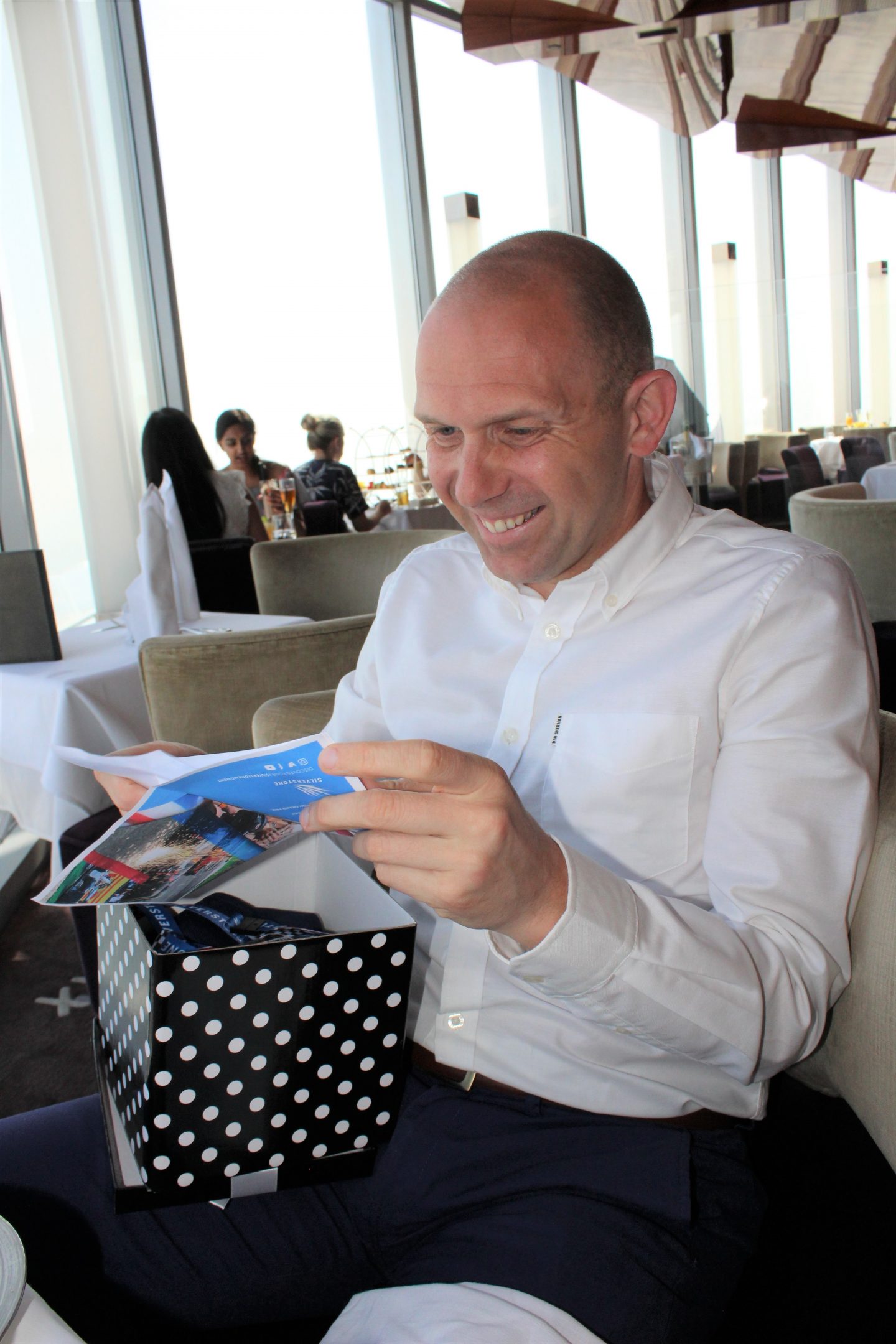 So there you have it, our luxury afternoon tea in the world's tallest building in the world's highest restaurant, memorable for its amazing service, those incredible views, fantastic food and a special birthday surprise!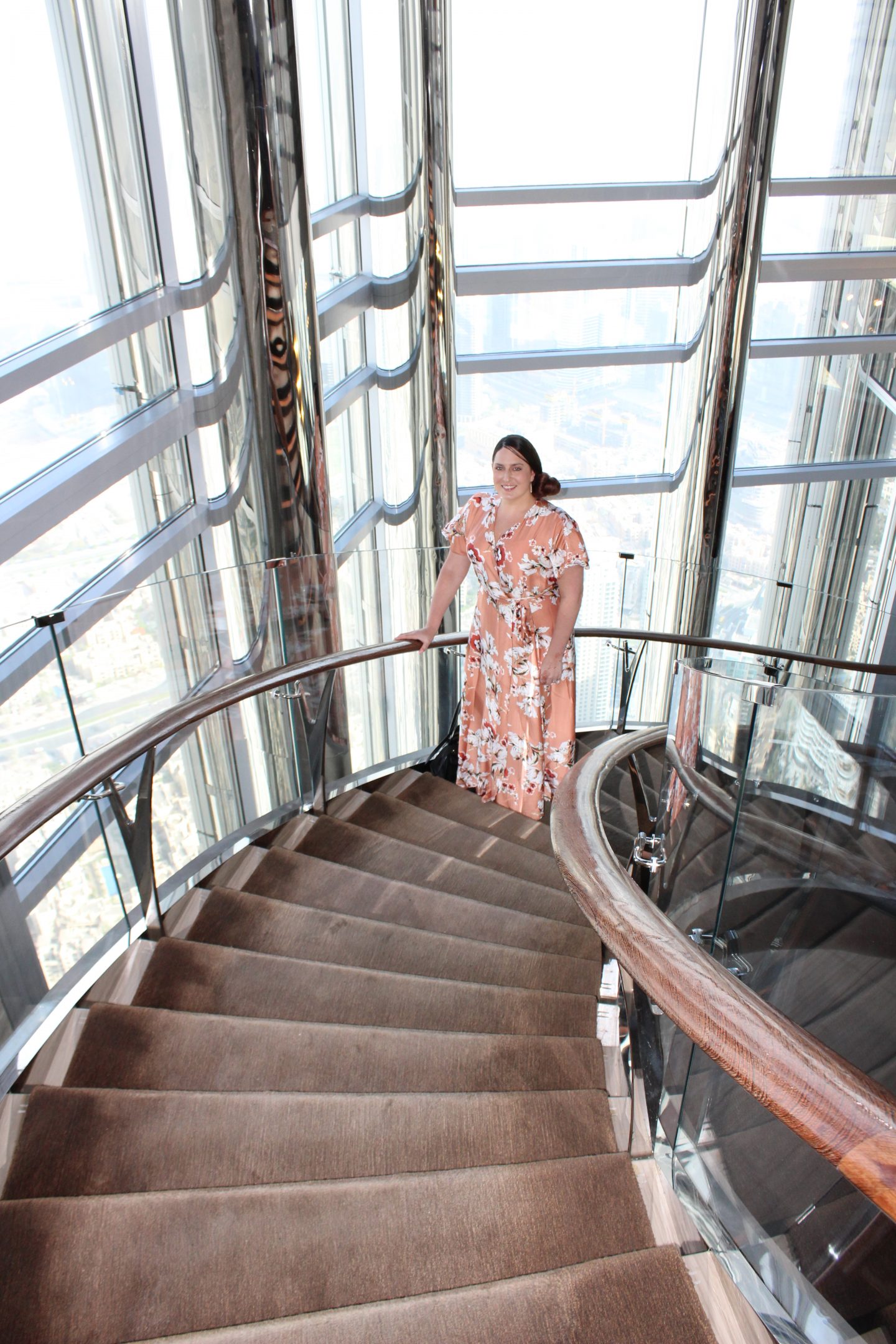 If there is one thing you splash out on in Dubai make it this. You won't be disappointed.